| << | 30 | 31 |

| 33 | 34 | 35 | 36 | 37 | 38 |

| >> |

Be sure to hover the mouse over the images.
| | | |
| --- | --- | --- |
| | Bicycle Tour Adventure #31 | |
Pictures and Stories About Bicycle Tour Adventures
Great Divide Mountain Bike Route (GDMBR - Segment):
Del Norte to Summitville, Colorado; September, 2010;
Via Indiana Pass (11,910 Ft Elevation - Highest Point on GDMBR)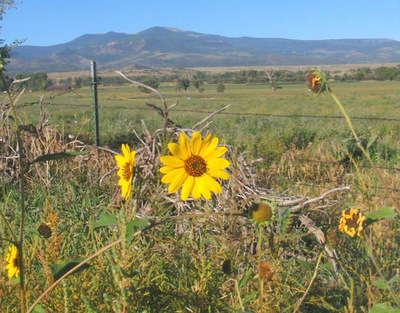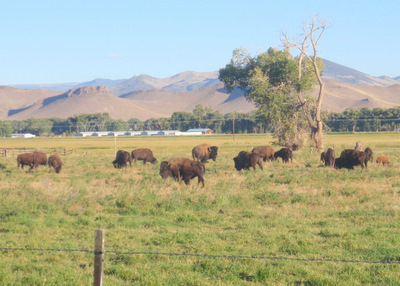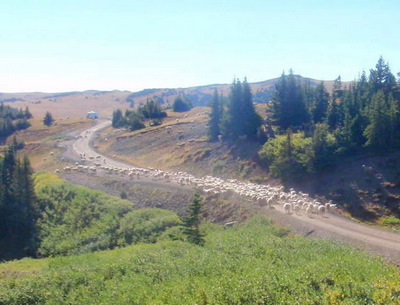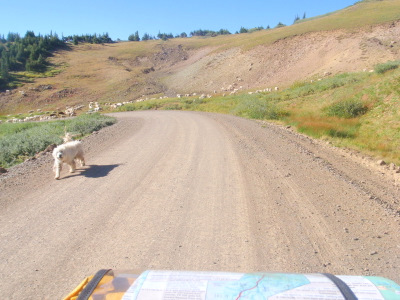 - Cycling Summary -
Goal: Completely Ride Adventure Cycling's 'Great Divide Mountain Bike Route'.

Objective: Ride a day and a half from Del Norte to Summitville, Colorado.
This was a September, 2010, 'Labor Day' Holiday, Long Weekend and we wanted to ride one long day and one short day on a tandem (mountain daVinci hybrid tandem touring bike). This trip is also a makeup ride for the Injury Terminated Del Norte - La Garita ride (from back in 4 July, 2010).
All bicycle travel was round trip. We carried the bike in a new Raxter tandem bicycle rack behind our vehicle (bike & rack image); vehicle/rack travel was easy but dusty for the bike as we were motoring over dirt roads (we are all about dirt road travel, photos inside).
Del Norte's elevation is 7,884 Ft - 2,404 M. We stayed at the Country Inn Motel (on its last legs).
Valley temperatures reached the 90°s F (32 C), mountain temperatures were initially in the low 80°s but got down to the mid 50°s (13 C) with rain sprinkles near the top. We started early in the morning and missed the heat (except for our hotel return).
Everything worked as planned, without any traumatic events.
Day 1: We only planned to get near the summit of Indiana Pass (11,910 Ft - 3,630 M) as we had to ride back to Del Norte for the night. We turned around at about 11,500 Ft (55° and sprinkling) giving us about 22 miles each way for Day 1.
Day 2:


We travelled the last 1.5 miles each way for the Pass/Summit. There was no Summit Sign and the actual summit could have been any one of three road crests.
We drove the bike and vehicle to the Mine at Summitville in order to ride up to Indiana Pass from Summitville (on the other side) whose distance is about 7 miles (each way). We like to park the vehicle at a low point, thus giving our return leg a relaxed final descent.

We saw Cows, Buffalo, Sheep, Goats, lots of ATVs, Logging Trucks, Holiday Campers, Mining Camp Remnants (one old, one new), other Cyclists (we talked with one adventurist, details inside), and only one wild Deer.
We performed a Goat Rescue (head and horns caught in a fence) - story inside.
Absolutely all road travelers were courteous.
Except for dust, the road conditions were very good for bike travel.


Above: Downtown Del Norte, Colorado, looking due west, 0810 Hrs, 7,884 Ft elevation, 5 September, 2010. Head West, turn left (South) just after the hill on the left side. Follow all signage to Summitville. First we bike about 11 miles on hard road and maybe climb 500 feet, then we cycle 11 miles on dirt road and climb 3,500 feet. We will enjoy the flat hard roads while they last.



Above: At the left turn mark, the Organic Peddler (with old time cruiser bicycles lining the front roof footage and entrance).



Above: Left/South turn for Summitville.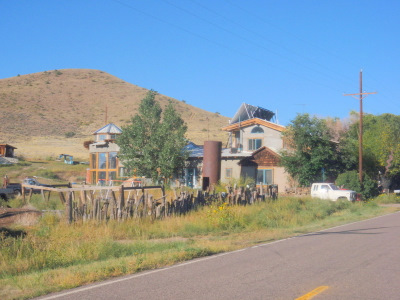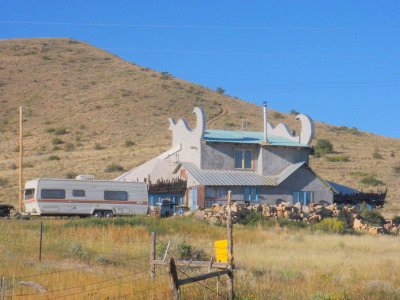 Above Two interesting houses, next door to each other. Both houses look to be capable of existing off the grid.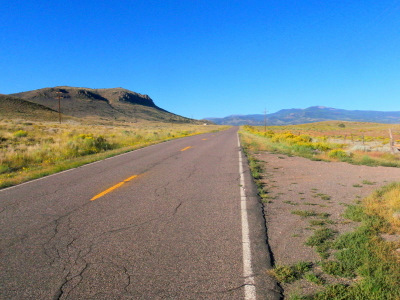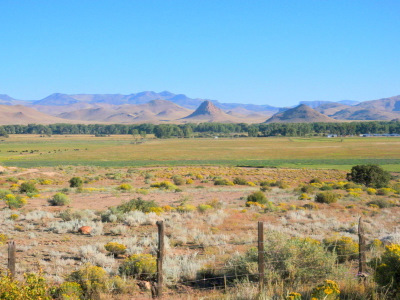 Above Left: The view South, Autumn is in the air.

Above Right: The view Northwest.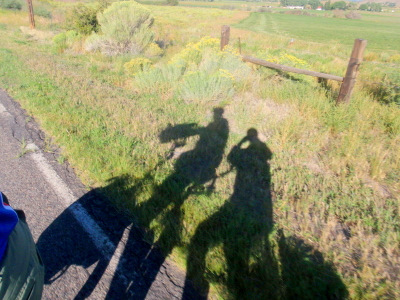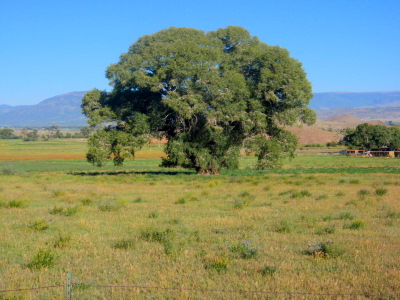 Above Left: Us and our shadow; photo by the Stoker.

Above Right: A big beautiful really old Cottonwood tree rules the field.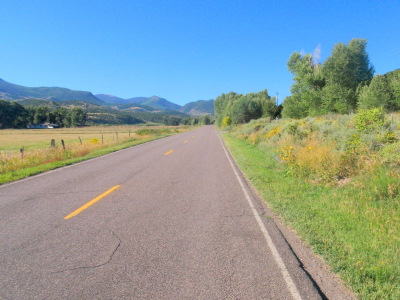 Above Left: We have observed a few different Navajo Trail signs. It seems to be an old automobile travel route promotion; it is not the Navajo Trail of Tears (which went from Arizona to New Mexico and is located way south of here). We are thoroughly enjoying the ride, the route, and the countryside!

Above Right: Heading South; the near mountains are blocking the view of our destination mountain and pass. "Miles to go; promises to keep."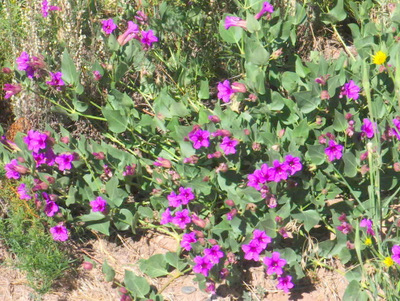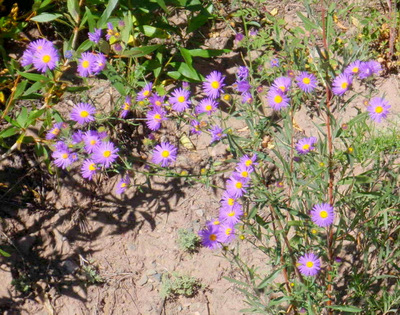 Above Left: Mother Nature is holding a roadside clinic of southern Colorado flower displays:
Purple Morning Glories.

Above Right: Purple Daisies.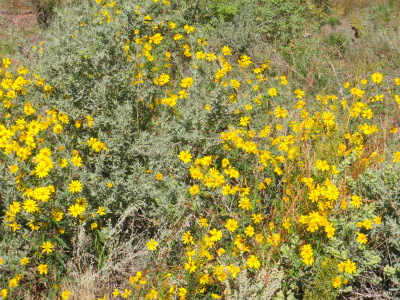 Above Left: Yellow Daisies.

Above Right: Rabbit Brush (a kind of Sage that looks similar to Ragweed).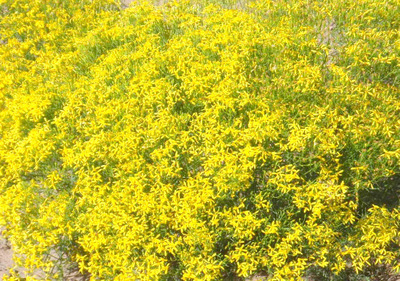 Above Left: (another Daisy variant).

Above Right: Wild Roses (already flowered) with the largest Rose Hips (seeds) ever seen by us; here, the Rose Hips are almost as big as Cherries.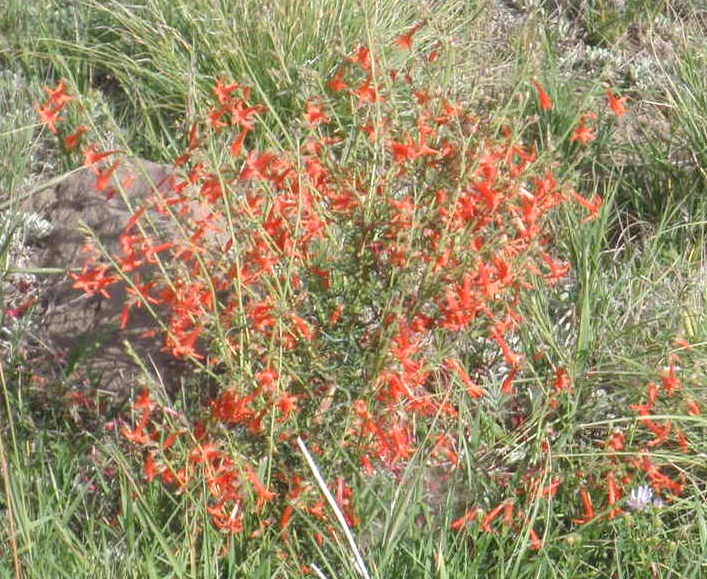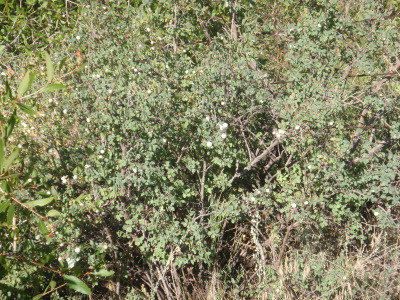 Above Left: Coral Fairy Trumpets (they typically range from Red to White in color).

Above Right: We think that this is White Current (White Mountain Mahogany).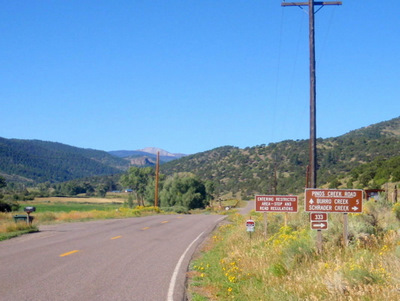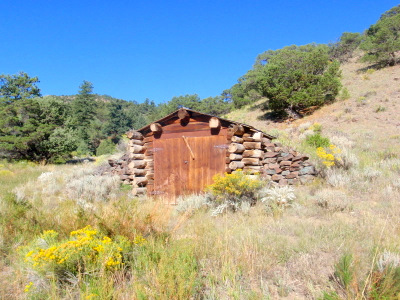 Above Left: Our first view of Greyback Mountain (near today's destination), the furthest and highest object in the background and the Schrader Creek Trail Head in the foreground. We're going straight ahead.

Above Right: Old Storage Shed. This shed could have been a root shelter, tack and feed shelter, or an Engineer's Store (for Dynamite or TNT).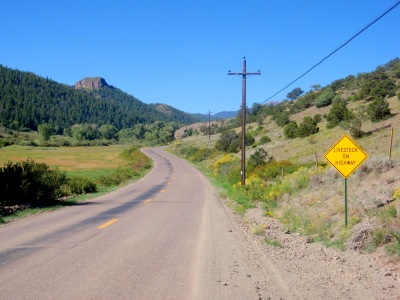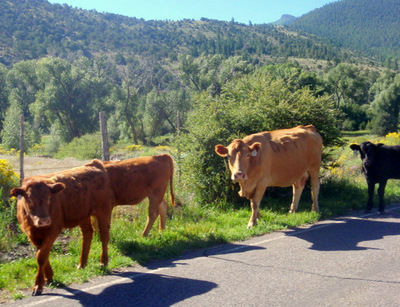 Above Left: You just know what's coming.

Above Right: They're here.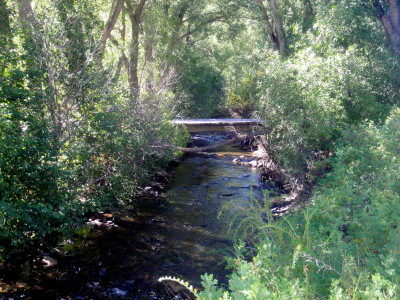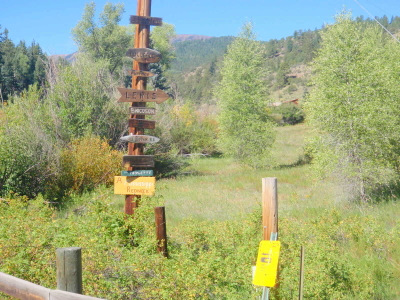 Above Left: A peek of Pinos [Pine] Creek.

Above Right: Family Name Signs at Burro Creek. The paved road ends here. The long climb up to Indiana Pass begins here and it starts with a fairly steep grade. We'll be in the Rio Grande National Forrest in about 400 yards.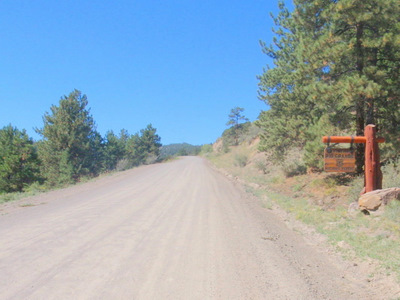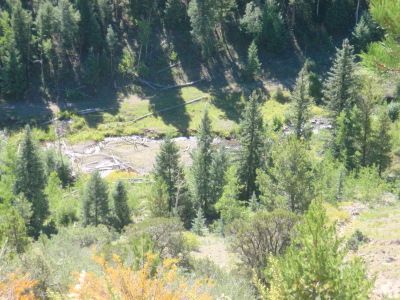 Above Left: Entering Rio Grande National Forest. Climb, climb, climb!

Above Right: Our view of Pinos Creek after about .5 mile of cycling. We're climbing!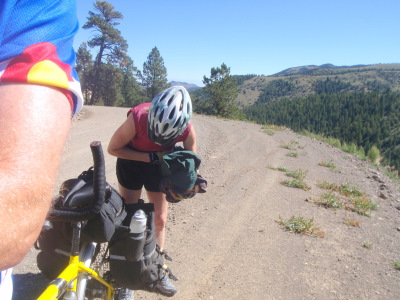 Above Left: Terry finally gets warm enough to remove her flannel over-shirt.

Above Right: The third logging truck went by us. Three in a row had us a little worried about the travel conditions, lots of dust. The good news is that we will only see about 5 more logging trucks all day. The bad news is that ATVs make just as much dust and we will discover that the higher elevations have many ATVs for the long holiday weekend.

The good news is that everyone (Loggers, ATV Riders, and Motor Vehicle Drivers) are polite and courteous and most of them actually slow down for us - That is Awesome Cool!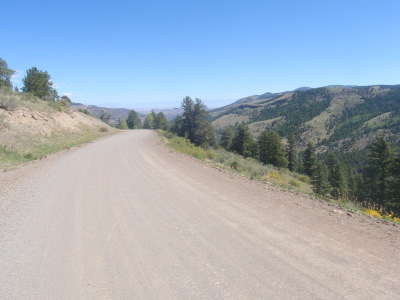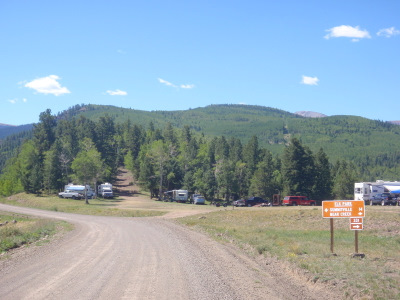 Above Left: Our back view at about 1030 hours. La vida es muy Magnífica!

Above Right: Elk Park. Many RVs here, it seems that each RV has about four ATVs associated with it. Once again, I need to say how nice everyone is around us. Greyback Mountain is barely visible at 1 O'clock High; 14 miles to Summitville, maybe 7 miles to Indiana Pass; we're heading towards 11 O'clock at the fork, Bear Creek heads off to right.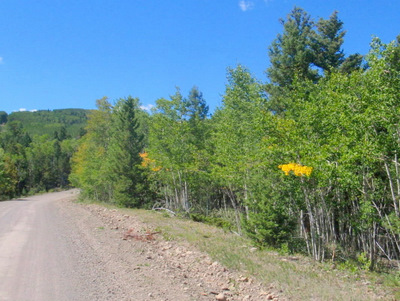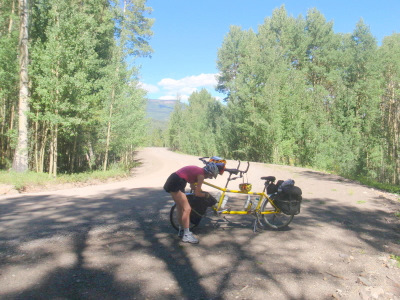 Above Left: The first signs of Fall.

Above Right: We're stopping for a lunch break.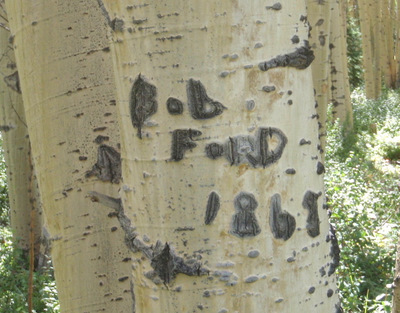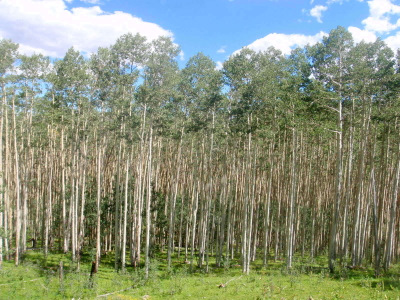 Above Left: A view from our picnic spot, we guess that it was a good enough spot for someone else. We've never taken a picture of, nor acknowledged, tree carving - to us it is disrespectful and degrading, but the date caught our attention (assuming that it is honest): "Bob Ford, 1861".

Above Right: A really old Aspen grove - at this altitude (about 9,000 feet) it gets tough for an Aspen to grow much larger.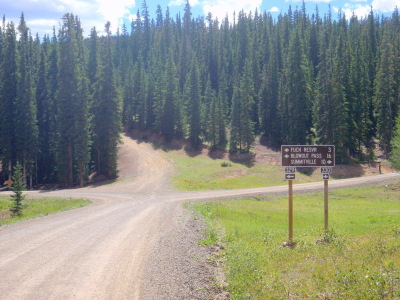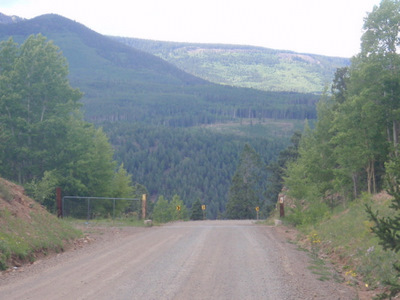 Above Left: Summitville, turn right, 10 miles (about 3 miles to Indiana Pass). We're guessing that we are at about 9,500 feet elevation.

Above Right: Back view, cattle guard, important to next image.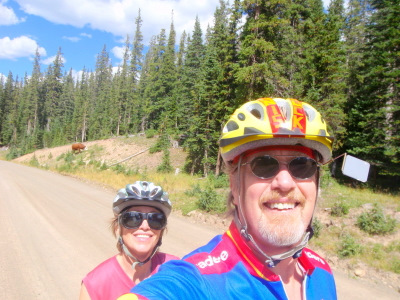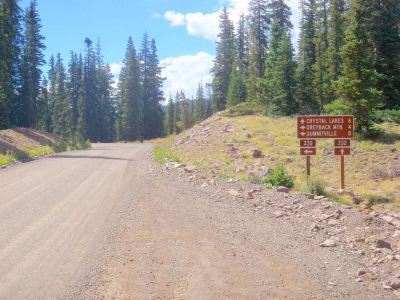 Above Left: Dennis is concentrating, don't bother him, it hurts. In the background is just one old Cow on the hillside who could not be bothered by us. This is noteworthy because when we come back, all of the yearlings will be on the road and they are not as calmly tempered.

Above Right: Summitville, turn left, 8 miles (1 or 2 miles to the pass). We're probably just above 10,000 feet elevation. We're at the point where we begin to run out of oxygen before we are tired of pedaling, however we seem to be doing very well, physically.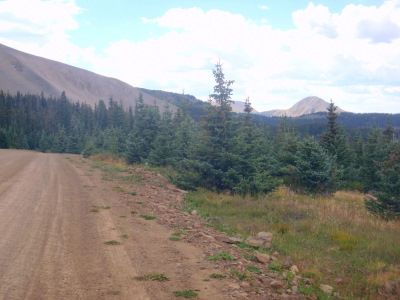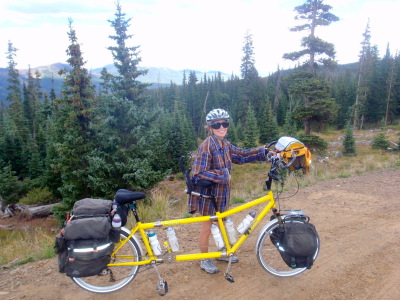 Above Left: We're probably at 10,500 feet. We are high enough to see tree lines and bare mountains. The tree line is sort of around 11,000 to 11,500 feet in this area. Although one can't tell from this picture, it is clouding up, the temperature is mid 50°s F, and there are occasional raindrops.

Above Right: This is our turnaround point; we are guessing that we are about a mile from the pass at about 11,500 Feet elevation. We put some rock markers on the side of the road. Terry has already covered up for the cool downhill ride. It is about 1430 hours and it will take two hours to return. If we were camping and pulling a load, we'd probably be camping at about where we saw the cow and we'd finish this mountain in the morning. However, we have about 22 miles to go, to return to Del Norte.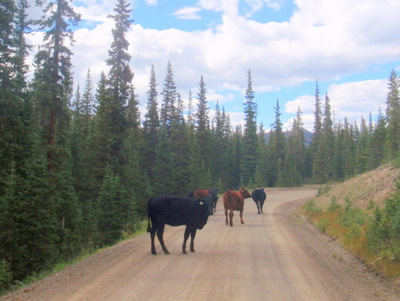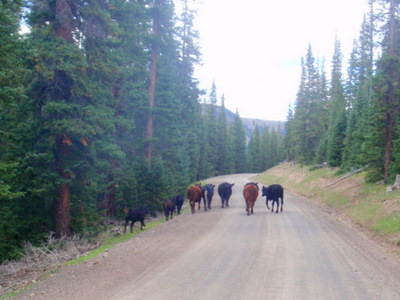 Above Left: We're still here. This Bovine saw us, went about 100 feet down the road, and stopped. We ever so gently went by it.

Above Right: The cattle kept going down the road, some cattle departed on the side, and then some little calves joined in (sticking together I suppose). Meanwhile we just crept along.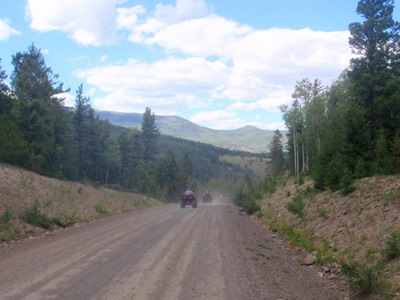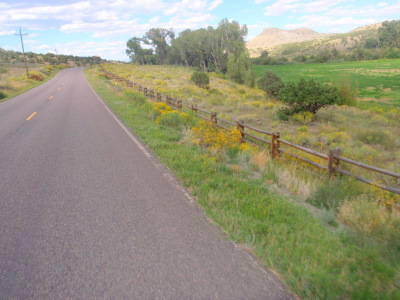 Above Left: Some ATVs.

Above Right: The road home; the temperature is now back in the high eighties.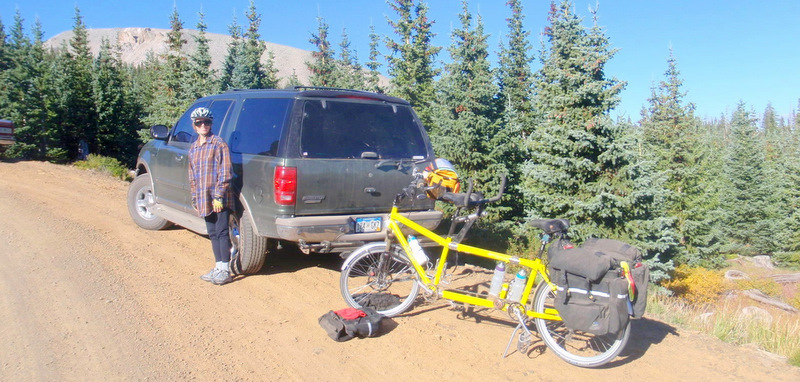 Day 2, First Leg to Finish Climb to Indiana Pass


Above: This is where we stopped yesterday. It turns out that the pass is only about 500 yards/meters away (around the corner with one 'steepish' hill climb). The bike was mounted to a bike-rack behind the vehicle. Terry is absorbing reflected heat (waiting for Dennis). The drive up here on the dirt road got the bike's transmission all dusty, thus a good wiping is in order.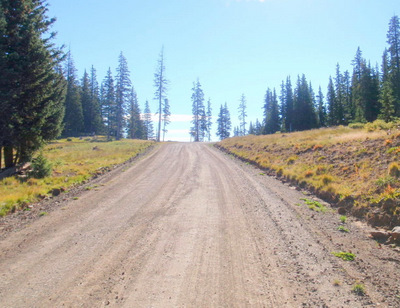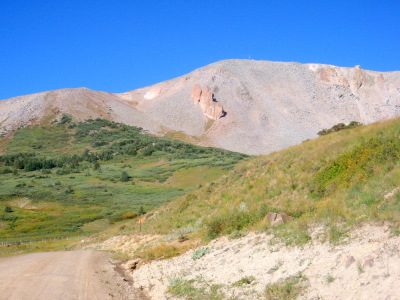 Above Left: This is probably Indiana Pass (11,910 Feet Elevation) from the Windward Side. There is no signage. Around the corner for the next mile, there are three hill crests on the road, any of which could be the high point. We visit all locations on the route, so it doesn't matter to us which is the proper high point.

Above Right: Around the corner, Greyback Mountain and Radio Facility from the Leeward Side.






Above: We took this picture, in telephoto mode, not knowing exactly what we were seeing. It turned out to be Hundreds of Sheep and Goats of many different breeds and many different colors.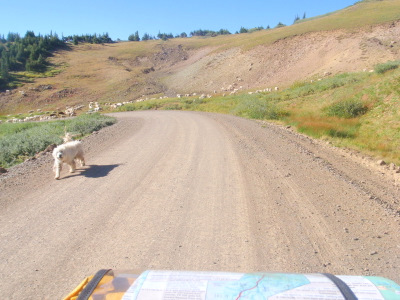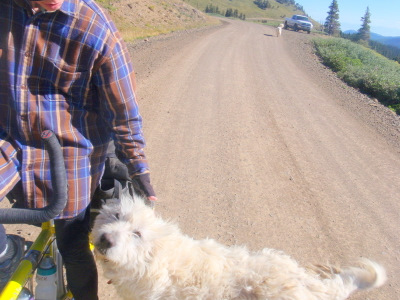 Above Left: This Sheep Dog (Roam'n Soldier) is coming to check us out.

Above Right: The Sheep Dog is affectionate as long as we stay away from the flock. The moment that we started pedaling through the herd, the dog started barking and caused a big ruckus amongst the sheep. We could not do a thing about it.






Above: The White Sea.






Above: 'Moses' Moseying.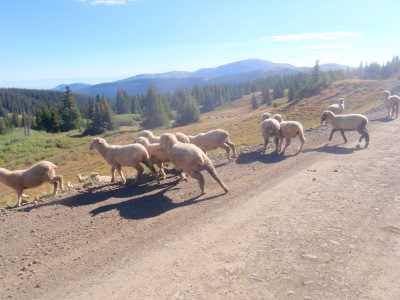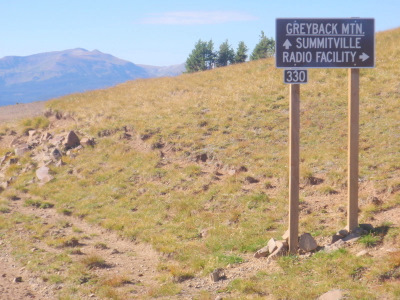 Above Left: Parting the White Sea.

- We performed a Goat Rescue -


We did not see a Sheppard around. We saw a small goat with two inch horns caught with his head between wires in a Hog Fence (used for herding and shipping). He was bawling. It was his short horns that were keeping the animal from backing out. He kept going back and forth and was at the point of cutting himself where the skin was rubbed raw from his actions. We stopped to attempt to free him. We knew that he was going to get more agitated and animated as we got closer. In fact, this is an exact scenario in which animals bite. Dennis came up on the left side and Terry on the right side. He freed himself just as Dennis was about to put a firm grip on the back of his neck and head. The little 'Turd' turned to his right and rammed Terry in the shins with his little horns as he was running away. Terry was surprised but was just fine.



Well, as it is said, 'No good deed goes unpunished'.
Above Right: The side road to the Greyback Mountain Radio Facility - This may actually be a higher point than Indiana Pass. We turn around and head back to the vehicle (so as to relocate the bike to Summitville)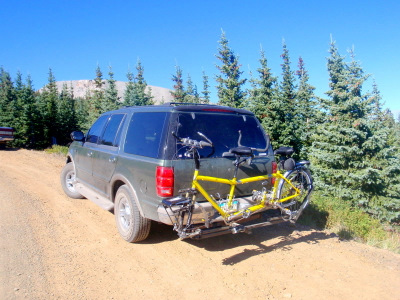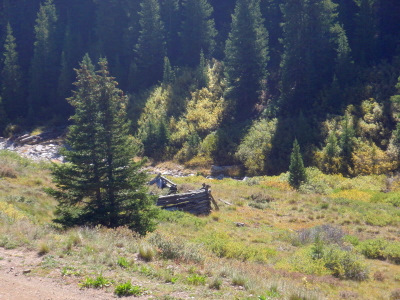 Day 2, Second Leg to climb up to Indiana Pass from Summitville (from the other side)


Above Left: The bike is packed up to be moved to Summitville, Colorado, where we will ascend Indiana Pass from the other side.

Above Right: This is near where we parked the vehicle. The view is of an old mining lodge on Wightman Fork of the Alamosa River. There is an active open sided Gold Mine and a Super Fund cleanup (in progress), uphill from this spot (in the other direction). It is probably wise NOT to drink the water here; we carried water in from Del Norte.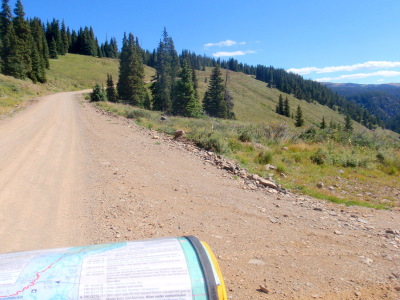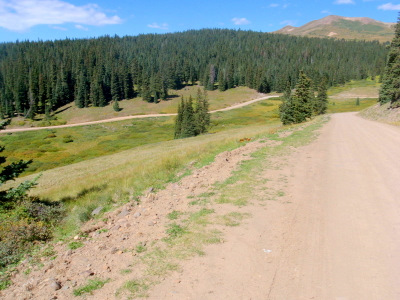 Above Left: Heading uphill from Summitville to Indiana Pass.

Above Right: One hour later, our back trail.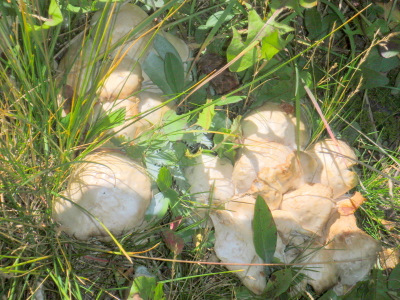 Above Left: Our Ride (the Bee) - Where we stopped to put on sunscreen.

Above Right: A Fungus Among Us.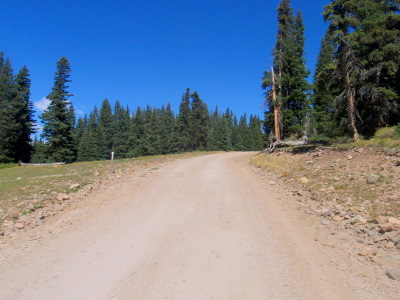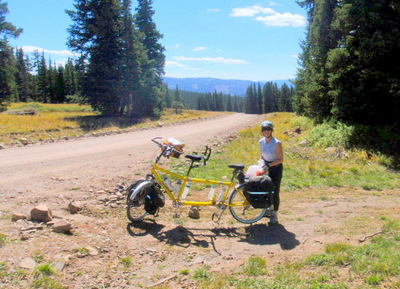 Above Left: A steep segment.

Above Right: Where we decided to have lunch (probably 11,500 Ft).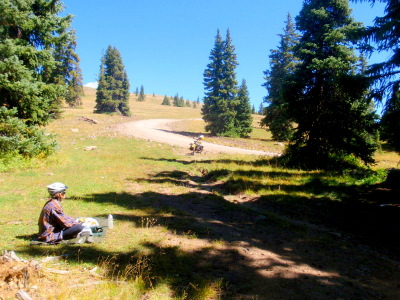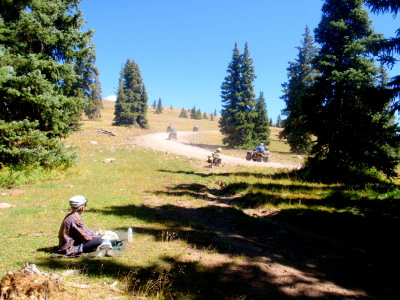 Above Left: View #1 from Lunch.

Above Right: View #2 from Lunch.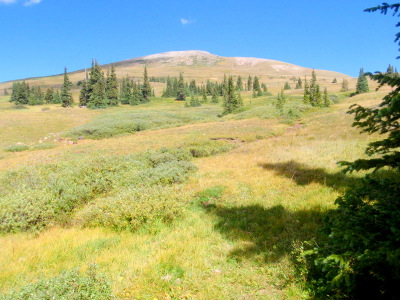 Above Left: A view of Greyback Mountain from our lunch location perspective.

Above Right: We met Alex Trossen at the top of Indiana Pass. He's a 'Through Biker' coming from the Canadian Border of the Great Divide Mountain Bike Route. We had a good chat and he shared some very interesting travel experiences.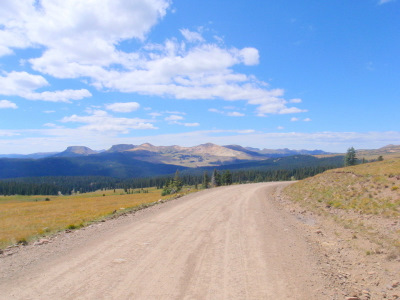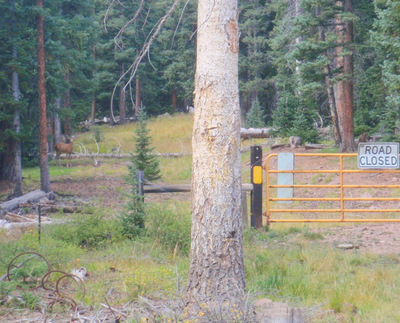 Above Left: The back view from the top (looking south). We had our lunch in the nearest grove of the pine trees. BTW, the mountains in this view are probably located on the New Mexico/Colorado border.

Above Right: The eagle eyed Stoker spotted this gal, we were moving downhill at about 20 MPH. Can you see her?



Another Grande Adventure Concludes with much Happiness!



Previous Adventure Top Next Adventure