| << | 30 | 31 |

| 33 | 34 | 35 | 36 | 37 | 38 |

| >> |

Be sure to hover the mouse over the images.
| | | |
| --- | --- | --- |
| | Bicycle Tour Adventure #33 | |
Pictures and Stories About Bicycle Tour Adventures
Great Divide Mountain Bike Route (GDMBR - Segment):
Separ, Tyrone, Tyrone Mine (just South of Silver City),
New Mexico; February, 2011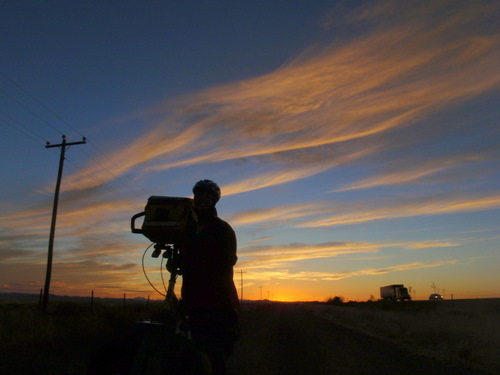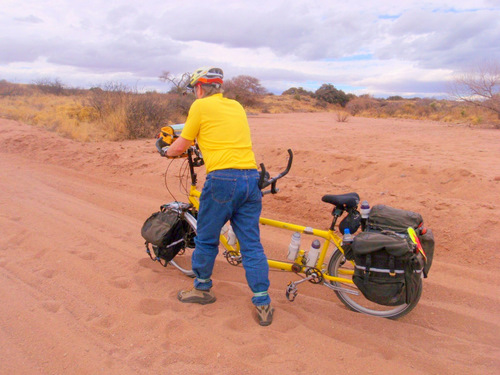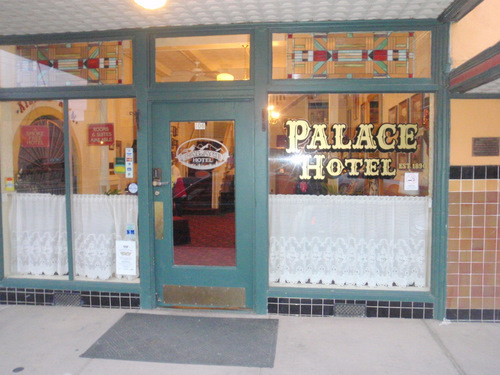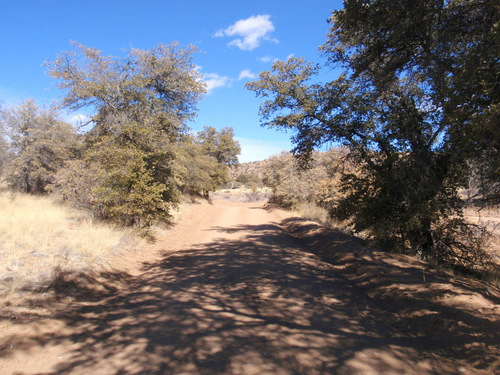 - Cycling Summary -
Goal: Completely Ride Adventure Cycling's 'Great Divide Mountain Bike Route'.

Objective: Ride as much as allowed by the weather on Washington's Birthday Weekend.


Highlights
This was a February, 2011, 'Washington's Birthday' Holiday, Long Weekend and we wanted to ride two long days and one short day on a tandem (mountain daVinci hybrid tandem touring bike).
All bicycle travel was round trip. We carried the bike in a rack behind our vehicle - no camping, but well prepared for bad weather.
We stayed at a different Motel/Hotel each night but just for sheer joy we stayed one night in the Palace Hotel in Silver City.
Temperatures reached the high 60°s F (17-19 C) each day, and evening temperatures were in the high 30°s F (4-5 C). We are here in the winter because summertime day temperatures can soar into the 100's (40+ C).
Everything worked as planned, without any traumatic events, however:


We did have a front plastic fender mount break apart at the center fork's yoke mount, caused by too much washboard vibration.
We also had to pull off the chain's 'anti stick' mechanism (aka Anti-Suck mechanism); we locked the chain three times in a 30 minute period of time (a high-speed hard-road problem) - That was just a short term solution as we had to keep moving another 17 miles (storm coming).
Post Ride Solution: At the time I thought a dirty chain was causing the problem but it turned out to be a mal worn #3 drive ring (only had a couple thousand miles on it). After we got home, da Vinci's Brian, talked me through a trouble shooting algorithm and we concluded that the first thing that we should try (based on his mechanic experience and my problem description) was to just replace the #3 ring. So that's what I did and that solved the problem - I love experienced mechanics/engineers! Replaced the anti-stick device too.
All shifting and other power delivery was working quite well.
We mounted thicker, wider, (slower) off-road tires; we had no flats and no tire issues.

Each day, we parked the vehicle at the lowest elevation, rode uphill to a turnaround point and then rode back, downhill (said laughingly).
We saw Deer (two different small female herds with teenagers), Elk (no bulls), and Antelope. No pictures (picture guy was too slow).
We saw plenty of Cows.
On Day 2, we carried 7 water bottles and needed 8. On Day 3, we carried 9 water bottles and needed 6. Silver City water tastes great right out of the tap!
As always, we took out more trash than we brought in.
Each afternoon got a little windy; the wind was blowing strongly uphill from the warm south, a mixed blessing depending on our direction of travel.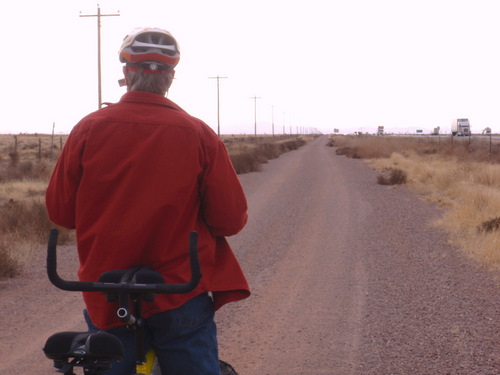 Above Left: We arrived late in the evening (after driving a night and a day to get here from Colorado) and we will have about two hours of riding time before nightfall. This picture of the Interstate Exit was actually taken upon our round trip's return. We needed to ride 7 miles, each way, from this I-10 road exit to the next road exit to the west. This frontage road is the only connection from Separ Road to the road to Hachita and Antelope Wells (without going miles out of the way in the back country).

It's a stick, caught my attention too.

Above Right: Mounted and ready to go.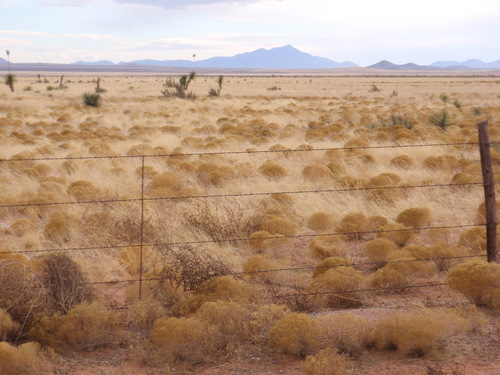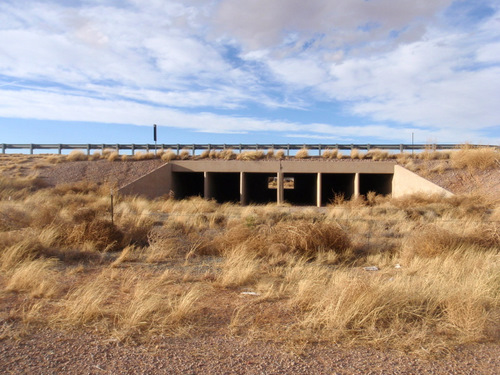 Above: Travel views.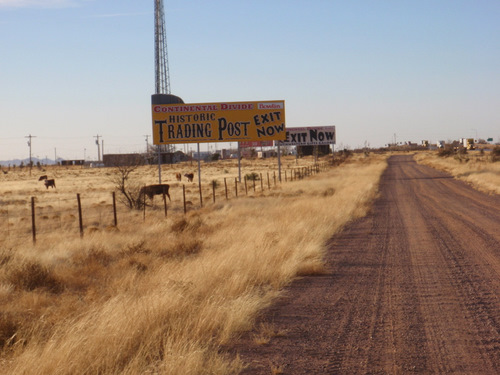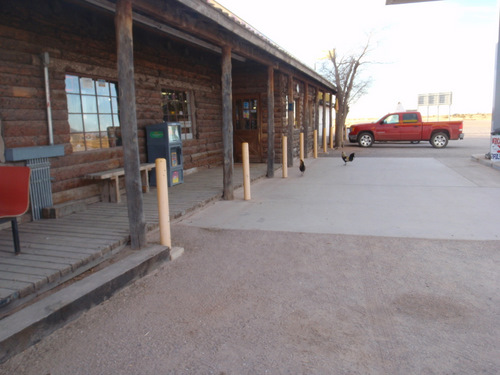 Above Left: World famous signs for the Bowlin's Continental Divide Trading Post. They have free water, bottled water, and some snack type foods for travelers, and they have been known to let a bike camper spend the night in the back yard. There isn't a legal campground within 50 miles in any direction and the road is heavily patrolled by the Border Patrol from here south.

Above Right: A very colorful Rooster and one Hen (by the Door-Way in front of the Trading Post).
Old Joke: Speaking of Doorways and Passageways, what's a Henway?
Answer: About four pounds.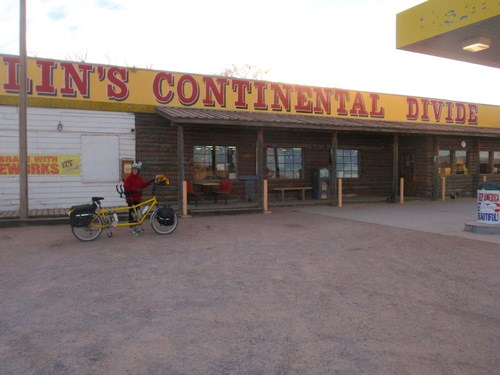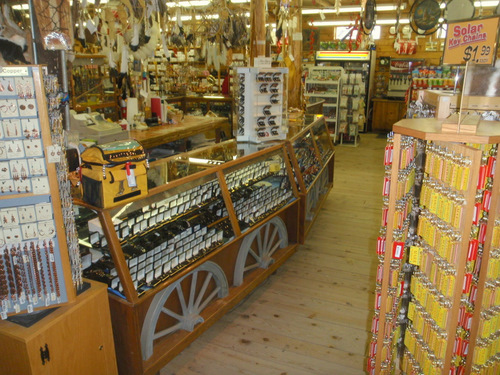 Above Left: Terry, holding the 'Bee' in front of the Continental Divide Trading Post.
Humor: We are the 'Bee Team'.
Barb Van Sant (related to the Van Sant musicians), a family friend, bought us Yellow T Shirts with a Bee Team logo (years ago) - Thanks Barb!

Above Right: A view inside the Trading Post. We found the staff to be very curious about the bikers, biking and very supportive of the bike traffic. We were so off the regular biking season that we're treated special. We explained that we would come back tomorrow to conduct another biking leg from their parking lot if that was OK. They said sure and asked us to park with the staff vehicles, so that they could keep an eye out for our car's security. We were honored.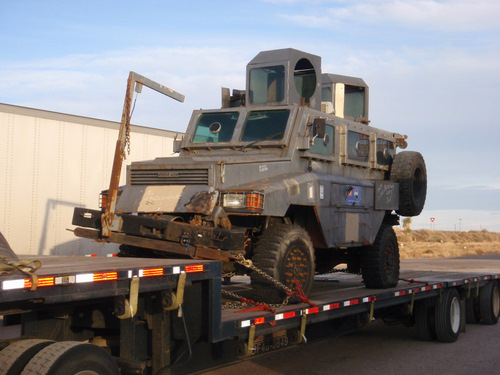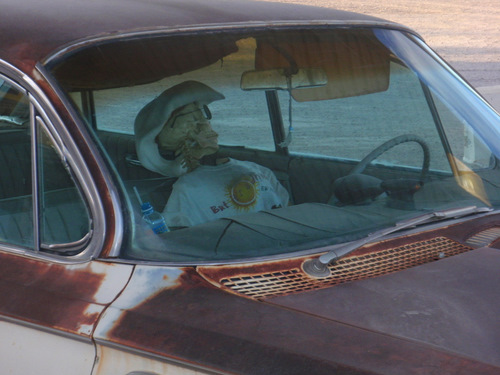 Above Left: This vintage armored vehicle was on a trailer bed of a Peterbilt, in the parking lot. There is so much to read into this, it appears to be converted for filming and observation, and in need of repairs. I'd really like to learn the rest of the story.

Above Right: This guy has been parked in the parking lot a long time.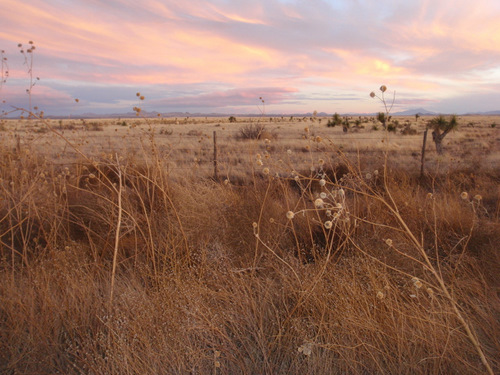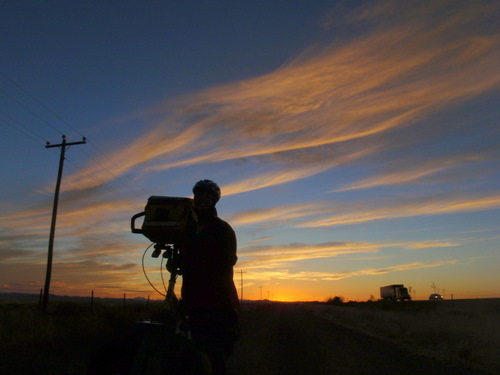 Above Left: View on the way back.

Above Right: Terry, back lighted by a beautiful sunset.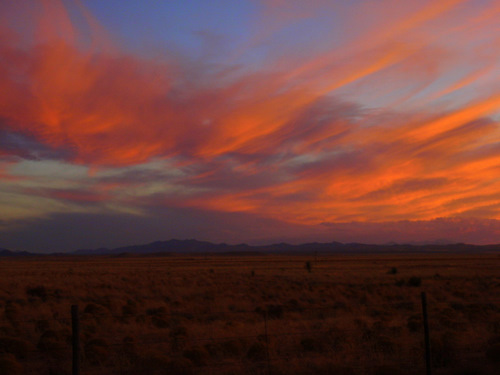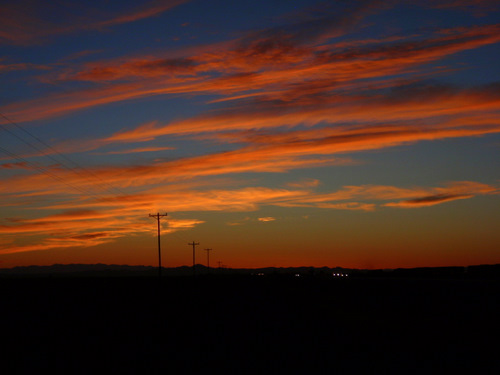 Above: The sun is setting and we have our lights on (but we never saw any frontage road traffic).
End of Day 1; we will spend the night in Lordsburg.



Day 2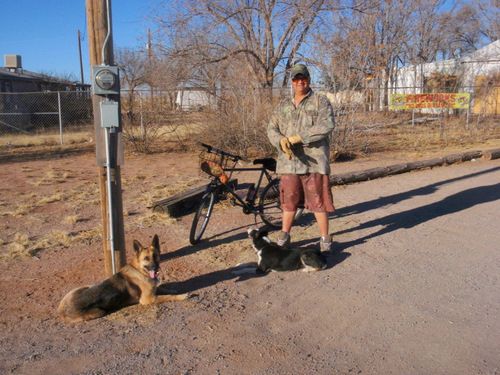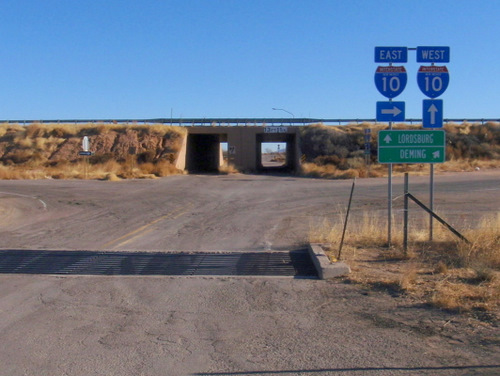 Above Left: This is Jeremiah, he works at the Trading Post, and we caught him on a morning exercise ride along with his dogs. He raised the subject of how badly some people treat people on bicycles and he cited some bad experiences, especially from years ago. I confessed that my bad experiences were very similar. I told him about our travels in Europe and how much the better the attitude towards bikers and that it is much improved in the US now. We parted, wishing each other well.

Above Right: This is an old underpass; modern trucks and trailers barely fit through and there are plenty of scrape marks. We are facing north and we are to proceed through the underpass, cross the railroad tracks and head north.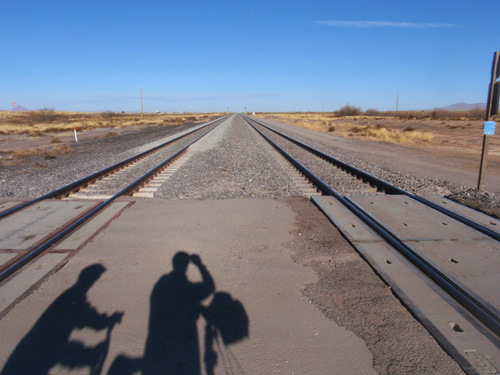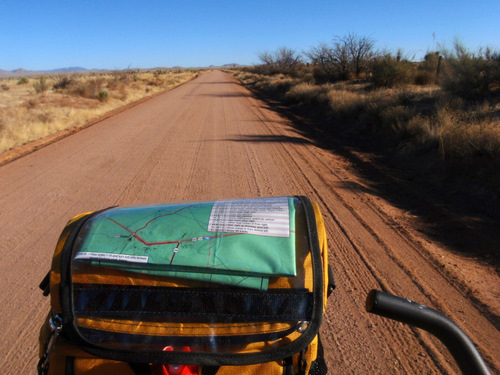 Above Left: We're passing over the railroad tracks. Originally called Sepas (Spanish/Mexican/Indian unknown) this location was a campground stop for travelers on the Janos Trail used to get to the copper smelters in Chihuahua, Mexico (about 400 miles SSE). Later in the 1860's, it was the Southern Pacific train company that created a cattle loading station and named it Separ (See-per). In 1870, at the discovery of silver about a hundred miles north in a place to become cleverly named Silver City, the Separ station would see a flurry of shipping activity. In 1916, the Separ station/stop would see some use by General Pershing and his protégé George Patton and Army Troops in a chase of the cross border bandit Poncho Villa (who always got away and was later killed by a paid Mexican Government assassin in Mexico).

Above Right: We stopped at Mile 1 for a picture (and water). We will have, more or less, flat straight travel for about 10 miles (with some soft sand spots).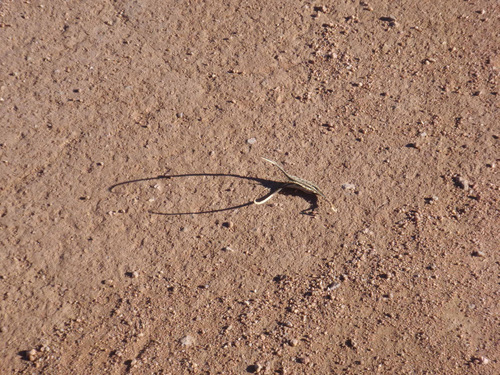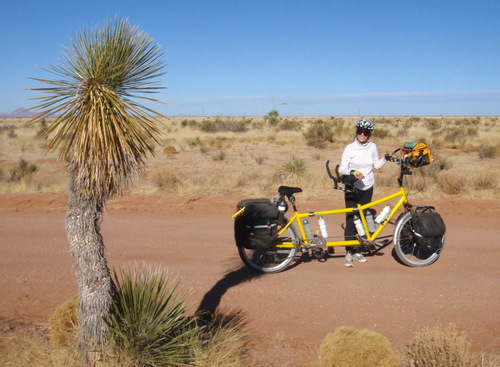 Above Left: This is a seed pod (we never actually found one of these pods on a plant so we don't know from which plant it comes, we would like to learn). We saw these on the road every half mile or so, they look like demonic tire killers but they are soft and not a bother to travel.

Above Right: A photo of Terry and the Bee, around Mile 6 or so.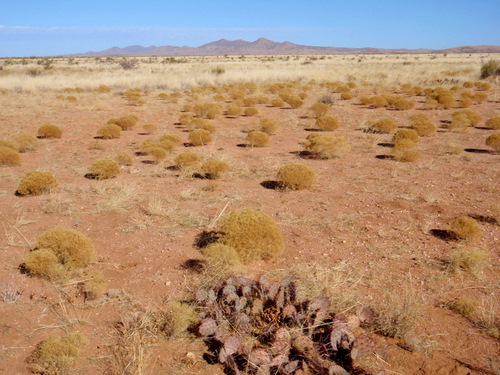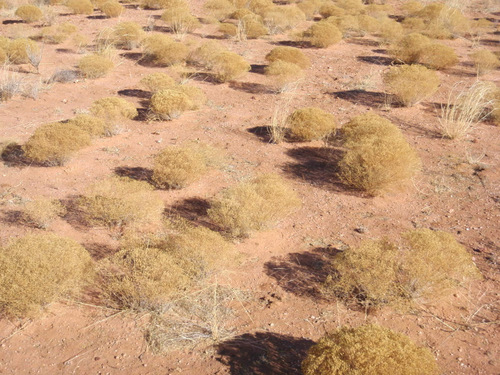 Above: Views to the side: Very dehydrated Prickly Pear Cactus and a Sage Forest.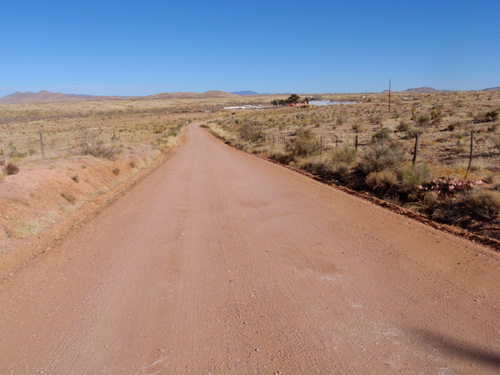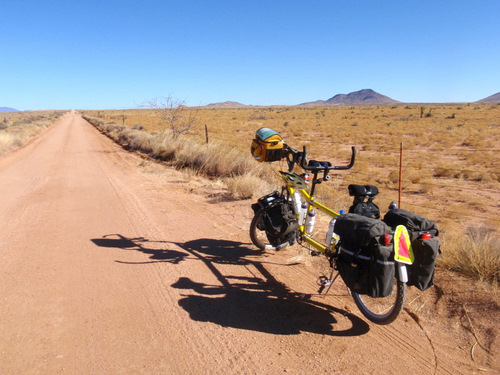 Above Left: We are about to pass through the property area of ranch house, oddly, no dogs, in fact, there will be no bothersome dogs for the entire weekend.

Above Right: It's about 10 AM and time to put on some sunscreen.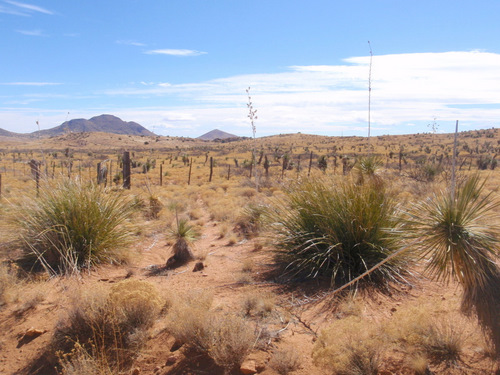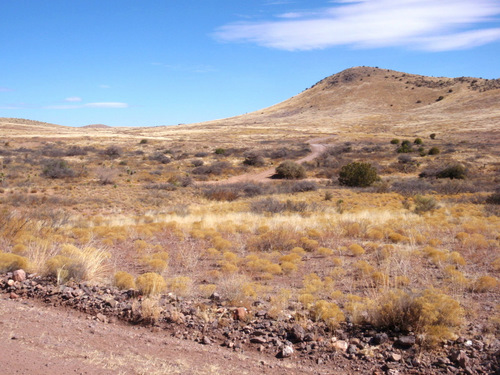 Above Left: We're seeing more vegetation and more plant variety - Mile 12 or so.

Above Right: The first foot hills and a fork in the road (leads to another ranch house, we're going left toward Silver City).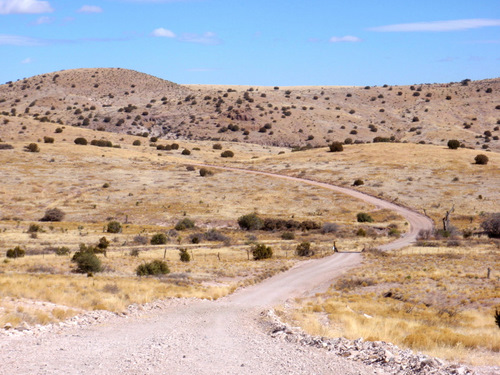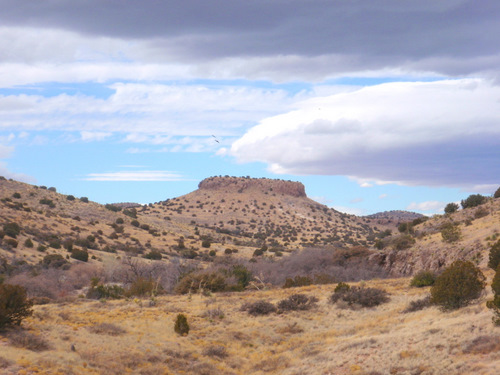 Above Left: Loose rock, hills, and dry washes.

Above Right: Table Rock with soaring birds.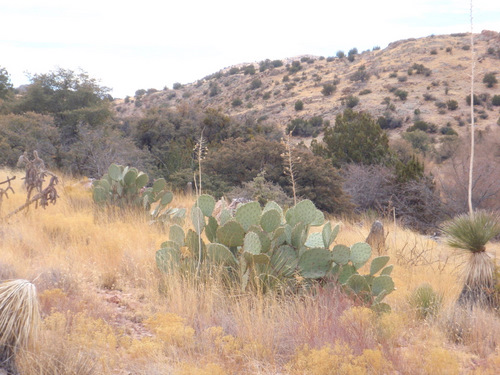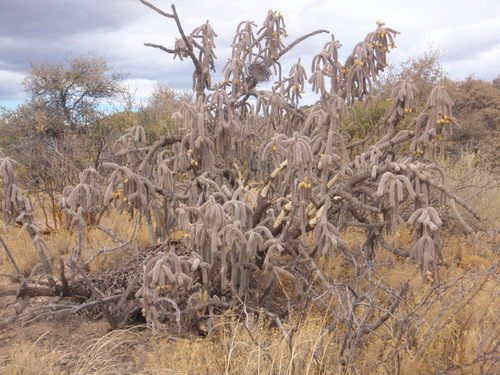 Above Left: Very healthy Prickly Pear Cactus.

Above Right: We believe this is Cane Cholla Cactus, common to NM.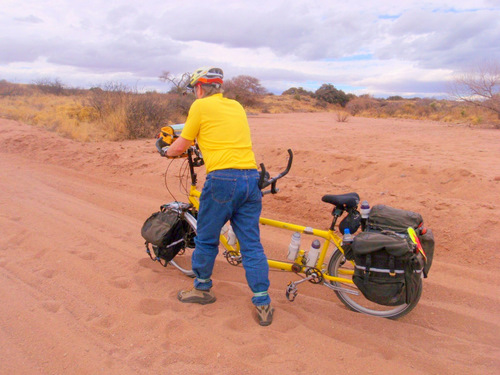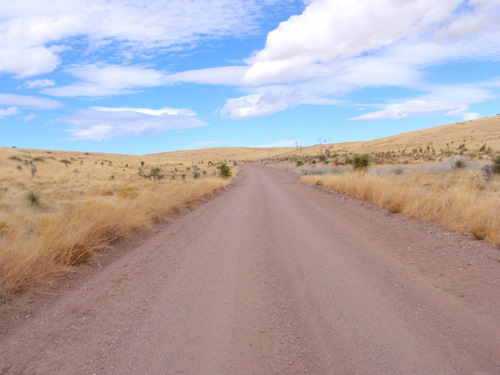 Above Left: We have biked through many washes and soft sand road segments. Sometimes they would really slow down the bike, but this particular one brought us to a standing, sunken wheels stop. We had to push the bike through the dry wash, but only about 15-20 yards/meters.

BTW, We will choose a dry wash over any wet wash, flash flood, or river crossing (which we have also experienced).

Above Right: The top of this particular hill is the actual Continental Divide ridge line that we will follow tomorrow. Today, we will top this hill and turn around at the intersection of the connecting dirt road called Gage Road (there is actually a street sign there, it was quite helpful to our trip navigation, oddly Gage Road is not labeled on our Great Divide Mountain Bike Route map and it is a major intersection [for back country navigation without a GPS]).

Now we turn around and ride back to Separ, we've cycled just short of 20 miles one way. The wind is in full force now, from the south, so instead of coasting down the hills, we have to pedal, still, it's not difficult and we are having a great time.



That Night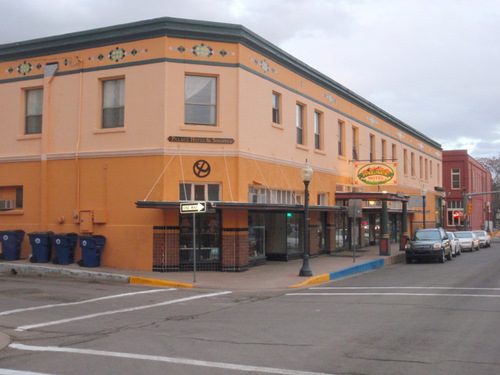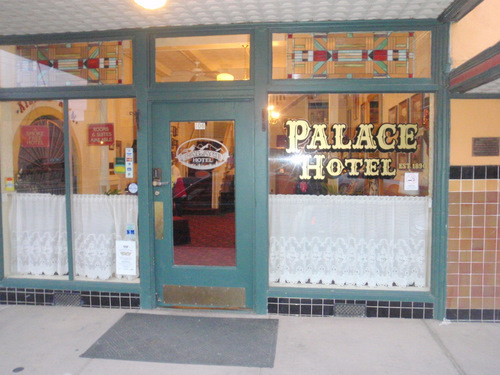 Above Left: Silver City's Palace Hotel was originally the Meredith and Ailman Bank Building and did not become a full service hotel until 1900. Information: The Palace Hotel - While the Hotel is Majestic in its features, we were there on a weekend and the noise of other patrons in their rooms woke us up a few times.

Above Right: Classy Street Entrance.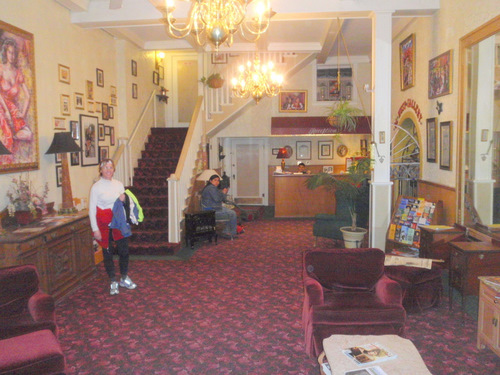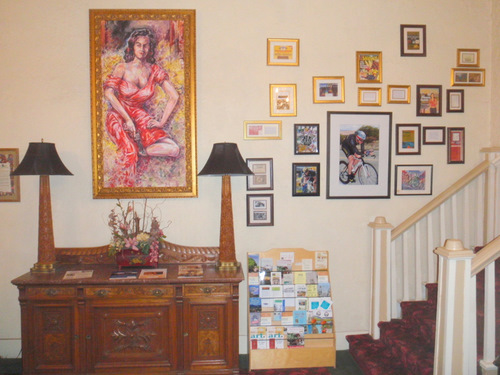 Above Left: Elegant Lobby (and pretty girl).

Above Right: Other Pretty Girl (trademark painting) and many bicycle/cyclist pictures and letters of appreciation; There is a big time summer professional road cycle race in Silver City called the Tour of the Gila. The lady in the painting is holding a pistol between her legs, there is no explanation and it is possible that the painting is a fresco painted onto the wall and a frame may have been added later. We'd really like to know the rest of that story.

Silver City is the home of Billy the Kid and Pat Garret, the shootouts and the Lincoln County War took place around here, but we're saving that story for when we come back to finish our bike ride to the north.



Day 3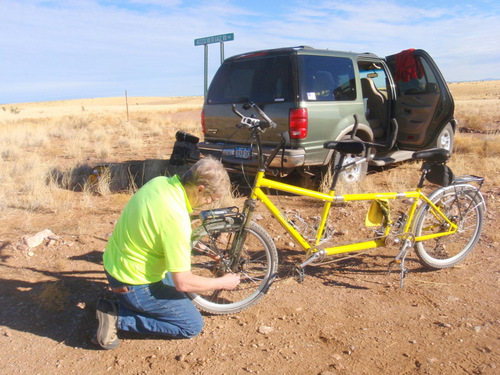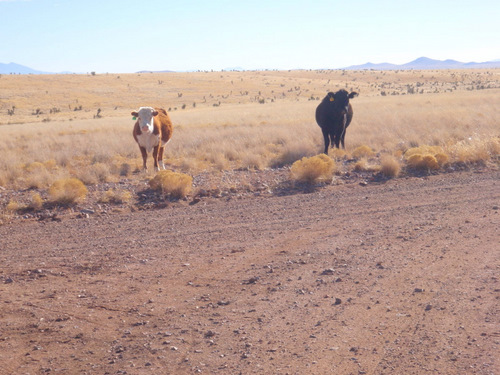 Above Left: The sign says 'Access to Gage Road' (which intersects I-10 between Separ and Demming, NM). We are on Separ Road (heading towards Silver City, about 30 Miles ahead, we will turn around in about 20 miles at the Tyrone copper mine).

There was no need to clean the chain and sprockets the night before because we had to drive on about 10 miles of dirt road to get here this morning. Because the bike is carried on an external rear rack the bike and chain become easily dust covered with road travel. We have saved all cleaning and lubrication for after the automobile drive. It will take about 30 minutes to conduct all of the maintenance - notice the yellow cleaning rag hanging on the copilot's cross tube.

Above Right: These gals were just curious and watched us for the entire assembly. On a side note, I know how cows like to rub themselves on objects like fence posts (wood or metal), so where I would normally leave the support brace for the vehicle's external rear mounted bike carry rack open and facing out from the vehicle, I folded it in to reduce the possibility of rub damage. For the record, when we returned, I did not see any sign of the cows getting any closer to the parked vehicle.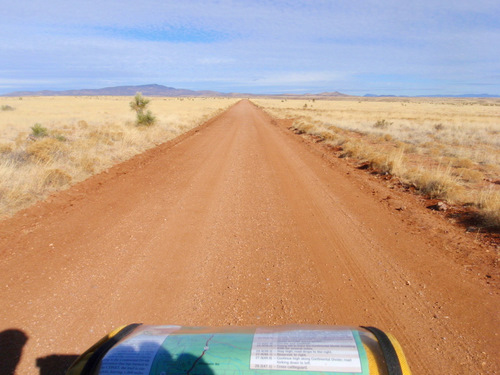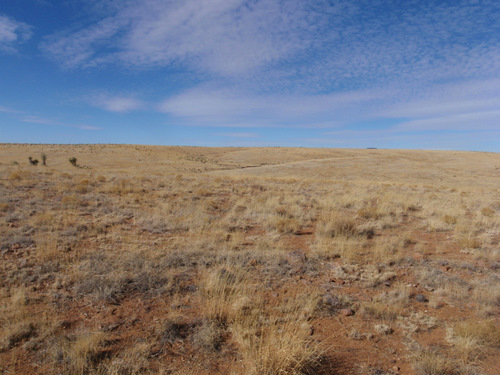 Above Left: A view north, up the actual continental divide.

Above Right: A view westward.






Above: Click Me!
Great Divide Mountain Bike Route (GDMBR) Panorama:
This is a West-North-East view on an Actual Great Divide dirt road ridge;
this is Continental Divide Crossing #30, the Left-Side drains to the Pacific Ocean,
the Right-Side drains to the Atlantic Ocean; this location is about 25 miles North of Separ, NM.
Click to see larger image.

This was put this together using free software from Microsoft called ICE (Image Composite Editor) - It was simple to use but it's a rooky photo job, next time there must be a few more pictures.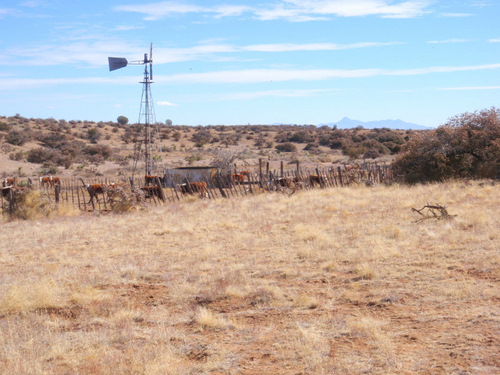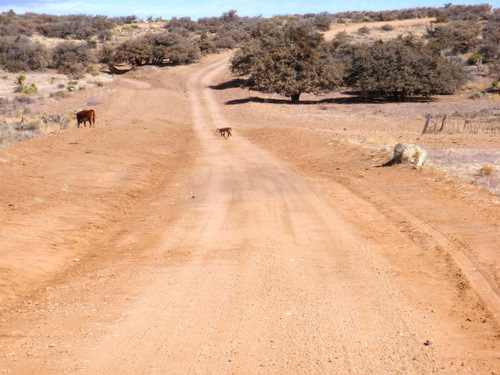 Above Left: An open cattle corral with running water collected in a tank. In a dessert or arid areas, one should always make mental notes about the last known water source. The wind mill pumps fresh water from a well. We notice that we are seeing some Scrub Oak trees for the first time (requires a greater annual rainfall amount than sage brush).

Above Right: Another dry wash to bike through, but first we wait for calf to catch up to mommy. It's an easy cycle.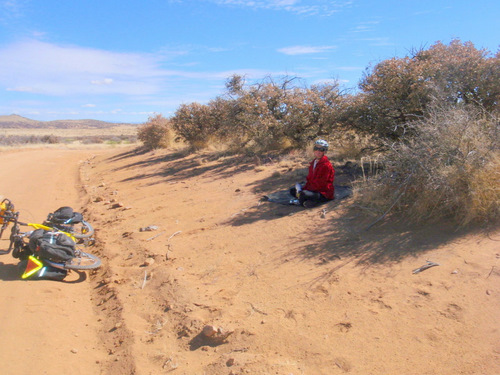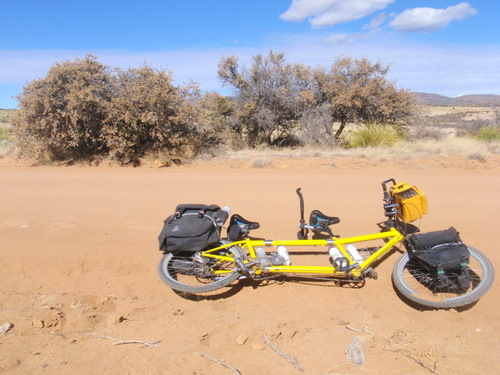 Above Left: We're taking a snack and water break. It is warm enough that we want to sit in the shade. The soil/dirt is too soft to use the bike stand.

Above Right: This is the view directly across from where we are taking a break. We can see more trees on the far hill side. For some reason, this reminds me of Africa and I have never been to Africa - That's OK, parts of Australia reminded me of Africa too, can't explain it. There is a large animal lair in the bush directly in front.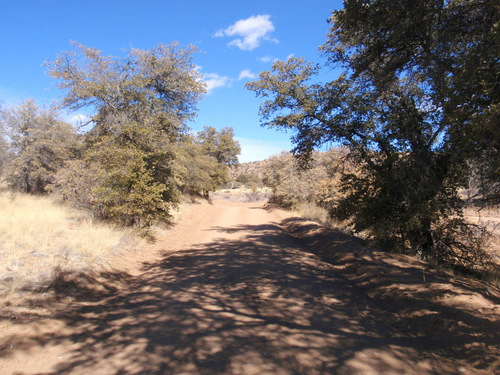 Above Left: We are 3 to 4 miles away from Highway 90, a hard road leading to Silver City. The elevation is higher and the trees are big enough to give road shade.

Above Right: Terry holds the bike, we just walked through a little wash.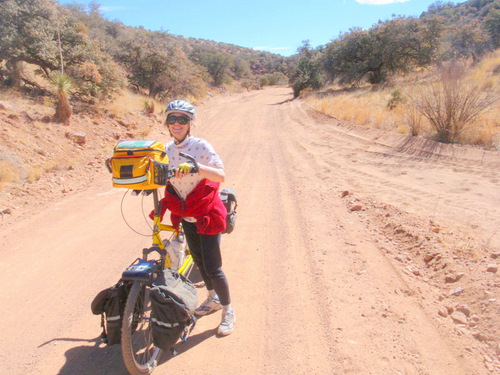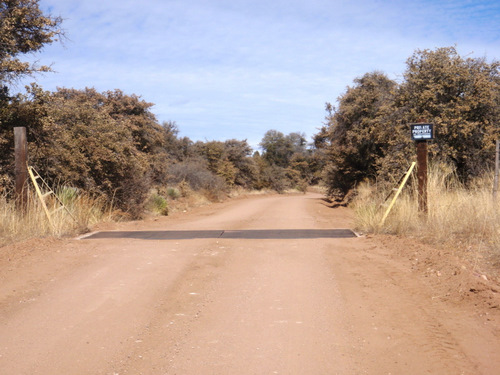 Above Left: Another dry wash, we biked through with no problems.

Above Right: One of many property lines and cattle guards. At the Separ end of this road, we would cross a property line every 3-4 miles, here we are crossing them every mile or so, as we near Highway 90 the crossings become about a half mile apart.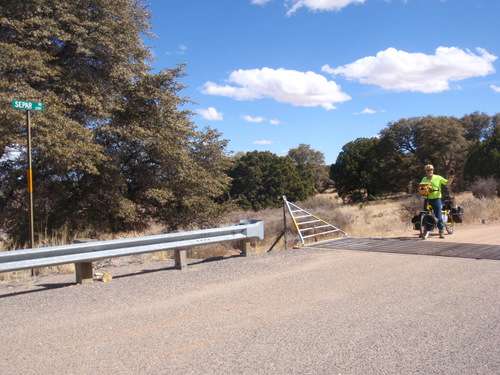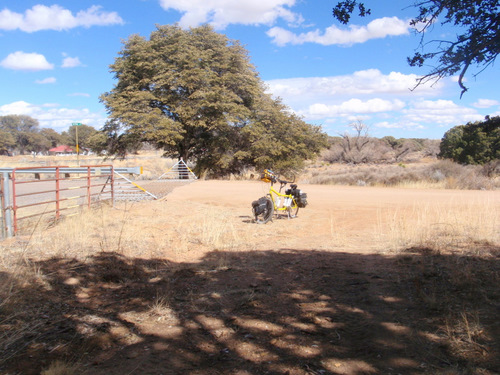 Above Left: We reached Highway 90. It's about 20 miles to Silver City, but we will only go as far as the Tyrone Copper Mine (which, by the way, has been mined by Native Americans for Turquoise for over 2000 years, according to archeological evidence/findings), about 10 Miles.

Above Right: We eat lunch near the Separ Road and Highway 90 Intersection.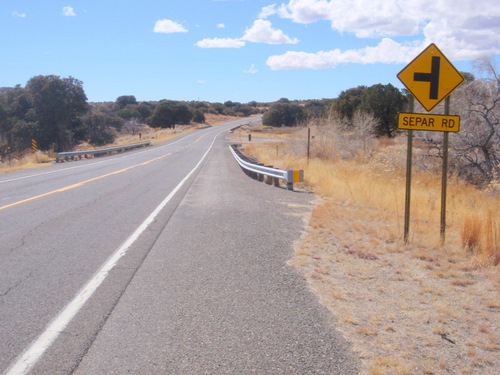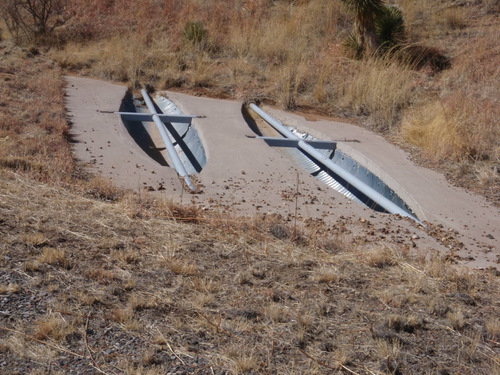 Above Left: Back view on Hwy 90 to Separ Road.

Above Right: It took me a while to get it. This is a drainage ditch that parallels Hwy 90; the bottom of the picture is the uphill side.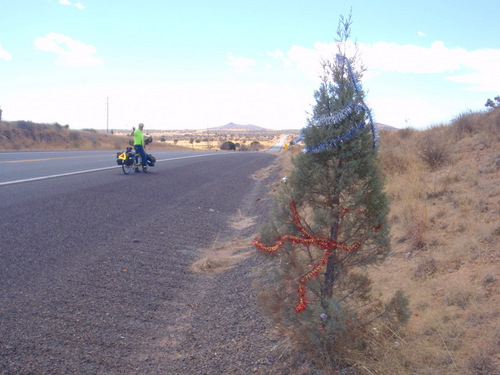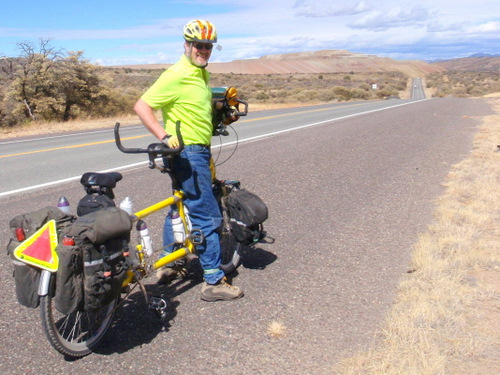 Above Left: One of those impromptu roadside Christmas Tree decorations. It even has ornaments.

Above Right: Dennis and the Tyrone Copper Mine tailings in the background. I am about 2-3 miles away from the artifact and need to be this far away just to get a full picture. Everything from my head to the road, in this picture is mine tailings - that mountain is nothing but heaped up mine tailings. As we got closer, we discover more tailings on the other side of the rode and into the next valley, that's a lot of dirt! This is real close to today's turnaround point. We have to head back; a big wind and storm are coming.



Thus ends another great bicycle adventure!




Previous Adventure Top Next Adventure