| << | 30 | 31 |

| 33 | 34 | 35 | 36 | 37 | 38 |

| >> |

Be sure to hover the mouse over the images.
Bicycle Tour Adventure #36
Day: 1, 2
Pictures and Stories About Bicycle Tour Adventures
Great Divide Mountain Bike Route (GDMBR - Segment):
Ute Pass (9,583'/2920m), Silverthorne, Dillon, Frisco,
Breckenridge to Boreas Pass (11,482'/3499m), Colorado;
By Bicycle Tour; August, 2011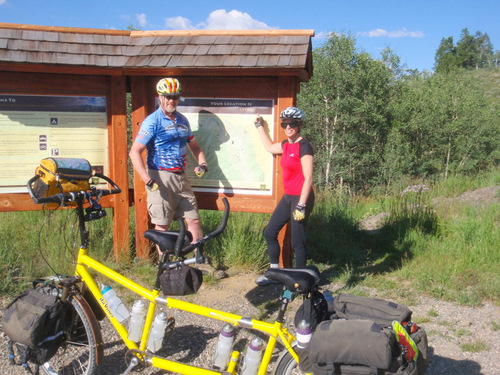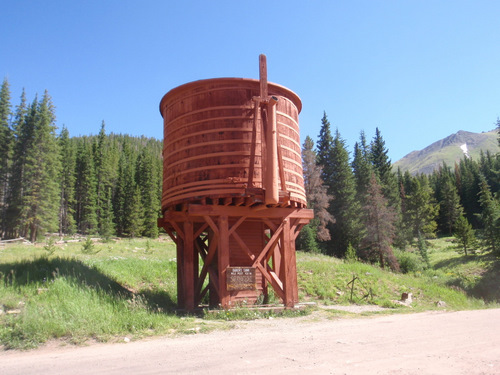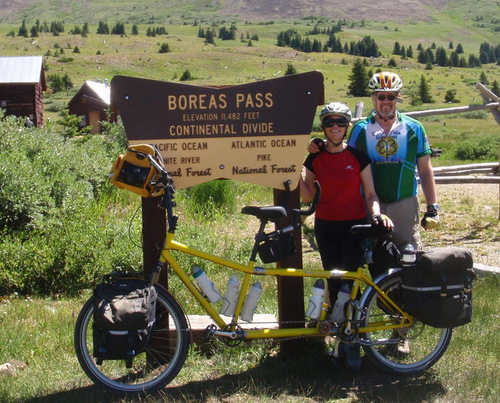 - Cycling Summary -
Goal: Completely Ride Adventure Cycling's 'Great Divide Mountain Bike Route'.

Objective: Ride as much as allowed by the Weather for a two day August Weekend.


Highlights
Plenty of people were fascinated about what we were doing, let's face it:

A tandem tour bike with panniers is quite the attraction, most notably to kids and especially to young boys (that's how one knows that they are doing something really cool, it ranks right up there with being a fireman, sheriff, or pilot!).

We were, unknowingly, ambassadors for biking, touring, and tandems. We met many people and they were quite curious.
Plenty of cyclists acknowledged us, in fact on one occasion, a road cyclist going in the other direction saluted us - that was awesome.
It is very difficult to stay up with all the action, activities, and distractions of this area in Colorado.
This area is one of the most popular tourist areas in the world for active sports, both for summer recreation (recreational biking, bike touring, mountain biking, camping, boating, sailing, jet skiing, hiking, running (XC), backpacking, rafting, kayaking, river boarding, photography / wild game viewing [to include lions and bears, oh my], RV'ing, horse-back riding, equestrian sports, motorcycle, ATV, hunting, shooting, +) as well as for winter recreation (skiing, all kinds downhill racing from World to Olympic class, cross country, helicopter, snow shoe, dog sledding, sled dog races - Iditarod type, nature tours and dinners by snow cats, snow mobiles, survival training, ice fishing, ice skating, +).
This location can get quite busy and crowded in terms of road traffic. Adventure Cycling suggests (on their GDMBR Maps) that one travel early in the day here, as the traffic continues to build all day long, always increasing, until late night (lots of night life here).
We never saw anything bigger than a groundhog but we saw plenty of deer tracks on road and trail shoulders.
We always started biking between 0545 and 0600 and we were only alone for about a half hour.
All riding on Day 1 is on paved road and riding on Day 2 was one-half on paved road. It may be the most hard-road riding required on the entire GDMBR in order to get from one mountain trail to the next.
In this area, few homes or properties are worth less than a million dollars, many are valued more so.

Day 1, Two Loop Ride (47 Miles Total)
Dillon to Ute Pass and Back, then Dillon to Frisco and Back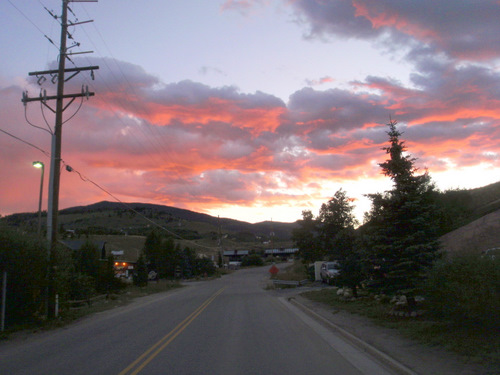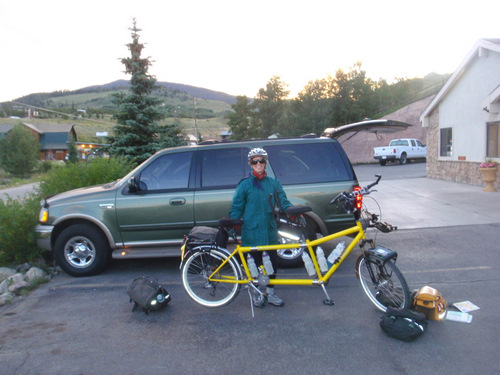 Above Left: Dillon, Colorado: Oh'Dark-Thirty - Day Begins. We're starting early because we will be on hard roads all day in a very famous and popular resort area.

The GDMBR Trail map note states that the later it is in the day, the worse the traffic, ergo we're going early in the morning and we will loop back on this same road after summiting Ute Pass (our main destination for the day).
Above Right: It's Terry; we are about to load up the Bee.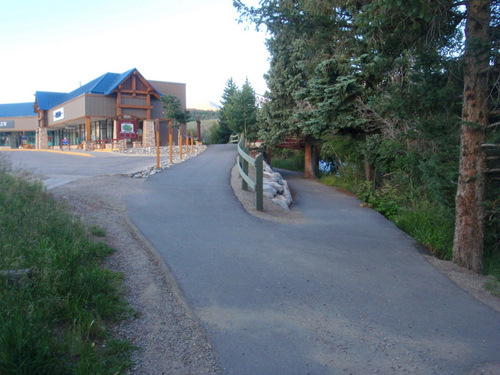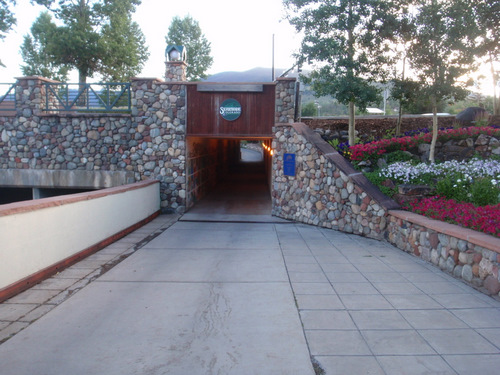 Above Left: We've crossed under Interstate-70, we are now in Silverthorne.

Choice: Left or Right; we took the river road, turns out to not matter. By the way, that is the Blue River (right side, seen through a small opening); we are about to follow the Blue River north, more or less, for about 15 miles.
Above Right: This pathway passes under Hwy 9, we want to be on Hwy 9, we discover murals painted in the tunnel.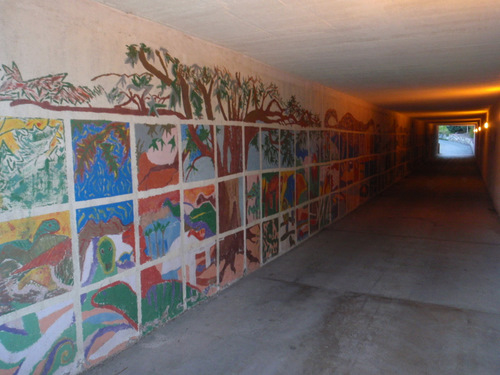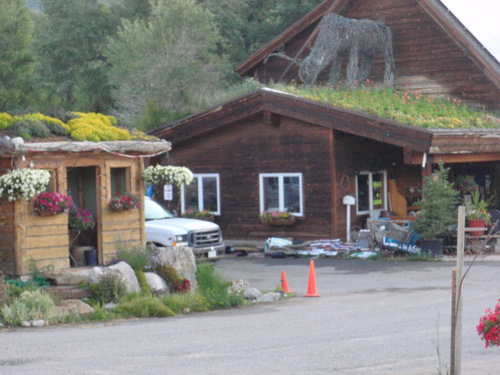 Above Left: Murals painted in the pedestrian/bike tunnel.

Above Right: Plants on the roof - It turns out to be a Horticulturalist.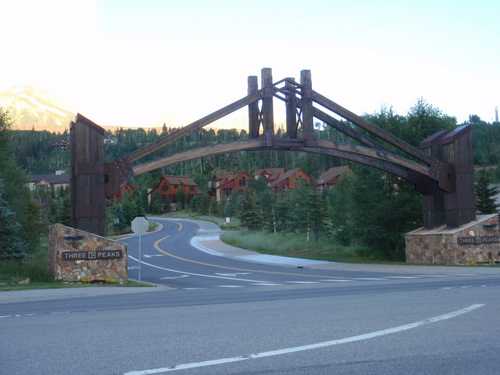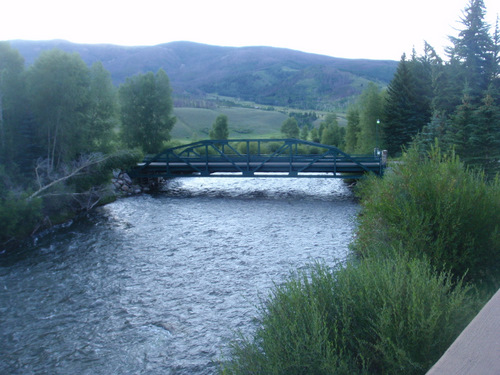 Above Left: South end of Silverthorne: A resort community gateway.

Above Right: The Blue River; all of a sudden, it is huge (back view).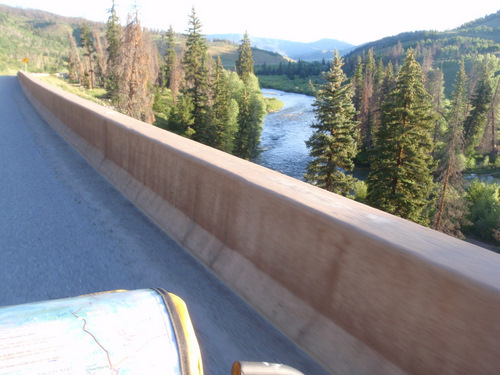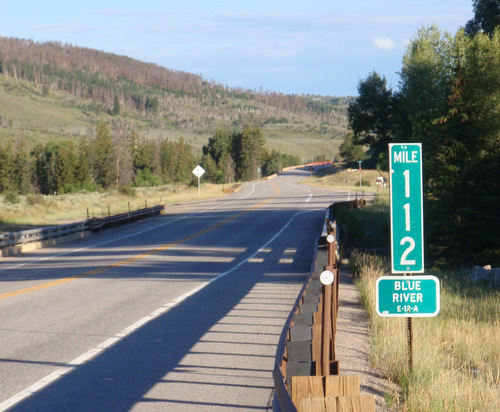 Above Left: Riding the Bee North on Hwy 9 parallel to the Blue River.

Above Right: One of many Blue River crossings, we're about 8 miles north of Silverthorne.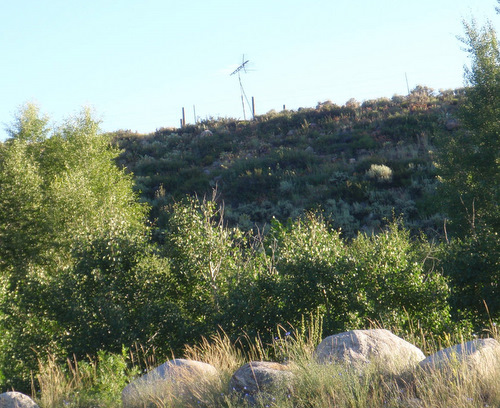 Above Left: There are Three Chipmunks in the picture, Good Luck.

Above Right: TV Antenna on a hilltop, it's cheaper than a standing tower; the house is out of view (between us and the hill top).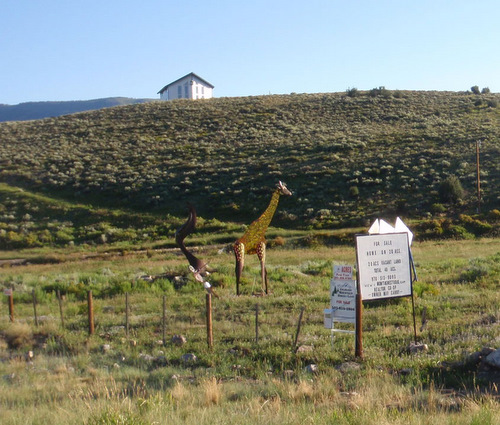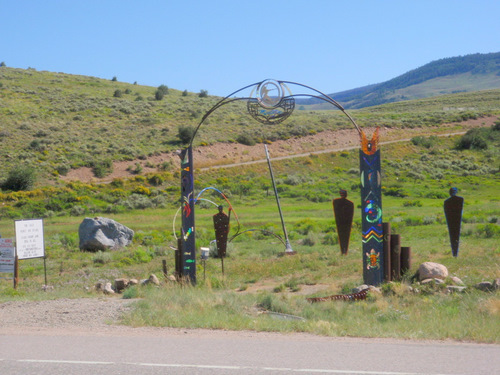 Above: Art on the country side.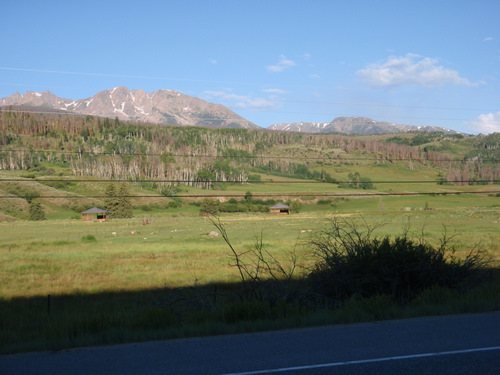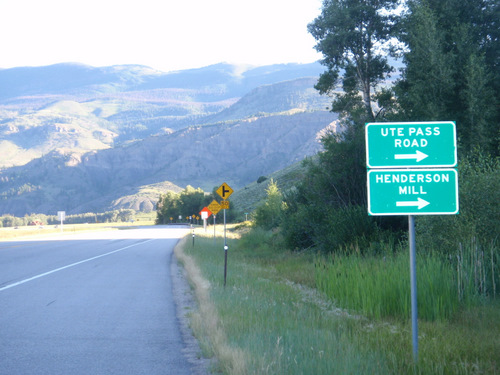 Above Left: Long shadows, still early in the morn. Notice all of the dead trees, there is a Pine Beetle epidemic because many trees lost their immunity due to three years of drought between 2000 and 2003 (also big years for forest fires).

Above Right: Turn right and climb!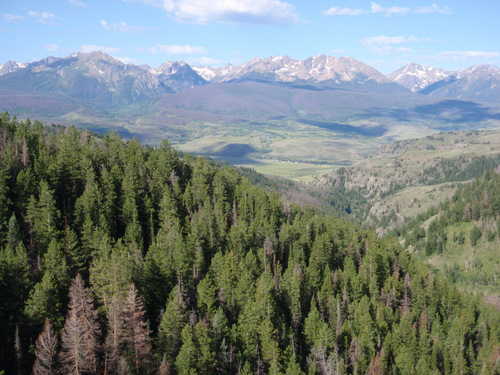 Above Left: Dennis and the Bee, picture by Terry.

Above Right: Back view, one hour after the previous right turn.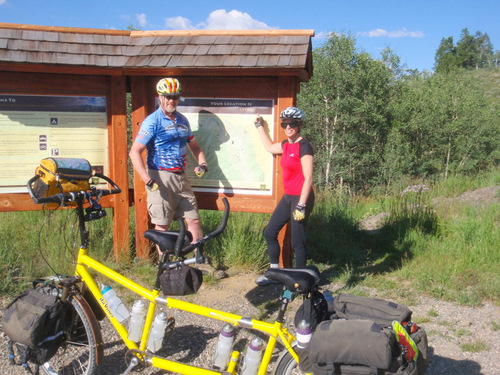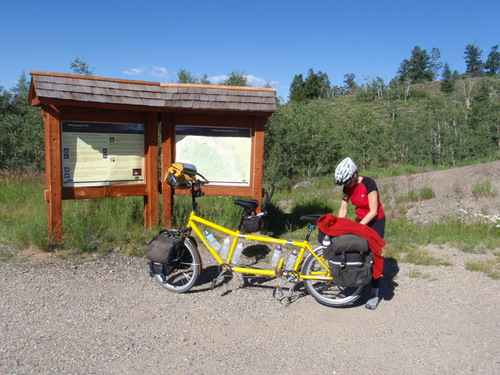 Above Left: Ute Pass (9,583'/2920m): Terry is pointing at the sign that states Ute Pass. Dennis is feeling his oats, picture by Bob. Bob is the only other person around and he volunteered to take our picture - Thanks Bob.

Above Right: We had a snack and Terry is reloading a pannier and she will wear a flannel shirt for the downhill ride (because the temperature is still cool).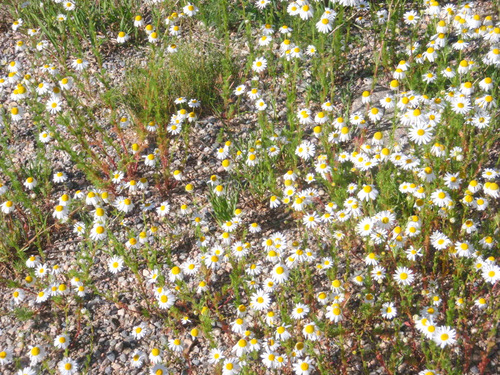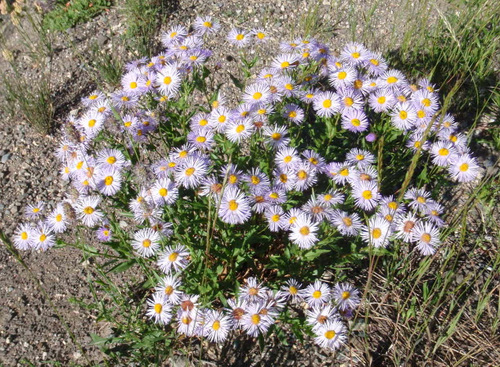 Above Left: White Petal Daisies.

Above Right: Purple Petal Daisies.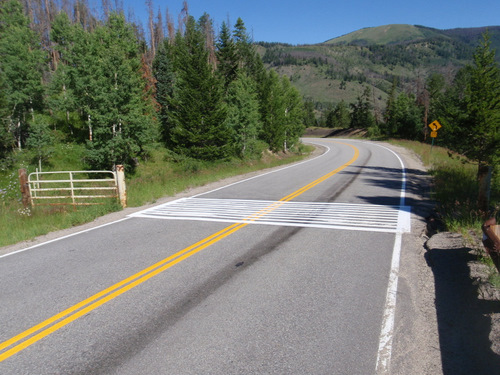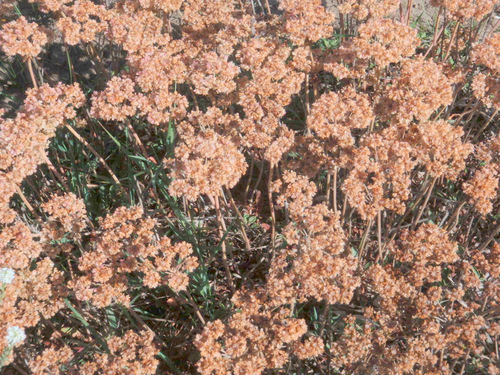 Above Left: Freshly Painted Road Grid.

Above Right: Looks like dried flowers but these are alive. We don't know the name of this flower, yet.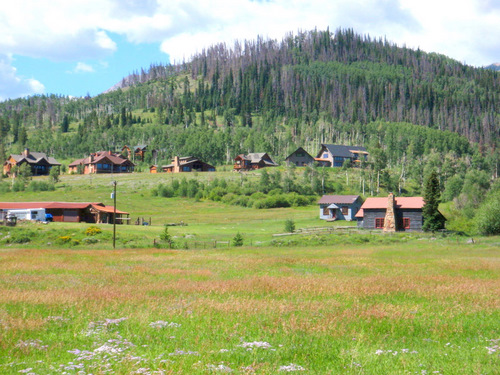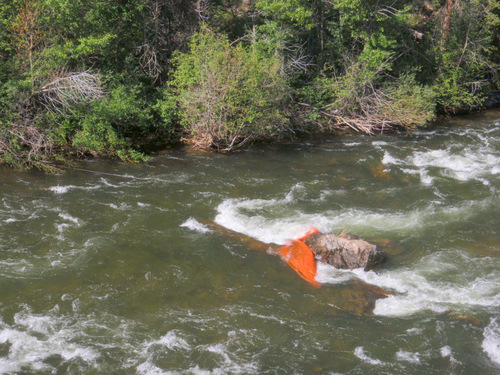 Above Left: Scenic View of resort homes.

Above Right: Someone lost an Orange Kayak - It is now molded to a boulder.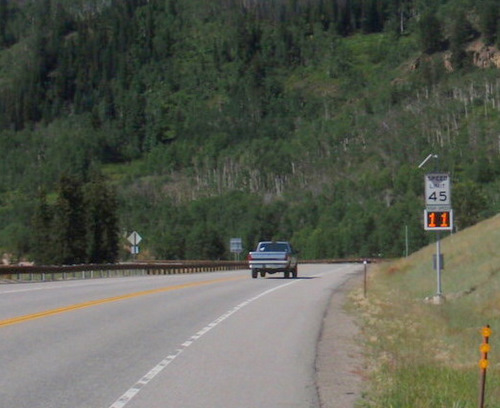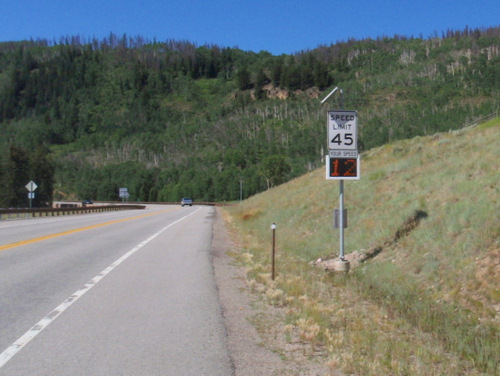 Above Left: That is a slow truck.

Above Right: We're gaining (12 MPH)!
BTW, fully loaded bike tour route planning is calculated at 10 MPH - we're cruising.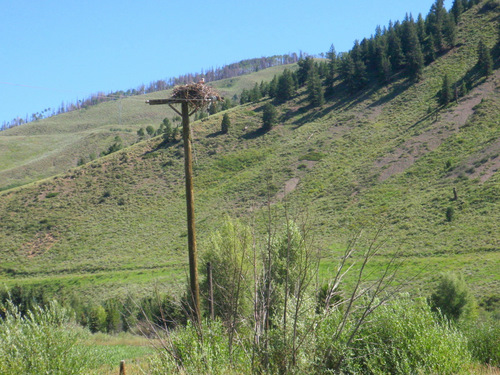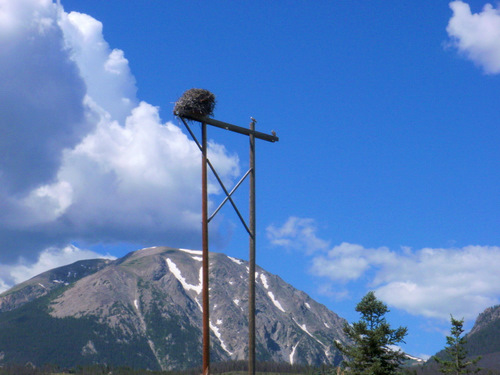 Above Left: Osprey, Nest #1, one parent home, one chick visible.

Above Right: Osprey, Nest #2, both parents are home, no chick are visible.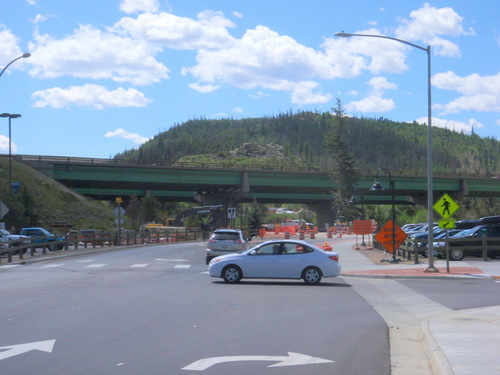 Above Left: Real Stagecoach used for resort advertising.

Above Right: Things get real busy, here, for the GDMBR traveler. This is a Famous/Infamous Spot for cyclists on the Great Divide Mtn Bike Trail: this is where one map page/segment ends and another map page/page begins; this is I-70; this is a very busy, very popular summer and winter ski resort area, with plenty of foot, bike, and automobile traffic during the summer; I-70 separates the town of Dillon from Silverthorne; we're in Silverthorne, facing southwest; we're supposed to go under the Interstate Highway, catch a bike trail at the first right, which happens to parallel the Blue River whose size is small at this point as it is just spillway run-off from the Dillon Reservoir (aka Lake Dillon - See next image).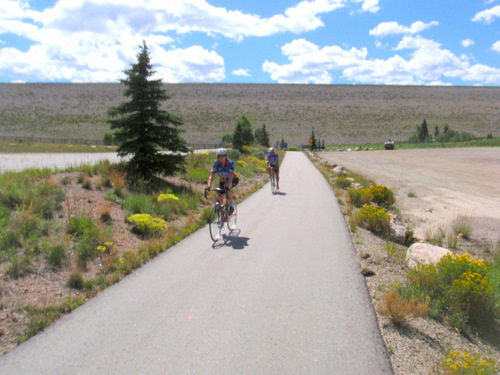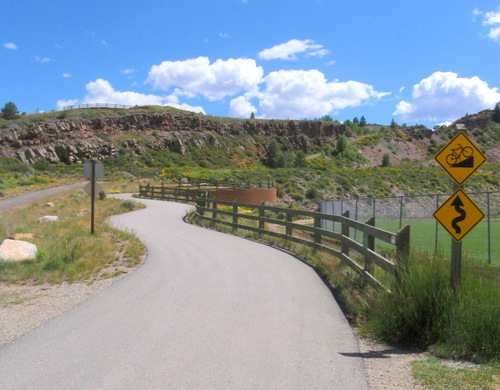 Above Left: Cyclists riding down the connecting bike trail from Lake Dillon's bike trail. The bike trail (around one side of the lake) leads to Frisco, Colorado (which is our other turn around point for this day's ride).

Notice the huge retaining wall for the Dam at Lake Dillon in the background.

Above Right: This is the Dam climbing trail; it has six or seven switchbacks and leads to a housing area where one finds the trail again leading uphill for yet a few more switchbacks.

I can't say that the Adventure Cycling map instructions were poor, but it really helped to take it easy and watch where other cyclist were coming or going and it helped to actually read trail signs (something that I skip if not needed). The area was under construction and we still had a young couple make a route suggestion to us - We were about to ride on the dam road when a young couple saw us and let us know that the road was closed due to construction and we were supposed to take the trail hidden by construction barriers. We thanked them! I'm glad that all of that is behind us.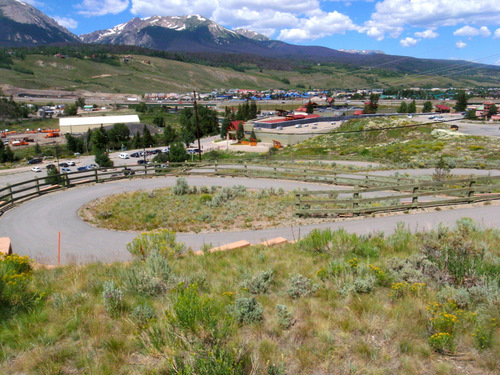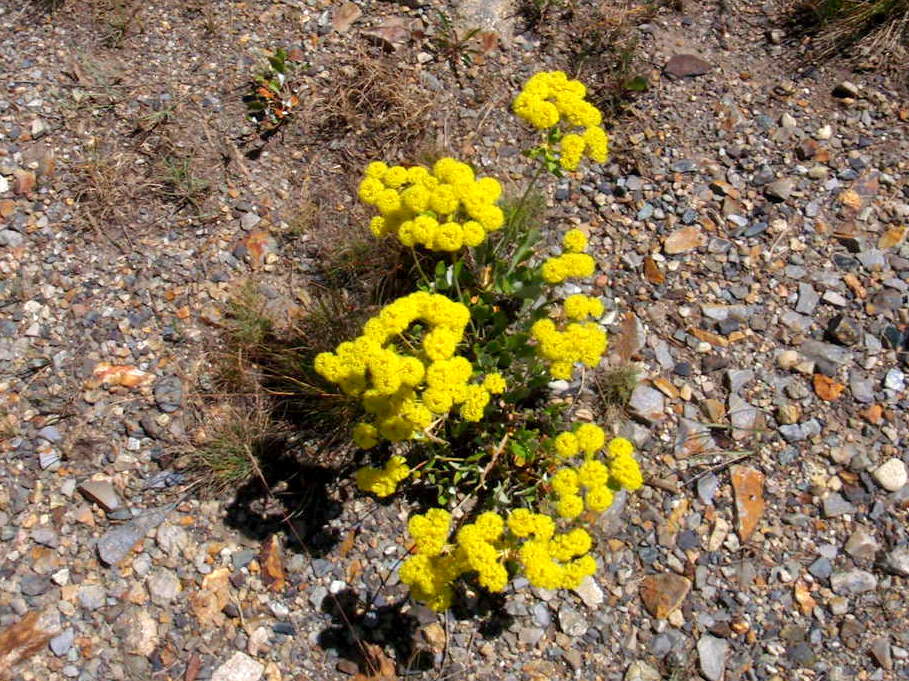 Above Left: Back view of some of the switchbacks and a view of the heavily congested area of Dillon/Silverthorne that we are leaving.

Above Right: Flowers along the ascent.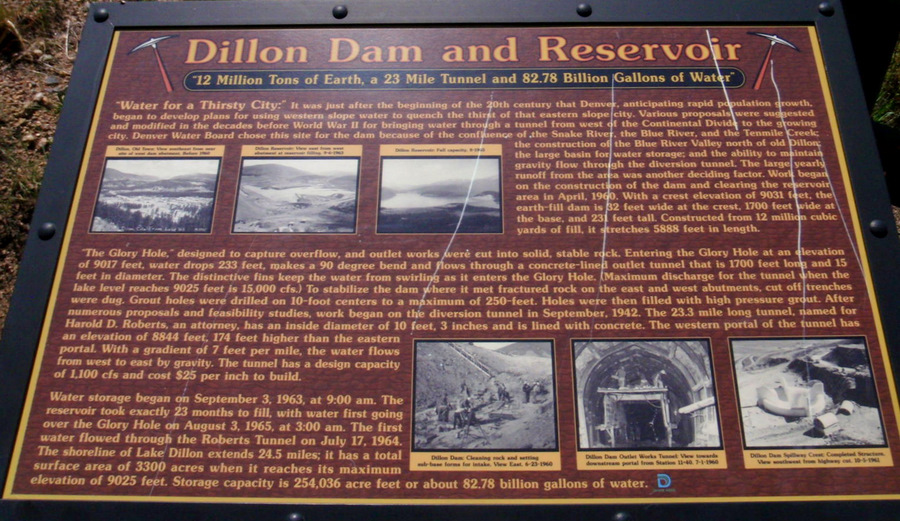 Above: Some Dillon history.





Above: A Lake Dillon side tributary and some Fireweed. Here the Fireweed plant is Purplish but further north it is Bright Red.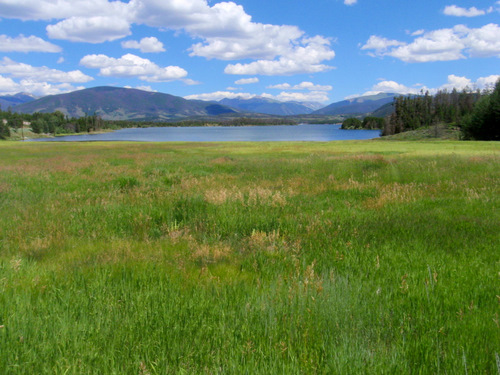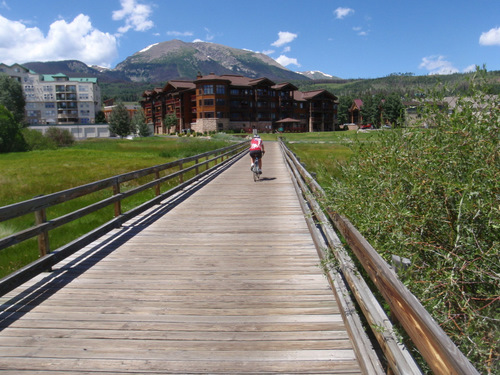 Above Left: The wetland source of Lake Dillon. Lake Dillon is about 5 or 6 miles long (8-10K) - Looking north here.

Above Right: Long wood trail bridge, over the wet land, leads to the town of Frisco (behind us in this picture).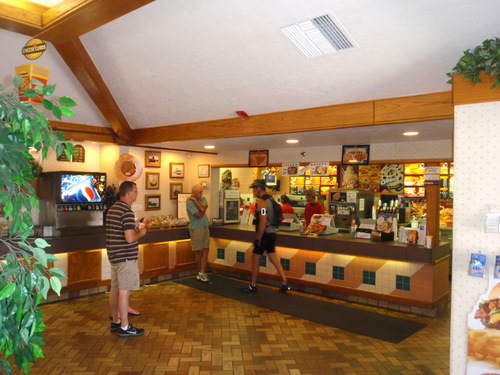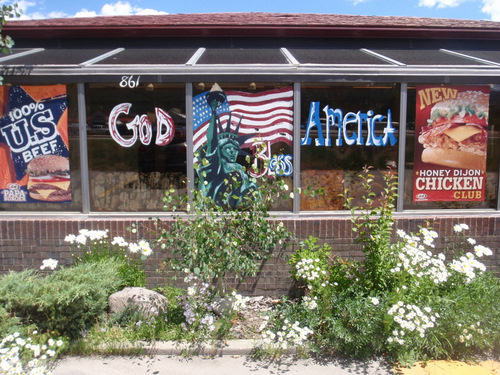 Well it is about 1330 hours and it is about 85F/30C degrees - We're stopping at The Frisco A&W Rootbeer Store for a Rootbeer Float (Vanilla ice cream mixed with Rootbeer), it's cold, thick and smooth. Hwy 9 - 861 Summit Blvd whose back alleyway hits Lagoon Drive on the GDMBR.

Above Left: Inside

Above Right: Outside.



Previous Adventure Top Next Day