| << | 30 | 31 |

| 33 | 34 | 35 | 36 | 37 | 38 |

| >> |

Guangzhou: 0 | 1 | 2 | 3 | 4 | 5 | 6 | 7 | 8 | 9 | 10 | 11 | Xian: 12 | 13 | Beijing: 14 | 15 | 16 | 17 | 18 | 19 | Other's Pics
Bicycle Tour Adventure #32: China Page 7



Day 7: Touring China by Bicycle;
Today, We Bike from Lianshan to Zhongshan,
(A shorter daily distance but with more hills).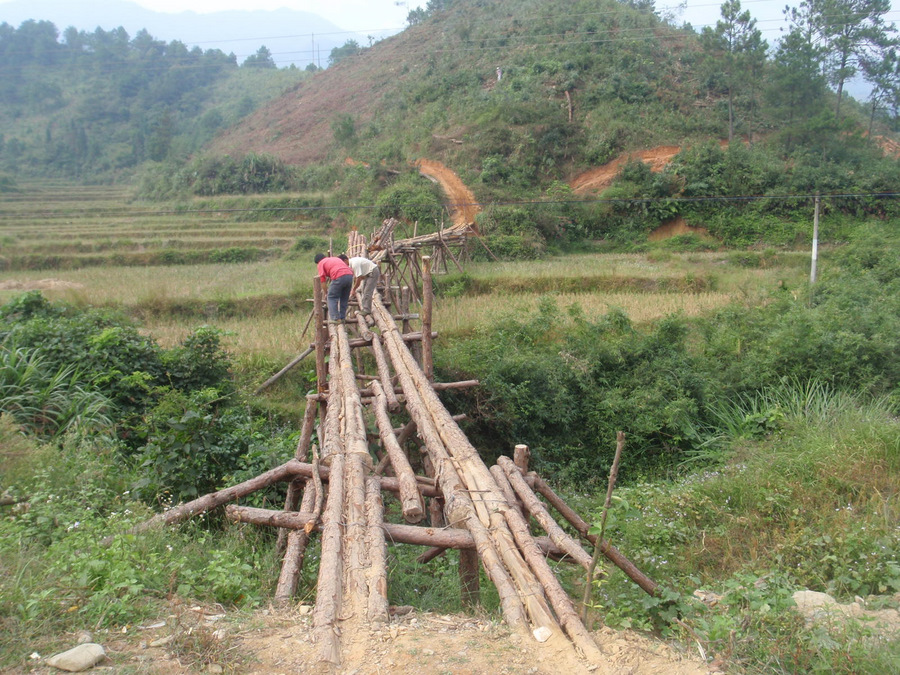 Building a wood bridge for fixed width cart wheels.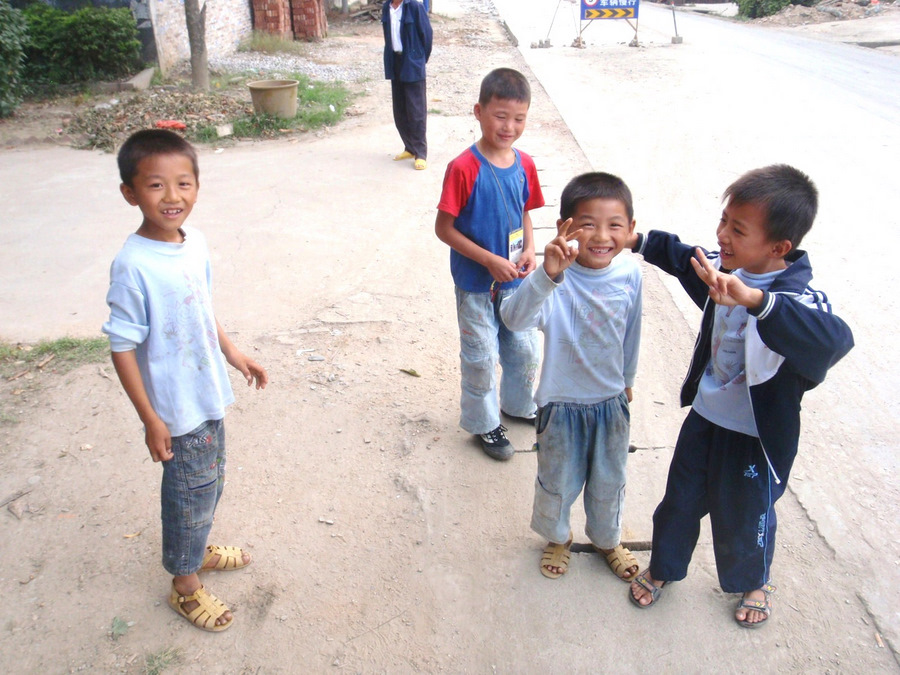 Taking pictures and showing these curious boys some of the photo images.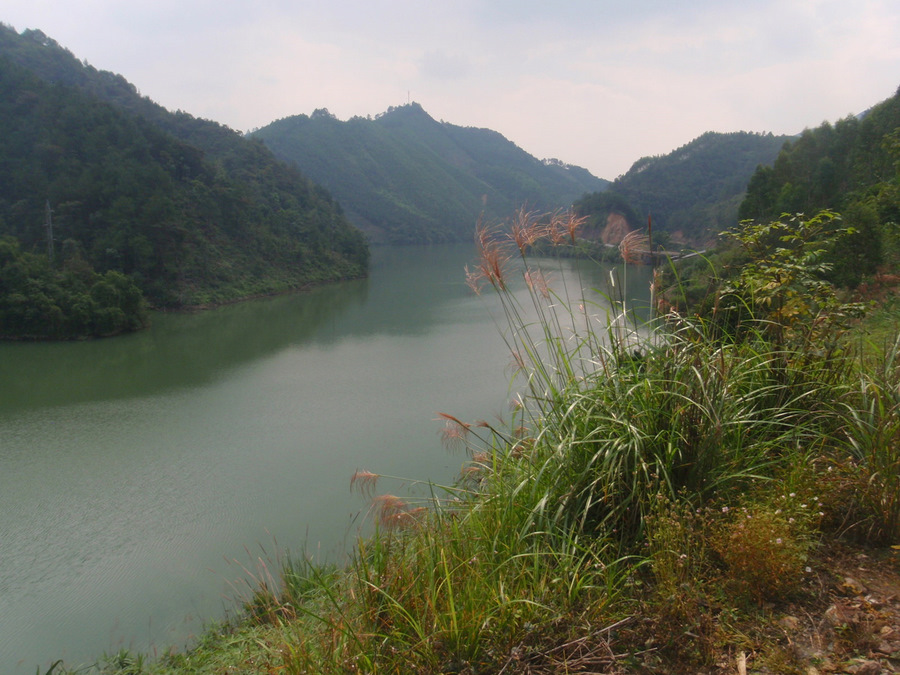 A view up a mountain river.




Day 7 Begins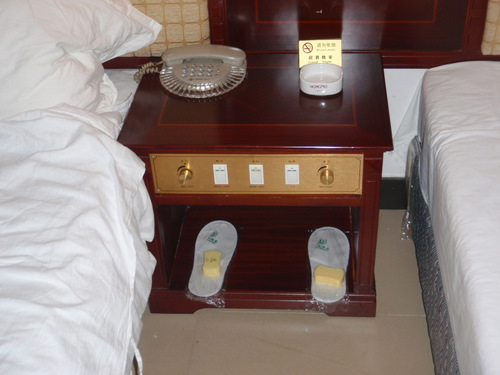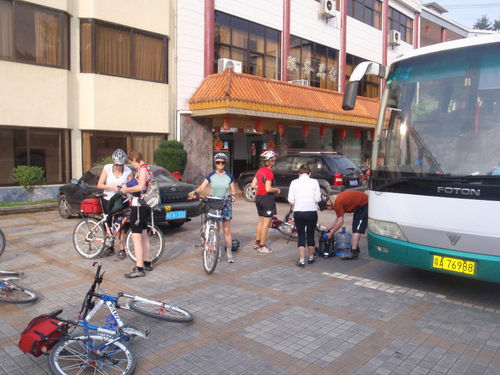 Above Left: About Chinese Hotel Rooms:
Most rooms have a central light and media central control center. It was obviously a fad some time back. Most of the rooms that we stayed did not have a current lighting and media system that matched the center control console; however most of the night stand lights were controlled by the console.
See the slippers on the bottom shelf? I tried a pair, in another hotel, they fitted as far back as the center of my heel.
My feet frequently hung over the end of the bed.
Twin beds in a room is common (standard expectation). In better hotels, there will be two beds but they are full or queen size approximations. So, the term 'Twin Beds' can have a couple different meanings when a person books a room (just like in Older Europe).
The beds are extra hard. The beds are so hard that sometimes we would request an extra bed cover for Terry, just so that she could sleep on top of the bed cover and have an extra layer of cushion (especially for her broken rib).
Travel Experience: We usually leave a small flashlight at the bedside each night and we leave the bathroom light on but close the door, thus we can see the way to the bathroom in a different room, each night.

Above Right: Assembling for the day's bike ride.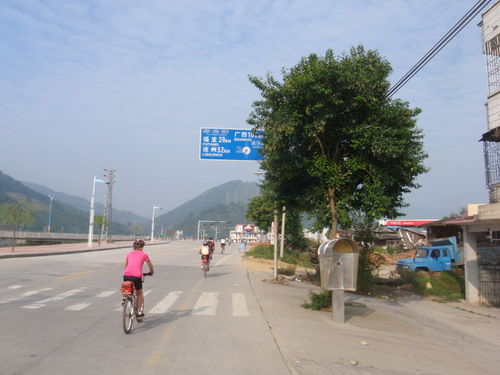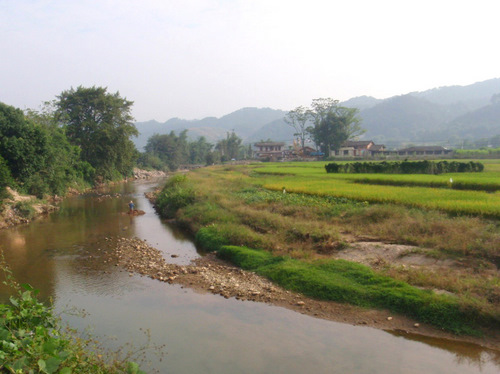 Above Left: Cycling out of Lianshan, heading for Zhongshan (not on the sign posts yet).

1. I'm behind a fellow cyclist's hot pink outfit (a point made for the immediate below picture).

Above Right: 2. Stop to take a picture of a view up a river tributary.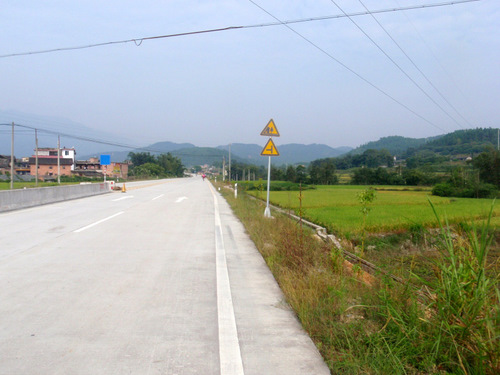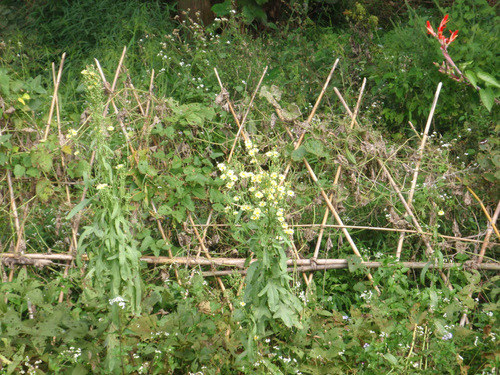 Above Left: 3. This is how much distance comes between riders. The cyclist's hot pink outfit is a dot in the above roadway image.

Above Right: A stop to take a photo and smell the flowers, to us this is what bicycle touring is about.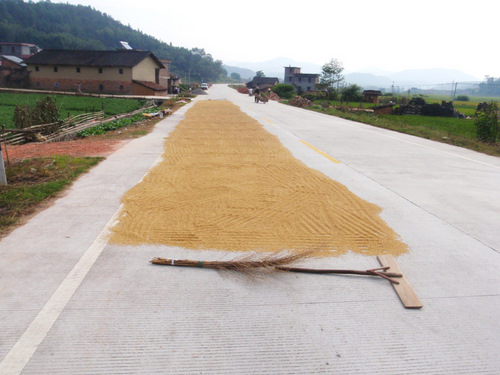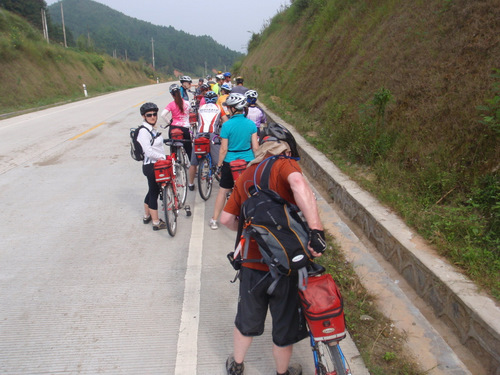 Above Left: This is husked rice drying on the road. We learned along the way that this method of drying rice allows the light weight husk to detach itself from the rice grain and the air movement caused by passing vehicles will blow away the husk but the rice grain will remain. Clever these Chinese Farmers!

Above Right: We are on a pass, taking a break, and celebrating a little hill climb.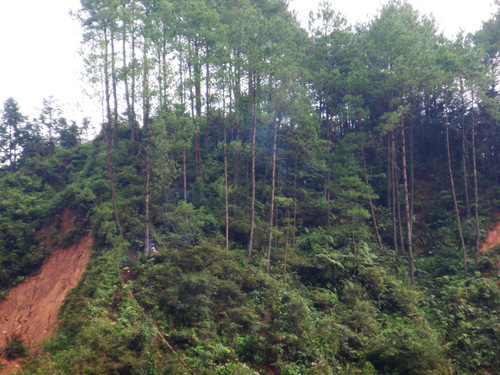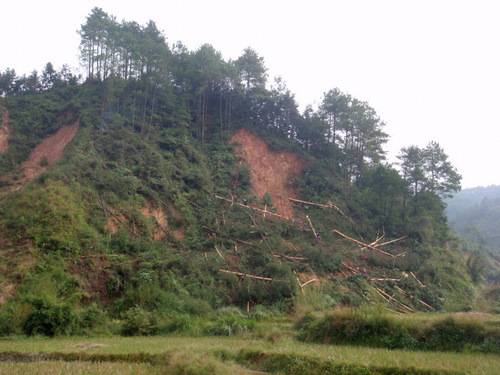 Above Left: Timber harvesting, tree fall crackling, chainsaw smoke, and noise.

Above Right: Same picture, broader view with felled timber.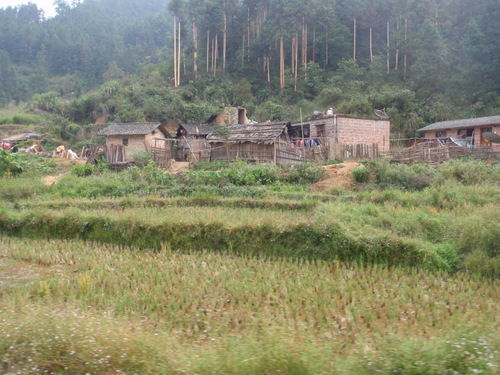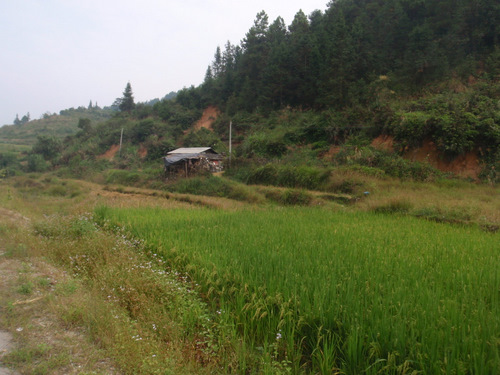 Above: More brick and wood structures in the mountain areas (less mud, plaster and cement structures). Some rice harvested, some rice still growing, depending on the terrain and micro climate.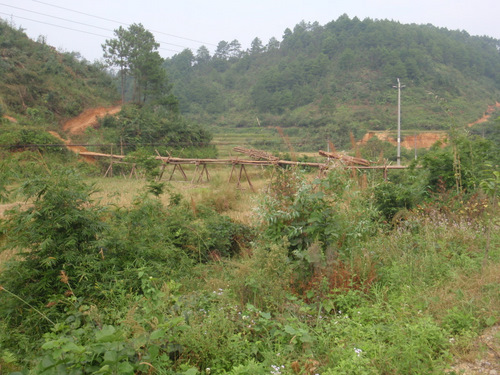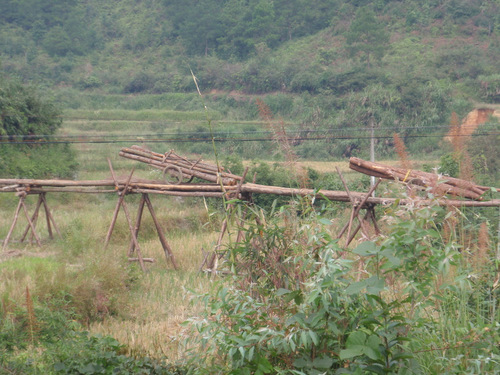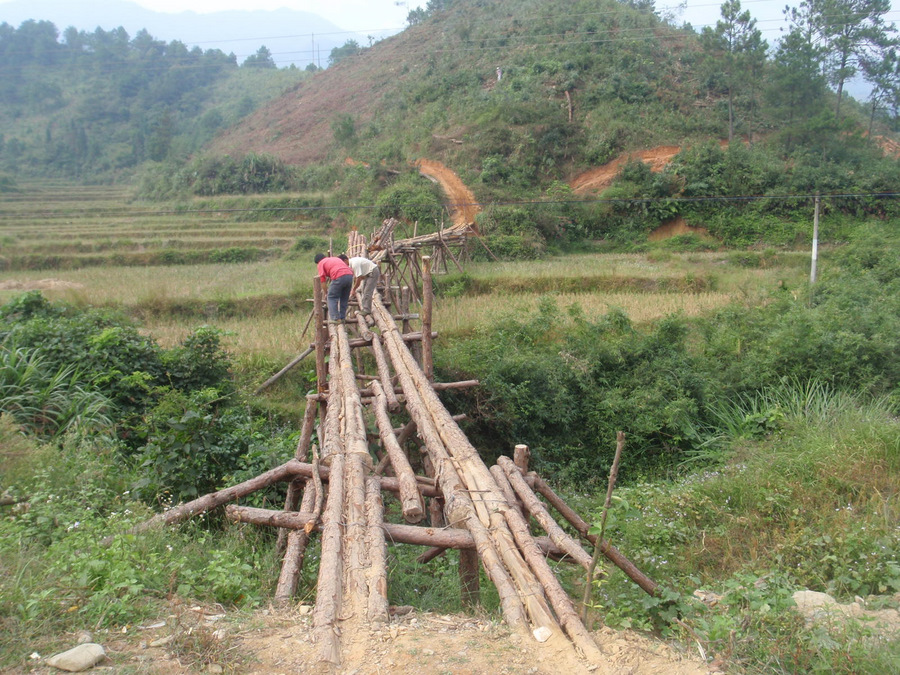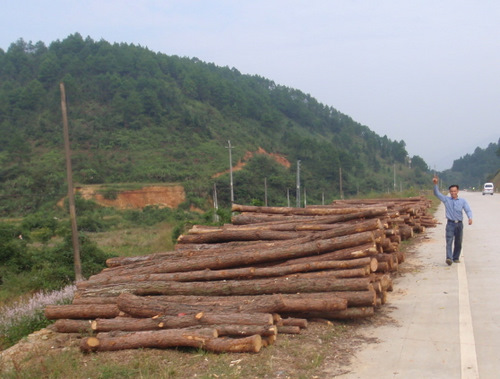 All of the Above: This is a very technical operation. Someone has timber cutting rights but not road access to the cut timber, so they are building a wood bridge with a fixed distance between cart wheels (to be used like a train track).

The gentleman on the right side is excitedly waving (a piece sign) and yelling Hello. His actions and behavior demonstrate yet another Chinese person that is excited about seeing Westerners visit his homeland. He is sending good vibrations and I am feeling them. We say friendly hellos and goodbyes to one another in two different languages.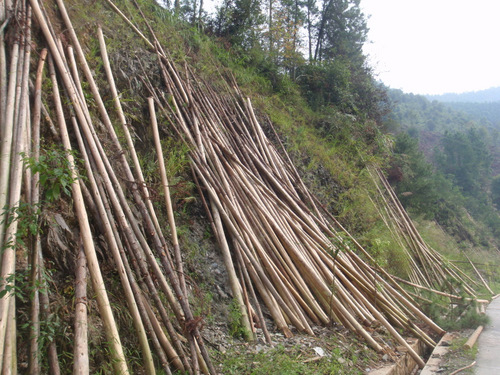 Above Left: A view ahead on this mountain road.

Above Right: More timber harvesting (run by state managed tree cutting permits).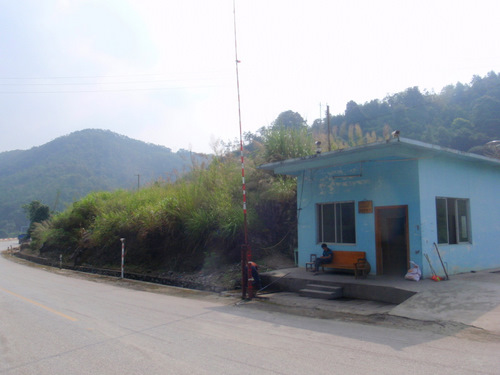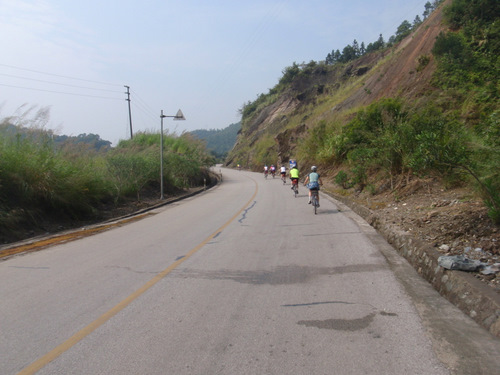 Above Left: An Active Check Point, Kept Open.

Above Right: A part of the cycling group, heading up hill.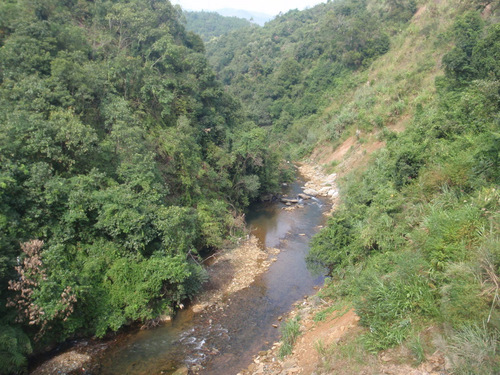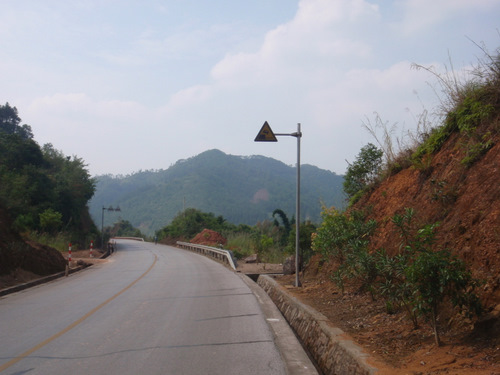 Above Left: A view up a roadside valley.

Above Right: A mountain view ahead.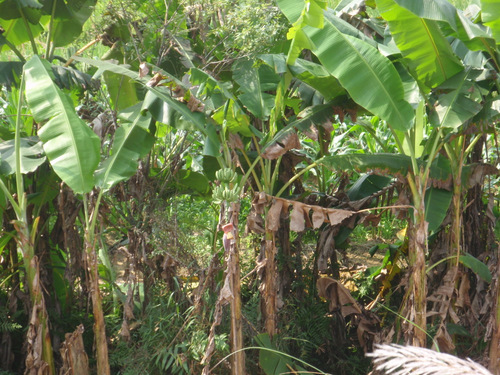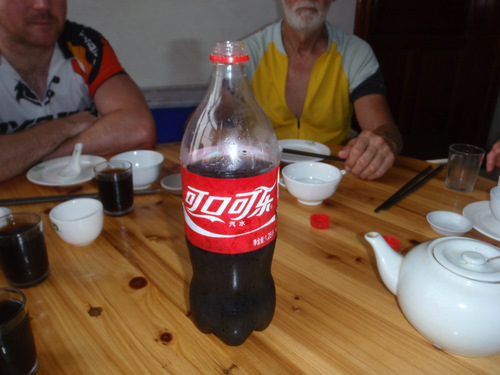 Above Left: We are still in the Tropics, banana trees.

Above Right: A Chinese Coca-Cola; it is one of two cold beverages that is safe to drink, the other beverage is beer. We've stopped for Lunch.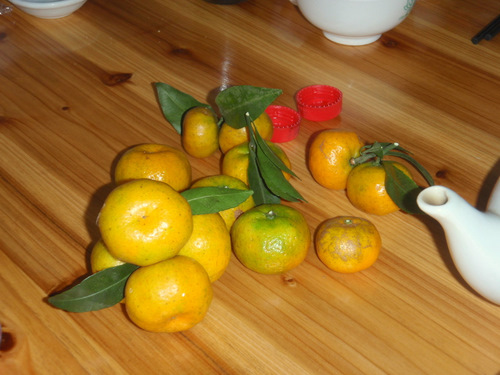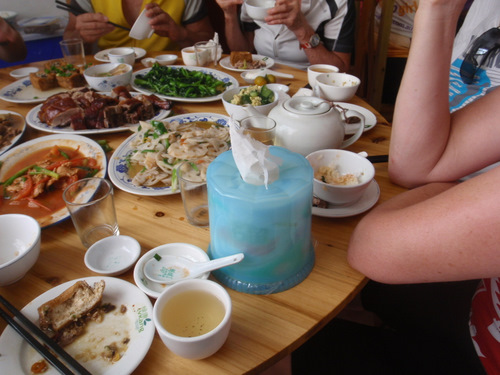 Above Left: Fresh Mandarin Oranges (another safe to eat food, without worrying about sanitation and preparation methods).

Above Right: We are looking at the fancy cover over reversed toilet paper that allows us to use it like table napkins. Note that the paper roll works from the inside to the outside.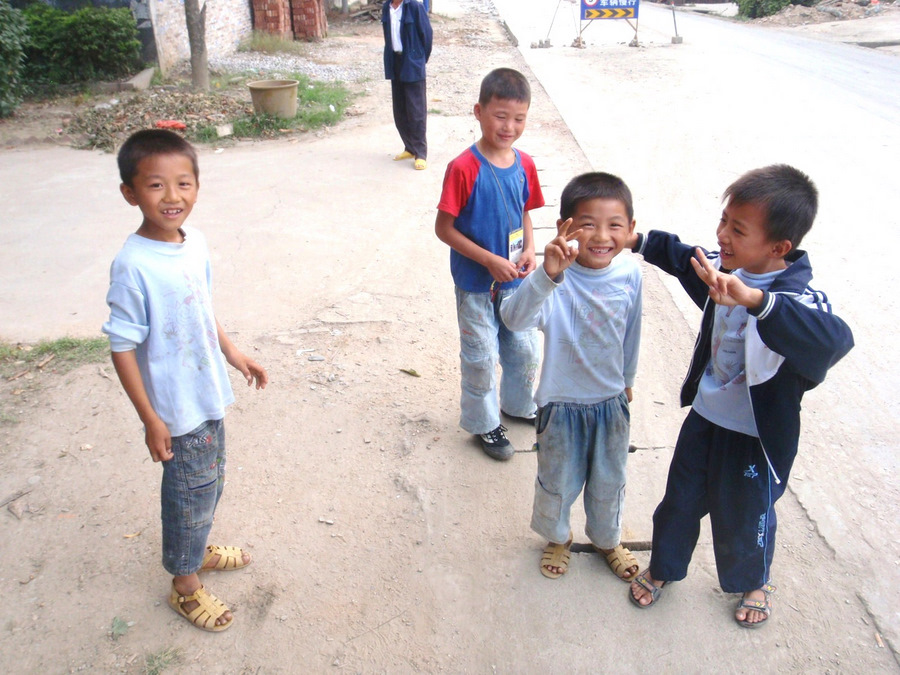 Above: I had been taking pictures and showing these curious boys some of the photo images - It was a delight to share time with them.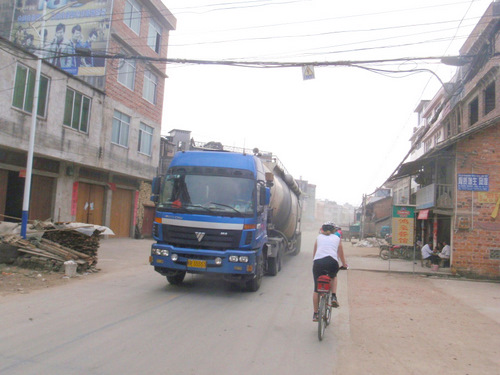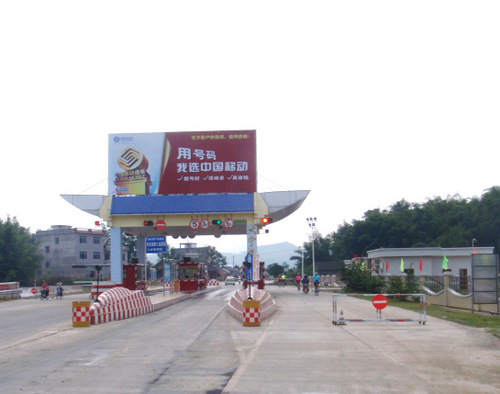 Above Left: After lunch, jumping right back into heavy traffic.

Above Right: Toll road (not for bicycles or scooters).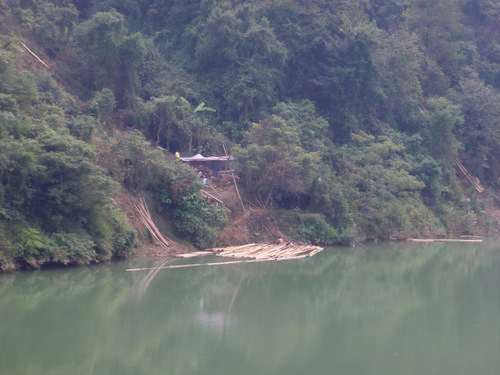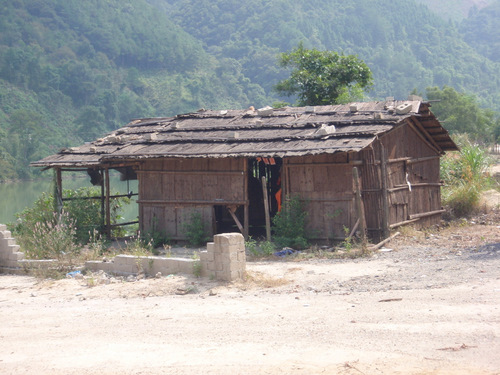 Above Left: Tree cutting that uses the river to float and transport logs.

Above Right: Example of a wood house (frame, sides, and roof).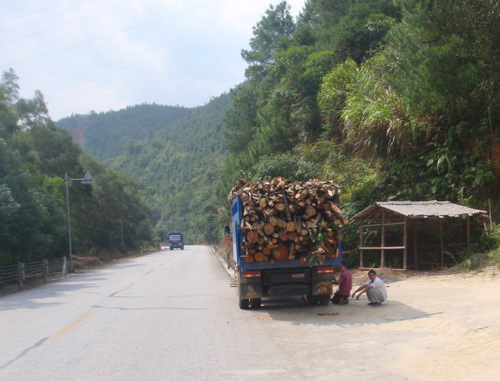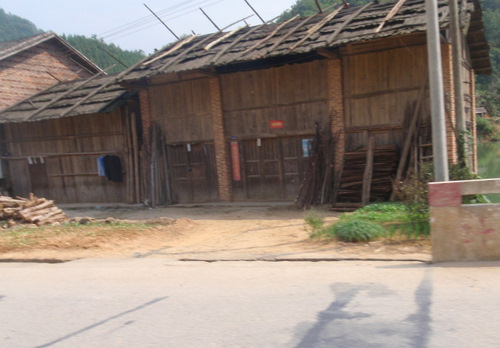 Above Left: A common view, but I finally get smart enough to take a picture: an overloaded truck with a flat tire. We see one about every 15 minutes.

Above Right: A roadside village using a lot of wood construction.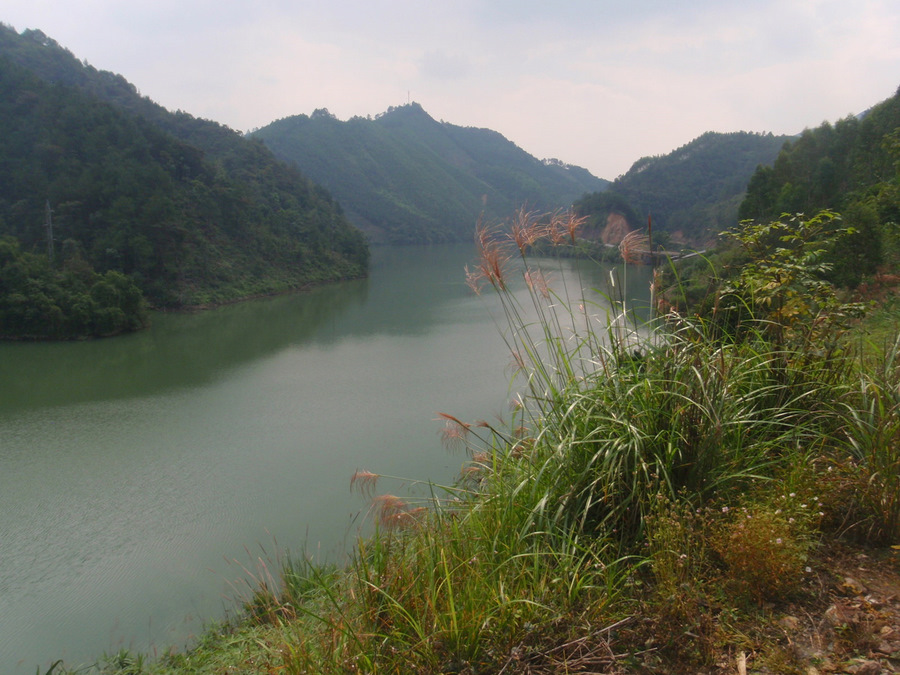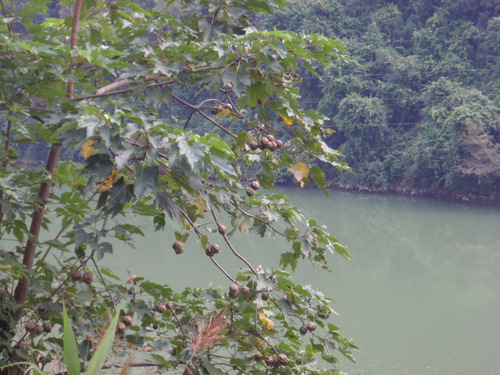 Above Left: A view up a mountain river.

Above Right: A fig tree, all by itself.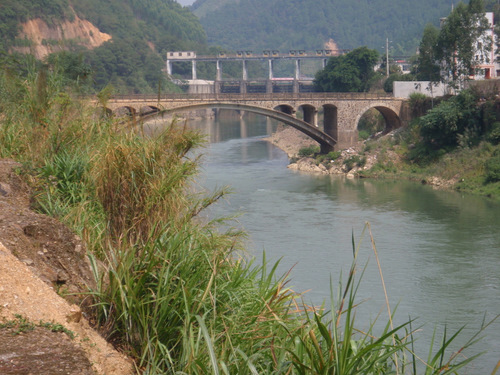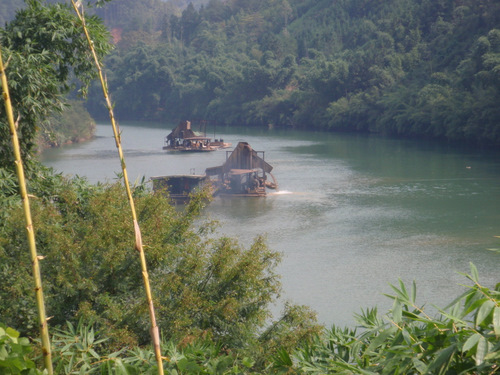 Above Left: Old bridge, dam, and hydro-electric generator.

Above Right: Dredging the river for construction gravel. Sometimes trucks with wet gravel would drive by us and the fine spray water mist that the trucks generated would always feel nice and cool to us, on those hot tropical days.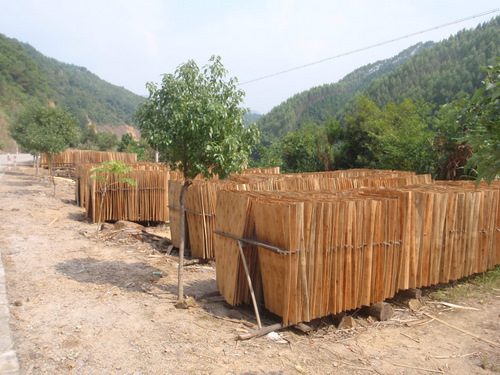 Above Left: Wood ply's to make Plywood.

Above Right: Terry and I have China to ourselves again.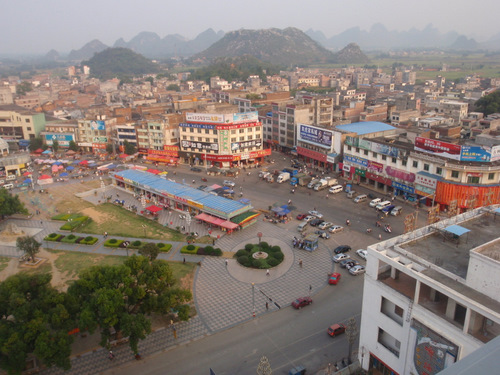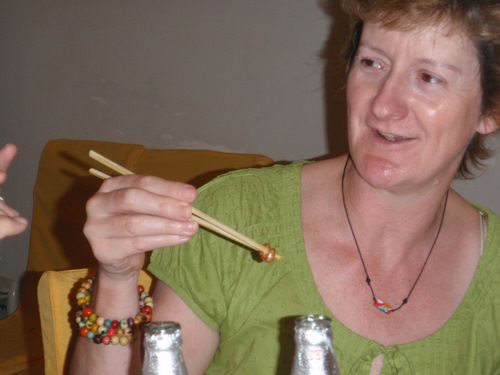 Above Left: We arrive in Zhongshan and this is a view from our hotel room.

Above Right: Glenda is demonstrating how to hold two oiled peanuts with chop sticks - This takes skill and finesse, even for born and raised Chinese.

The Peanut is a major source of protein to the Chinese (outside of expensive meat products). When asked about Peanut Allergies, Vincent said that the people with Peanut Allergies died off long ago - No Chinese have Peanut Allergies.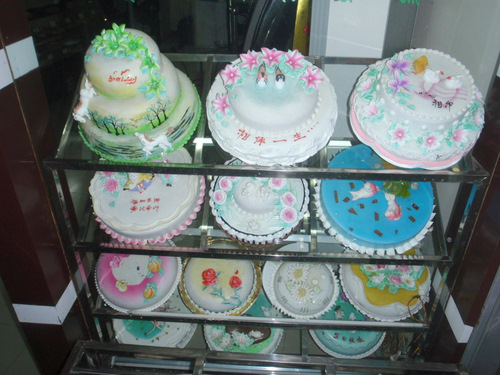 Above Left: Remnants of Dinner. Notice all of the empty beer bottles (1 of 2 safe to drink cooled beverage choices, boiled water tea is the other).

Above Right: Party cake examples from a Pastry Shop (observed from an evening walk about town while on an ice cream run).




Previous Top Next