| | | |
| --- | --- | --- |
| | Bicycle Tour Adventure #11 | |
Pictures and Stories About Bicycle Tour Adventures

Great Divide Mountain Bike Route (GDMBR - Segment);
Steamboat Lake, Columbine, Slater, Colorado, USA
(Round Trip via Columbine Pass and Meaden Pass,
Slater is on the Colorado and Wyoming State Line)
By Bicycle Tour, June, 2005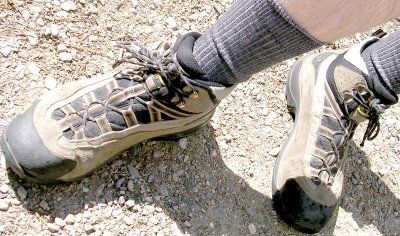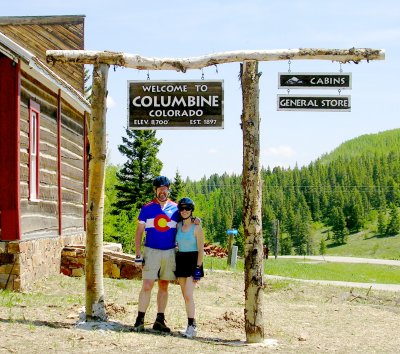 Above Left: It is not a glamorous picture but Dennis is demonstrating how he ties his boot laces. He ties them in a double knot and then tucks the ends under a cross lace away from the front drive sprocket.

Day 1: We are biking a loop from Steamboat Lake, Colorado State Park, to Slater, Colorado (on the Wyoming-Colorado State line) through Columbine Pass and back through Meaden Peak Pass. Its a 72 mile round trip with fully laden bikes. We will learn later that Meaden Peak Pass is closed to all road traffic except by hiking or biking because it is still 40% snow covered and the road wont be plowed until 1 July. This adventure is so cool!

Above Right: We are at Columbine Pass, at 8700 Feet altitude. The proprietress saw us taking pictures and kindly offered take a picture of the us together. From here to Slater it is all downhill - arh arh.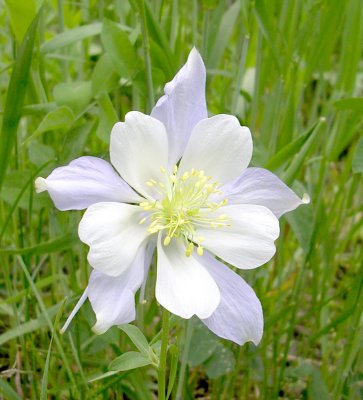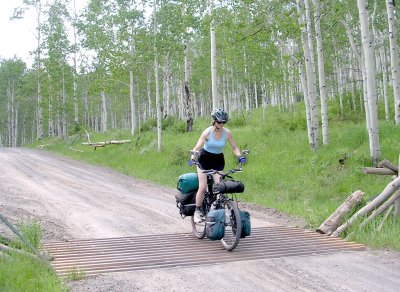 Above Left: This is a classic wild Colorado Columbine. The Columbine is the Colorado State Flower. It needs a moist area to grow and it is seldom seen below 7,000 feet altitude.

Above Right: We have crossed lots of open range land and seen lots of wild deer and elk. All of the wild animals are moving or are to far away to photograph. Terry is crossing a cattle guard in a wonderfully wooded aspen grove.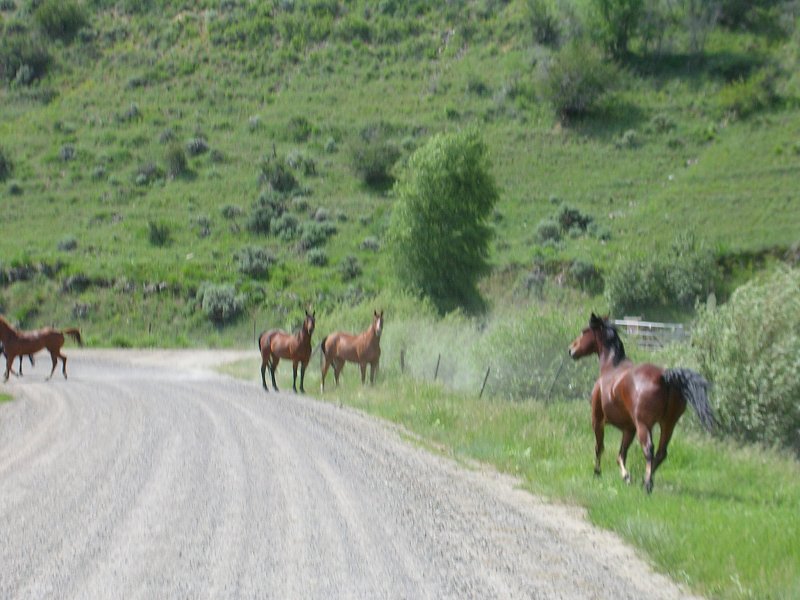 Above: Open range road with hyper horses. We did not mean to spook the horses and they were not accustomed to bicycles. It was a race for Dennis to ride and get the camera operating quickly. The horses bolted to the right fork, we took the left fork.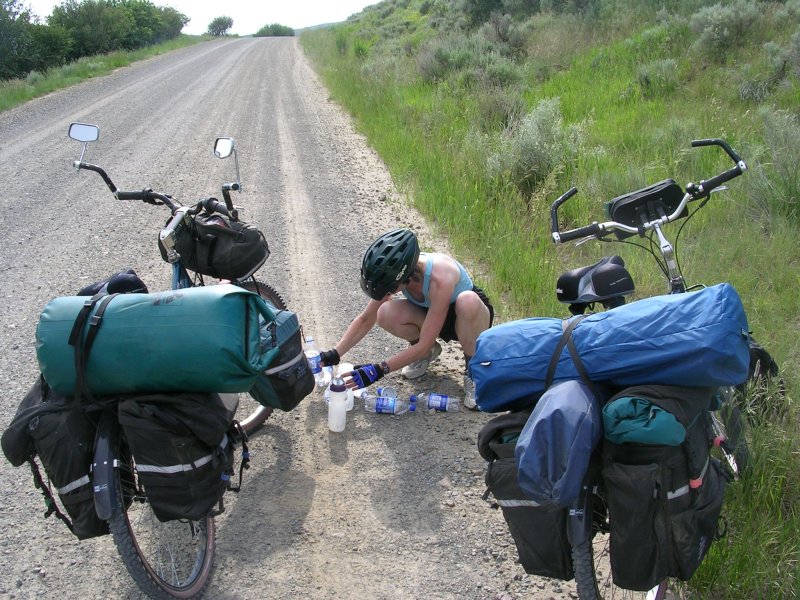 Above: It was hot and it was dry. We had ridden about thirty miles at this point and we were really road weary. We were running out of water and thinking about stopping at a house to ask for water. [We did have a water filter/purifier but it was only going to work once - that's another story.] So we're riding along, hot and sweaty with a layer of dirty sunscreen, When out of the blue two guys run up to us with cold bottled water. We think this was Angel work. These guys were staying at a friend's cabin and they were getting ready to go to the airport. Their friend's well pump wasn't working so they had bought bottled water by the cases. They gave us the remaining water so as to not waste it. It was the coolest wettest most refreshing water that we have ever had. Terry is pictured transferring the water into our bicycle water bottles. It never fails, we were so grateful and appreciative to these guys that it never occurred to us to take a picture of them.

This is actually a pretty good picture of our biking rigs. The left bike, Terry's, has a loose bag because she opened the pannier flap to access her empty stored water bottles. Terry is carrying two sleeping bags and infalatable pillows in a waterproof green dry sack - that's the big green bag on Terry's bike. Dennis caries the tent and a double wide "thermarest" pad - it's like having a queen sized bed and it is especially good at not separating apart while sleeping on a steep slope (like individual sleeping pads).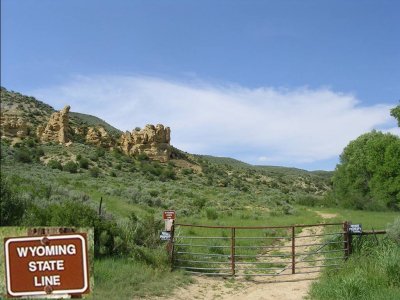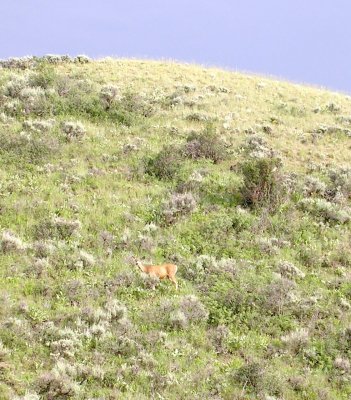 Above Left: We are traveling due west along the road, refreshed, and we discover that the fence line on the north side of the road is the Wyoming State line. We are in looking from the State of Colorado into the State of Wyoming.

Right: We are at a lower altitude in sage brush country. We are about a mile from our campground. A deer watches us pass. The deer seem redder than the mouse colored Colorado variety.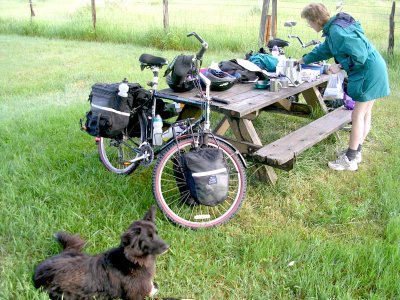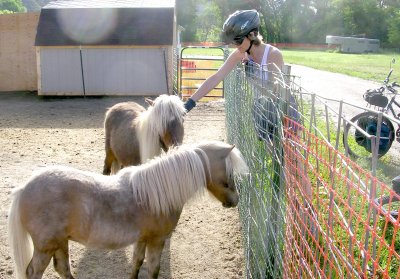 Above Left: Day 2: We spent the night on the Little Snake River at the River's Bend Campground. It rained and thundered for half the night but we slept very well. Terry is preparing breakfast. The owner's dog likes attention and does not miss a meal. We learned that the property fence line five feet north of the picnic table is the Colorado-Wyoming State Line.

Above right: The owner keeps miniature horses and it does not take Terry long to make friends.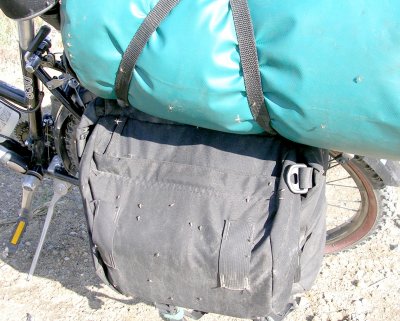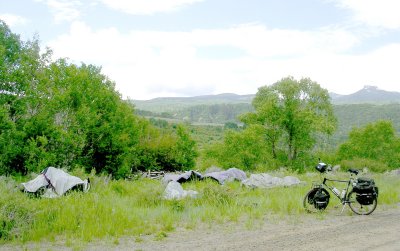 Above Left: Near the river, the mosquitos are dense. We could not put DEET on fast enough.

Big Mistake / Learning Lesson: The mosquitos were so bad that Dennis applied his DEET without taking his gloves off. The DEET ruined the leather in his bike glove. The DEET made all of the rubber grips sticky. And, worse, the DEET removed the numbers off of the shift gear indicator. Later, Dennis will use Liquid "White Out" as gear markers.

Above Right: It rained heavily during the night. We are drying everything that got wet. This will be the routine for the next two days.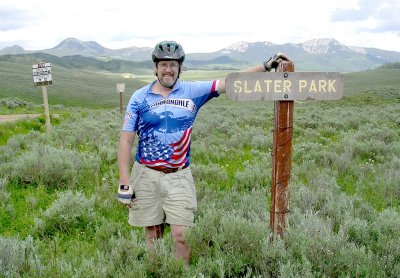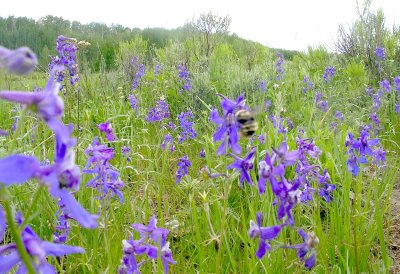 Above Left: Slater Park, Routt National Forest.

Above Right: A bumble bee in the flowers.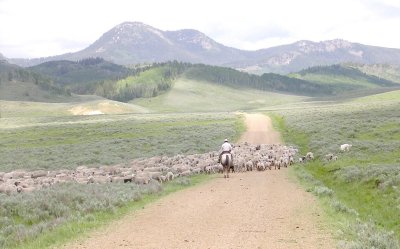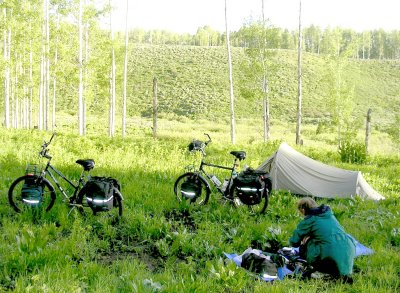 Above Left: Two shepherds (only one visible) are rounding up the sheep and changing leased pastures in the Routt National Forest. We were not in a hurry and we watched the roundup. There were two sheep dogs and both of them checked us out. One dog was overtly friendly, the other dog was cautious.

Just prior to seeing the sheep, we got to perform a quarter mile down hill run. We were moving so fast that a couple of snakes didn't clear off the road fast enough. We were going too fast to dodge them and that didn't seem like a good time to slow down. Just prior to running over the snakes, Terry saw a gaggle of turkey. Dennis only heard them gobbling. Terry has developed an eagle eye for wild animals. Just prior to the turkey we watched a cow elk run off, thus leaving her calf to curl motionless on the ground. We only saw the calf because when the mommy got up to run, the calf started to get up also. The mommy gave some kind of signal to the calf to stay. The calf stayed and the mommy ran solidly for a quarter of a mile and stopped. We moved on, but this was open chaparral country, we could see everything for miles. When all was safe the mommy elk gave a short squawk and the calf got up and ran to its mom. That was a whole lot of wildlife viewing in a short period of time. That's one of the perks of bike touring.

Above Right: We had been riding up hill for 95% of the day and we were very tired. We had covered a little over twenty miles. When our dirt road path came near an aspen grove and a water stream within the National Forest, we decided to call it a day and set up camp. Our water purifier gave us about five quarts of water before it seized up - that meant short rations of water for dinner and starting out the next day and no bathing, yuk. We had a brand new filter and had used it earlier in the day, for the first time, to pump out about two gallons of water. I have never liked that filter pumping system and within 24 hours it would be in a trash can. The next day when we climb into snow country, we will pack clean snow into all of our water bottles (Terry's idea!). We were not quite to the point of boiling creek water, but that would have been the next action step and not new action to us.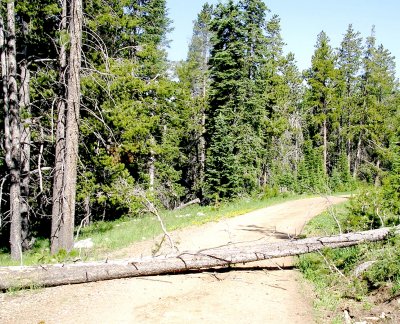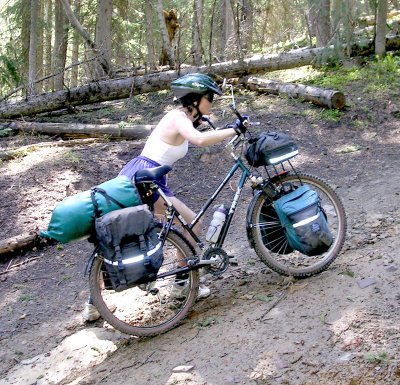 Above Left: Day 3: Well, at least we weren't being bothered by mosquitos. It is the last day and the plan is to hit Meaden Pass in about four or five miles, then go another fifteen miles of mostly downhill to return to our campsite at Steamboat Lake State Park. We had observed that we had not seen a vehicle since noon yesterday. That was quite a pleasing notion, but soon we would discover that one of the reasons for not seeing a vehicle is that the pass is closed to everything but hikers and bicyclists. OUR KIND OF ADVENTURE! We get to bypass a half a dozen of these Colorado toothpicks.

Some of the reasons that the pass is closed are that there are many fallen trees, much snow, and way to much muddy slick high angle road.

Above Right: This part of the road had that wet sticky slick mud on it. It was easier to push the bikes than to drive them. There were a couple of places where we had to help each other push the bikes.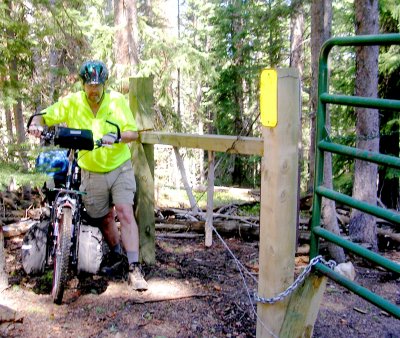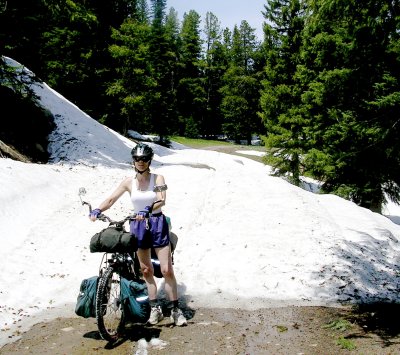 Above Left: Alas, we find a locked gate. Dennis is maneuvering the bike through an opening for people and wild game. It will be another hour and one mile before we traverse the pass. The pass is just above 9,500 feet ASL and has no sign or markings. The terrain has about 30% to 40% snow cover with an average of two feet of snow.

Above Right: Terry, crossing some remaining snow pack. The bikes have to be pushed. Sometimes the bikes float on the top surface of the snow pack and sometimes the bikes sink up to the panniers.





Left: We are over the pass but can't turn our bikes loose for a downhill run - its just not fair.

Above Right: Terry, enjoying a cool break. We're working, so the cool temperatures actually feel good.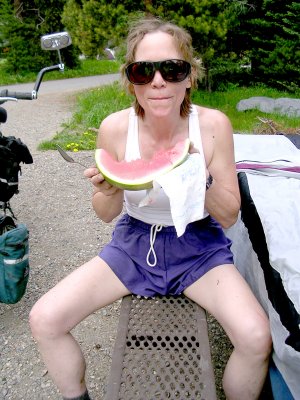 We get back safely. We had a wonderful trip.

It rained on us during the night, so we are drying the wet equipment.

It is watermellon time on a hot day!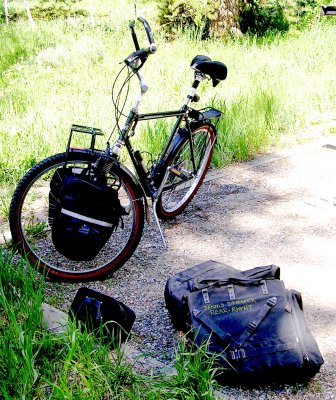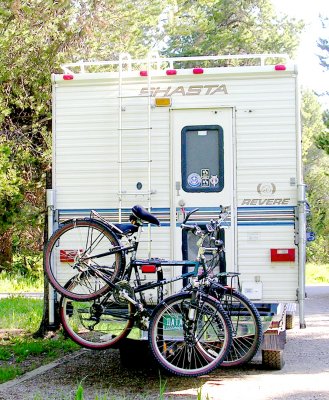 Above Left: We are offloading the panniers to load the bikes onto the back of the camper.

Above Right: Pannier-less bikes loaded onto the camper.



It twas another fantastic adventure.






Previous Adventure Top Next Adventure