| << | 20 | 21 |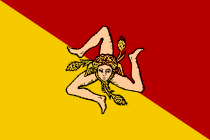 | 23 | 24 | 25 |

| 27 | 28 | 29 | >> |
- Hover Mouse Over Images -
| | | |
| --- | --- | --- |
| | Bicycle Tour Adventure #20 | |
Pictures and Stories About Bicycle Tour Adventures

Great Divide Mountain Bike Route (GDMBR - Segment):
Steamboat Springs, Steamboat Lake, Stagecoach State Park,
Clark, Stagecoach Lake/Reservoir, Colorado;
Round Trip Legs by Bicycle Tour; July, 2007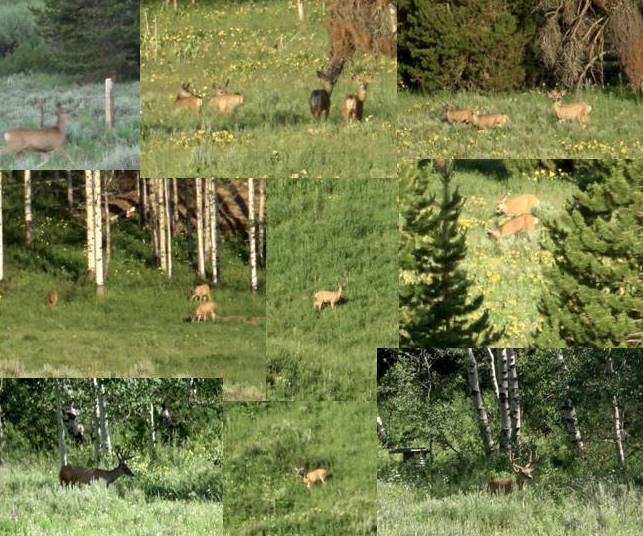 Above: We have seen this much wildlife before, but this was the first time that we could capture good quality pictures of animals that were 80 to 200 yards away. Wow, you say. What cool cameral did you have. Why we had a new Casio Digital Camera, an Exilim EX-V7 which is smaller than a cigarette pack and has a 10x Optical zoom for our 3M picture size (7x @7M). We were quite impressed with this camera. We also went three and a half days on one battery charge, taking about 150 pictures a day (only keeping a third). Dennis carries the camera in his front Cargo Pant pocket for very quick camera access (no fumbling around with handlebar bag or saddle bags for a stored camera).

We saw quite a few fawns and twin fawns, up close, but its difficult to be riding bikes and taking pictures with new born animals because the mommy either leaves immediately or the stopping of the bicycling to take a picture scares off the nervous parent. However, the doe in the center of the picture has a fawn next to it but this parent tolerated us because she was across the valley about 150 yards away. So Cool?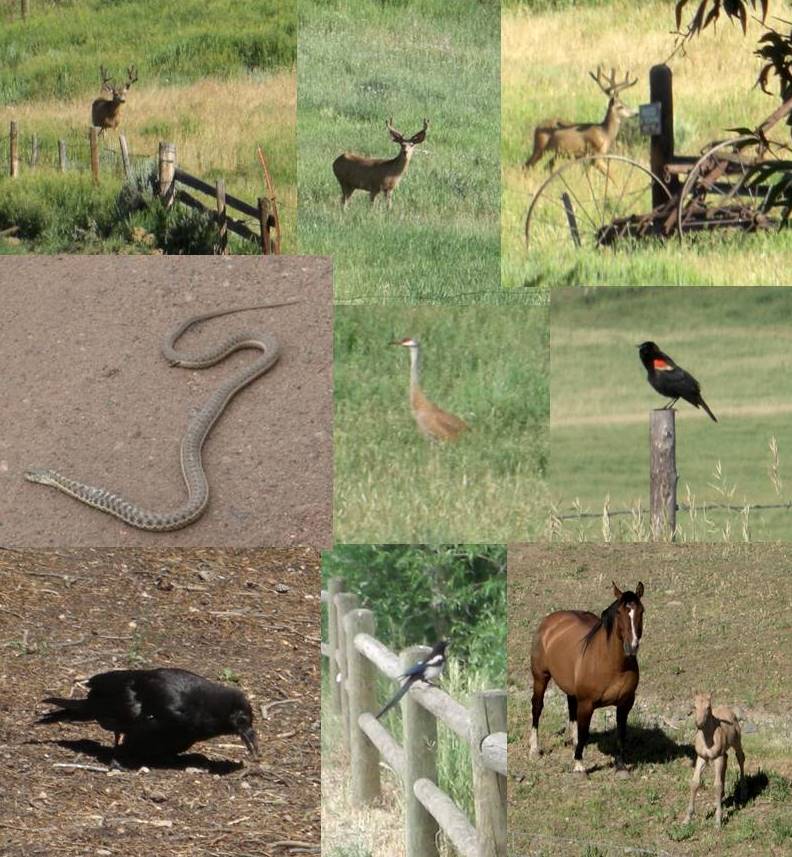 Above: The snake is just a sunning Garter (Garden) Snake on the road. The centered bird is an immature Sand Hill Crane, it will turn gray. We actually thought the crane was an antelope at first, when its head was down, it was about 90 yards away. The young foal still had wobbly legs, its Mom has a powerful girth - that is actually rather inquisitive behavior for a foal so young, usually it would be peeking from around the back of mommy.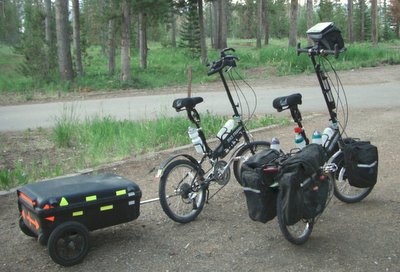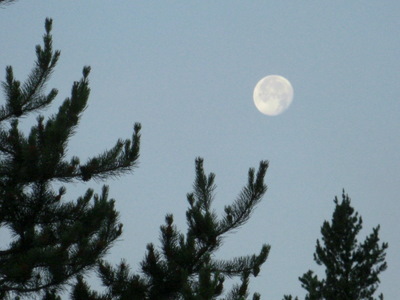 Day 1: Steamboat Lake to Routt County Road 56
(via CR 62 & CR 129)
Above Left: A glorious morning start. Dennis just happens to take a picture of the bikes when a Humming Bird zooms in to check out the Red Reflector on Terry's rear fender - look close, it's there.



The bikes are BikeFridays, Terry's with Trailer, Dennis' with Panniers.

We don't have outside touring support, so each leg segment that we bike is a round trip.



Above Right: A magnificent morning moon.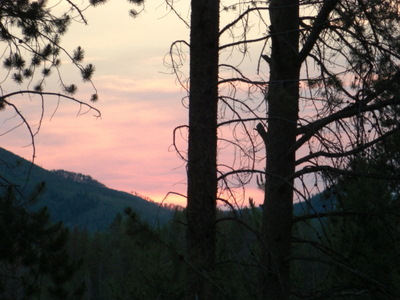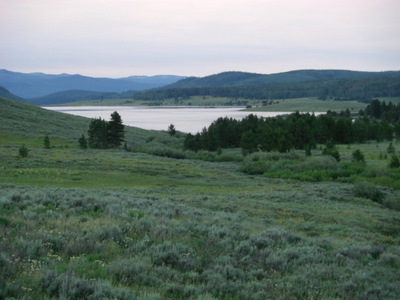 Above Left: The sun came up about 30 minutes into our ride. This is the best time of the day to be biking in the wild, no traffic to speak of, hardly any human activity, lots of animal activity. Life is grand!

Above Right: Steamboat Lake. The temperature is about 48 degrees Fahrenheit and it is too cool for fast down hill runs. We are having to brake and drive slowly on long down hill runs - That's just not right!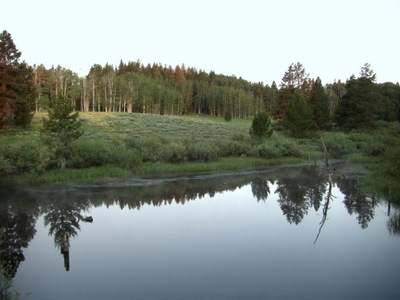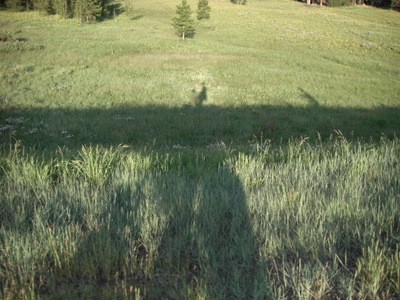 Above Left: Pond and Reflection.

Above Right: Our shadows. See the bike wheels too?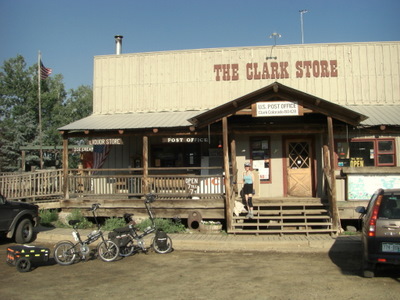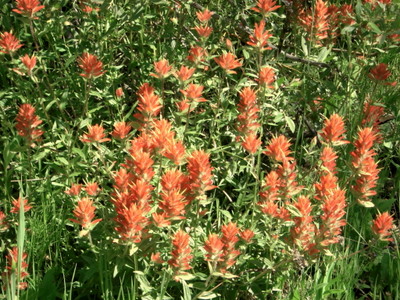 Above Left: The Clark Store. We were still chilly, we had a cup of Coffee and Hot Chocolate. This store has been featured in many bicycle cross country magazine articles. They have a US Post Office, WiFi Internet access, a mini Liquor store (small but good wine & spirits selection), a deli, fishing gear, groceries, books, water, and toilets. Its very homey with a welcoming atmosphere.

Above Right: The beautiful plant is called Indian Paint Brush.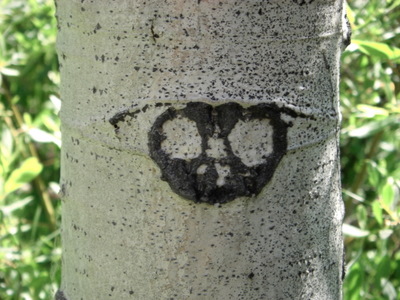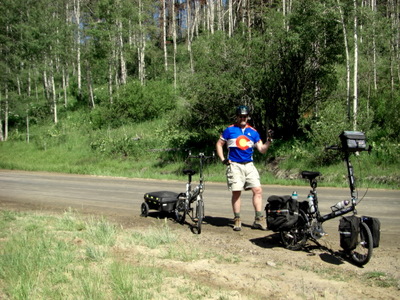 Above Left: Hoot Owl pattern in Aspen Tree Bark.

Above Right: This is Dennis playing the Air Guitar. We're on the return part of the loop here. We are one switchback away from cresting the road pass. We're guessing that its about 7,500 feet elevation and we're just south of Red Creek on CR 62. A nice trucker stopped in an empty dump truck to give us a road report. We thanked him, we're sure that he passed us going uphill almost an hour ago.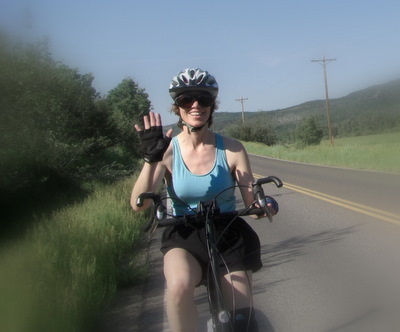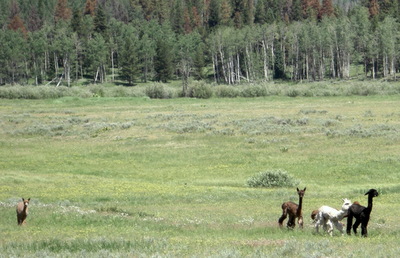 Above Left: Dennis' rear view for most of the time (Hi Terry!). Terry is nursing a knee injury, so no hard climbs on this trip.

Above Right: NAKED Lamas! NAKED Lamas! NAKED Lamas! The guy in the lead looks like a stretched out poodle, the gal at the tail looks like a deer (she isn't).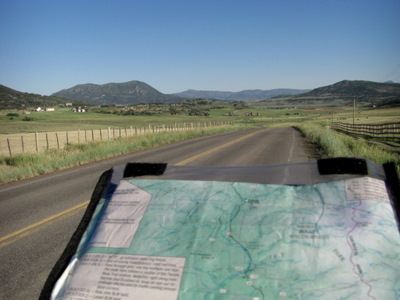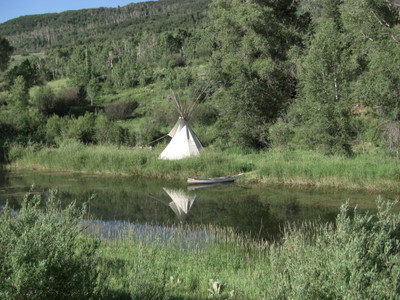 Day 2: Routt County Road 56 to Steamboat Springs
(via CRs 129, 44C, 44)
Strategy Correction: On Day 1, we biked down hill in the cool of the day and biked up hill in the heat of the day - A not well thought out plan. On Day 2, having learned a lesson, we are biking up hill in the cool of the day and down hill when it warms up. So we are starting at Steamboat Springs, riding to CR 56, and then returning to Steamboat Springs. We are also moving our base and camper from Steamboat Lake State Park to Steamboat [Springs] Camp Ground (which is actually a mile northwest of town). Additionally, this is 3 July, just before a big 4 July Holiday, so we are lucky to even get a campsite without a prior reservation - the rest of the entire week would go smooth, like this!

Above Left: Bicycling North. View over the handlebar bag's map case. We're just north of the Airport.

Above Right: Its an interesting view. We are riding parallel to the Elk River and there is a Teepee and Canoe setup in a tributary creek (Big Creek we think). It looks nice and makes a good picture but no self respecting Indian (Native American) would ever actually stay in a mosquito infested area with stagnant water, like this.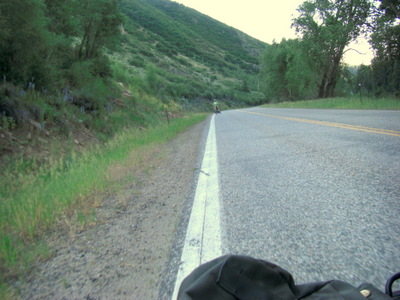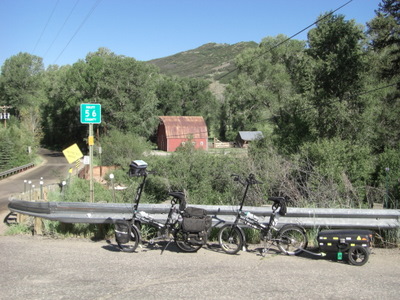 Above Left: Cool, the road to ourselves. There was traffic on occasion, but most of the time we had the world to ourselves. No road shoulders for miles, Elk River on one side and mountain on the other side. This is actually a safer area, hence, Dennis could take an experimental picture from the back of the knee while in motion. You're overlooking the rear pannier. There were lots of animals (already shown). Today we saw the immature Sand Hill Cranes.

Above Right: We arrive at our CR 56 destination without incident.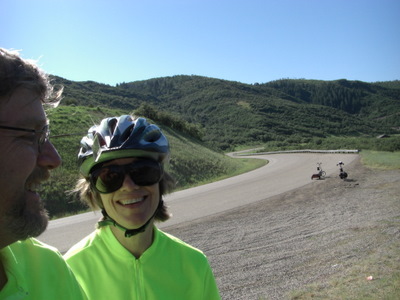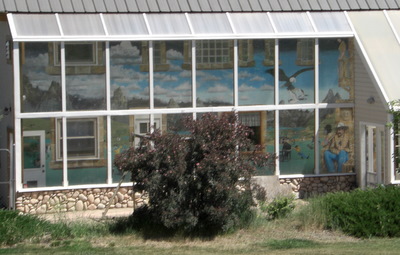 Above Left: We sit on a big boulder to have a brunch like meal. This image is a self taken picture that did a good job of capturing our bikes too.

While we are sitting on the big boulder another biking couple on the Great Divide Trail stops to talk with us. They are from England. They have been on the trail for four or five weeks, they started more or less at the Mexican-New Mexico border and are riding North. Her name is Joe but we never quite understood his name. They met with his parents, also visiting the USA, for a few days about a week or so ago. We tried to exchange names but none of us had a pencil or pen, it didn't occur to me to pull a business card from my stored wallet. In any case, it was neat meeting another long distance biker couple on the trail. We should have taken a picture - arh. We would really like know the rest of their trip story, some day.

Above Right: We're heading back on a different route. We just happen to stop on the top of hill for a water break and we just happen to turn back and see this interesting mural painted on the back of a house. It looks like the mural existed first and then a back porch and passive solar extension was added to the house. Its very interesting.



Day 3: 4 July, Its a Fishing Day on the Yampa River!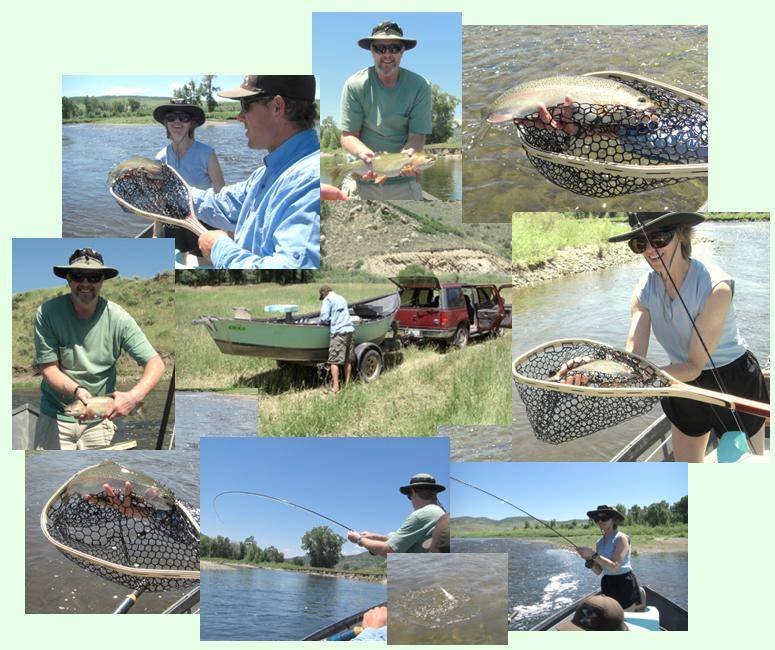 Above: Fishing was Good! We even had a big one run down river about 40 yards with the big "RRRRRRRrrrrrrrrRRRRRRRRR" sound of a FISH ON, and the running line hit a knot in the reel spool and broke the line - What a lucky fish! The further that the escaped fish got away, the bigger it became. Wink!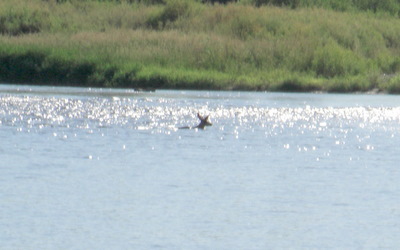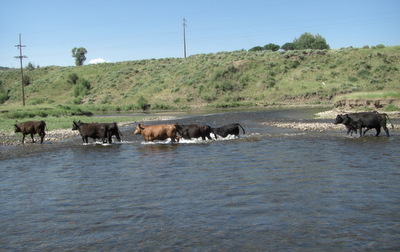 Above Left: Deer Swimming the Yampa River. We saw this twice. We've seen animals swimming a river in TV Nature Movies, but this was the first time for both of us to see something like this in person.

Above Right: Just around the corner. Cows swimming the river, well they were actually walking across the river. This demonstrates how shallow the water was in a few places. At one point, the Guide (Seth) and Dennis had to push the boat. Of course, the big trout hide in deep pools.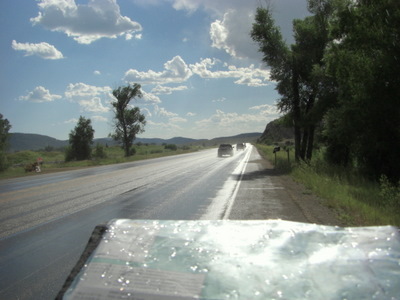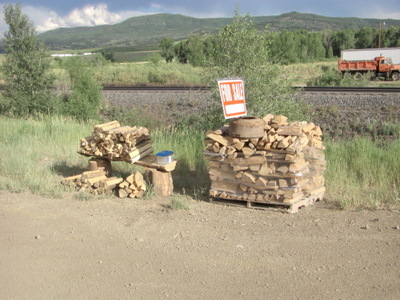 Above Left: After Fishing, Terry and Dennis go for a short Bike ride along Hwy 40, west of Steamboat. It was hot and the cooling rain shower was welcome.

Above Right: Riding back to camp, we saw this Honor System Fire Wood road side Sales Stand. Anyone selects the amount of wood that they need and they leave the payment money in the plastic bowl. When we rode by, there was no one around and there was money sitting in that bowl. Only in the West.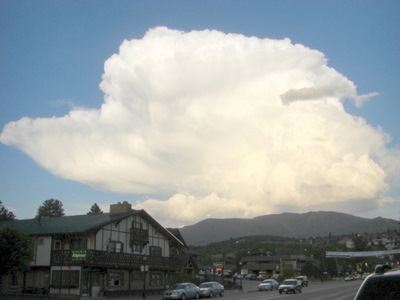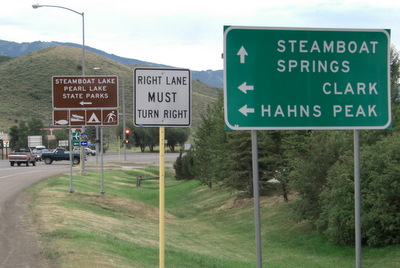 Above Left: Big Cloud, probably over Hot Sulfur Springs, Lake Granby, or the "Never Summer Mountains." This is downtown Steamboat Springs in the foreground.


Day 4: Steamboat Springs to Stagecoach Lake
Above Right: We had to bike into the city from the campground. We passed these signs several times - they just sort of help put things into perspective.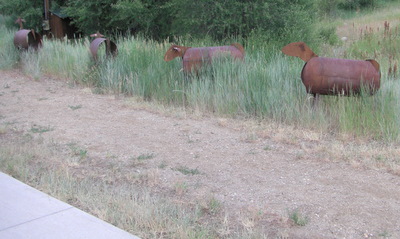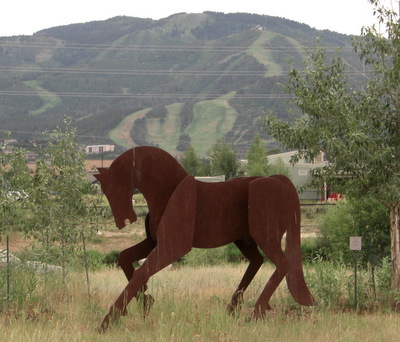 Above Left: Artistic Sheep on the river walk.

Above Right: Artistic Horse on the river walk, Steamboat Springs Ski Resort slopes in the background.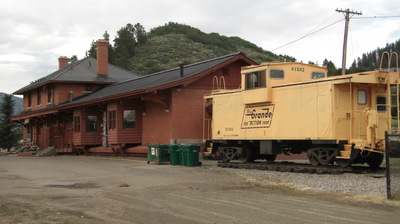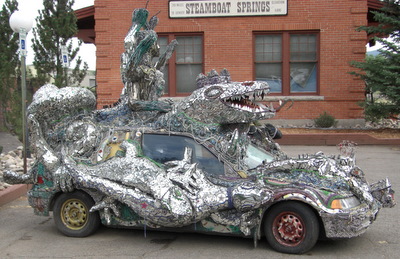 Above Left: The Steamboat Springs Railroad Depot.

Above Right: Car Art. Nautical Theme.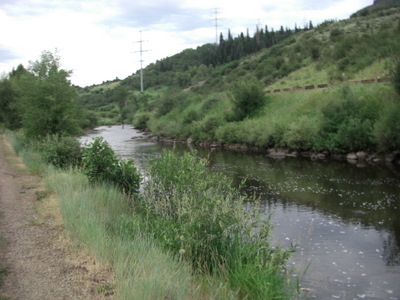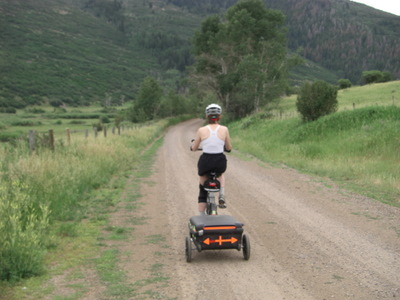 Above Left: A view along the downtown Steamboat Springs river path (Yampa River).

Above Right: Twenty miles further up the road, still following the Yampa River. We're entering the Stagecoach Lake State Park area and we are still three or four miles down stream from the dam (destination).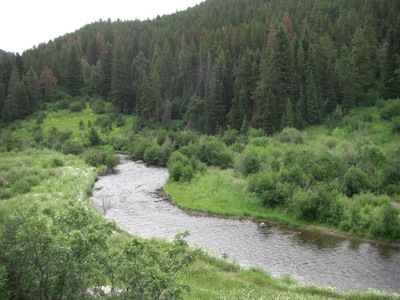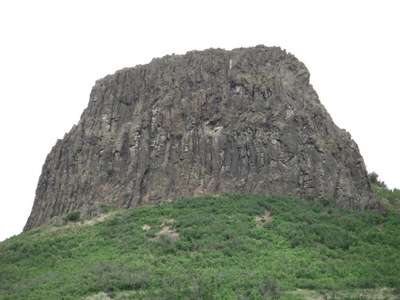 Above Left: Stagecoach Lake State Park downhill view - Yampa River.

Above Right: Stagecoach Lake State Park uphill view - Old lava dome.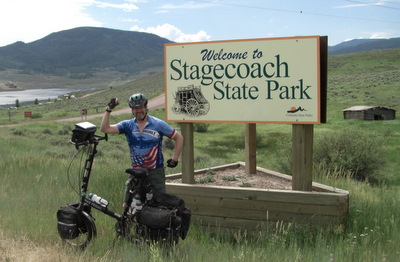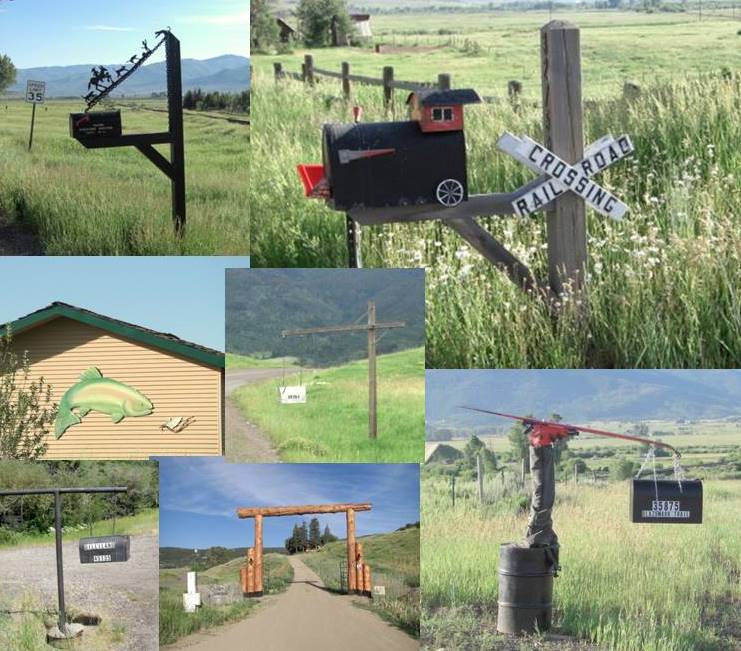 Above Left: He Man! Arh arh. Old homestead on the right, Stagecoach State Park entrance sign, and lake. It was an old western stage stop.

Above Right: Cool Mail Boxes. In snow country (as in ski resort area), the swinging mail boxes allow plowed snow to hit the box and not break.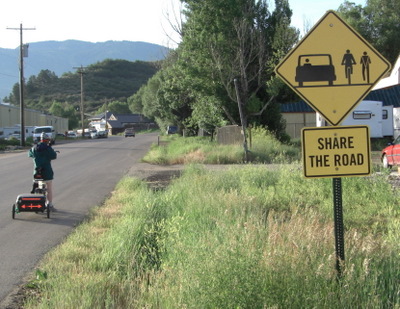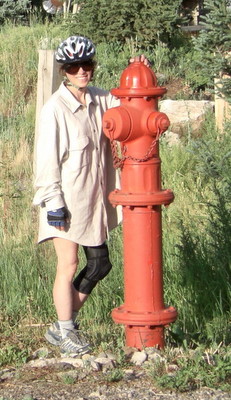 Day 5: Steamboat Springs Local Ride
Above Left: Nice Sign!

Above Right: Snow country Fire Hydrant.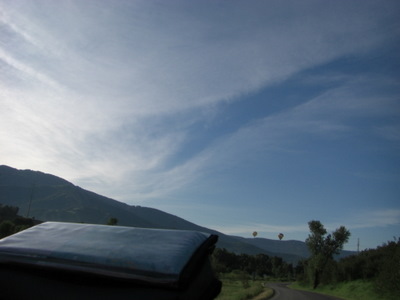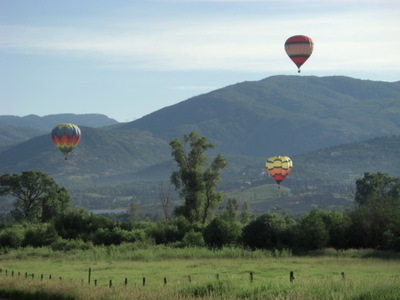 Above Left: And then God gave a sign to remind me to tighten the Steering Headset (which was loose) using my special Headset Wrench! And so it was done.

Above Right: Balloons. More, everywhere.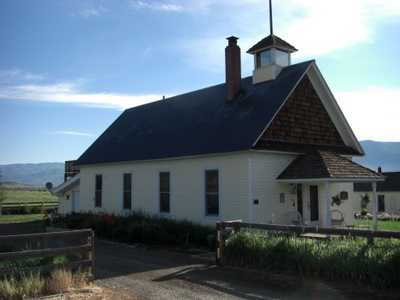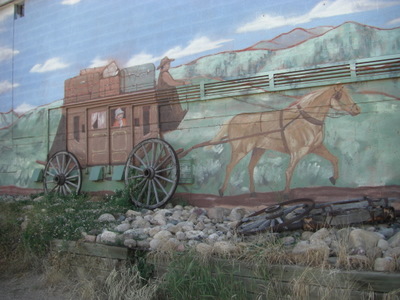 Above Left: Converted Church. Now a B&B with an observation cupola. There is a row of beautiful Poppies, hidden on the shaddow side.

Above Right: Stagecoach Mural on the side of an otherwise boring building next to the River Walk. What a touch of class.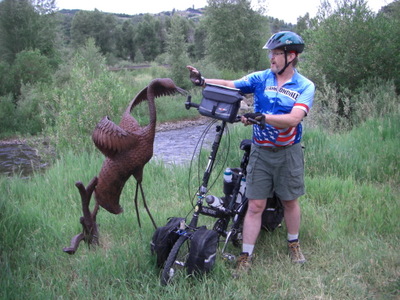 Above: Wild Crane Attack! Its a life size bronze statue of a Sand Hill Crane defending its nest (or doing a mating dance - don't go there). Terry has a good idea and takes a good picture. The acting isn't half bad either.



We had a fantastic trip!




Tribute to F.M. Flight Store owner, who believed in service first and delivering value for the dollar. He's a legend in the west. Loyal customers traveled hundreds of miles to visit his store. Little advertisement signs start at about a hundred miles away and get more frequent as one nears the store in Steamboat Springs. We only know of one other similar western merchant, near Cody Wyoming.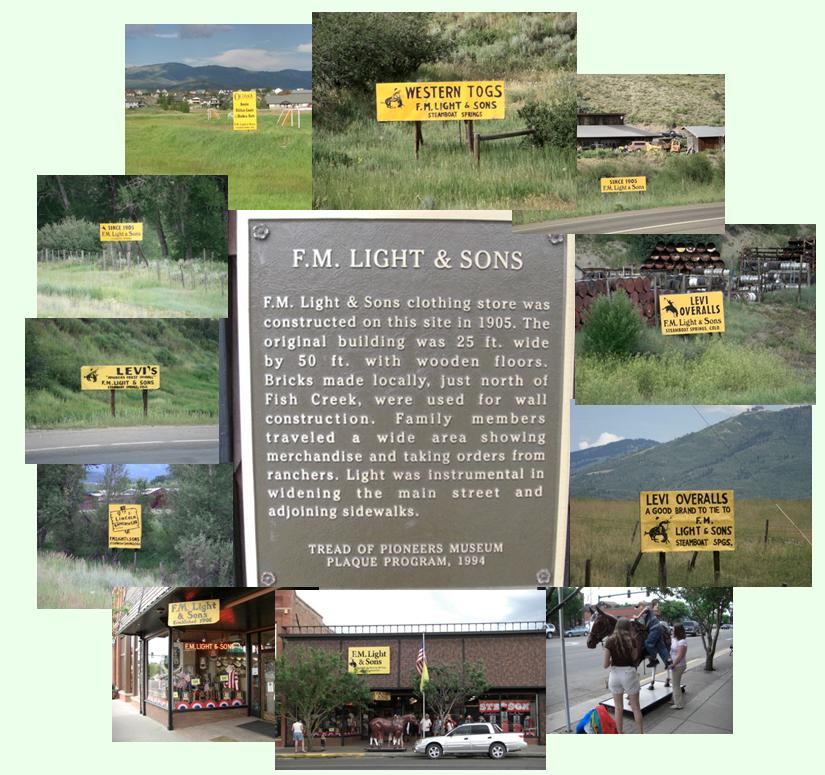 Previous Adventure
Top
Next Adventure