| << |20 | 21 |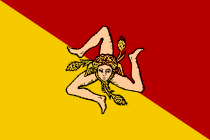 | 23 | 24 | 25 |

| 27 | 28 | 29 | >> |

1 | 2 | 3 | 4 | 5
Sicily, Adventure #22, Page 1

Pictures and Stories About Bicycle Adventures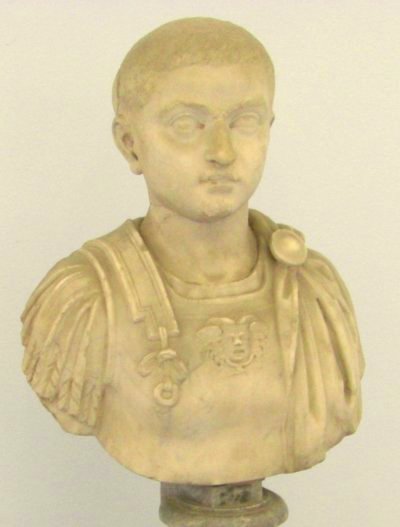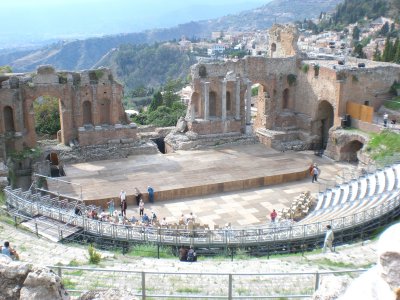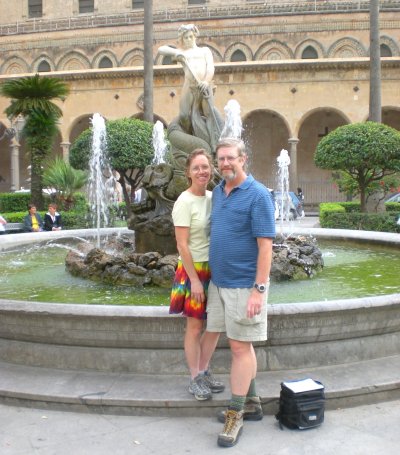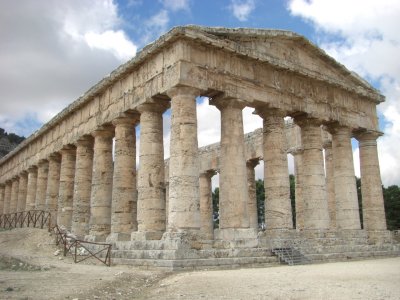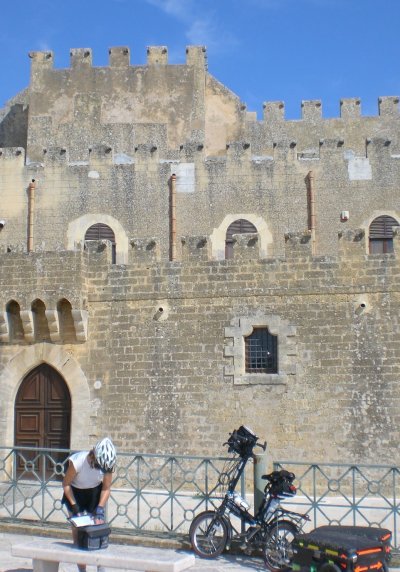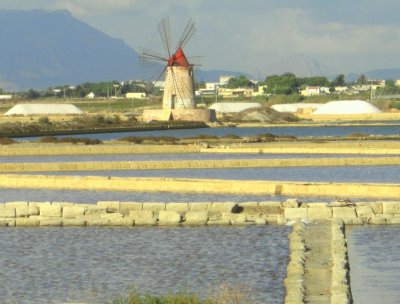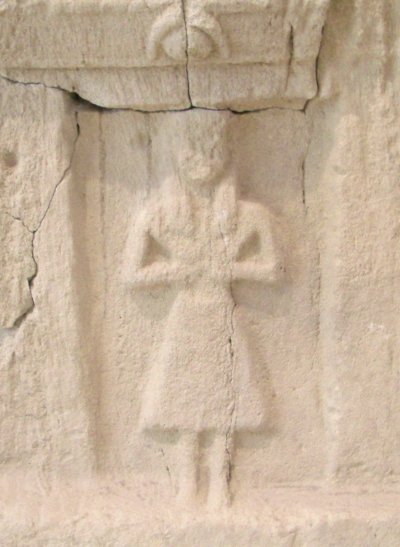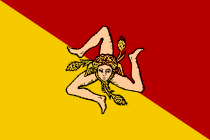 Sicilia, Italia,
By Bicicletta (Bicycle), Ottobre, 2007

-- Itinerary --
Arrive at Palermo, Visit 2 Days
Bike 7 Days: Scopela, Segesta, Erice, Marsala, Seliunte,
Contessa-Entellina, Piana D'Albanesi, and Monreale
Tour the North Coast and Eastern Mountains
Visit 5 Days at Giardini-Naxos (Conference), Local Touring
Depart Catania, Connect Milan, Atlanta, then Denver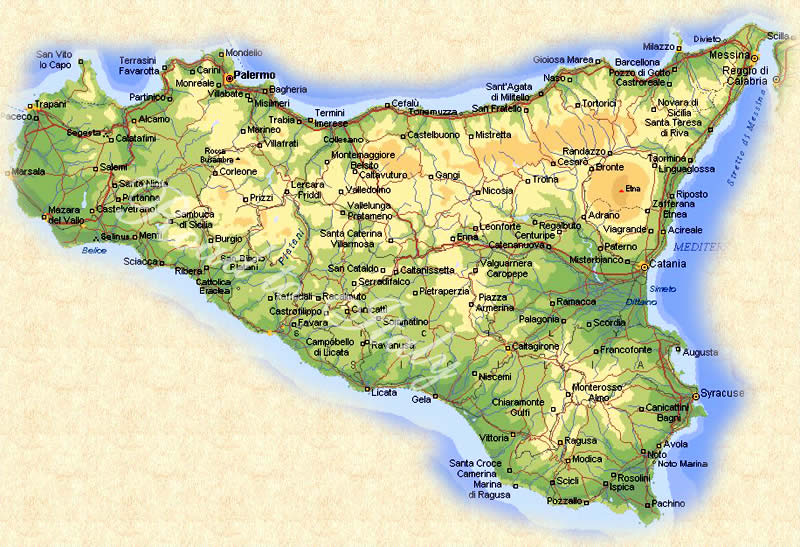 Interesting Facts and Observations
Sicily, being geographically centered in the Mediterranean Sea has been used, occupied, or fortified (seemingly) by every historical nation of power that has ever existed along the Mediterranean Sea coast. We saw:
Norman Fortress (Palermo)
Greek Acropolis (Segesta)
Roman artifacts (Museums and along the Roadway*)
Partially restored 300 BCE Punic** War Ship (Marsala)
Phoenician letters carved in wood (Marsala)
Egyptian figures carved in stone (Mozia Island)
Islamic Mosques
"Portigueese" and Spanish Empire influences



* When bicycling in South-Eastern Sicily, about every half hour (or less) we would see farm land section walls containing some aged squared stones that likely originally came from ancient Greek or Roman types of structures. Oddly, the Sicilians would play up the Greek heritage but not the Roman.

** The Latin term for Carthaginian was Punici (the older term was Poenici based on their Phoenician ancestry).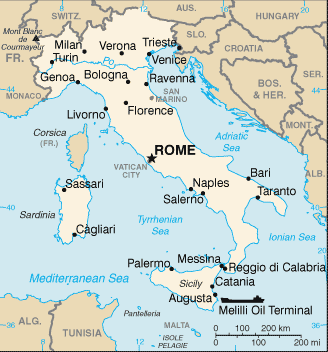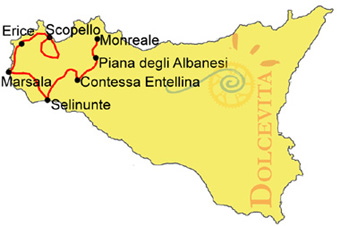 Map borrowed from our Self Guided Tour Sponsor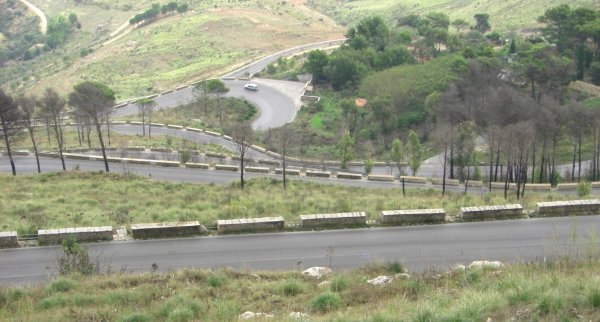 Interesting Facts and Observations Continued
Everywhere that we were biking, Sicilians would give cheers and honks for what we were doing (Touring Sicily by Bicycle) or passengers would hang out the window and cheer and give nods of approval. This was especially prevalent on uphill climbs. At Erice (air.i.chay) it took us two hours to climb that hill between 1800 and 2000 hours. Almost every car would honk for us. Also tour bus drivers would honk and bus passengers would cheer for us.


Let us tell you, that kind of cheering and support behavior would make our day!

One time, in front of their school property, a soccer team of about eight 'fifteen year old boys' got out of their vehicle to cheer Terry up a little 30 degree, 100 meter hill climb.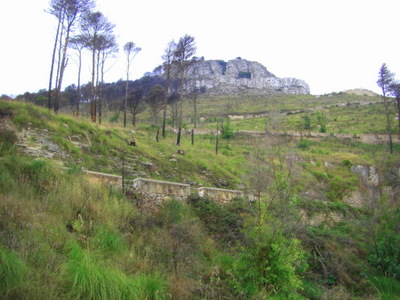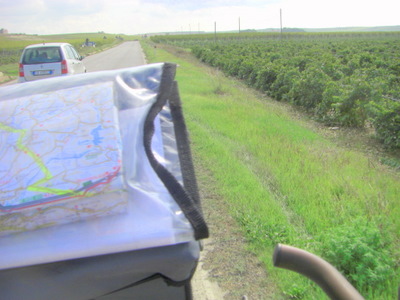 Interesting Facts and Observations Continued
Above Left: The uphill view of the middle 1/3 portion of the Erice hill climb. Of course the actual uphill climb was done at night with our bike lights turned on - this picture was taken the next day, on our way down (in sun light).

Above Right: The only time that Dennis can take a picture, while moving, is on level or slight downhill runs. Here a Sicilian is honking a series of short beeps to cheer us on and to say what we were doing is cool! (Or at least that is our interpretation). This view is over the top of Dennis' bicycle handlebar bag.


It took us a while to figure this out, but Sicilian men would pull up beside Dennis in their cars and ask what nationality we were. Most of the inquisitors were guessing French or Dutch (probably based on Terry's long bare shaved legs and blondish hair dangling from under her helmet). Very often the question was "What language do you speak?" So there may have been a misrepresentation because the correct answer to the question was English - It took us a little while to figure out the real meaning, Americano! In any case, bike tourists are rare and the Sicilians really seemed to enjoy our effort to get to know them.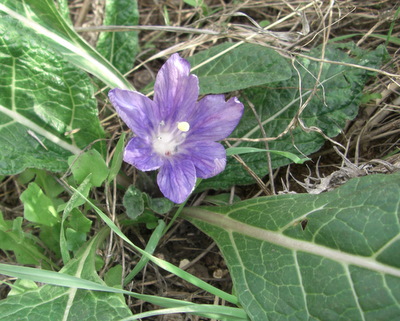 Interesting Facts and Observations Continued
Above: We saw a plant, similar to the African Violet that was a regular countryside weed. Pictured in different growing phases. The picture on the left was from north coast and the picture on the right was from near the south coast.

Some parts of Southern Sicily are further south than some parts of North Africa. We met a man, a Physician, who was from Tunisia. He was the first Tunisian that we had ever met. We enjoyed the experience. He spoke French and English as well as his native language. Tunisia is only 95 Miles or 150 Kilometers away from Sicily. He made a good joke about having just swam there.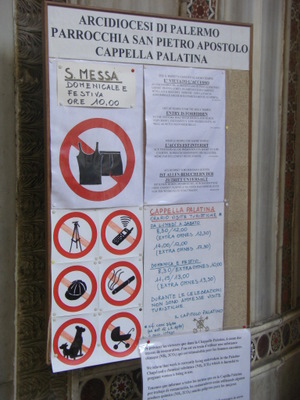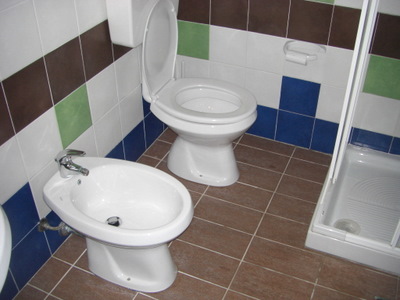 Interesting Facts and Observations Continued
Above Left: A sign on a church. No Tank Tops, No Shorts (but this only applies to females). It happens that only tourists don't know these rules. We were surprised that none of our tour books mentioned this custom. So we mention it here, to spread the word. We happened to be on a tour of a Norman Fortress which just happened to include a church (inside the fortress) and we just happened to be in bike shorts because we were on a bike tour. A nice Dutch lady told us that it was obvious that we did not know that a church tour was included and she said it gets worse as one heads towards Greece and the middle east. If one thinks about it, in Europe there is no such thing as a tour that does not include a church. This is part of the reason that we travel, to learn about other cultures.


NO Sleveless shirts or shorts: We never saw a male or female Sicilian in a sleveless shirt or shorts, period. We did see some tourists in shorts in some tourist beach side areas. This is noteworthy because in the interior country, while shopping at the market for food, Terry would sometimes get condescending looks from elder citizens while she was wearing her bike shorts. We only saw one other bicycle touring couple (as foreign as we were). We're guessing that the Sicilian/Italian female riders wear long stretch pants and there probably are not that many female riders - Of course it is probably different on mainland Italia, especially as one nears Northern Italy.



Recommendation:

Terry has a quick wrap skirt. It's actually to cover a swim suit so that a lady can quickly appear to change from a one piece swim suit top to a nice looking evening dress (kind of look). After the church incident, Terry kept that wrap handy.
Above Right: The Sicilian modesty was peculiar because absolutely every single hotel, motel, and B&B bathroom had a bidet.



-------------------


We never saw Mount Etna. It was covered by clouds for the times that we would have had an opportunity to view it.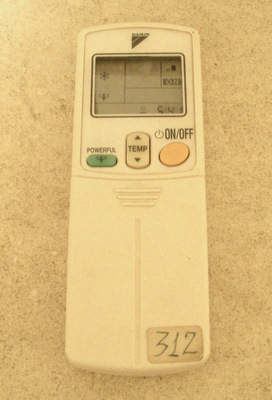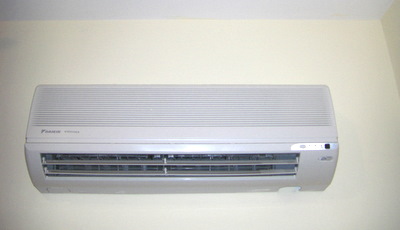 Interesting Facts and Observations Continued
The air conditioner is controlled by a remote control device that looks about the size of a TV remote control device. Air Conditioners were mounted inside the room and mounted high on the wall. The air conditioner size is a about 10 inches tall, 10 inches deep, and about 30 inches wide. The devices can be simple or very complex to operate. Simple is easier to manage as we had to get help operating a complex model. The complex model had a sliding cover on the front side of the controller of which we did not know and all that was showing was an LCD displayed temperature, on and off buttons (before we knew to open the cleverly hidden sliding cover). Under the sliding cover was the temperature setting, fan control, a timer, and other bells and whistles. We typically run the Air Conditioner at 20 or 21 C. Anyway, one sets the desired settings and then aims the remote control device at the air conditioner unit and pushes the ON Button. Some units take a few seconds to set up and operate, but you will know right away as to whether it will operate.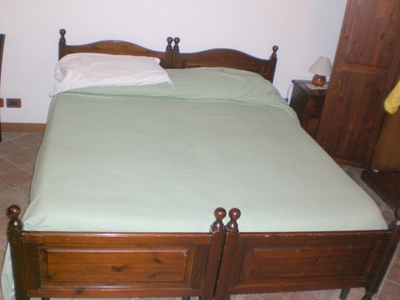 Interesting Facts and Observations Continued
Above Left: Meal Time In Sicily, Breakfast is at 8 AM and Dinner at 8 PM, Period, no matter how much of a hurried mindset that you may be.

While off the beaten tourist tracks, we never saw any spices like salt and pepper set at a table. When we were tourist areas then we would see at least salt and pepper and occasionally oil and vinegar in little bottles five or six inches tall. We never saw butter placed at a table at all, but did have some ricotta cheese like spread once and some chopped grilled onions once and some minced olive and pesto once.


Siesta Hours: Shops close at mixed hours for Siesta. The general shop closure range is between 1 PM and 4 PM, but it may be 1 PM to 3 PM, 1 PM to 4 PM, 2 PM to 3 PM, or 2 PM to 4 PM depending on whatever the shop owner feels. Note that in busier traffic areas (more customers, especially in tourist areas) some shops may not close at all during siesta. We learned to develop a feel for shop closures for the siesta hours.

Summer temperatures easily exceed 100°F / 37°C and that is a good reason for having a Siesta and why one should not be outside in the heat.
Above Right: Everywhere, a Double Bed is two Twin Beds put together, period - Even if the box spring is a real double, you will get two twin mattresses.
"Yes, we have double beds."


---------------------------------
Sicily/Italy - Language Nuances:
Prego

You are welcome. Prego is often said in reply to when one says Gracia (thank you). However, Prego is the greeting of a shop owner to a customer as soon as the customer enters an establishment - it is said before the customer speaks.

Pronto

Ready. The common verbal response by a person answering a telephone is Pronto.

Buon Giorno, Giorno, Ciao

Good Day, Day, Hi/Bye. A common casual or quick response from a person replying to your greeting of Buon Giorno (Good Day) is just Giorno (Day) or Ciao (Hi and Bye, in one breath, like Aloha in Hawaiian).

Buona Sera

Good Evening. In the evening, at about 6 PM, while the sun is still out, the greeting and response is Buona Sera (even if you say Buon Giorno).

An Observed Custom

Commonly, women will not respond to a day or evening greeting from an unknown man.
---------------------------------
We kept seeing signs for the Bimbo Club. We ignored them, but one of the signs had stick figure drawings of kids at play. Soon we realized that Bimbo was an euphemism for Bambino. The Bimbo Club was a Day Care Center or a group of Day Care Centers.

---------------------------------
Toll Booths (Sicily and probably Italy):
Like most countries with right side of the road driving, the cash-change-receipt booth with a human is almost always to the far right as one drives up to the booths. We never did figure out the word for cash. Their toll road system accesses allow for a side road that feeds directly into the right side booth such that a driver that was already on the toll road can be cut off from the right booth. Once this cut-off problem is realized, one realizes that it may take a little more diligence to get to the right most toll booth.

Toll Booth WARNING (Sicily and probably Italy): If you make a mistake and enter an express toll lane, there is a panic button. Press the button and wait, no matter how much horn blowing occurs behind you. If you are a nice guy and pull out of the lane to help with traffic through-put, you will get a fine, even if you only move 15 Meters.

[Later Input, From Dan Cox: "FYI, cash is 'contanti'. Ciao, Dan"] Thanks Dan!
-------- End of Interesting Facts and Observations --------

Palermo: Days 1 & 2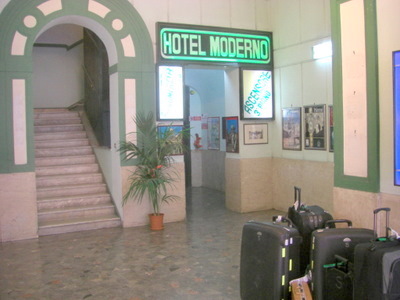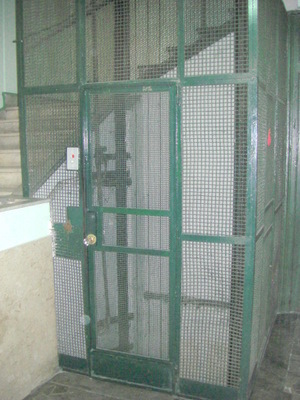 Above Left: Hotel Moderno. It's a real Sicilian Family owned business and building. It has Air Conditioning in the rooms, thick walls, and the management is good about trying to understand Americano's speak Italian. This picture is at the floor level. The first two floors contain private apartment rooms and the third floor is where the hotel begins, starting with the check-in desk. Our luggage: two bicycles in two suit cases (with reflectors), the third suitcase contains bike equipment (helmets, handlebar bags, ...), and the fourth suitcase has clothing, both for the bike ride as well as the second week's conference.

Above Right: This is the hotel elevator shell. The elevator holds two people or one person and pieces of luggage. The building itself is at least two centuries old. Elevators and electricity were invented later. It was a joy to stay at this hotel. Sometimes we had to walk up to the third floor in order to force the elevator down to pick up luggage. Always an adventure! Always interesting. We had a blast.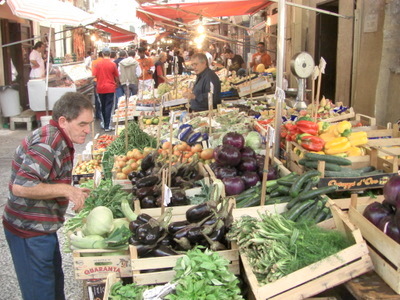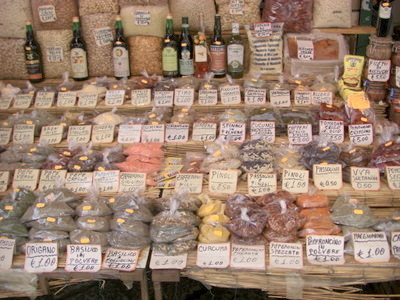 Above Left: The Vucciria Market. It seemed to go on for a little over two kilometers. We followed the alleyway, not knowing it was a well known market place, we were just wondering where it would lead, never fearing for our safety, and by some strange coincidence, the alleyway market ended one half block from our hotel entrance (on Via Roma). Go figure.

Above Right: A haven of spices from around the world in an open air market.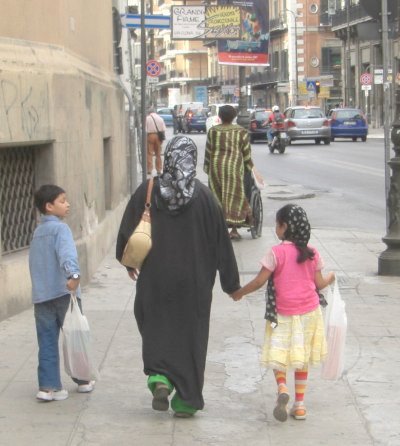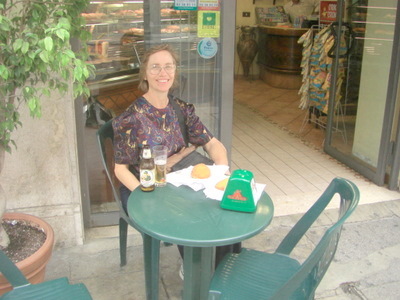 Above Left: A common multi-cultural Palermo street scene. A Muslim Family following an African Family followed by an American Family with a camera.

Above Right: Italian Bars sell snacks and beverages (with and without alcohol). Some of the items commonly sold are Granita (like Icy's but much smoother and tastier - it's a play on the word Granite), Gelato (skim milk ice cream, yummy good), Canoli (sweetened ricotta stuffed in a pastry shell), Calzoni, and a thing called Pizza. We were surprised at how common Pizza was as a sandwich type of snack. Pizza is very common food item in the food market places. For the record, it was just hot enough that cold Birra (Beer) was our alcoholic beverage of choice (not wine). We still will not buy or pay for water (which is our default beverage choice).

Here's Terry, outdoors of a Bar, getting ready to eat Arancini di Riso (Rice ball stuffed with peas, cheese and meat; coated with bread crumbs and fried). Oh so good! Interestingly, Dennis would mix up the words for Canoli and Calzoni, much to everyone's amusement. But Dennis' standpoint is that a person cannot go wrong with either!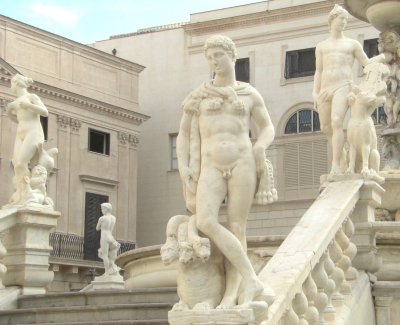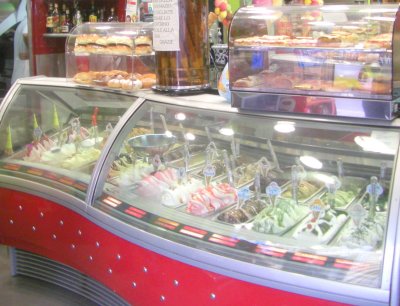 Above Left: The fountain of Piazza Pretoria. It was created for the Florentine villa of Don Pedro di Toledo by the sculptor Francesco Camilliani in 1554. It was transported to Palermo in pieces and it was reassembled in Pretoria square, which was laid out in a different way in relation to the monumental fountain. It is a circular fountain and is decorated with allegorical statues. The surrounding railing (not seen in this particular picture) was designed by Giovan Battista Basile and put there in 1858.

Above Right: Another ice cream bar, but it is near our hotel and it is a good place to end the day.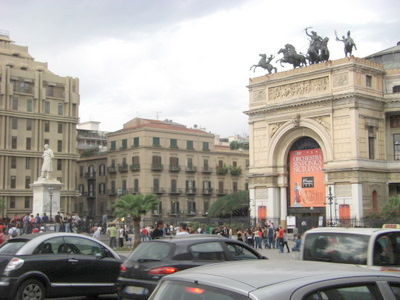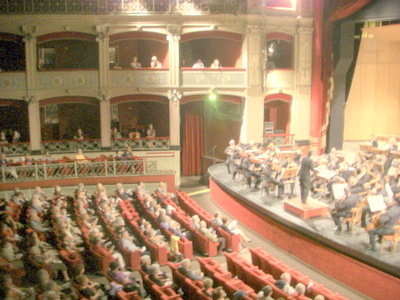 Above Left: The Politeama-Garibaldi Orchestra Center, where we would see a Sicilian Orchestra play.
Giuseppe Garibaldi (1807-1882), for whom the center is named, had much to do with forming Italy as it is today. He was a ship Captain in his own right but he came from a family that owned ships and facilitated coastal trade. Garibaldi was a war hero in some Italian-African campaigns and he helped gain the freedom of Sardinia from France. In fact, it seems that he spent his entire life in segments of action that brought self government to the, then, disparate parts if what is today's Italy.

Giuseppe Garibaldi was exiled at one point and later returned, thanks to Pope Pius IX. Italy as we know it today was occupied by Austria in the North, France in the West and Western Isles, and Spain (here and there on some islands). Garibaldi again had to flee but he returned with 1000 men to defeat the French in Marsala in 1860. Then his ranks swelled with volunteers but things slowed down and he was captured and he went into exile again for political martyr avoidance purposes. On his third attempt to unite Italy he had the support of the central Italian government, the people, and he took advantage of the embitterment between Napoleonic France, and the Austrian Empire and Prussia. Prussia was keeping his traditional enemies busy. At one point he had even offered his services to Abraham Lincoln for the American Civil War (but he wanted overall command).
Above Right: Orchestra Sinfonica Siciliana, Diretto da Guiseppe Cataldo at the Politeama-Garibaldi.
Sicilian audiences only applause after all of the musical scores are played
(not after individual scores).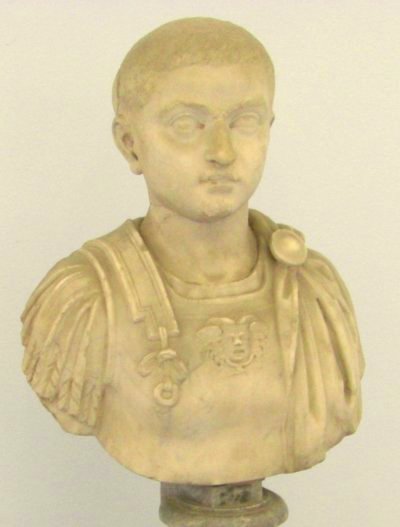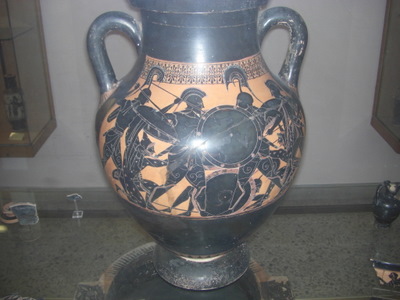 Above Left: Roman Bust Artifact in the Regional Archaeological Museum (Museo Archeologico Regionale).

Above Right: Greek Vase Artifact (from Segesta, where we will visit in two days).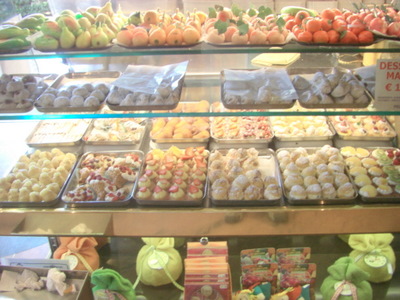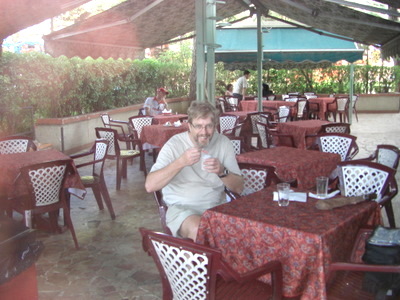 Above Left: Sweets at a Ristorante.

Above Right: Dennis (and Terry) enjoying some Granita. Terry is behind the camera.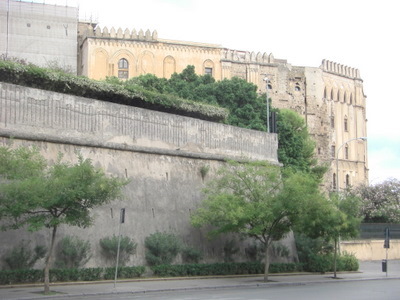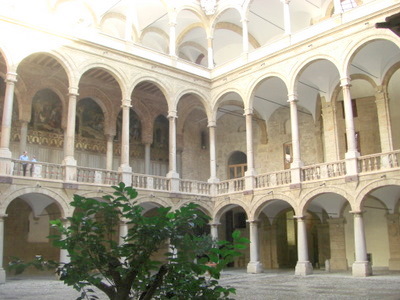 Above Left: Norman Fortress. The original exterior wall was about 7 to 8 meters tall. Notice that another 2-3 meters was added but it has modern reinforced-bar steel (re-bar) exposed. The current Government of Sicily uses this old fortress for its Legislative meetings. Therefore, most of the building is off limits to tourists and visitors. We went on a tour but they didn't show anything about the old Norman Fortress. They just showed an uninteresting chapel and some legislative rooms. Oh well, live and learn.

Above Right: This is the interior courtyard. Dennis got one picture before being chased off by some bureaucrat - apparently, the court yard is not for tourists or for picture taking. Go figure? We still don't know why this was a recommended tour. The idea that this was once a Norman Stronghold is still interesting. It seems to have existed mainly for the Crusade periods 1100-1300 CE.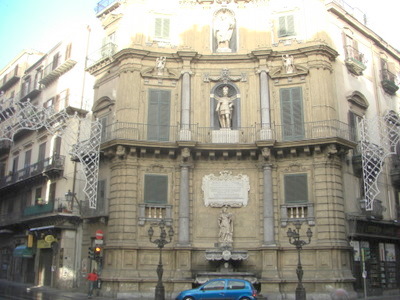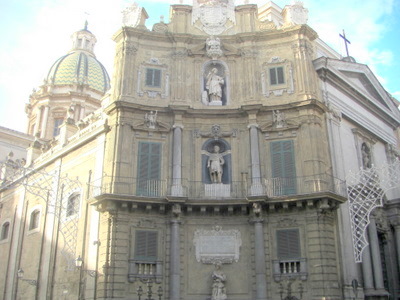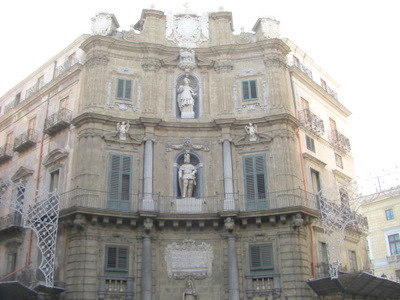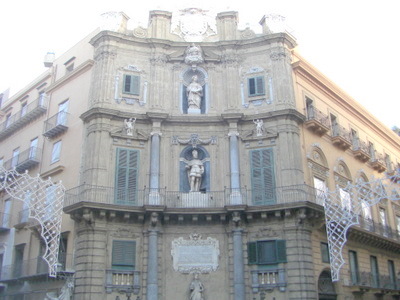 Above - Quattro Canti (Four Corners): These are actually four different buildings. Look close. The intersection's official name is actually "Piazza Vigilena," named for the Spanish Viceroy who had the sculptures built on the Four Corners back in 1611.

All four of the facing building corners at this road intersection had the wealthy families demonstrating their wealth to each other. Each corner was built with a fountain and three levels of statues and noble sayings. Each of the separate families in the buildings added the family crests at the top.

While we walked from corner to corner, taking pictures, we saw four tour busses roll up for about twenty seconds each and we watched most of the passengers taking pictures (which had to include us). We felt sorry for the tourists. As you can see by the pictures, we did not have to wait long for the tour busses to get out of the frame. Dennis loves walking tours with Terry.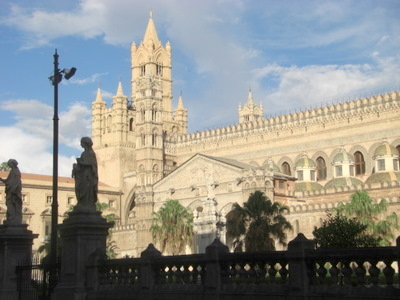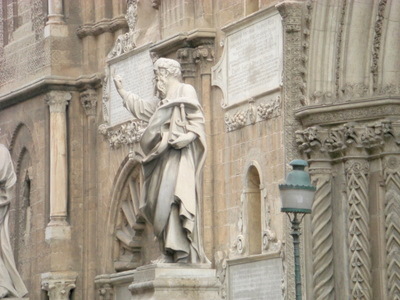 Above Left: Cathedral of Palermo. This uses a combination Norman and Arab arch design (the best of both worlds, so to say).

Above Right: A religious figure giving his opinion. Dennis just could not pass on this photographic opportunity.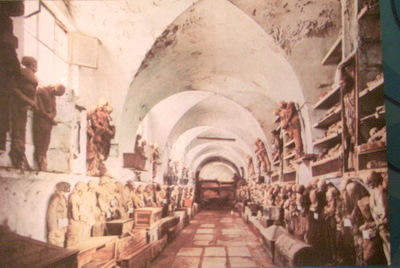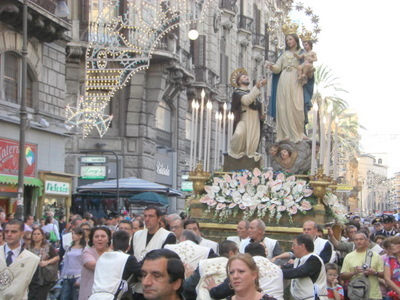 Above Left: The Capuchins' Catacombs. This is a picture of a post card - no photographs allowed now. The catacombs started back in 1599 when the local priests mummified a holy monk for other to see, over time. Subsequently, local church members wanted their relatives remembered in this same way. Some of the deceased wrote wills, expressing the clothing in which to bury them. Some asked to have their clothes changed over a period of time. The method for embalming was invented by Dr Solafia, a doctor from Palermo, who took the secret with him when he died. The halls are divided into categories: Men, Women, Virgins, Children, Priests, Monks, and Professionals. One American Writer is included (whose name was not indicated). There was no smell or anything offensive, at least not any different than the average musky basement. There are now about 8000 bodies. We think that the practice has not been terminated but entombment is probably only for extraordinary cases now (we guess, as they are running out of room).

Above Right: Festa in Onore della Beata Vergine del Rosario (Festivity in Honor of the Virgin Blessed Soul of the Rosary). It is only by chance that we were present for this festivity. The Basilica of San Domenico just happened to be located across the street from our hotel and we were returning to our hotel from the catacomb visit when the Festivity of Honor stared. Church members were pushing and/or pulling a kind of float platform that carried a life size statue of the Virgin Mary (along with Jesus and Joseph - we think). See the picture. The church members sort of walked the statue around the block. There were fire cracker explosions in the air and some confetti bombs, lots of smoke, and a general atmosphere of festive joy.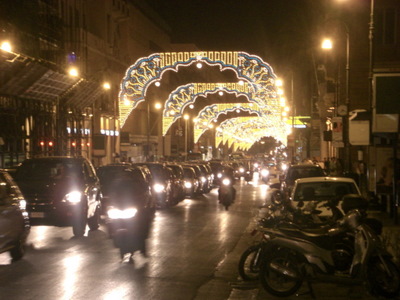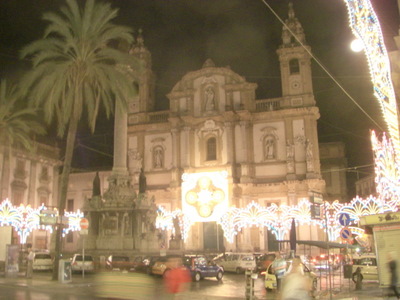 Above Left: Palermo at Night.

Above Right: The Basilica of San Domenico (St. Dominick), on Via Roma, across from the Hotel Moderno, is an example of the Sicilian Baroque style.





Previous Adventure Top Next Day