| << |20 | 21 |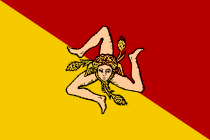 | 23 | 24 | 25 |

| 27 | 28 | 29 | >> |

1 | 2 | 3 | 4 | 5
Sicily, Adventure #22, Page 4

Pictures and Stories About Bicycle Adventures

Sicilia, Italia,
By Bicicletta (Bicycle), Ottobre, 2007

Sicily Day 8, Bike Day 6: Corleone, Piana Degli Albanesi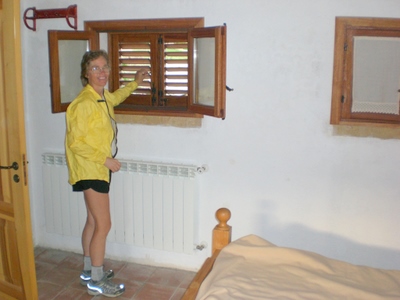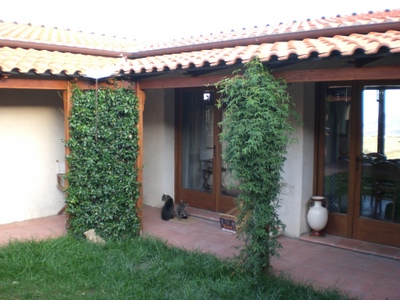 Above Left: We're at the B&B of Rocca dei Capperi about a kilometer outside the town of Contessa-Entellina. We like the exterior shutter system in the windows, which Terry is demonstrating in the picture. We still have yet to see a window screen anywhere.

Above Right: The interior court of Rocca dei Capperi. Cats ready for a meal.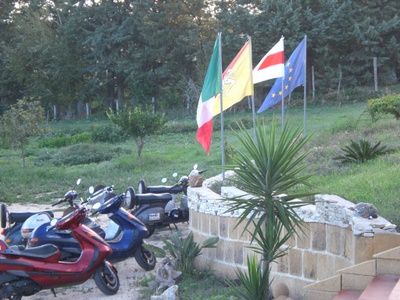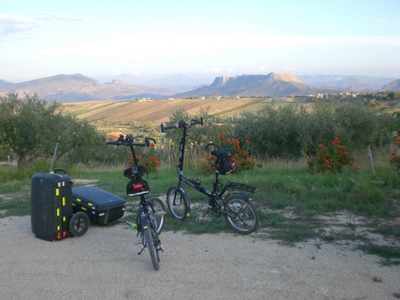 Above Left: The motor scooters of the German guests [discussed below].

Above Right: Our Bike Fridays and a spectacularly colorful sunrise. This could be in Utah.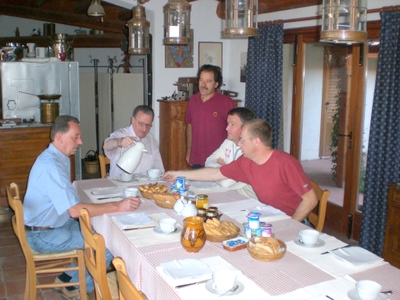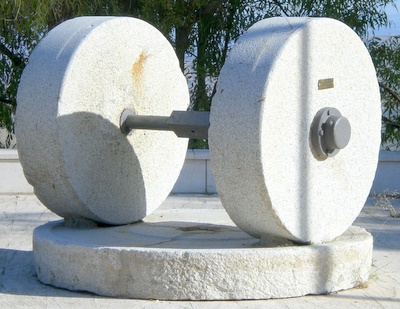 Above Left: Breakfast at the Rocca dei Capperi. These are some of the German guests that are touring by motor scooter. They travel to different countries as a group, annually, sometimes with their wives. They all met and traveled together as young men but they pretty much have nothing in common and they don't socialize with each other at home.

This is a working organic farm. All of food that we eat is organic, most of it from the property. The wine that we drink is also organic. The owners contribute grapes to a special local organic collective.

Above Right: These are Olive Crushing Wheels. We are in the town of Contessa-Entellina. There are wheel tracks in the bottom stone, but we suspect that there is some missing components (that keep the wheel rotating in a circular fashion rather than moving straight).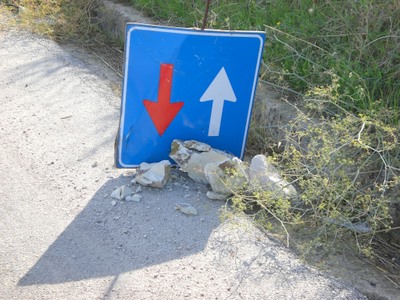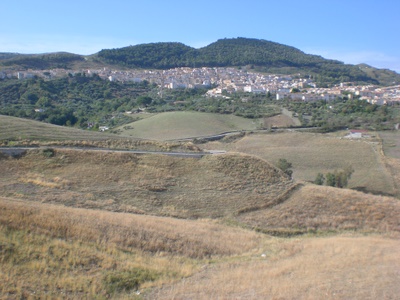 Above Left: This kind of practical low budget signage is very common.

Above Right: The mountain village of Contessa-Entellina, that we are departing.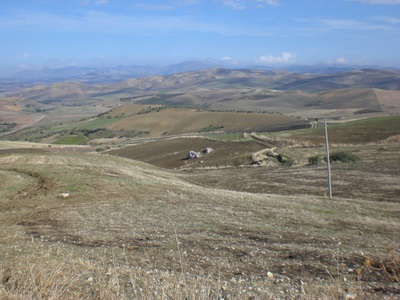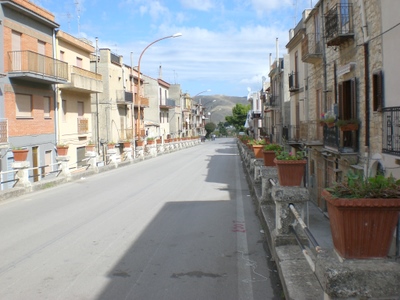 Above Left: We're in the back of Sicily and this is how it looks now, in the autumn. Most crops have been harvested. It is stony highland country. We learned that the best agriculture fields face the North (Not the South). North facing fields get the correct amount of sunlight and south facing fields get to much sunlight in Sicily.

Above Right: We are riding through the town of Campofiorito. The time is probably 1030. We can hear the voices of families inside the houses, mostly Kids and Mommies. We can hear the sounds of the after breakfast clean up process.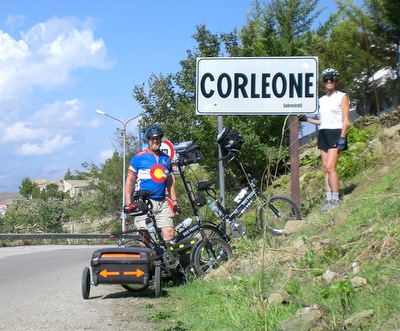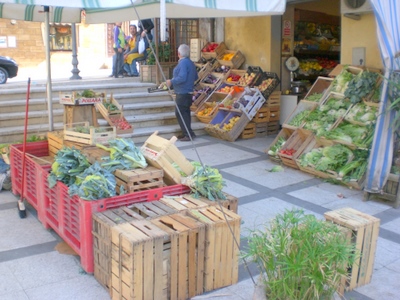 Above Left: The sign says it all. It's a mountain town.


Addendem: December 2007, This same picture and the web page that you are reading was added to Bike Friday's touring/italy web site. See http://www.bikefriday.com/italy.


Above Right: We're at one of the smaller plazas in Corleone. We're tying to get a Granita or Gelato, but shops are closing up. We end up eating an Ice Cream Bar.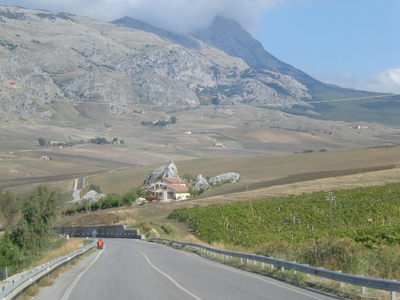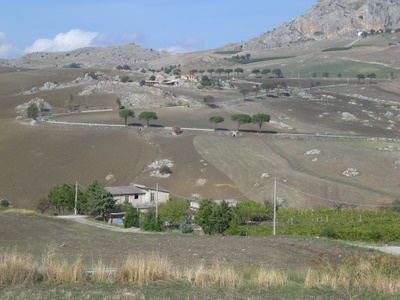 Above Left: Geographically, from Corleone to Piana degli Albanesi, we need to cross two ridge line passes and finally climb up to our Agriturismo. This will be the first crossing. The slope angle is easier than single track paths because it is more evenly leveled for automobiles.

Above Right: Another pass to climb.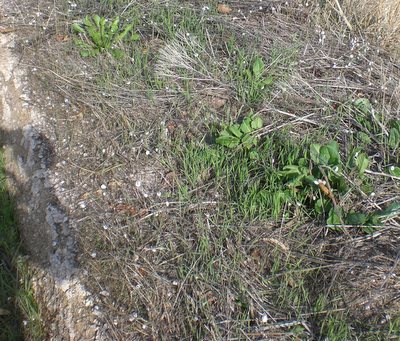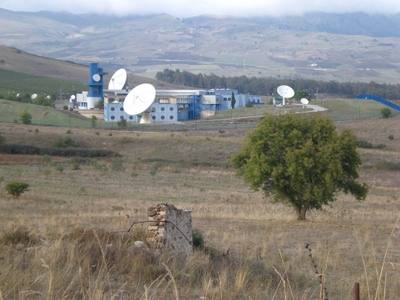 Above Left: Snails, Everywhere. All of these white looking stones in this picture are snails. Later, we will learn that this is the snail picking season (for cooking and dinner treats).

Above Right: We're near Castelláccio. This fenced station is in the middle of a mountain valley. Lets just say that this is a listening post.

Notice that the clouds are coming down. We are beginning our final accent. It's about 1800 hours, we have another hour to go. We have a few miles behind us today. We are not on a main road any longer. There are just a couple of places where we will have to push our bikes uphill. Three of four cars will stop to greet us and take pictures, all of the picture takers are wearing military uniforms or partial uniforms. The weather is getting cool and humid enough for us to put on our rain coats.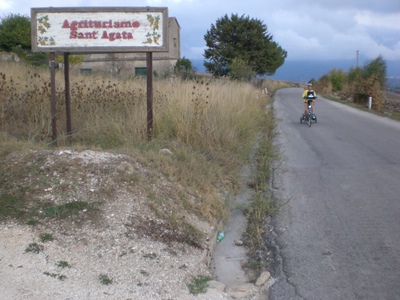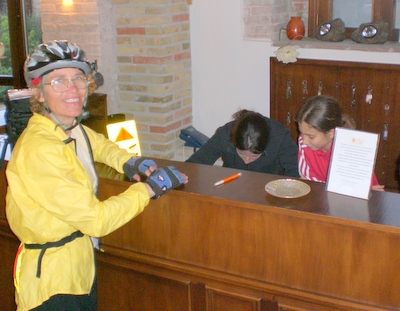 Above Left: We are steadily climbing up this mountain road. There is another kilometer to where we will cross over the pass to find our place of stay. We a silently praying that we don't have to ride over the pass. Our prayers are answered, we've arrived at our mountain top destination without having to actually cross over the pass. This is the Agriturismo Sant Agata (the mountain's name, which in English is pronounced Saint Agatha - we are not far from the mountain peak or the mountain pass, which we will cross tomorrow morning).

Above Right: Across the counter from Terry is Maria and Sylvia. They are checking us in. This will be our most homey and personal stay, in lieu of the fact that we know as much Italian as they know English. This is Touring and the sharing of life, at its best! There could be no better ambassador of Sicily or personal experience better than Maria and Sylvia sharing their lives with us.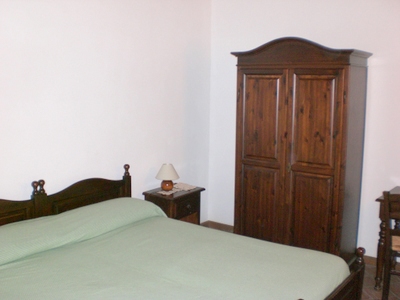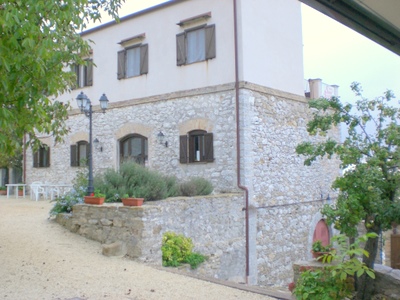 Above Left: A Double Bed. After we are shown our room, we watch Maria and Sylvia hold hands as they walk up some stairs together. We haven't seen anything like that in a very long time.

Above Right: The main house.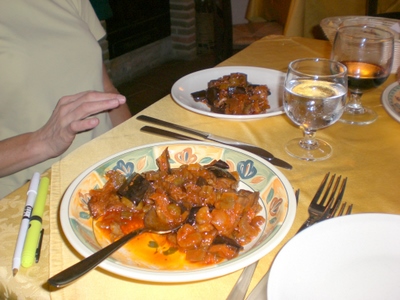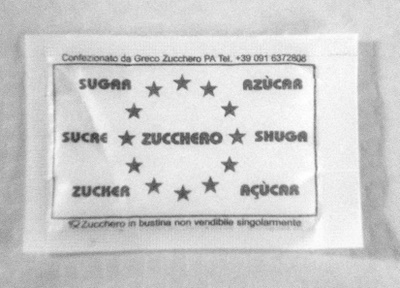 Above Left: Serving number three. Yum! We're eating in a banquet hall that has 1867 carved in a stone support column.

Above Right: How do you say 'sugar'?




Sicily Day 9, Bike Day 7: Piana Degli Albanesi to Monreale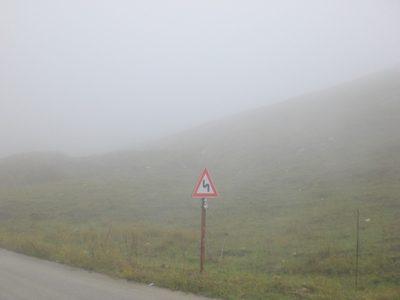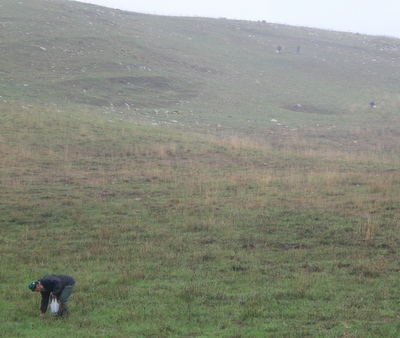 Above Left: The actual pass of Sant Agata. It rained all night but never on us. It rained this morning while we were eating, but not on us. We're inside the cloud here, but it's not raining, of course every thing is wet. We're driving our bikes cautiously with our lights turned on. Luckily, we have the road to ourselves.

Above Right: We've been seeing people in fields, picking up something, for days now. We didn't know what they were doing. Finally, Terry went up to this gentleman and asked. He held his bag open to her, it was full of snails. Other snail pickers are in the background.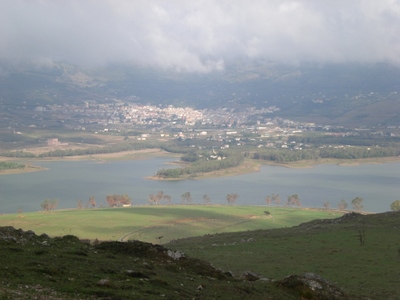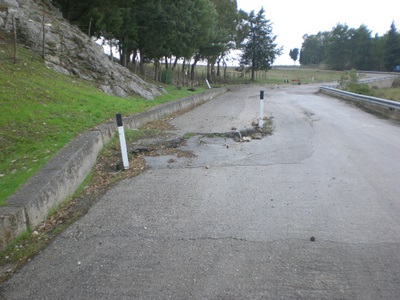 Above Left: This is the actual resort town of Piana degli Albanesi. The town is the only thing in the sun. But that sunlight lets us know that we are not in a major storm and that we will ride out of the weather, and we do.

Above Right: Mountain faults, they occur on every mountain, everywhere in the world. One has to be careful about their driving.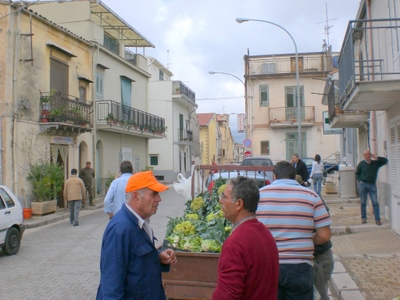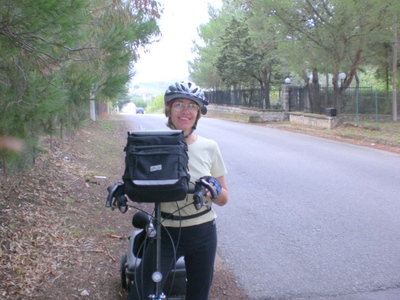 Above Left: This is the town of Altofonte. We're buying lunch at the market. Dennis was with the bikes and waited a while before bringing out the camera. We were quite the sensation for about five minutes.

Above Right: We are in an upperclass rural area. We are within an hour's drive of some parts of Palermo. The trees, flowers, and ambiance are very pleasant.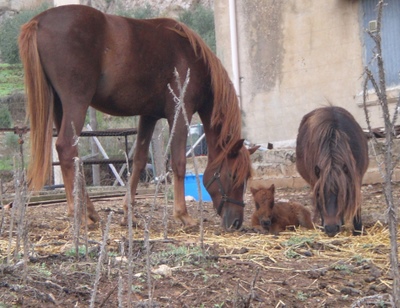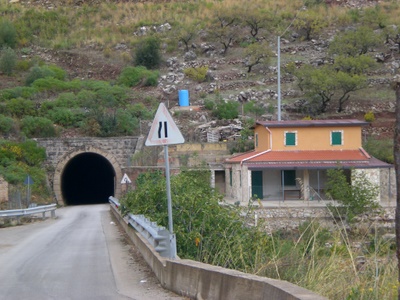 Above Left: A miniature horse foal, the mini-mommy, and a protective big horse. The big horse snuggled in as Terry approached to take the picture.

Above Right: A tunnel. This is the first of seven or eight tunnels that we will ride through. All tunnels are single lane and very dark, except for a couple of tunnels closer to Monreale. We only met one car in a tunnel. We both went through a little vertigo inside the tunnels.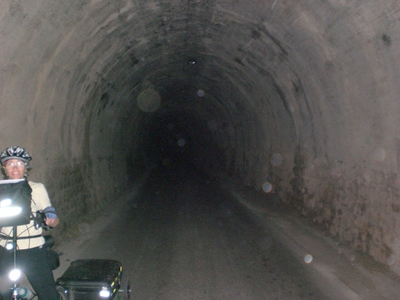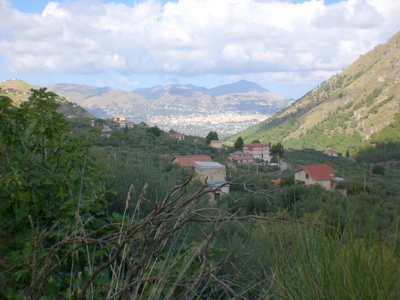 Above Left: It's dark in these tunnels.

Above Right: Our first view from the mountains of Monreale and Palermo.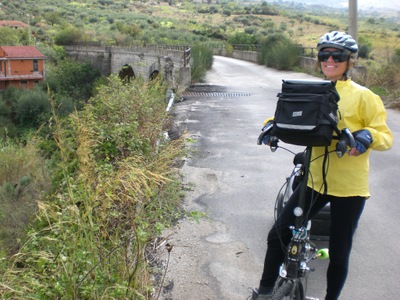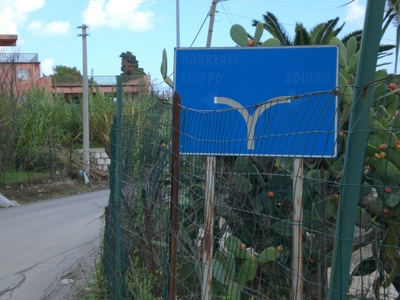 Above Left: We're actually in the outskirts or suburbs of Monreale. We are arriving on a very old road with old bridges and grass or shrubs growing in the asphalt. The road is hardly used any more as a lot of it is single lane. The road is great for bicycles.

We had our one and only flat tire of the trip right here. A thorn had penetrated Dennis' right side trailer tire. It was an easy fix, hardly worth the mention. We have about four kilometers till the bicycle tour's end.

Above Right: ? Luckily, we knew which way to go.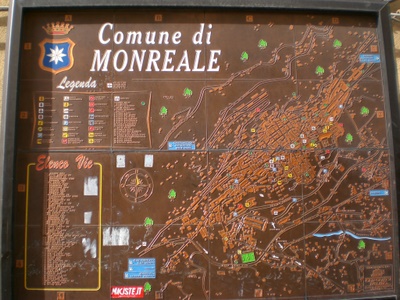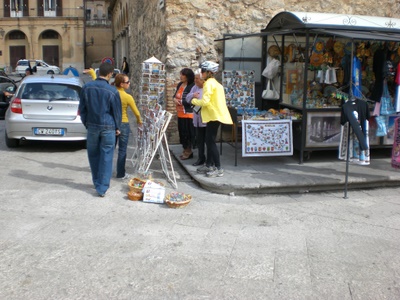 Above Left: Monreale's official city posting. "Mons Regalis" (Royal Mountain).

Above Right: Our instructions state to go to the Duomo and follow the signs to our hotel. The instructions fail to tell us that the sign will be no bigger than the size of a notebook computer and that the sign will be at the farthest point of expectation on the plaza. Luckily, the locals know where we are to go. This is a group of shop keepers giving Terry some very good instructions.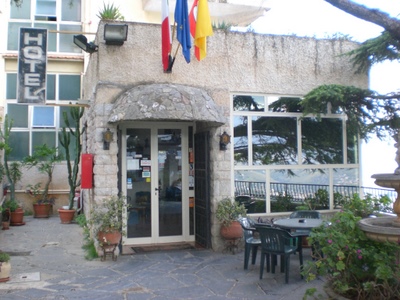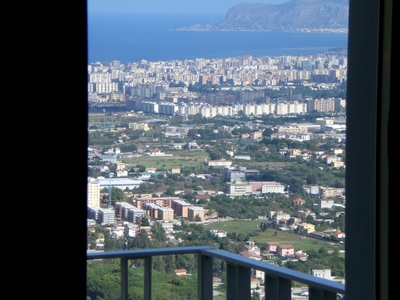 Above Left: Our hotel, the Park Hotel. This is only the administrative wing.

Above Right: Here is the view from our room.



Above: A typical Monreale street (called Via).

Right: Terry and Dennis, at the plaza fountain of the Duomo di Monreale (aka, Cattedrale di Monreale) displayed behind us.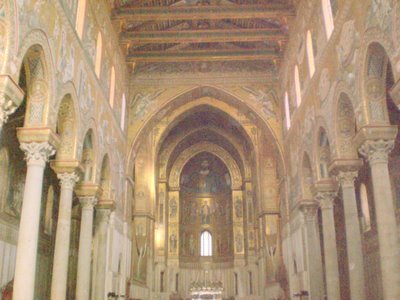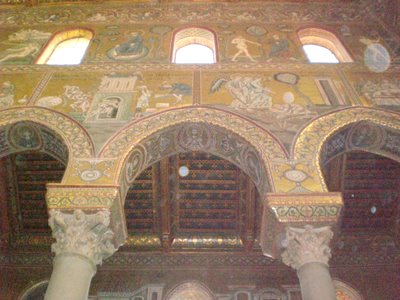 Above: Inside the Cattedrale di Monreale. It has a mixture of Arab, Byzantine and Norman artistic styles and it is framed as traditional Romanesque architecture. The mosaics are said to be one of the world's largest displays, surpassed only by Istanbul's famous Basilica of Saint Sofia (Aya Sophia), once a Christian Church. Monreale's mosaics are over 6,340 square meters of surface area.

----------- End of Bike Trip Segment -----------
Previous Day
Top
Next Day