| << |20 | 21 |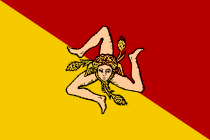 | 23 | 24 | 25 |

| 27 | 28 | 29 | >> |

1 | 2 | 3 | 4 | 5
Sicily, Adventure #22, Page 2

Pictures and Stories About Bicycle Adventures

Sicilia, Italia,
By Bicicletta (Bicycle), Ottobre, 2007

Sicily Day 3, Bike Day 1: Transport, Setup, and Visit Scopela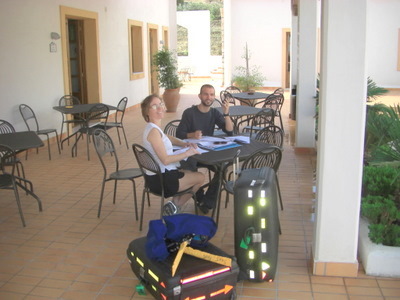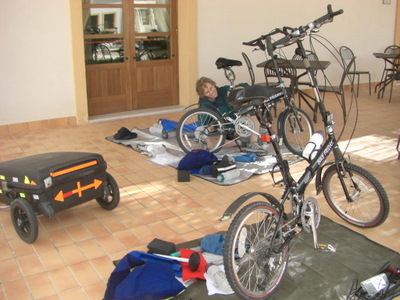 Above Left: Terry and Dario Bruno of the Dolcevita Bike Touring Company. This was our bicycle tour orientation briefing where we were issued our travel map and instructions. Note that the suit cases contain our bikes.

Above Right: Our bikes are in different stages of assembly. It takes about three hours to put both bikes together, top off the tires, validate and fine tune the shifter and brakes, add accesories, convert the suit cases into travel trailers, reposition and store the empty shipping bags, load our gear, and be road ready. The tasks are not hard at all, just time consuming. We use a Bike Assembly/Disassembly Checklist or validate our work to the checklist in session increments. We had already used the Bike Touring Checklist to decide what to bring to Sicily.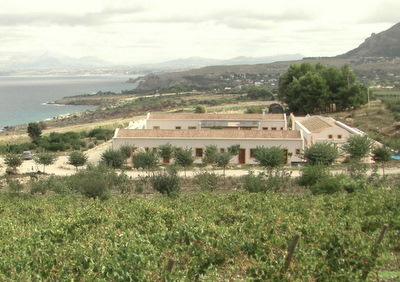 Above Left: We're staying at the Tenute Plaia, Agritourismo. Agritourismo does not seem to have a direct translation but it seems to be a cross between a "Country Inn" and a "B&B", nearly as we can determine. They do serve Dinner and cater to groups. [Hint/Lesson for travelers.]

Our assembled bikes on display at the north side portico. That's Terrasina across the water and Palermo is on the other side of that peninsula.

Above Right: A view of the entire court of Tenute Plaia. Also two common types of common agriculture vegetation, grape vines and olive trees.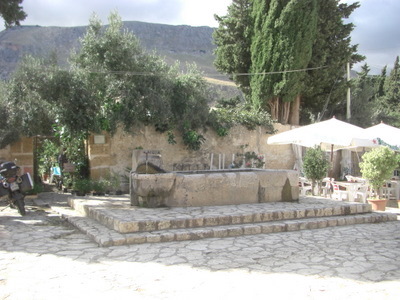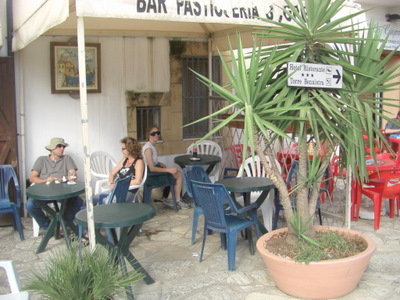 Above Left: Water Well at Scopella. We're out for a walk about. We're actually looking for the Zigaro Nature Reserve but the signage misleads us and we end up, unwittingly, doubling back on an alternate road. We don't quite have all of our touring senses ready.
For typical land navigation, what a person needs to do is read signs, cross check with a map (because signs are often wrongly placed), and ask locals (point and say your destination in the form of a question). We've never been lied to by anyone, the local person will either point and agree (Si!) or point in another direction and give verbal directions along with sign language. We can usually figure it out. Always know the local words for left and right.
This is a typical community well. Usually a mossy trough for animals at one end and a spigot controlled water spout at the other end. We saw a person fill a water bottle there. On our entire tour, we only saw one community well with a non-potable water sign. That's a pretty good situation considering that the typical community well is well over a hundred years old. The other oddity is that here and many other coastal places, we are probably no more than 100 meters above sea level - meaning that if the well hole is too deep it will bring up salt water and not fresh water.

Above Right: Terry and I drop in to take lunch at the local Scopella bar. The other couple seems to be communicating in Dutch. We are thoroughly enjoying ourselves.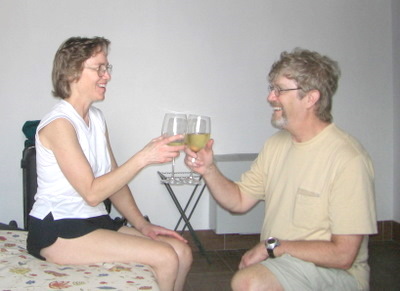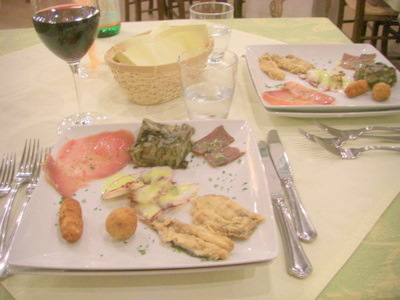 Above Left: The proprietress of Tenute Plaia gave us a bottle of the local white wine, either called Tinsu or Tingu (hard to read the artful lettering on the bottle). The kind hostess said that we could exchange the wine for a chilled bottle if we wanted or we could keep it for later. Well, later that day, after our walk, when the temperatures were at their peak, the chilled bottle of wine sounded like a delicious idea. So we exchanged the bottle and toasted ourselves and gave thanks for good fortune. Dennis had difficulty setting up the self timer on the camera, but we kept at it till we got it right, one toast after another. Cheers! The wine was wonderful!

Above Right: Dinner at Eight, yum.





Sicily Day 4, Bike Day 2: Scopela, Castellammare, Segesta, to Erice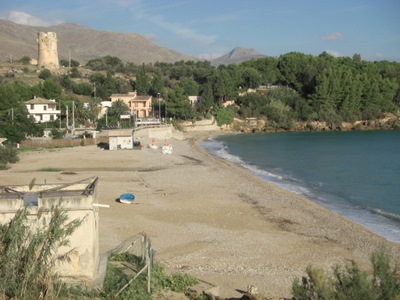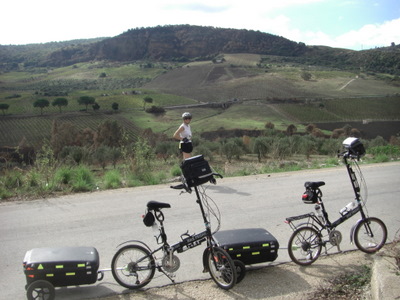 Above Left: Puntazza, the very first village that we biked through. Cool eh? Notice the Rook on the ridge. We would see many of these in different states of condition.

Above Right: We've ridden trough Castellammare and we are already off the program course. We will sometimes have trouble interpreting the textual instructions. Not to worry, Dennis has a mental GPS built into his head. We'll be back on course in 5K, the countryside is wonderful, and we are having a wonderful time. This is rather typical countryside for this region.

We know where we are going, so where we are is not too big of an issue. When touring in a foreign location, one must be flexible.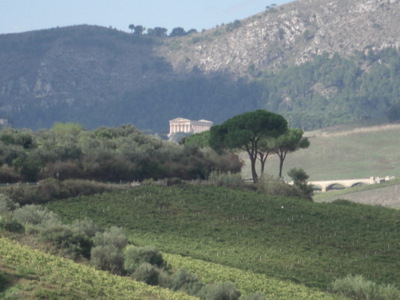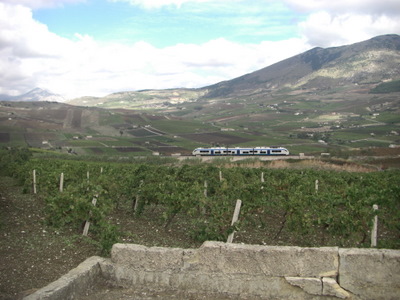 Above Left: This is a telephoto 10x shot of the Greek Temple of Segesta. Dennis saw this temple from about 6 kilometers away. It was kind of an awesome moment. The Temple is very big. We'll be there in about an hour. It's up hill all the way.

Above Right: More Sicilian countryside. It is pure luck that the train came at this moment (but not luck that the opportunity was seized).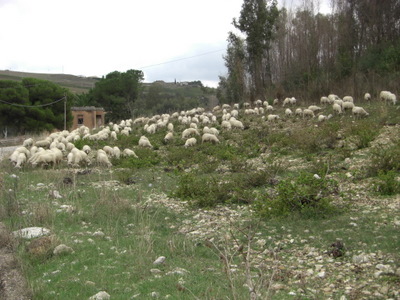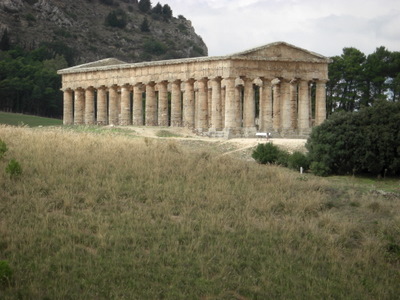 Above Left: A flock of sheep. Also, the Old Railroad Depot in the background (now a Restaurant and Inn). We would later meet a lady from England that came here by train, by herself, in the early 70's, through the very same railroad depot. She said at that time there was no tourist office and no fees. She just walked around freely.

All of the sheep wear bells and there is a Shepard. The Shepard seemed pleased that we took the time to acknowledge him and greet him. We think that the flock is sort of farmed out to different pasture/grass areas to help keep the grass growth under control, sort of like renting lawnmowers. We also think that the Rams wear lower pitched bells to help the Shepard know where they are. We distinctly heard a Shepard call out to a couple sheep, by their name, to tell them that it was OK and to not be alarmed by us (weird bicycle objects, pulling trailers, with human riders - not a common sight anywhere).
The combined bell tones of the grazing sheep is a variable symphony of bell resonance that is sort of calming. Once you've heard something like that, you will never forget the sound and we got to where we could hear a heard of sheep up to about 2 Kilometers away (about a mile), depending on wind and road noise conditions. I don't think that we would have experienced something like that in a car, bus, or train.
Above Right: The Acropolis of Segesta - Built by the Greeks. There is also an amphitheater and other Greek cultural ruins. We read or heard that this acropolis is one of the best preserved Greek Temples outside of Greece. We actually have about fifty photos of this incredible area and could have easily spent all day here. Visitors are still allowed to walk anywhere and there are lots of structural foundations and laying pieces to contemplate.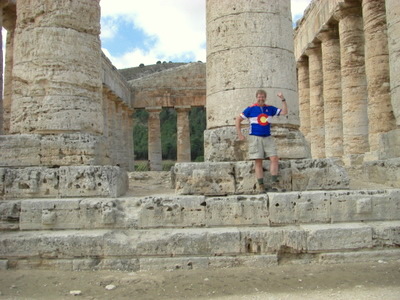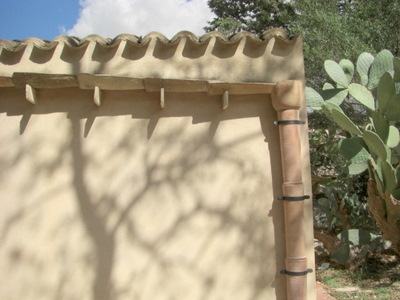 Above Left: Hercules? No, it's Colorado Man (only because this is the jersey de jour). Not a person commented on or recognized the big 'C' (which has happened in other countries). It's really not a big deal. Anyway, it's a happy moment for Dennis and Terry (behind the camera).

Above Right: A Fantastic architectural drainage example. While this happens to be a segment of a Toilet House displayed in the frame, this style of interesting gutter channeling and multi-funnel drain piping is quite common. By the end of our tour, we will have seen much more of this to include a construction site that lined up trash cans, vertically, with cutout bottoms to achieve a similar trash chute system from a fourth story window. It's how they do business here.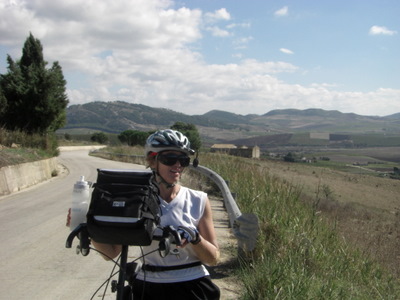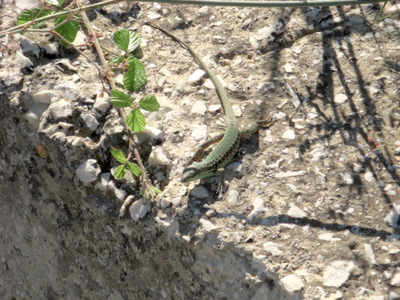 Above Left: A Rest Stop for us, somewhere around Buseto, which is halfway between Segesta and Erice. We're riding on a road that parallels a mountain ridge line and we're just enjoying the countryside and meeting a few dogs [Bike Humor].

Above Right: These little lizards, perhaps chameleons, are very common and very fast. We've been trying to take a picture of a lizard for most of the day and this is the very first opportunity.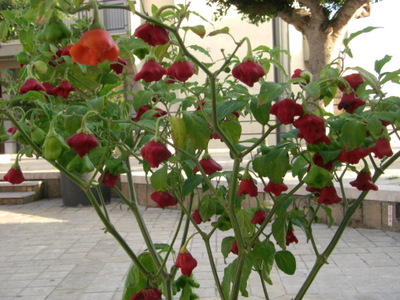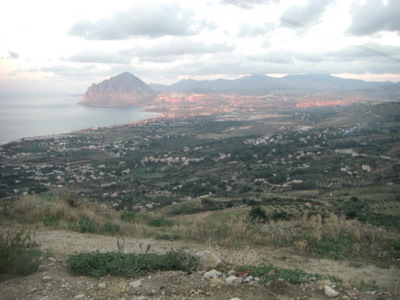 Above Left: The plant is a type of Sicilian Pepper that is sitting in a pot in the middle of the plaza.

We're in the outskirts of a city called Valderice, in a little village called San Marco, at a little plaza that has an ice cream bar. We're eating ice cream. We have a pre-arranged option. It is about 1700. We can continue biking or we can call our hotel and have them pick us up. These are strange instructions, and we do know why the instructions exist, but we do not understand the breadth of the issue. The issue is that we can bike or we can tour Erice before it closes its shops, this mutually exclusive choice has not been successfully communicated to us.

We learned the hard way that the instructions exist because our destination hotel is at the top of mountain in the next image. It will take us two hours, between 1800 and 2000 hours, to perform the actual hill climb. We're going from near sea level to 725 meters altitude in about 5 K distance. We will make the climb, but it will be at the loss of time to spend touring anything in the Medieval Fortress of Erice.

Above Right: Erice, the place that we are going, is at the top of the mountain on the left side of this picture. We'll learn that almost every place that we will spend the night, for the next week, will provide a beautiful view from the top of a mountain. That means very challenging hill climbs at the end of five of our seven biking days. Terry and I will become convinced that our tour was organized by the Marquis De Sade.

Meanwhile, when we finally made it to our hotel after the night hill climb, we seemed expected by the the hotel management and most of the patrons around the lobby seemed to know that we biked up the hill. In fact, most hotel patrons had physically driven by us in the past two hours while we were climbing the hill with our bike's night lighting turned on. The Climb was the talk of the evening, we could see finger pointing and hear '... Americano's ...'. We got plenty of head nods and cheerful expresions. It was a prideful moment. We got to eat dinner with the hotel's family staff at 2100.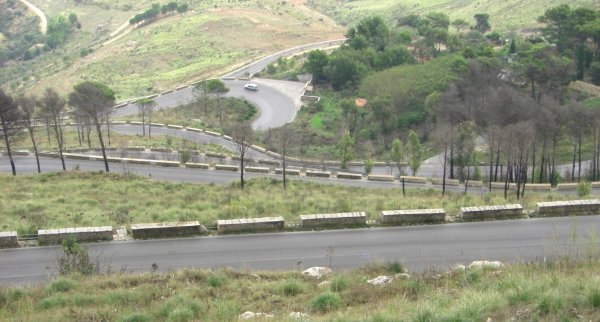 A portion of the Hill Climb of Erice (Repeated from Page 1).
We will have no problem sleeping this night!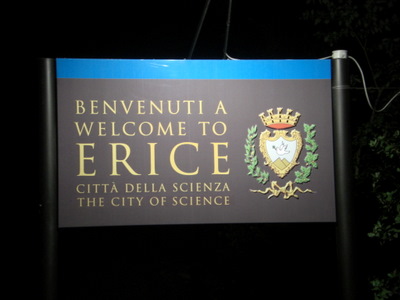 Above Left: Erice City's entrance sign. We don't have any pictures of us biking at night. We sort of had our hands full.

Above Right: Entrance to the actual Fortress of Erice. We'll be staying inside the Fortress at Hotel Elimo. It's about a 150 meters past this pictured main gate and there is another 30 meters to climb, on cobble stone. We did it. Our bikes will be parked next to the hotel manager's car in his personal garage bay. This night will become our favorite overnight stay. The hotel seemed like a five star hotel and we were treated like royalty.




Sicily Day 5, Bike Day 3: Erice, Mozia Island, to Marsala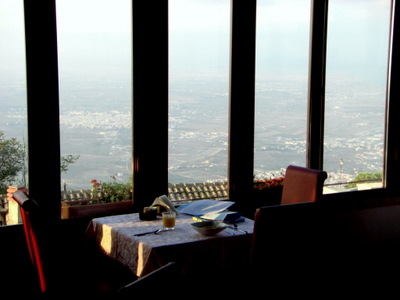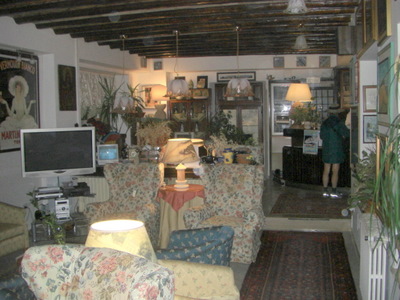 Above Left: The Breakfast View from Hotel Elimo. We have decided to walk around Erice, even though most of the buildings will be closed. The view is grand but we're at the bottom of the clouds, so we are in alternating fog-clear states.

Above Right: The lobby of Hotel Elimo.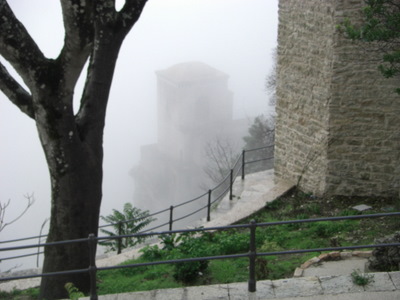 Above Left: A Guard Tower of the Castle of Erice.

Above Right: Erice Fortress Walls.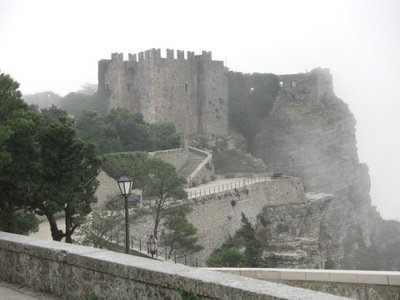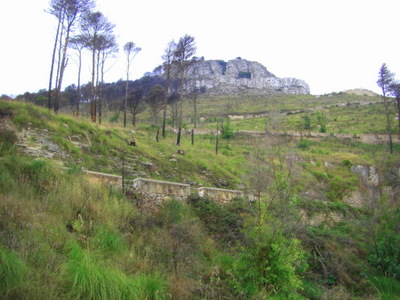 Above Left: Back side of the Castle of Erice.

Above Right: Uphill view of the Erice's switchbacks. We're actually biking downhill now, heading for Marsala.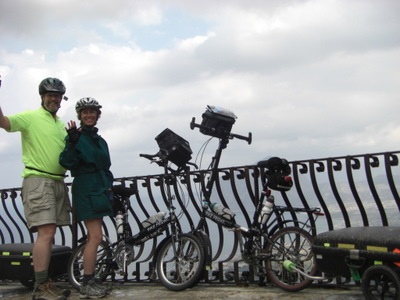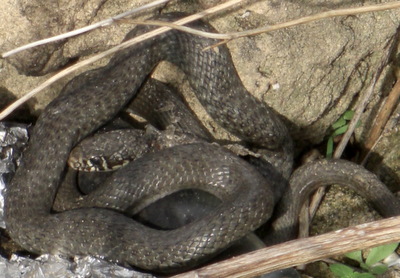 Above Left: Erice mid way picture pose, Dennis and Terry.

Above Right: Fifteen Kilometers later. We are biking in flat farmland and we stop for a little bladder break. This is what Dennis view's when he looks down. We think (hope) that this is the Sicilian version of a garter snake.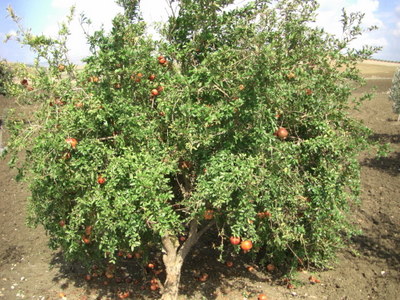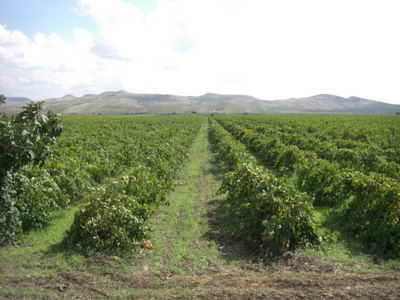 Above Left: Fruit tree, probably persimmon. We stopped because there was a mix of fruit trees in a 100 Meter square (lemon, apple, peach, persimmon, and orange) being cultivated in the middle of a vineyard. This batch of trees stood out like a red square on a yellow background. Obviously, this was someone's private and special fruit collection. We were mounted and about to start biking when a voice from the field yelled, presumably, at us. We didn't understand a word, but we clearly sensed that we were being warned off from any temptation.

Above Right: Grapes from the same field.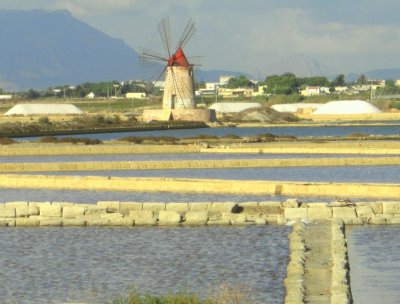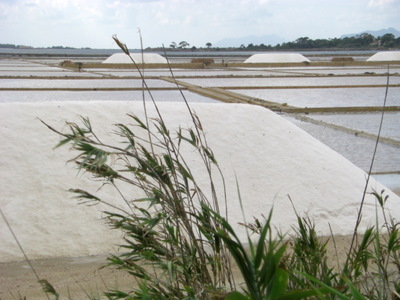 Above Left: We're at the Salt Extraction Fields of Mothia. We're about 8 or 9 Kilometers north of Marsala. The salt stacks standout as piles of white crystals. The salt stacks are usually covered with tiles to protect them from rain and birds until they are ready for shipping. The actual mining operation consists of many dyked pools of ocean salt water. Once the salt water is in a particular pool, it is blocked off from any further salt water source and the sun is facilitated to force evaporation. When water evaporates, it leaves the distillates behind which in this case is Salt. The Salt requires some turning to expedite the drying and curing process. Eventually the Salt is loaded into trucks by front loaders and stacked on the shipping docks for further curing.

The windmills are used to move or pump water from the ocean to various drying pools by use of typical farm like irrigation techniques. This picture was actually taken from the ocean side, while we were in a shuttle boat returning from a tour of Mozia Island.

Above Right: A closer look at the Salt Mounds of Mothia.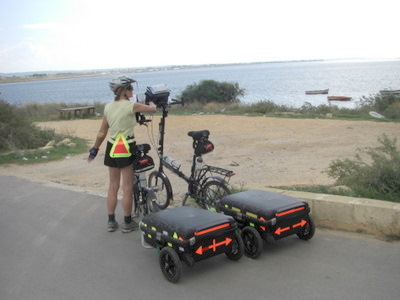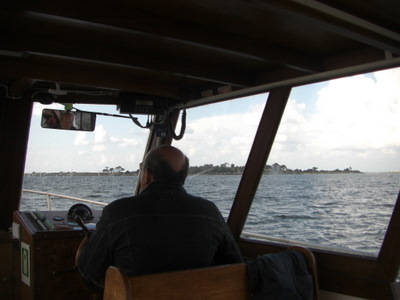 Above Left: Terry, stretching and holding the bikes while Dennis takes the Salt Field pictures. That is the famous town of Marsala on the far point. We're about to bike parallel to the ocean for about 8 K and this will be the easiest biking ever with great ocean views, no hills, few cars, no obstructions, and with a tail wind. One must appreciate these things when life presents them (it will not happen again here in Sicily).

Above Right: The boat ride to Mozia Island. The water must be shallow because the pilot is following a very precise course (said the Pilot son of an USN Cdr).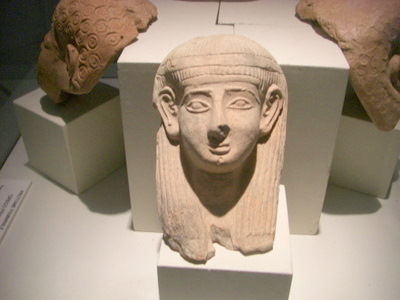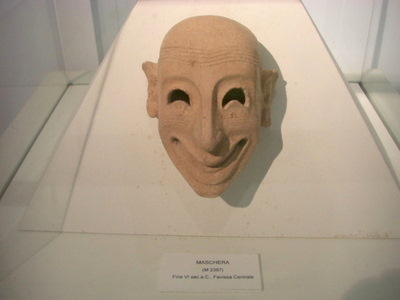 Above Left: Mozia Island. Egyptian Artifacts. There are Egyptian, Roman, Greek, Punic, Phoenician, and Tunisian artifacts here. In some cases one culture's structure was built on top of another culture's structure. The Island of Mozia is protected by a larger island only two or three kilometers to the west (blocking wind and waves from the northeast to southwest quadrants and Mozia is protected by Sicily from the north the southeast. It's a great place to port and be protected from storms and sailors over generations of travelers have figured this out, over and over again.

Above Right: Maschera, literally the root word of "mascara" (a mask). This is how one puts on a happy face - Arh Arh! Found on Mozia Island.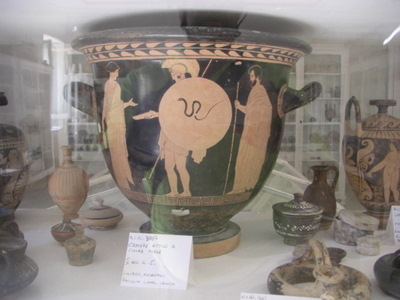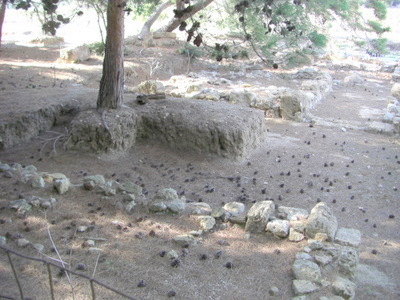 Above Left: Greek Vase Artifact, Mozia Island, Sicily.

Above Right: A set of partially uncovered ancient foundations, yet to be further analyzed and researched. Mozia Island.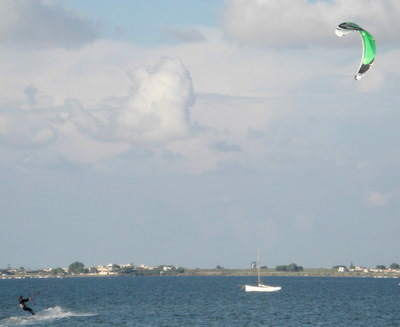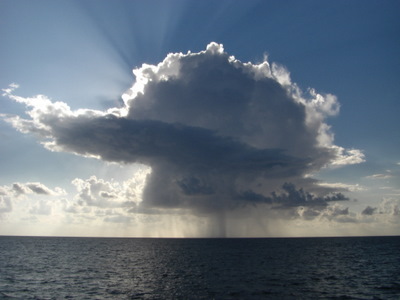 Above Left: Para-Surfing, Marsala, Sicily.

Above Right: Small Ocean Rain Cloud with Sun Rays Behind.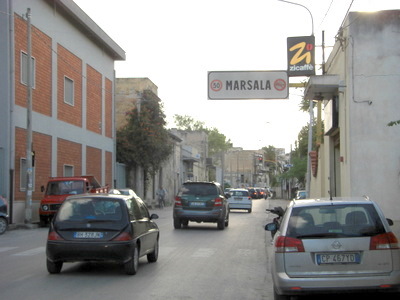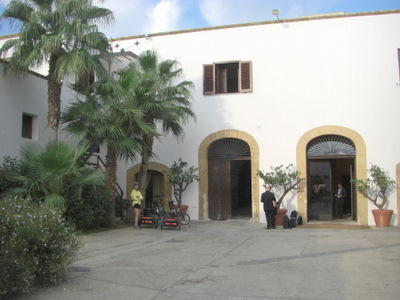 Above Left: Official Marsala City Limit. Now we have to watch out for traffic, it's rush hour but the car drivers are respectful of our bicycles and luckily we will not be in traffic for very long.

Above Right: We're at the hotel Villa Favorita. Check-In is interesting, we're kind of in travel mode and we are not thinking about our peculiar mode of transportation but our bikes will create a lot of interest from the patrons (not pictured here).

Pictured is the check-in plaza, the actual hut-rooms (igloos) are in an adjacent square of about 8-10 acres. They are really cool looking (pun intended - see next page/day).

Like most things Sicilian (or Mediterranean and Arabic), all big properties have an outer wall that protects the interior from the sun, weather, and unwanted guests. Also, one cannot make a judgment about the interior from looking at the exterior, most exteriors are ugly on purpose.





Previous Day Top Next Day