| << |20 | 21 |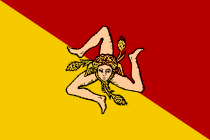 | 23 | 24 | 25 |

| 27 | 28 | 29 | >> |

1 | 2 | 3 | 4 | 5
Sicily, Adventure #22, Page 3

Pictures and Stories About Bicycle Adventures

Sicilia, Italia,
By Bicicletta (Bicycle), Ottobre, 2007

Sicily Day 6, Bike Day 4: Marsala to Selinunte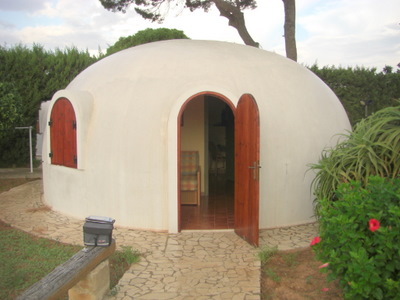 Above Left: Our Home away from Home. Aren't these little Igloos Cool?
We had several new experiences at this location:
The water was non-potable.
Its the first time that we had to buy water, ever. I think there is something in every American that chokes at having to buy water. We're biking, so we needed eight or nine liters of water. It's not cheap, and we had to buy it in little bottles from the hotel - there was just something not right about how this issue was handled.
We experienced our first ever technical ignorance. We could not figure out our room's air conditioner control. We have operated remote control air conditioners before. In any case, we could not operate this remote control air conditioner device. In all fairness, a predecessor person messed up the controls at the BIOs level, but neither of us knew that there was a hidden slider on the remote that allowed one hidden access to establish temperature and fan settings.
We humorously learned that Italians understand the word 'Kaput'.

Above Right: Packed up and ready to go.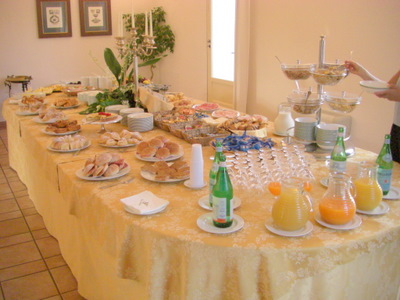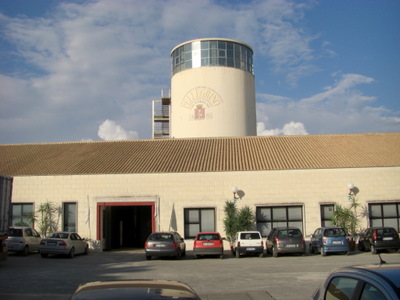 Above Left: Breakfast, at 8, at the Villa Favorita.

Above Right: We take time to see the Marsala Wine distillery of the Pellegrino Wine Maker. It's 0900 and they want us to wait for a tour at 1100. No one seems to understand or care about our bike touring situation. We can't hang around for two hours. Finally, the Marketing Manager allows us to walk around the facility and gives us some samples at the end of our walk about. Luckily, Dennis is familiar with the Solaris Process and explains it to Terry. We ended up having a good time.


The Lecture:

All 'fortified' wines have alcohol added. The best fortification alcohol comes from the same grape that it is being added. All of the following Wines are created by fortification in similar processes. A major variable is centered about when the alcohol is added to the fermentation process. If the alcohol is added early, the wine is sweeter. If the alcohol is added late, the wine is dryer. The following is a list of popular fortified wines:

Port (Portugal)
Sherry (Spanish)
Madeira (Portugal Island)
Vermouth (Italy, supplemented with many herbs)
Montilla (Spanish, technically Montilla-Moriles)
Marsala (Sicily)
Liqueur Muscat (Australia, Liqueurs are humorously classified as 'Stickies')
Liqueur Tokay (Australia)

By the way, the Fortification Alcohol itself (assuming that it is made from grapes) is called Brandy (which is derived from the Dutch word meaning 'Burnt Wine', as in Branded, which is a reference to the distillation process). Other names for Brandy are Armagnac, Cognac, Grappa, Marc, or Bagaceira, depending on the country and their is usually an associated set of laws for each country.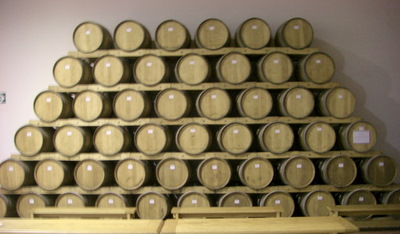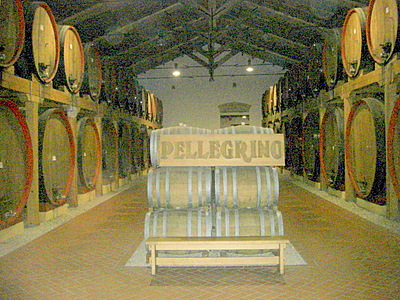 Wines in different states of aging.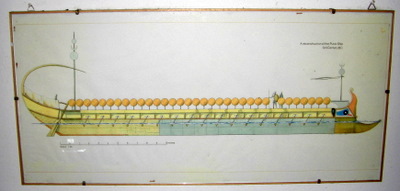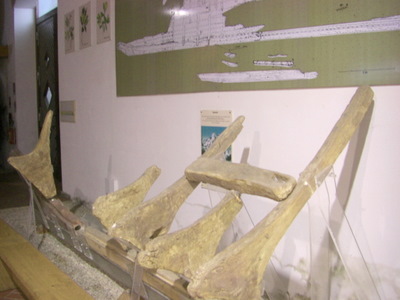 Drawing and actual parts of a 3 BCE Punic (Carthaginian) War Ship
with Phoenician Builder/Language Markings.
Displayed at the Pellegrino Winery.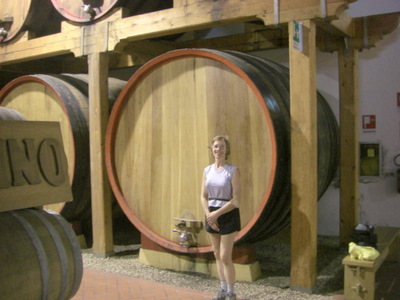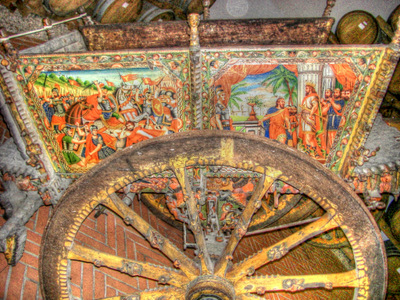 Above Left: Some of Dennis' favorites.

Above Right: Old Wine Cart. Notice the figure carvings, especially on the wheel spokes. It seems that the art work, on most of the fancy wine carts that we have seen in Sicily, show an Arabic/Islamic versus Christian battle scene as well as some Christian religious scene.


Believe it or Not, Alcohol and the process for making alcohol was introduced to Europe from the Muslim world. The Muslim's used it purely for medicinal purposes.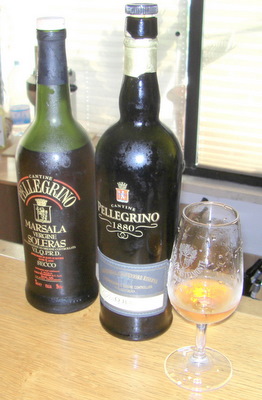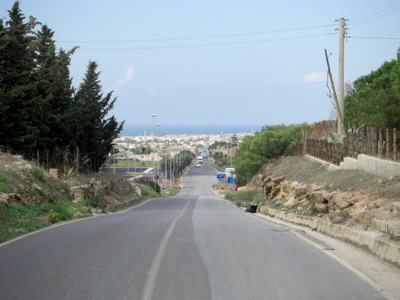 Above Left: Some of the Marsala that we sampled in Marsala! Yum!

Above Right: A look, backwards, as we depart Marsala. What a nice day.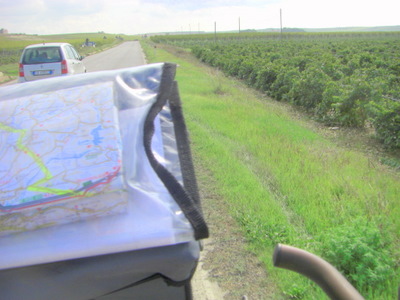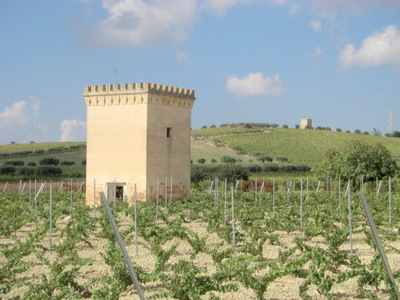 Above Left: We're on the road from Marsala to Seliunte. We're only about an hour out of Marsala. Dennis is taking a picture of the Bicycle Navigation System. A car passes and honks several short beeps. This kind of acknowledgement would occur all day long. People would wave and smile. Their behavior would make our day.

Above Right: We have never been to Spain, but this reminds us of Spain. I can't explain. These little Rook watch towers would be commonly seen all day long today. We are biking along the south side of Sicily today.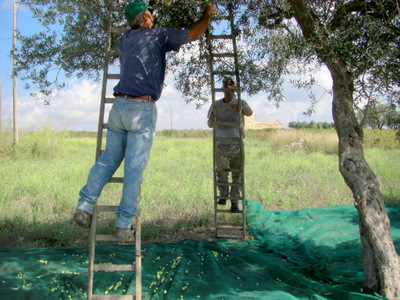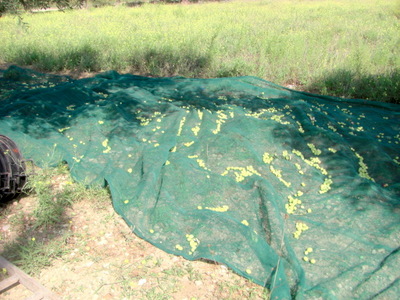 Above Left: Olive Picking. Dennis asked if it would be OK to take picture. They said 'Si,' and posed for some pictures, but the best picture demonstrates what they are doing. They pick or shake olives loose. The olives fall into a net laid out on the ground.

Above Right: Olive Net on the ground. Terry and I, later, picked a couple of olives off of a wild olive tree that was overhanging the road. The olives tasted quite bitter. Later we would learn that the olive is naturally bitter and that there are two olive curing processes. One process is for your own table grapes and the other process is for commercial packing. Basically, both processes involve soaking in a Salt Brine Solution.

Supposedly, Sicilian Olives are the best in the world (based on their slightly higher acid content). Because of Price and Demand, it is very difficult to get Sicilian olives or olive oil outside of Sicily.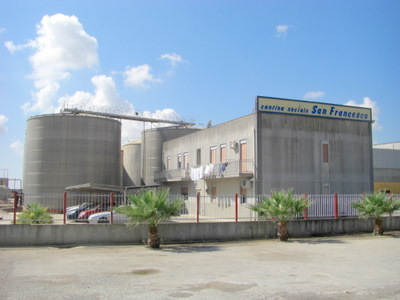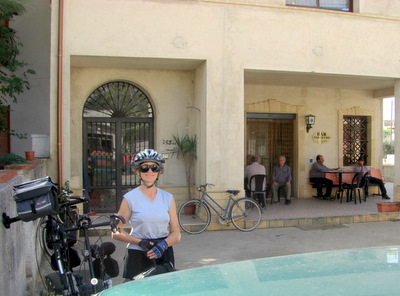 Above Left: The sign says "Cantina Sociale San Francesco." It is the Community Winery. It's a wine making cooperative for all of the local grape growers. All of the grape wine will be pooled under one bottle brand, named after the town. This is a common procedure across Europe and it is why wines are named for their Town of Origin and not by the grape variety (as done in the New World).

Above Right: We have stopped for lunch at a bar in or near Borgata Coshera. We buy Bread and Cheese. Our bikes get a little attention.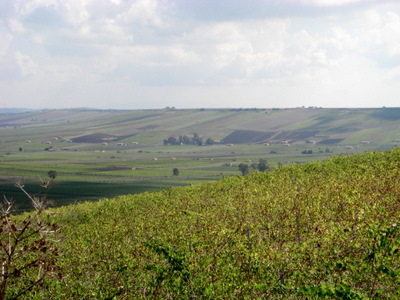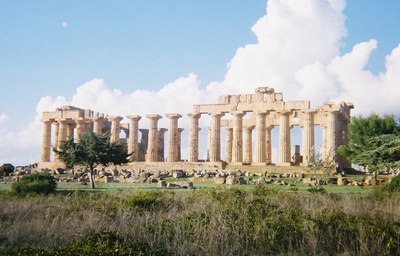 Above Left: This is the countryside at he moment. Dennis dropped the camera and it would not operate:



This is the last picture to be taken on this camera.




Observations (Sans Camera):

We passed through countryside that had above ground irrigation piping. Some of the irrigation was open water aqueduct of newer construction (metal and plastic).
We also observed that a lot of the stonewall fencing around many fields had small amounts of ancient blocks in them along with the normal stones.
About every kilometer of travel, we would see an ancient structure of some kind, in varying sites of repair, probably house or farm structures but difficult to determine. Many had been converted to Jesus or Mary Shrines.
Above Right: Selinunte. We bought a disposable Kodak 35mm Camera. This and following Greek Acropolis and Greek Ruin pictures are from the this disposable camera. By the Way: Thank You Kodak!


We had previously passed through a big town called Campobello, maybe a population of 3,000 to 4,000, and there was not one single shop that sold cameras, period. There was a photo development center. At the photo development center we were told that Castelvetrano, 10 K to the northeast, did have a camera shop that sold new cameras. 'Going to Castelvetrano' became the backup plan, but since we were going to Selinunte anyway and it is one of the most photographed places of Sicily, we thought that it would be worth checking there, first, for new cameras.

Nothing. Not one shop in Selinunte sold new digital cameras. So, since it was near closing time, we bought a disposable camera, knowing that we would be changing our route plans so as to go to Castelvetrano tomorrow.

Later, at our hotel in Selinunte, we tried to solicit the help of our hotel check-in people, but the staff was highly disorganized at the front desk, they were having check-in issues with patrons and there was a massive pall of low-budget and low class decision making at this hotel. Absolutely zero help. This hotel was in such a disarray, that they controlled our air-conditioner from the front desk. We had to ask for the A/C to be turned on and later that night, someone incorrectly decided at 0300 in the morning that we did not need air conditioning anymore. Wrong.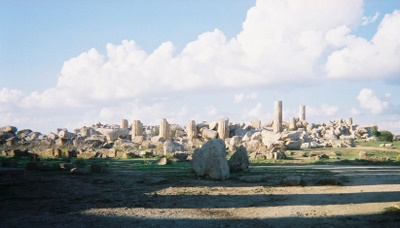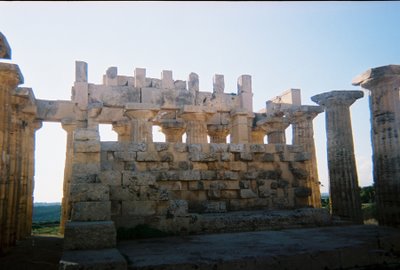 Above Left: Greek ruins of the fortification area of Selinunte. This city thrived during 650 to 250 B.C. (or to be politically correct, BCE - Before Common Era), but it was destroyed by neighboring cities.

Above Right: The Temple area inside the Acropolis of Selinunte. The Greek word akro means top or high (as in acrophobia) and polis means both city and of/for the people (like policy and police).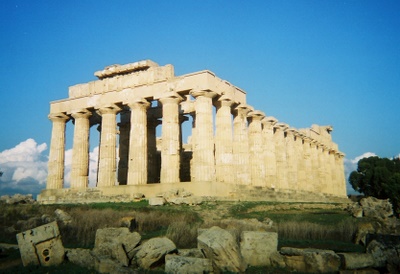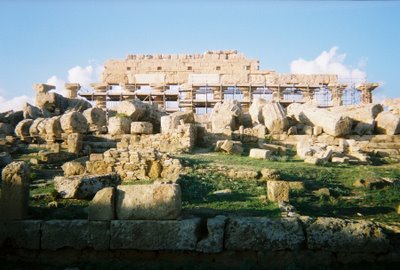 Above Left: Another view of the Acropolis of Selinunte.


The word "Selinunte" came from the proper name of the wild celery called "selinon." This celery still grows in Selinunte today. Selinunte was a successful Greek city that at one time had a peak population of 25,000. The location was discovered by Greek colonists around the time between 650 B.C. and 630 B.C. These colonists were from Megara Hyblea, located in Sicily's east coast.
Above Right: These are the remains of the Shrine of Demeter Maloporus. It is located across a small valley from the main Acropolis.





Sicily Day 7, Bike Day 5: Selinunte to Contessa-Entellina
By way of Unscheduled Visit to Castelvetrano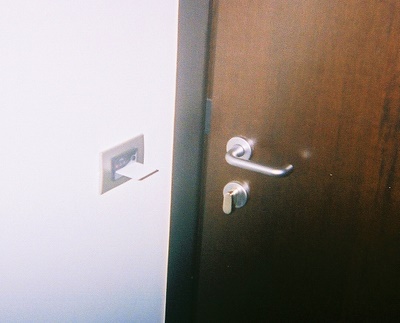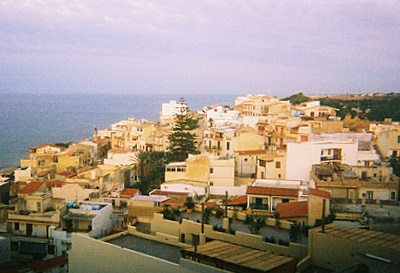 Above Left: The room electricity requires a key-card to be inserted in order to operate. All electricity is turned off when the card is removed (except for their expensive mini-bar goods). Picture taken with the disposable camera.

Above Right: Our room does have a good view. Picture taken with the disposable camera.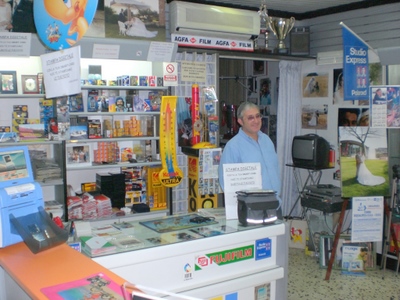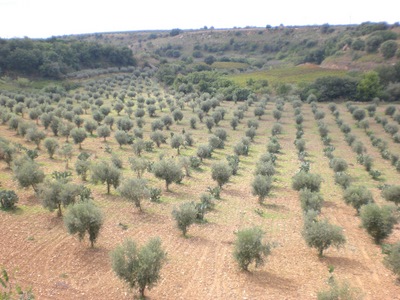 Above Left: This picture shows the Shop and Proprietor where we bought a new camera. The proprietor was very helpful. Getting to Castelvetrano was not difficult but finding the shop took a little effort. We got good directions a couple of times but we were not going far enough for each instruction leg. We arrived in Castelvetrano at about 1000 or 1030. Finding a new camera that used the same memory card was not an issue at all. However, there was an issue that we had not thought about, and that was the amount of time required to charge the new battery so that we would be road ready for taking pictures.


We were buying the same brand of camera (Casio), but the battery was different than the previous camera. We were lucky enough to get a camera that matched the same memory card and one whose basic operating functions we already understood. Terry and I feel very strongly about traveling and keeping memories, especially for bike journaling, so neither of us wanted to depart immediately with an uncharged battery. We just were not traveling without a working camera. It took two hours to charge the battery. The owner was kind enough to set up the charger, but we all had to wait, so we explored the local area.

The camera shop was only a half a block from the main plaza. We noticed all the high school kids milling about during, what is now, lunch time. We were surprised by how many kids had scooters. We also noticed that 10% of the scooter drivers were young girls. Probably 80% of the kids carried another kid passenger and it was half and half passenger sexes. Another surprise was what the kids were eating. There was a traditional bakery/pizzeria across the street from our camera shop. The kids were mainly eating French Fries but it did NOT appear that they were using any additional sauce like Catsup, Mayo, or Vinegar (such as we have seen in other countries).

Above Right: This is an olive orchard. Even in person this scene looked like something from a model railroad. We're about one hour east of Castelvetrano.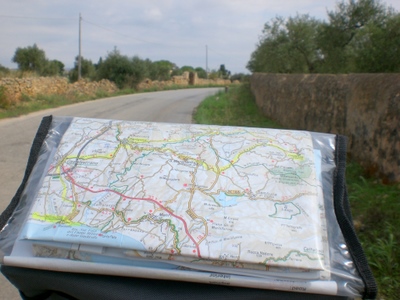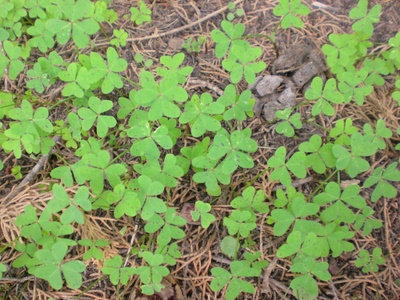 Above Left: Just a wonderful ride: stone fences, olive trees, good company, a working camera, on course. On occasion, we notice ancient building bricks in these stone walls.

Above Right: This is Sicilian Clover. It has a deeper cut than American or Irish clover, they're almost heart shaped. The thing that may look like dog poop is actually a decomposing pine cone.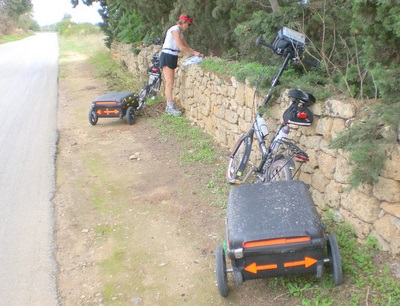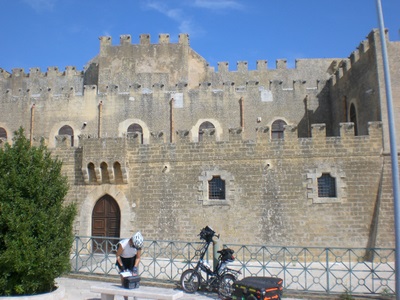 Above Left: Lunch Time. It's about 1400. We sort of got a delayed start due to having to take time to buy a new camera. The spot is shaded, cool, clean, bug free, and we will sit on the clover covered stone fence. The above clover picture was take from where Terry is standing. Isn't this cool?

Above Right: A Castle at the top of the hill (of course) in the town of Partanna. It commands a view of the ocean to the south even though we are 15 to 20 K inland. We can't take any quality pictures of the ocean view because it is hazy and we are looking directly into the sun. The Castle [Castel] is not open to the public.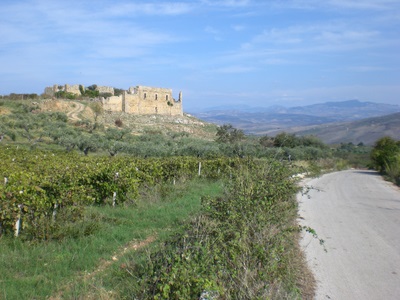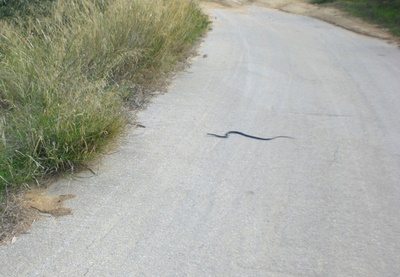 Above Left: We're heading east. Our trip ticket states that this is an abandoned monastery. The scene is very idyllic, grape vines and olive trees. This scene captures the essence of Sicily. We are going to spend this night near the top of farthest highest mountain on the right side of this image. "Miles to go, ..."

Above Right: It is what you think it is. What's amazing is that Dennis saw the snake in the dirt off the right side of the road and had the reflexes, for the moment, to get the camera out and catch a picture of the snake before it disappeared into the grass.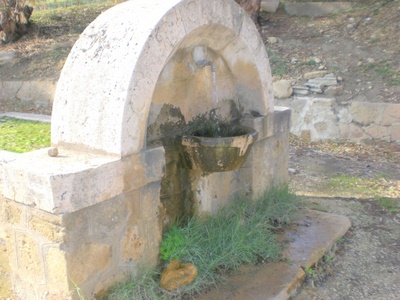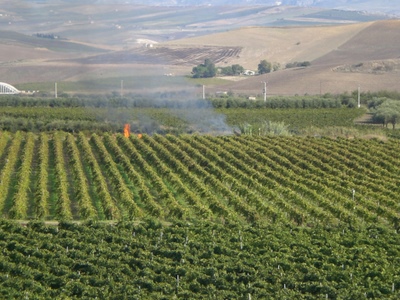 Above Left: A typical public well. The water appears to be clear and clean at the spigot but the sink and trough are algae covered.

Above Right: The grapes have been harvested. Now the field hands are trimming unwanted stems and collecting dead pieces for the fires.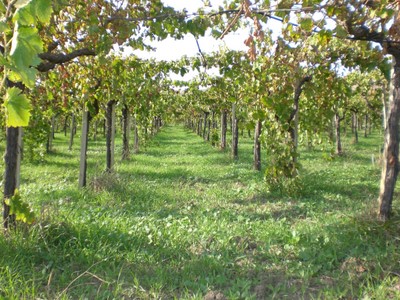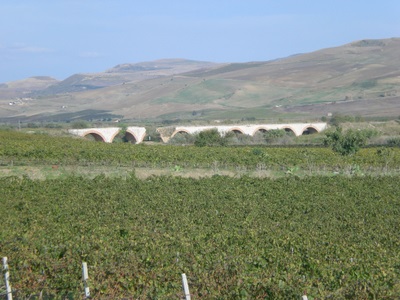 Above Left: Grape Vines.

Above Right: A war reminder.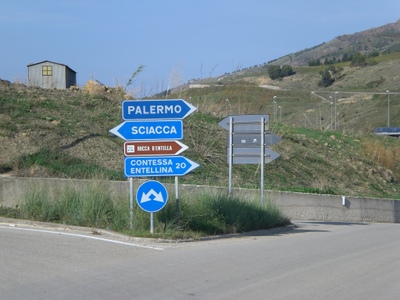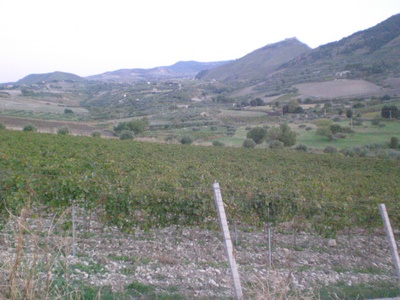 Above Left: Just 20 K to go. The time is 1800 and it's uphill all the way.

Above Right: We're going to the farthest ridge line. We'll be staying at the home of a girl from Russia and a guy from Venice (Venecia). He used to be an "on location" cook for Hollywood film companies. He put away some money and has had quite an adventurous life himself, to include time in remote Pacific Islands.





Previous Day Top Next Day