| << |20 | 21 |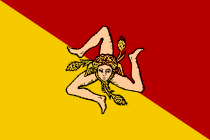 | 23 | 24 | 25 |

| 27 | 28 | 29 | >> |

1 | 2 | 3 | 4 | 5
Sicily, Adventure #22, Page 5

Pictures and Stories About Bicycle Adventures

Sicilia, Italia,
By Bicicletta (Bicycle), Ottobre, 2007

Sicily Day 10: Car Hire, Sea Coast, Cefalù, Mountains, Giardini-Naxos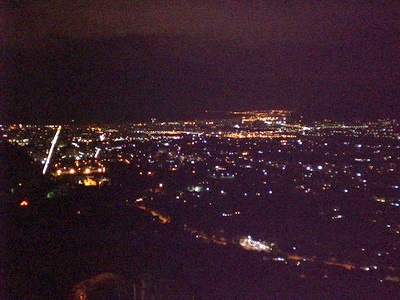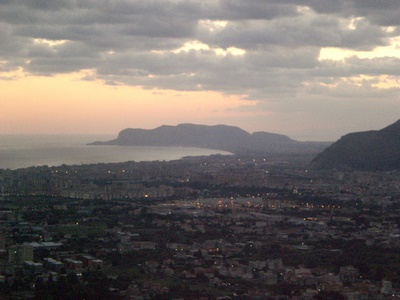 Above Left: Palermo at Night.

Above Right: Palermo on the left, Monreale at the near right. Both pictures taken from our bedroom window!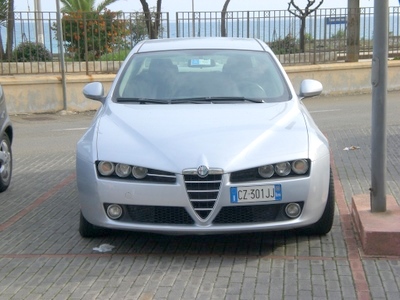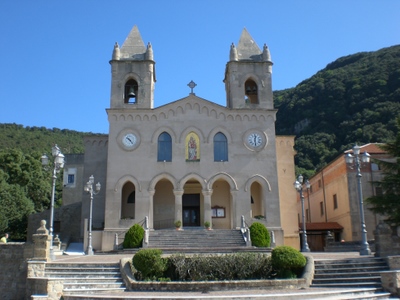 Above Left: Our car hire, a turbo charged Alfa-Romeo 156. It took us a while to figure it out. In fact, we climbed in and went from down-town at the end of the morning rush-hour. We could not turn down the heat until the edge of town where we could pull over and read the instructions. One nice thing that the car had was dual temperature controls.

In Sicily, "When driving, yee who hesitates, looses." Also, in any city or town, at a stop light, motor scooters will take up any space around you. The good news is that the scooter people (typically 15 year olds) will look out for themselves. Driving a car is a bit like a shark going through a school of fish, the fish just get out of the way of the shark, through no effort on the sharks part ~ same with scooters around a car.

Above Right: Mountain Church of the Gibilmanna Sanctuary. This sanctuary existed and was part of some Christian Holy Pilgrimage Routes. Its, now, noted for having a good ocean view but the best views existed on the drive up. We got there, apparently during siesta: no tours, nothing open, no signs, no bathrooms, and no water. The Chapel is dedicated to the Madonna and contains a Byzantine Fresco of the 'Madonna col Bambino'.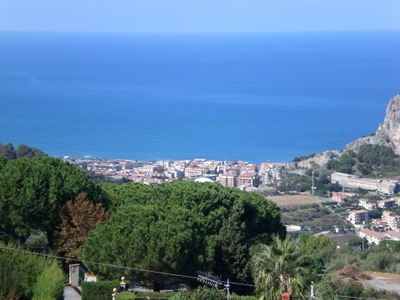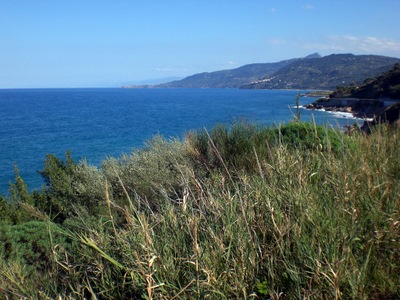 Above Left: The view from the drive up to Gibilmanna Sanctuary.

Above Right: We drove along the north coast (west to east). It was peaceful and serine with little traffic. We were paralleling a railroad. Some day we will use train travel in some part of Europe, but as friendly as Eropeans are toward bicycles, bikes are not usually allowed on trains or busses, or the people with the bikes get an absolute last place priority, so never during commuting hours.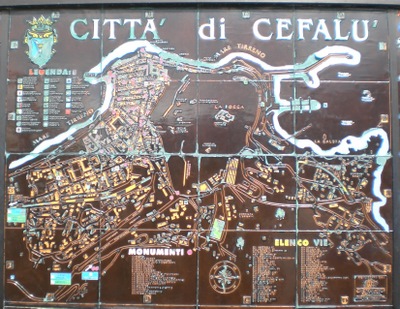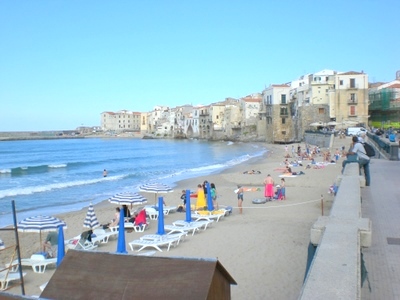 Above Left: Cefalù is a resort town. In 1063 the Normans captured it from the Arabs. In 1131, Roger II (King of Sicily) transferred the town population from its almost inaccessible rock outcrop position to one at the foot of the rock. The older rock fortress wall is still visible and we saw it. The outcrop is not pictured here but a part of it can be seen in the below left image.

Above Right: Some of the beach front of Cefalù and one of two places in Sicily where we ever saw anyone wearing shorts or sleveless shirts. The other place was in the resort towns of Giardini-Naxos on the east coast.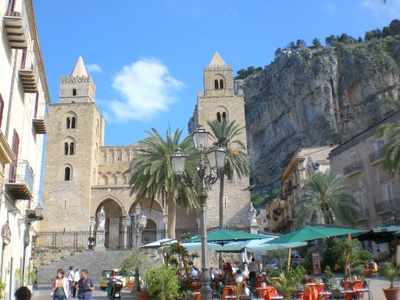 Above Left: The Cathedral of Cefalù, begun in 1131, in a style of Norman architecture (aka: Sicilian Romanesque). The original town and fortress is at the top of the cliff on the upper right side of this image.

Above Right: Something about "hamering arms (armaments) into plow blades" (pun intended - it helps to know that this plow blade is made from from the arm of a knights suit of armour - arh arh). This shop owner has a sophisticated sense of humor!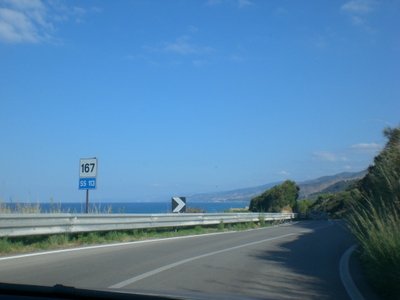 Above Left: View from the coastal drive.

Above Right: Interesting Traffic Routing solution.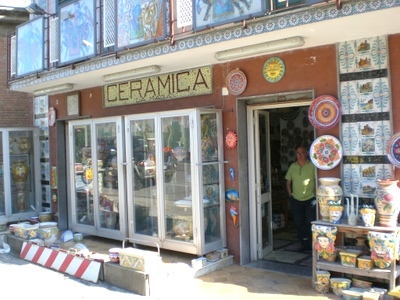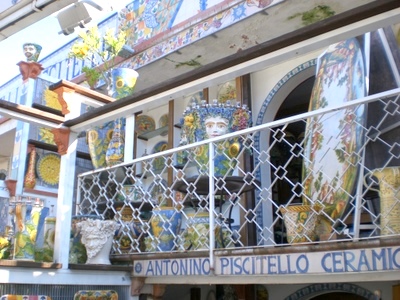 Above Left: One of the many ceramic stores in the town of Tyndaris.

Above Right: Another ceramic store in the town of Tyndaris.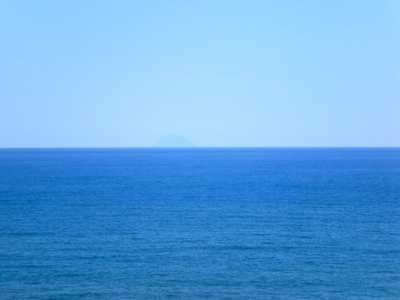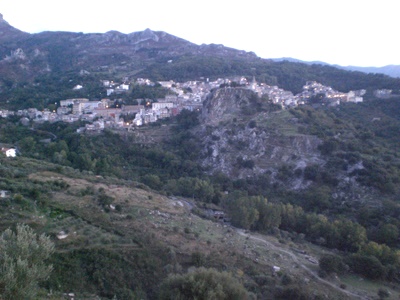 Above Left: A View of the Isola di Alicuda (Isole Eolie or Aeolian Islands).

Above Right: The sun is setting just as we are driving through the mountain town of Novara. As soon as the sun went down it started raining. The rain would not stop for about 48 hours. We both expressed to each other that we'd rather have rain during a conference that during a bike ride. We were lucky and gave prayers of thanks!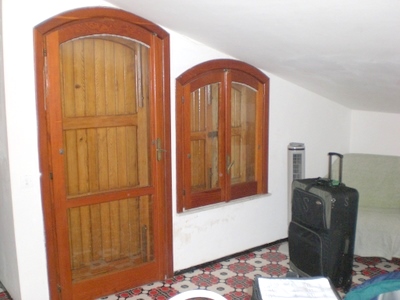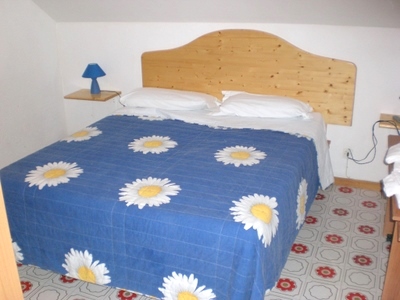 Above Left: We rented a roof top flat. It was about 2330 Hours when we checked in. We made it to town by 2000 but the owner forgot about us. We had to call and wait. Notice that this is a height challenged room. Dennis' bumping his head on the roof became the norm. We discovered other room issues over time but nothing dampened our spirits.

Above Right: Yes, we have a double bed (two twin beds placed together).




Sicily Day 11: Med Conference and Touring Giardini-Naxos and Taormina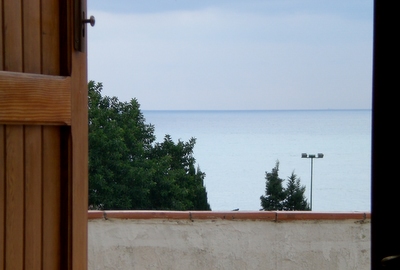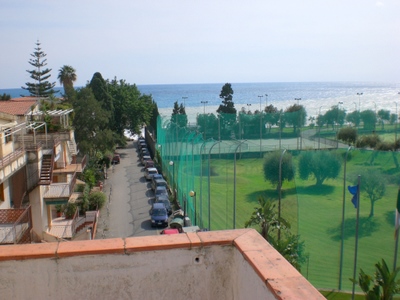 Above Left: Our front patio view. Picture actually taken a few days later.

Above Right: Same view, without the telephoto. It's prety nice.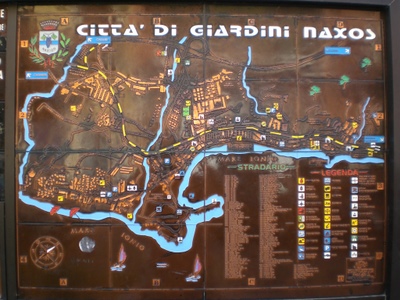 JJ Above Left: City of Giardini-Naxos. Two towns that grew into one.

Above Right: Giardini-Naxos beach front. The sun came out for one hour. The surf is still hard hitting storm surf. Terry was in conference and Dennis only had one mandatory mission for the day and that was to get about nine days of travel clothing laundered. Dennis discovered that there is no laundry mat. Apparently all of the town laundry is performed by a group of old ladies. The hunt for this Laundry place is a story onto itself. It was the biggest challenge of the trip which yielded a good result. By the end of the search, Dennis had the entire town memorized for what was where and which street went in which direction as there were many one way streets.




Sicily Day 12: Med Conference and Touring Taormina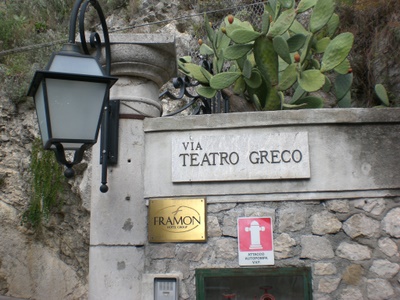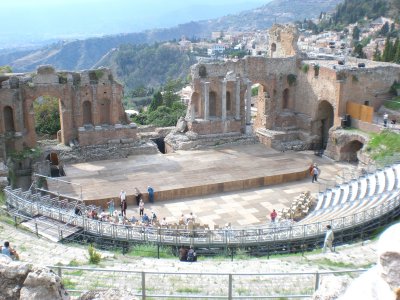 Above Left: Via Teatro Greco. This probably has been the street name for two centuries.

Above Right: The Amphitheater of Taormina. It is still used. Supposedly, this very spot offers the best view of Mt Etna, but it was under a cloud the entire time that we could have seen it.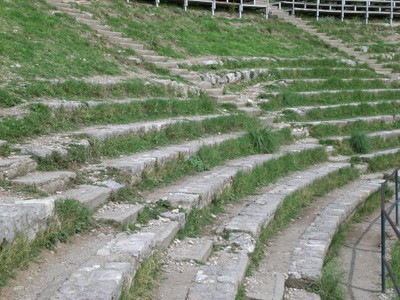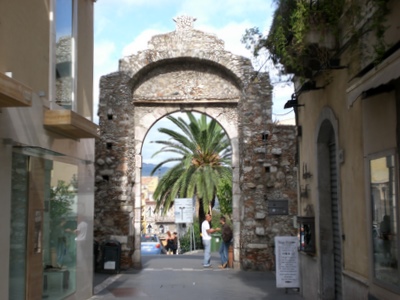 Above Left: Original Seating.

Above Right: Taormina's North Gate. Taormina is a resort town.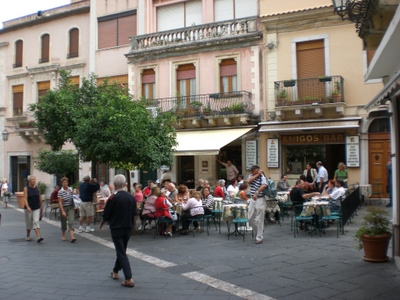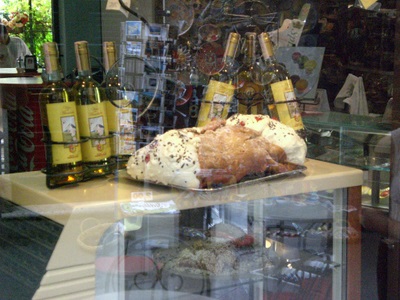 Above Left: Taormina Café.

Above Right: The second biggest Canoli that we've seen. The biggest was a foot around and four feet long.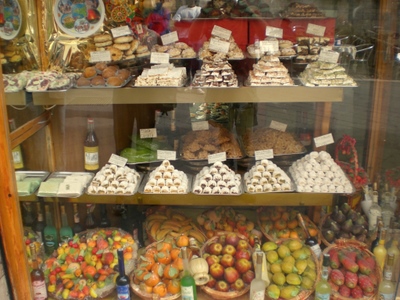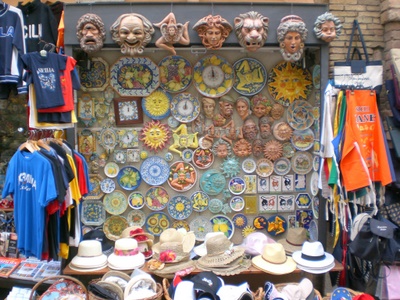 Above Left: Taormina Sweets Shop. The Fruit looking candy is made from Marzipan.

Above Right: Taormina Tourist Goods Shop.



Above: Taormina Toy Shop.

Left: Dennis, holding a lamp post down.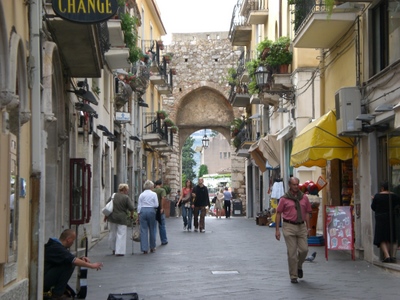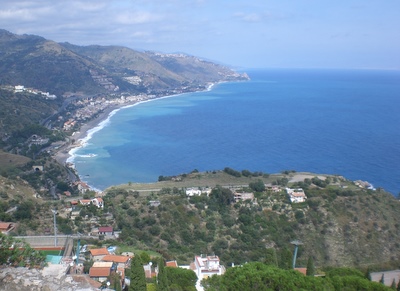 Above Left: Taormina South Gate.

Above Right: Taormina view to the North.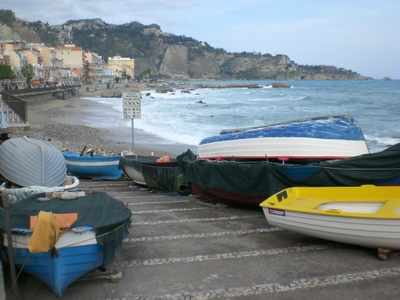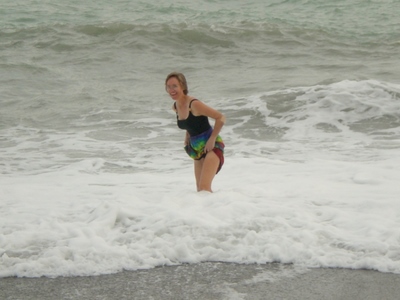 Above Left: Giardini-Naxos Fishing Boats, Taormina at the top of the hill.

Above Right: Terry checking out the water. The water was warm but the surf was from a storm.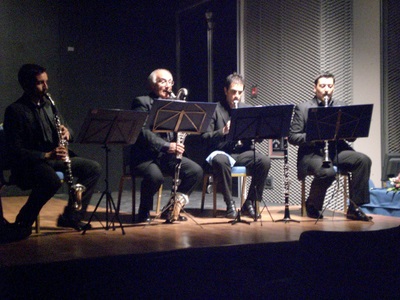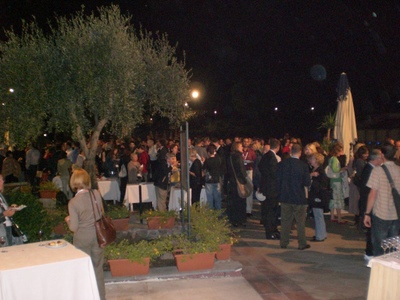 Above Left: Dinner and a Show. This is the show. The Quartet of Woodwind Players were sometimes accompanied by dancers and they played a range of music from Brahms to Moon River. The musician on the far right would indicated to the audience when to clap or not. After a couple of clapping sessions, he directed the audience with just his eyes. That was kind of humorous, different, and fun.

Above Right: Dinner was a standup buffet.



Sicily Day 13: Conference & Rainy Day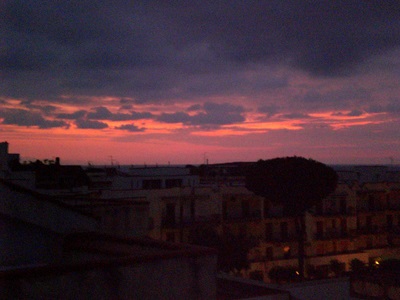 Above: Sunrise at Giardini-Naxos. This will be the only time that we will see the sun for the next thirty hours. Terry is in conference and Dennis decided to stay indoors and start creating these very same web pages.



Sicily Day 14: Conference and Dinner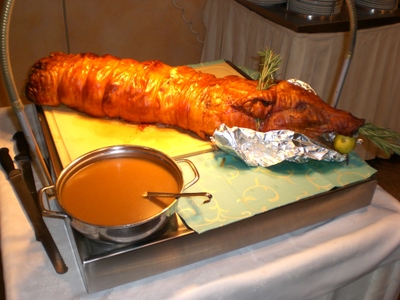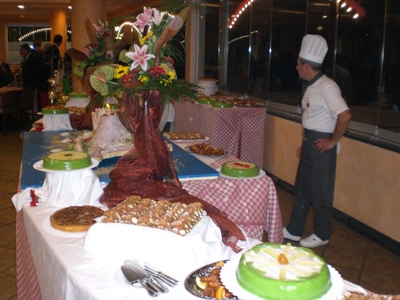 Above The Conference Feast.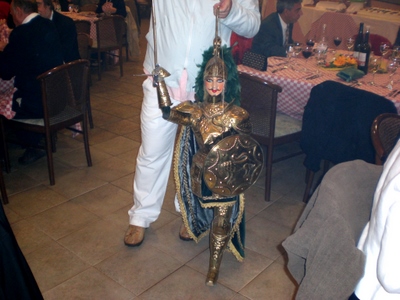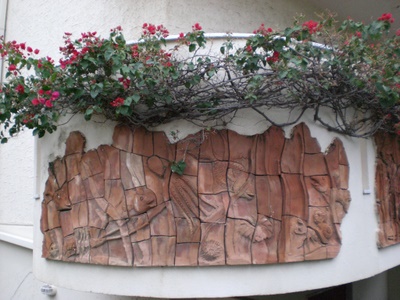 Above Left: The hotel had four different puppets. Puppet story telling has been a big tradition in this region and Sicily, for centuries. Kids love the puppets, of course. Our handler demonstrated basic puppet control and he had the soldier demonstrate a series of sword fighting stances and salutes. We bet young boys would love watching sword fighting puppets. We're also sure that there is a Damsel in distress somewhere.

Above Right: This is a tiled collage with a nautical theme. It's displayed on a round corner of an apartment patio.



Sicily Day 15: Conference Ends and Local Dinner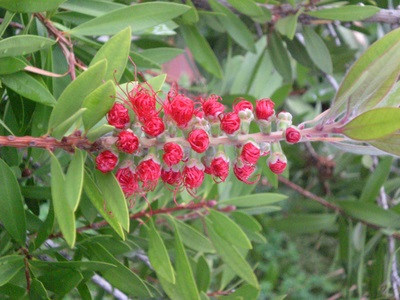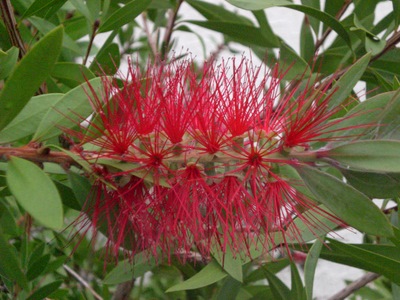 Above: Local Fauna, before stamen.

Above Right: Local Fauna, after stamen.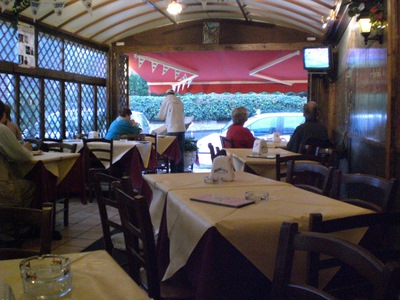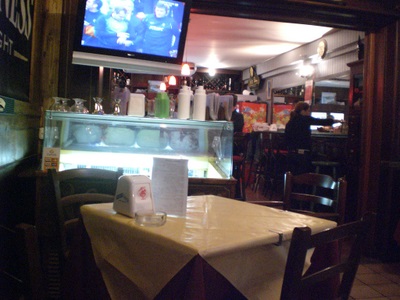 Above: Where we ate our last supper. It's still raining but our appetites were not dampened.




Sicily Day 16: "Parting is Such Sweet Sorrow"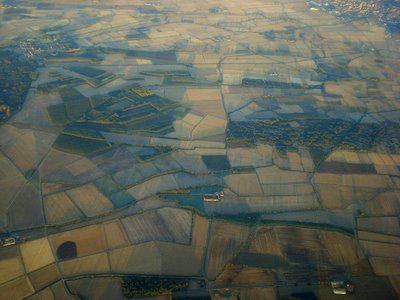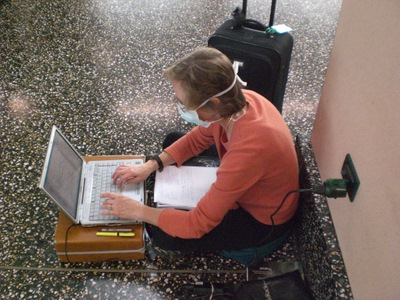 Above Left: Sunrise near Milan.

We had a difficult time finding the Catania air terminal. Once we got close to the terminal, where most people could probably see it during the day, there were no signs and it was raining. We could not see the airport and we wasted a lot of time driving around. Once we found the exit ramp but could not find the entrance ramp. There was no signage. Finally, some roving police helped us find the entrance to the departure ramp. It's about 0400 and virtually no one is at the airport. Dennis dropped Terry and the luggage at the departure gate but still had to return the Hire Car. Dennis could only get the hire car returned by entering the exit only gate of the rental car parking lot and then the agency's kiosk did not have a drop box, after twenty minutes of frustration, Dennis left everything in the adjacent Hertz drop slot. It was still a kilometer walk to the airport in the late night rain. Can you define tenseness and frustration?

Above Right: Terry, doing some medical conference summary work on the only available electrical outlets in the Milan (Milano) air termainal. Terry travels with a air filter (surgeons) mask as she does not want to catch someone else's virus, especially on airplanes that just keep re circulating the same air.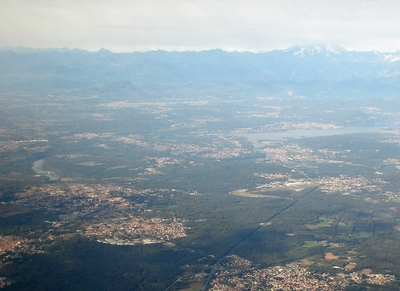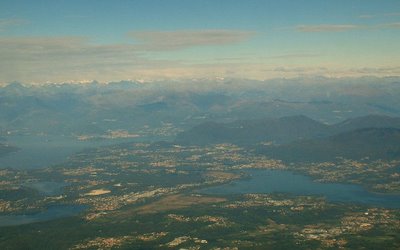 Above Left: Milan and the Italian Alps.

Above Right: Italian, French, and Swiss Alps. It turns out that Terry's brother, Phil and Marylou are in Switzerland at the time that this picture was taken. In theory, they could be in this picture. Arh arh. We had a wonderful trip and we learned a lot about different cultures.




Previous Day Top Next Adventure