| << | 20 | 21 |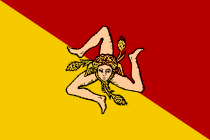 | 23 | 24 | 25 |

| 27 | 28 | 29 | >> |
| | | |
| --- | --- | --- |
| | Bicycle Tour Adventure #23 | |
Pictures and Stories About Bicycle Tour Adventures

Great Divide Mountain Bike Route (GDMBR - Segment):
Stagecoach Lake/Reservoir, Stagecoach State Park, Lynx Pass, Colorado;
By Bicycle Tour; July, 2008

An Injury Occurs!
This was planned to be a seven day adventure whose purpose was to close the untraveled gap between two previously cycled legs of the Great Divide Bike Trail. The trip turned out to be a one day journey that ended with Dennis falling backwards over a metal campfire ring onto his back and side rib cage - thus rapidly ending the entire planned journey. We have debated whether to display or discuss this trip, but the conclusion was that there are many lessons to learn from this experience, including "being prepared" and having used a Bicycle Tour Packing Checklist.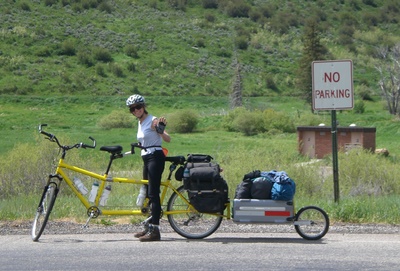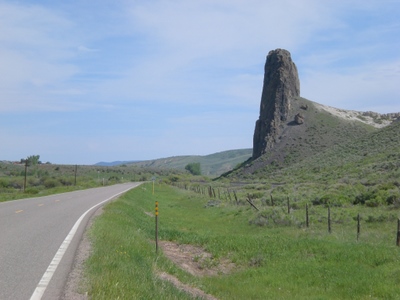 Above Left: We're taking poetic license and presenting some pictures out of order. This is a new tandem bicycle, fresh from the da Vinci Manufacturing facility in Denver (da Vinci Designs). Da Vinci cycles allow either rider to pedal or coast independently of one another (as well as to pedal out of phase)! Cool, eh? Also, this bike packs up into a bike case for shipping or travel.

The Trailer is from Stephen Bilenky (Bilenky Cycle Works) and it packs into the same S&S suitcase that is presently mounted on the trailer rails displayed in the picture. The rear axle skewer mount technology is similar to that of a BOB Yak. A Yak is lighter but does not ship easily. The Bilenky trailer is heavier duty, heavier than the Yak, can carry more weight, and ships in a suitcase.

Above Right: This bike trip is supposed to be a round trip segment. The idea was to park our vehicle across the highway from the Toponas Country Store [and Fuel Station] and then ride to Stagecoach Lake, up to Lynx Pass, then to Gore Pass, and then back to Toponas. The store's owner gave us permission to park where we did and he gave some good advice and let us know that one of the streams that we planned to cross on Day Two was chest deep into flood stage. As it turns out, we never got that far. If we could ever throw some business their way, they sure would appreciate it. Meanwhile, we passed by this finger rock while biking to Stagecoach Lake from the Toponas Store.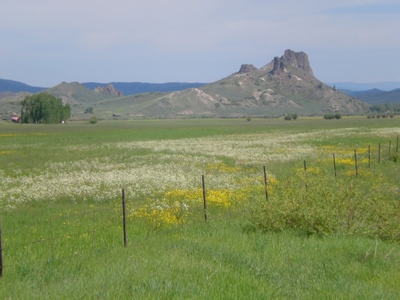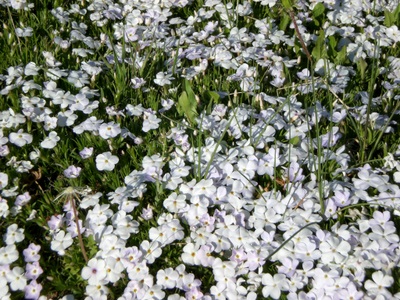 Above Left: The view, further south of Toponas. The flower is White Phlox. The yellow flower is Dandelion. Tomorrow, we will see miles and miles of nothing but Yellow Dandelions.

Above Right: White Phlox.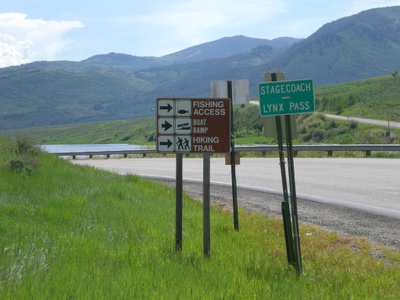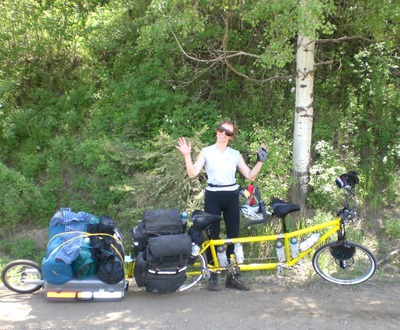 Above Left: Stagecoach Lake and the accent. We've probably traveled about 25 miles in two hours, just to get to this start point. We're about to take the high road and bike another 25 miles in about eight hours (counting lunch, water, and fuel breaks).

Above Right: Roadside Lunch break - Gloves and helmet hanging on both handlebars. It turns out that the trailer works like a kick stand (if the bike is leaned up hill) - the trailer holds the bike upright.



~~~~~~~~~~~~~~~~~~~~ Tidbits ~~~~~~~~~~~~~~~~~~~~
We're packed for seven days of food and clothing. Interestingly, if we were traveling for more days, we would carry less and wash clothing and buy food while enroute. If were traveling for less days would have less clothing and food. Seven days is about the most we will carry at one time.

Notice that we have no handlebar bag or front pannier. We were in a quandary, we couldn't order front-end equipment because we didn't know what the front-end was going to be until the last moment and by the time that we knew the final bike configuration, we didn't have time to order any equipment. This is a hybrid bike with a MTB front-end with shocks. The rear-end is a hard tail and was easy to plan, equipment wise. Even our old handlebar bags would not fit the new curved pilot handle bars.

Under normal circumstances, we would have waited to take a trip like this and we would have ordered and mounted new touring equipment. However, in this case, our vacation time-off was already set in stone, so we decided together to go ahead with the trip and just work around the minor hardships.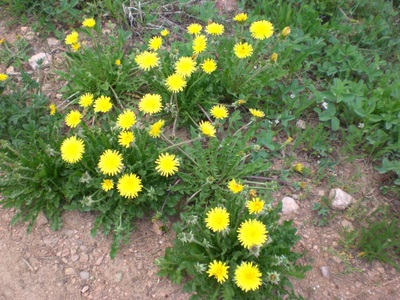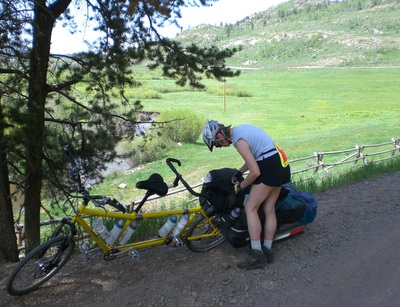 Above Left: It is unusual that we would take a picture of Dandelions, but they seem unusually big, bright, and plentiful this particular year.

Above Right: We're taking another roadside break. Somehow, we missed a camp site area that was indicated on our map. Later, we realize where it was. The campsite was at a National Forest access posting around Mile 12 (since Stagecoach Lake). There were signs there stating "No Camping," but now we realize that the signs meant No Camping on this side of the fence. We could have camped on the other side of the fence. Arg, how frustrating. We are at about Mile 20 for this roadside break. It is only about 4 more miles to Lynx Pass. We decided to continue.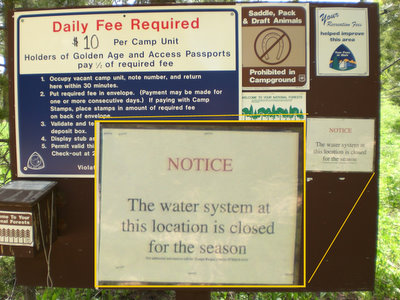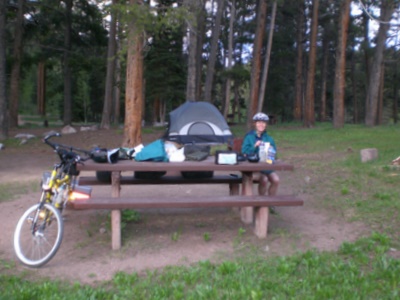 Above Left: We arrived at Lynx Pass and more or less found a National Forest Work Camp on one side and the Lynx Pass NF Campground on the other side. We were out of water and found this welcome sign - NO WATER. Luckily, we carry our own water filter system and filled our bottles and water bladders at a nearby pond. No big deal, but very disappointing for tired bikers nearing the end of the day.


The NF has the audacity to state that $10 was due. I think that the Department of Agriculture needs to get its act together. The place has a manual water pump that had been bolted closed long enough to have rust on the bolts, this is NOT a seasonal issue, there has not been running water here for years!
Above Right: Camp is setup for the night. Food is cooked and put away. We're about to bathe and then bed for the evening. We're the only campers that have stayed in the site - All vehicles moved on.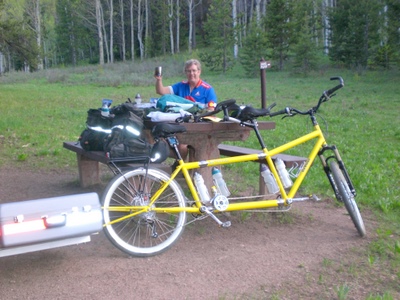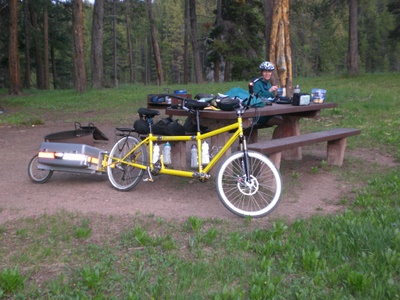 Above Left: A toast to a good friend!



Camp Site Boo Boo!


Above Right: Shortly after bathing, Dennis took a picture of a beautiful orange sunset, but the color did not show in the digital monitor display. Dennis then decided to backup a few steps and take a picture of only the sky [behind this camera view], hoping that a lack of contrast without trees in the picture would capture and show the orange sunset.

We'll never know, because when Dennis stepped backwards he tripped backwards over the fire ring (pictured just above/behind the trailer) and his rib cage landed on the far side of the metal fire ring. His first thought, after falling into the fire pit and rolling on the ground was, "Darn, I just bathed."

Dr Terry's medical skills were put to use in treating the wound. First, a second bath was in order. The sun was going down and it was getting cold (plus some post shock symptoms made their presence known). Our First Aid kit had just been re-supplied, so all of the pieces and meds were present for first class medical care. Terry also determined that nothing major was broke. Oddly, we normally use a small hiking tent but for this trip Dennis brought a huge 8' x 8' camp tent. The large space made it easier to finish treatment of the wound in a bug free environment. We had lost a brand new bicycle light and could not find our other flash light, so we popped off the red tail light lens and that became our night light. We found our flash light the next day. We suffered a little disorganization because of our rearranged pannier/storage situation - things just weren't where we normally kept them (because our layout was different).



Next Day's Strategy


Dennis couldn't drive the bike now. He could sit upright but could not twist or bend at all. So, the considertions at hand were, Does Terry ride out, walk out, hike, or hitch hike? The one thing that we did not consider was to go to the NF Work Camp and ask for help in the form of a ride to our truck. OK, lesson learned for the future. Meanwhile, not knowing whether there was much more up hill involved, we decided that Terry would hike out and catch a ride on the main road about two miles ahead.

It turns out that the only vehicle on the road was a pair of guys driving a pickup truck and Terry declined to ride with them. Terry hiked the fifteen miles to our pickup truck in Toponas! We had not even thought of sun screen, so she got burned. She did have a little fanny pack [God Bless JandD Expedition Pannier Designs for having a zip away fanny pack!] in which she carried two water bottles. Terry also got some blisters as her biking shoes are not the same as her hiking shoes. Thank You Terry!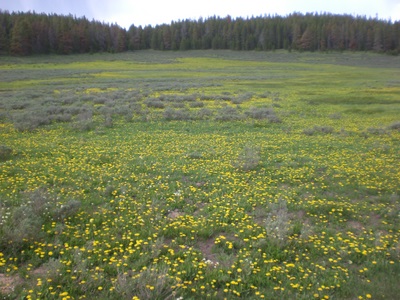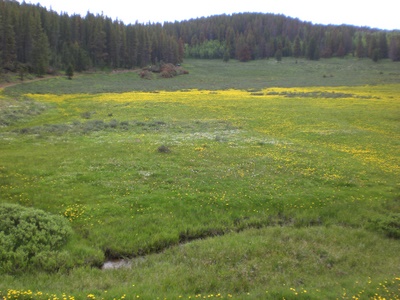 Above: Fields of Dandelions - Miles of Dandelions.
Pictures taken on the drive out from Lynx Pass



~~~~~~~~~~~~~~~~~~~~~~~~~~~~~~~~~~~~~~~~~~~~~~~~~~~~~~~~~~~~
FOR THE RECORD:
Both the Da Vinci Bicycle and the Bilenky Trailer performed dependably and admirably!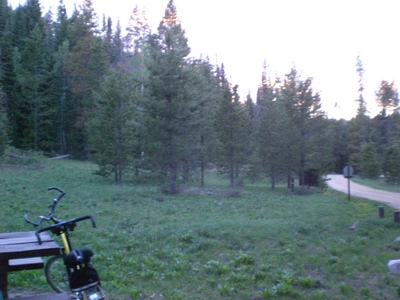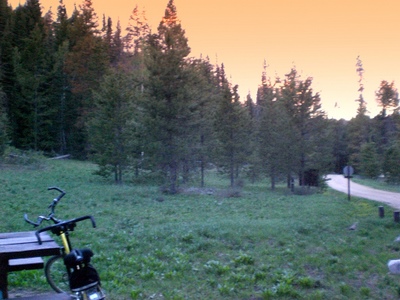 Above Left: This is the image as the camera captured it (boring), before the great fall. This is the raw image copy.

Above Right: This is closer to what Dennis actually saw, thanks to a little Picasa Photo enhancement


~~~~~~~~~~~~~~~~~~~~~~~~~~~~~~~~~~~~~~~~~~~~~~~~~~~~~~~~~~~~
May the next journey be less eventful!
Previous Adventure
Top
Next Adventure