| << | 11 |

| 13 | 14 |

|

|

|

|

| >> |
1 | 2 | 3 | 4 | 5
Scotland Adventure, Page 1

Pictures and Stories About Bicycle Adventures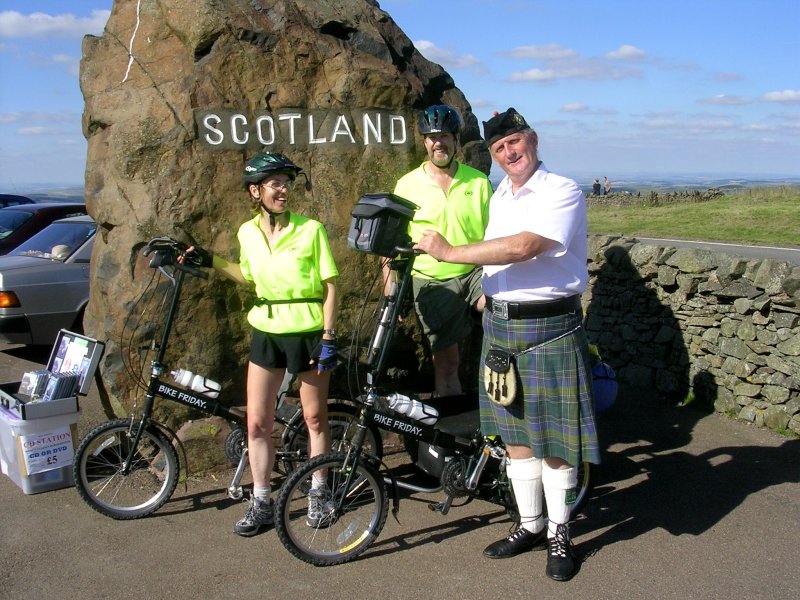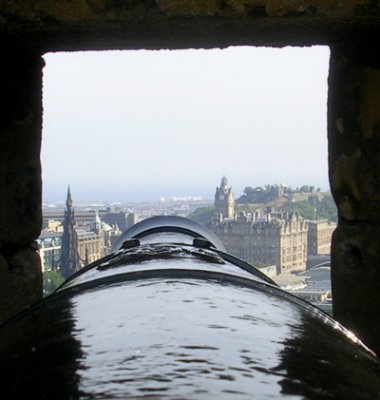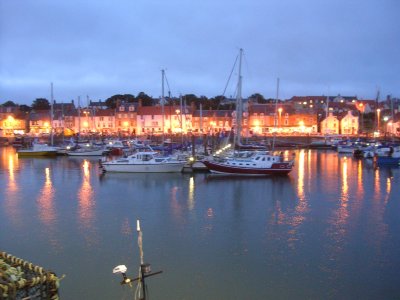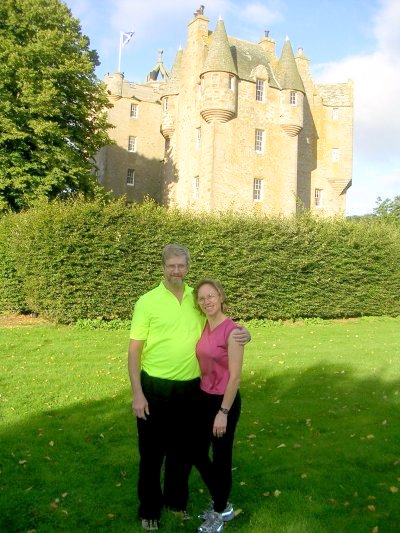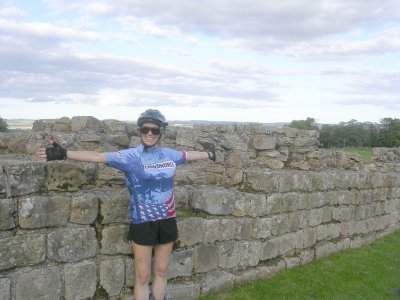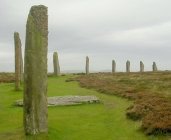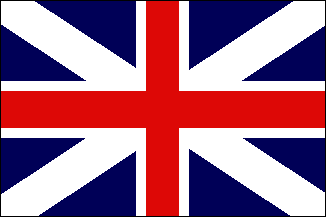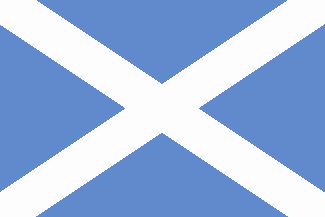 Scotland and England
By Bicycle, September, 2006

-- Itinerary --

Arrive at Edinburgh, Scotland
Bike Tour Northumberland, Hadrian's Wall, Borders, and Haddington
Visit Edinburgh for a Week, Roslyn Chapel
Loop through Trossachs, Sea Coast, St Andrews, Lock Ness
Be Guests of the Stuart Family at Castle Stuart - Way Cool!
Train from Inverness to Thurso, Bus to Scrabster,
Ferry to Stromness, Orkney Island
Stones, Henges, Tomb Mounds, Picts, & Vikings
Depart via Plane to London, then Denver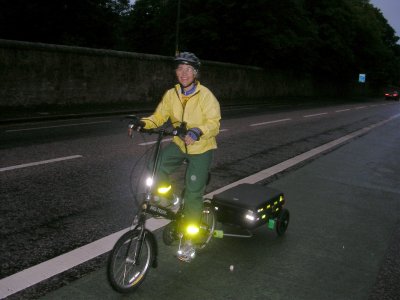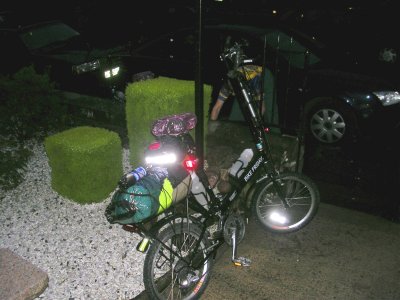 "Scotland does not have bad weather,
just ill prepared visitors"

Day 1: It was a dark and stormy morning ...

Here's Terry - We are prepared for any weather!
Its raining alternately from light to medium.
This is light moment.

We wanted to be out of Edinburgh before rush hour.
Well, we accomplished that goal (wink ;)

But I'm a little ahead of the story.



Above Right: Dennis' Bike. We are going to alternate and share the pulling of the trailer. The water proof seat cover is a Plastic Bowl Wrap - clever, these Travelers. It is a good idea but it soon rains hard enough to not matter. Oh well.

Agenda: Today, we are biking out of Edinburgh southeast to the town of Jedburgh, checking the sites and the country side along the way - Its about the Journey. Jedburgh was at one time the home residence of Mary Stuart, Queen of Scots.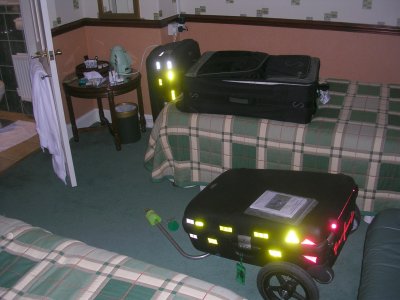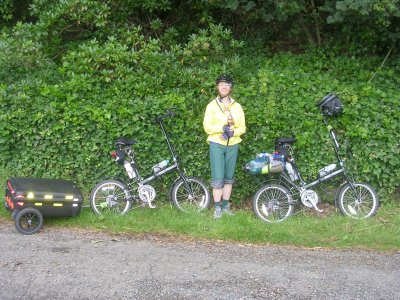 Above Left: Meanwhile, to digress a little, we arrived at our base B&B at night fall, just twelve hours ago. We had to set up the bikes outside in the rain. We discovered that we were missing one of two front fork mounting bolts - strange, because it disappeared from the baggage while enroute, but it is not an issue that will stop our early morning departure.

We decided, at the last minute, that we only needed one trailer for our round trip tour segment. BTW, our bikes are Bike Fridays and the bikes foldup and pack inside these same suitcases (the suitcases with the reflectors). This is our first major travel with the suitcase bikes and we are learning that we will have to address more bike care, management, and security questions of the potential hosts for our future travels.


Meanwhile, we are so looking forward to the trip that nothing is even coming close to dampening our spirits

Above Right: We've ridden for about an hour. We have achieved a balance in our dress to be cool enough to work hard but covered enough to stay dry and warm and be flexible enough to endure on again / off again rain periods. Basicly, we have learned to roll up our long gortex pant legs. We are wearing our light weight rain gear - the heavy stuff would hold up in a hurricain.

Right: We have arrived at our first stop, its the Scottish Mining Museum (a defunct Coal Mine and Plant). The museum will open in three more hours.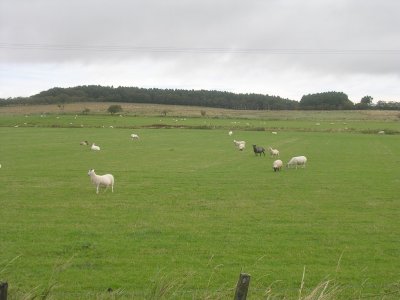 Above Left: Its only an occasional drizzel. The temperature is a comfortable cool. We're in the country. We're loving it!!!

We learned that the Roman's introduced their sheep and the native Scots liked the Roman Sheep for meat and wool quality. However, the Scotsmen have always kept a strain of the original woolly and durable sheep around. The White Sheep in the field are descendants of the ancient Roman Sheep. The Black Sheep is a descendent of the original Native Scottish Sheep. Every herd of sheep that we saw always had one black sheep. Thus the precedent of the expression "Every family has its one Black Sheep." ...
(Speaking of Expressions) ...later we get to see a Skeleton in the closet!
Above Right: All Creatures, Great and Small - We just couldn't help but think of James Herriot, Scotsman, Author, Veterinarian, and Veteran (RAF Pilot, 1941-1943).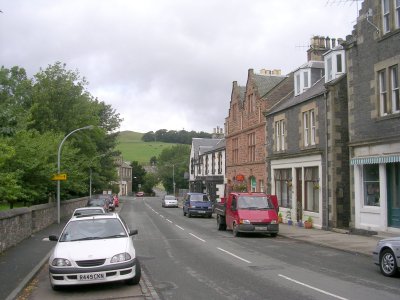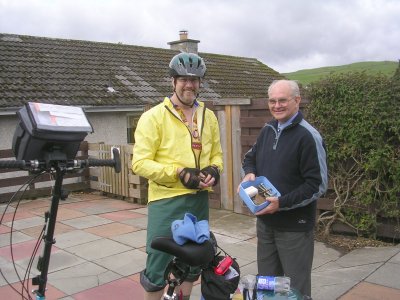 Above Left: We've biked to the town of Stow. Its a beautiful village. We are ready for a warm drink but there is no cafe. A local Mom and Pop store / Post Office does sell snacks and sodas. We spend some time looking around and taking pictures. Everyone is friendly and we are just enjoying life.

This is Uptown, Stow, Scotland. Honest, there were people everywhere until I whipped out the camera. The red brick building on the right with the red oval Post Office sign is also the local market. We quickly learned that most of the villages and towns had similar combination market/post office stores. Also, right about now, it quits sprinkling and the sun starts to make spotty appearances.

Above Right: Notice how Dennis/we are dressed. Waterproof pants and jacket, but pants rolled up so as to allow us to stay cool while biking. Boots/shoes are waterproof too.

Dennis asks this kindly Gentleman if there is an Auto Garage or Hardware store around town. The Gentleman tells Dennis of a Garage down in town but asks about the nature of the question, concerned that we had a bike problem. Dennis explains and states that we need a metric bolt and he described the bolt size needed. The Scotsman says wait a minute, goes to his garage and comes back with a box of loose nuts and bolts that he presents to Dennis. Dennis eyeballs the collection and in about five seconds he sees a likely candidate. Sure enough, the very first bolt that Dennis picks out of the scrap parts box fits perfectly. The Scotsman offered the use of his tools but we just happen to have the correct tool in hand and the Gentleman's bolt tightens in quite nicely. We now have the requisite two bolt set on the fork yoke and we can tour without any extra safety worries. Of course the Stow Scotsman declines any remuneration and we thank him profusely. We made his day, and he made ours. Thank you Stow!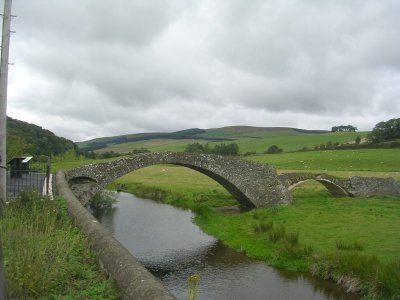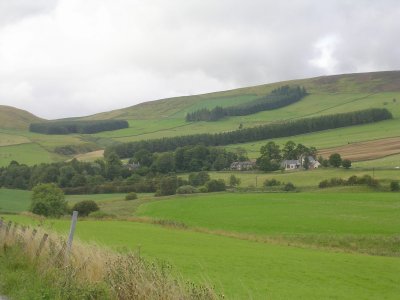 Above Left: Its called the "Bridge to Heaven." This bridge was the main road and a small series of bridges evolved to help navigate occasional higher water levels in the meadow. The low bridge walls allowed heavily laden wagons to cross the narrow lane without impeding the bridge crossing. The necessity for the bridge was so important, that the Stow townsmen decided to get the stones from the old abandoned church, nearby. Stow does have a newer church - its only about three hundred ears old.

Above Right: As we head inland from the coastal town of Edinburgh, we notice (and feel) more and more hills. The country side is green (for a reason) and beautiful!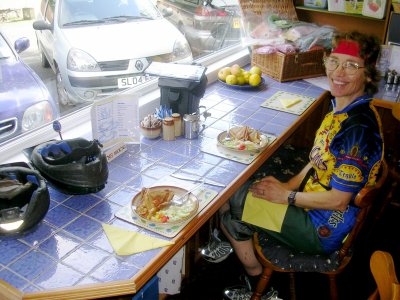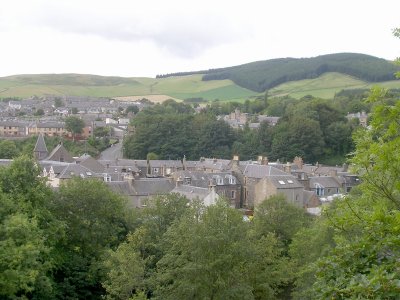 Above Left: Its the first Cafe that we have seen since Oh Dark Thirty in the morning. We've probably biked about thirty miles and we are ready for a break, a warm meal, and a warm beverage. It is about noon. We're in the big town of Galashiels which is just upstream from Melrose (our next tourist stop). We order a "toastie" each, a "scone" each, and coffee "white" for Dennis and hot chocolate for Terry. We must have looked road wary because the waitress asked Dennis if he wanted a Mug instead of a Cup. Its a No Brainer. A Toastie is a sandwich on toasted bread.

Above Right: There are two main ways to travel through Galashiels, the river road or the high ridge road. We picked the ridge road for no particular reason but it gave us several very nice over views of the town.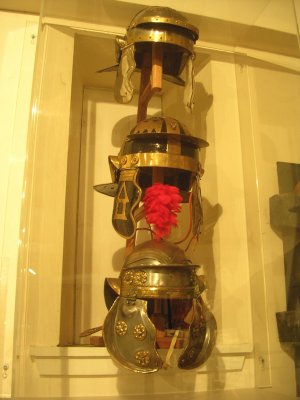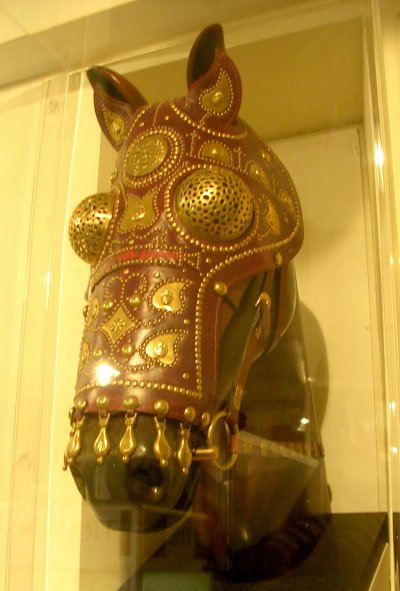 Above Left: Three different types of Roman Soldier Helmets displayed at the Melrose Roman Museum. This area, around Melrose, was the northern most outpost of the Roman occupation of the British Isle. The actual outpost was called Trimontium (Place of Three Hills). Another sixty miles to the south is the remnants of Hadrain's Wall.

There seems to be a lot of local knowledge and artifact sites that do not seem to get interest from a historical care perspective. Later, we will bike to the site of Trimontium - it is farm pasture that has a road side plaque and that is it. We will learn that Pict and Celt artifacts are equally treated from a historical care perspective. There is no such thing as signage - it takes considerable effort to locate ancient artifact locations.

Above Right: We never knew that the Romans had battle protection for their horses. It makes sense, but neither of us has ever seen anything like Leather and Armor Horse Head Mask in a history book or documentary. This horse armor is very elaborate.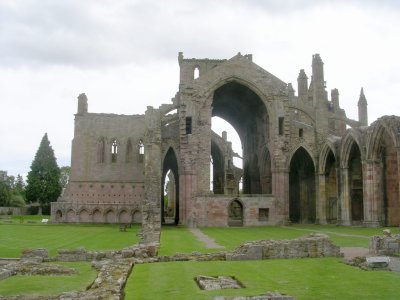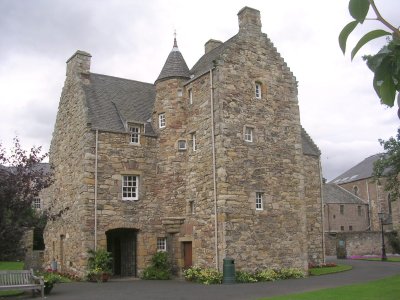 Above Left: The Abbey of Melrose, one of eleven Cistercian Monasteries in Scotland. St Aiden had a Monastery in Melrose since before 650 which burned down in 839. The Cistercian Abbey was started in 1136. It is huge with classic Romanesque features. We were able to climb up the steeple tower steps to the church's highest point - nice views, lots of gargoys.

Above Right: This is the Mary, Queen of Scots, House, in Jedburgh, Scotland. The English border is only twelve or so miles down the road (lots of political raids over the years). Queen Mary made a host of bad decisions (way beyond what can be mentioned here); people died around her, including her husbands, and eventually she had to abdicate her throne for her son's survival James the VI of Scotland and I of England - as in the King James Bible - the kid could translate Latin at the age of Ten). Mary went to England's Queen Elizabeth for help and she was more or less placed under house arrest for twenty years and was finally arrested and killed for a trumped up treason charges.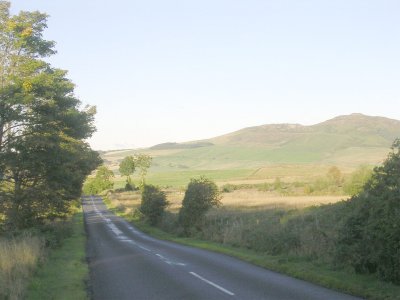 Agenda: We are headed more or less south for Bonchester Bridge, the Border, Hadrian's Wall, and Allerwash (near Hexham).

Day 2: We're packed and ready to leave the B&B. The other guests will get a warm breakfast in two hours.

Above Right: This is the immediate country. We have the world to ourselves.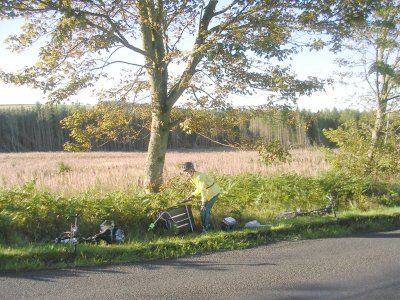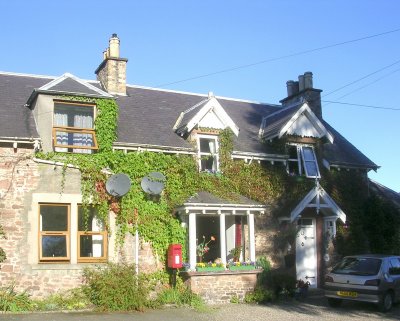 Above Left: Ohhh, flat tire! We've never had a flat on a trailer before. The twelve inch tire was so tight around the rim that Dennis broke the plastic tire tool trying to pry the slightest opening. Bike tires normally take Dennis 5-10 minutes to change, maybe 20 minutes if its a rear tire and it requires unmounting a pannier too. This took 45 minutes. Note to self: Buy some of them thar "fancy steel tire tools."

Above Right: Its just a pretty home near the roadside. Unfortunately, our stopping got their huge dog all upset. We could hear it running around the house - our apologies.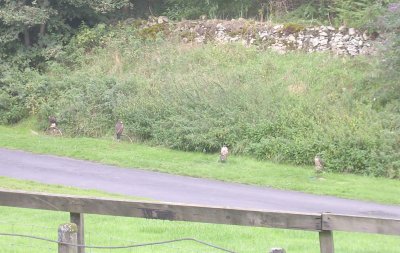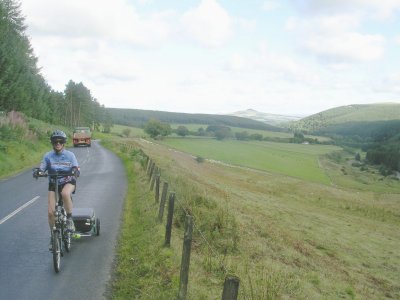 Above Left: We're in the hills now. We're pedaling uphill and we're in some kind of Zen "Happy with the World" state. [This is when Terry causes a Hot Flash to herself.] Anyway, we ride around a mountain road switchback and stop for water. All of a sudden we realize that we are being watched, by birds, birds of prey. The two birds on the left look like Golden Eagles. We aren't sure about the birds on the right, perhaps a Falcon and a large Owl. Not sure. They were not bothered by our presence at all. There were no signs posted, no people around, a closed gate, and the place had the look of a Bird Rehabilitation Sanctuary, but we may never know.

Above Right: Terry, pedaling hard on a long uphill climb, driving in the correct lane.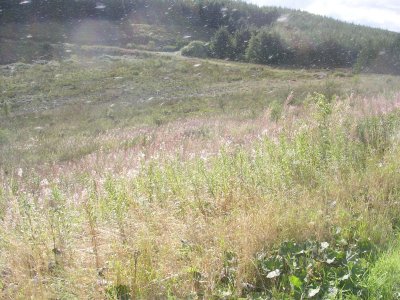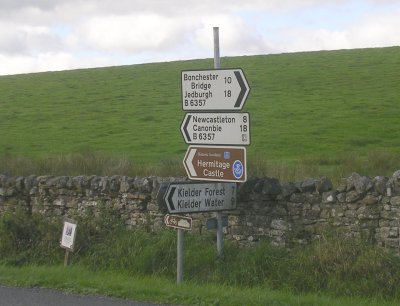 Above Left: We are cresting a hill, near Fanna Hill, we think, no signs. The wind is being funneled into this area by the surrounding terrain. A plant that looks like a variant of our Fox Fire is sending seeds to the wind. It is so dense that it looks like snow at one point. I take a picture, but the image is clear of seeds in the air. Then, I get the good idea to turn on the flash. Viola, a much better picture -- A month later we were still finding some seeds in our socks or clothing.

Above Right: Signs (in Miles). Yet no mention of the border. We are taking the Kielder Road (from Jedburgh). Kielder is probably about the halfway point for the day - a good place, perhaps, for a warm meal.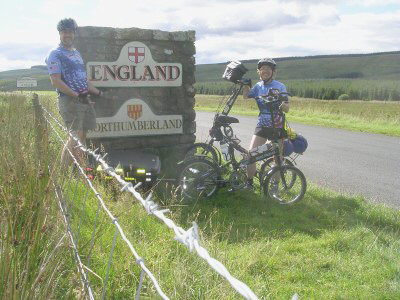 Above Left: The Border. England. Cool!

Above Right: Kielder Lake, inside Kielder Forest.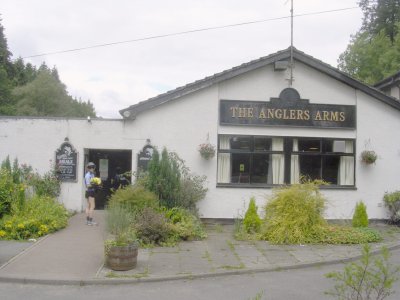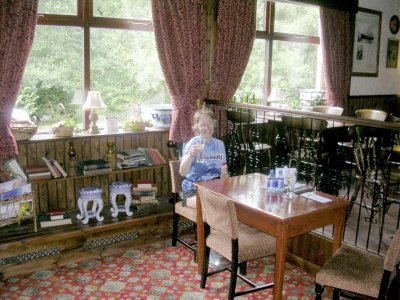 Above Left: The Anglers Arms near the town of Kielder, England. The proprietor helped us with the menu. We had Steak and Kidney Pie with Taties and Neeps. Neeps is another name for Turnips.

Above Right: Terry, in the Anglers Arms. A toast to good health and a dry ride.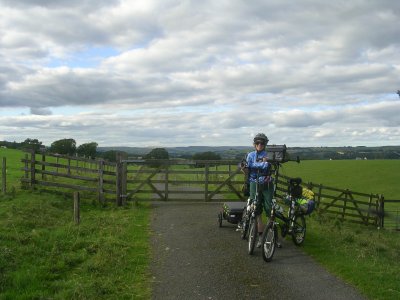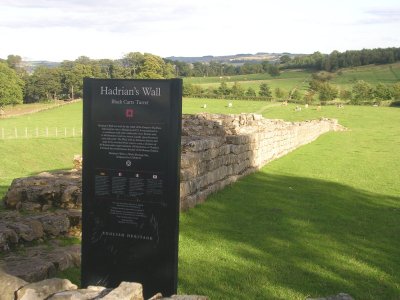 Above Left: Well, the map says, go to the Village of Simonburn and follow the same road through, to Hadrian's Wall. There were many roads and no signs. We did a little extra biking. We got directions a couple times from some overly helpful locals. We learned that the road that we want goes through fenced private property which has gated public access. Well, we got to meet some nice people.

Pictured is one of the gates. Every cow followed us along the route. The sheep could care less and did not run away from us (running away is the norm). We left every gate like we found it. At one point I made the mistake of asking a family group of women out for a walk if we were on the right path. There was a great-grand-ma, a grand-ma, a ma, a couple aunts, and three child ladies. They all answered at once and pointed down the road that we were on. I'm pretty sure that I could hear Terry chuckling behind me. I did not understand one word. They all stopped talking and looked at each other quietly, and then they all spoke at the same time again. I gave them a big smile and said Thanks. The Wall was just over the hill!

Above Right: Hadrian's Wall. Notice the long shadows. We were by ourselves for a little while and we hurried to get pictures first, then read the markers and plaques later. Terry and I are from Colorado Springs, Colorado. The first group of people to arrive after us were from Fort Collins, Colorado. That just seemed a little coincidental.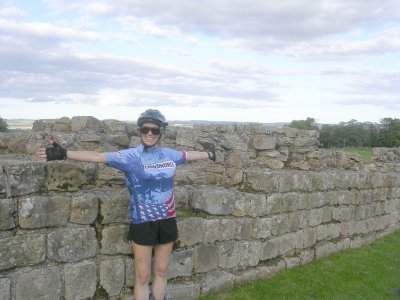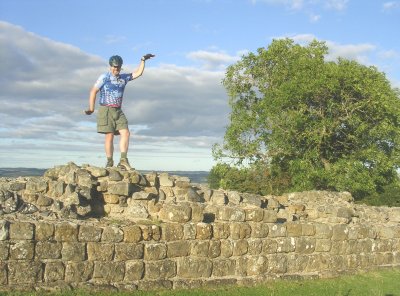 Above Left: Terry, in front of Hadrian's Wall near Black Cart's Turret (a small Garrison Post), just out of view.

Above Right: Dennis-co-to-pec, doing the Egyptian on Hadrian's Wall - don't ask for an explanation, it was just a happy moment.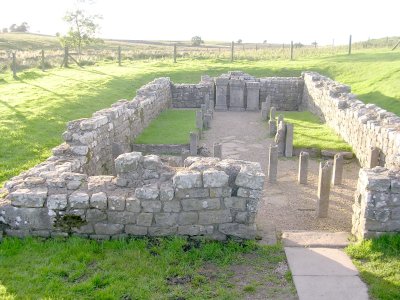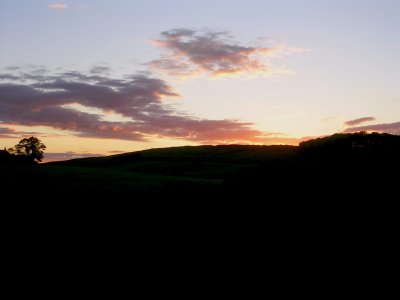 Above Left: The remains of a Temple to Mithras, near Hadrian's Wall. Mithraism was the Roman Religion that Christiananity replaced and Mithras is the root of the word Myth. There may be a link in the Greek Miter or Mitra and the Roman Mithras.

Above Right: All we have to do now is find our B&B for the night. Oh yeah, they failed to tell us that they can't advertise with signage. But after we ride for another hour and a half, passing many other B&Bs and circling their location, we finally call, realizing something is wrong. We get directions to turn around and they turn on their lights for us. We arrive physically exhausted.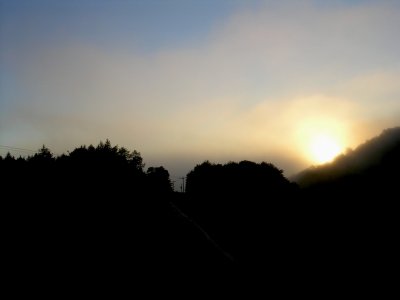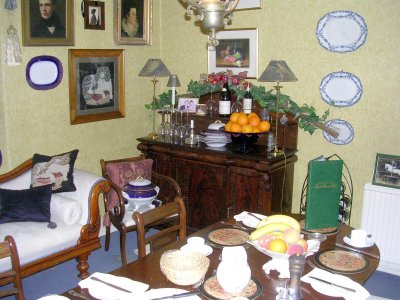 Day 3: The road ahead!

We are next to the River Tyne and it will be the lowest elevation for the day. Read that as everything is uphill from here. There is a valley fog and we will follow the valley for about an hour. We will literally ride out of the fog in two hours. The fog makes for some very nice pictures.

Above Right: The B&B proprieters leave a very nice spread for us for our early morning departure. Like most bikers, we can't eat too heavy and breakfast is an important meal, we have to spread the food eating over time and have more smaller, enroute, snacks. So a lot of the Fruit goes into our pockets and we hope that the proprieters understand.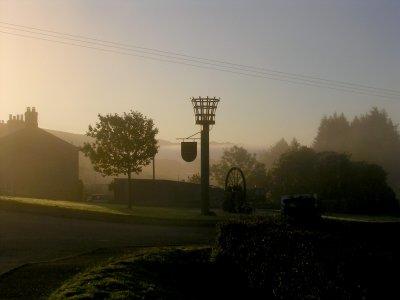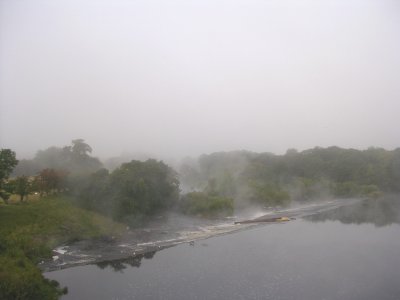 Above Left: We're in the village of Chollerford. This is called a Brasier. While this may be a decoration (a real one would not have a sign on it), the real Brasiers were used for an alarm system. Typically to warn of an advancing Army or to communicate by an arranged meaning. Brasiers can also give light in towns and villages and are probably the predecessor to the gas lamp and the lamp post. Brasiers burn whatever is cheaply available, like wood, peat, or coal. Sometimes, a lower profiled Brasier is used for warmth.

Above Right: We're on a bridge crossing the North Tyne River near Chollerford, England. While Dennis is snapping a few pictures, Terry reads a plaquard that states that we are looking at the location where Hadrian's Wall crosses the river. The river was probably filled with rock by the Romans to impede river travel and a Watch Tower was built at the river's mid point (where presently a tree is growing).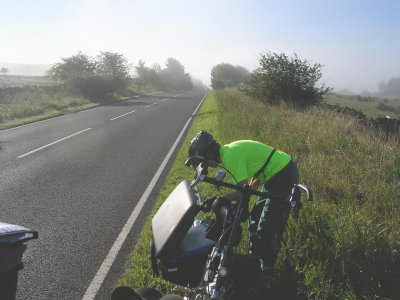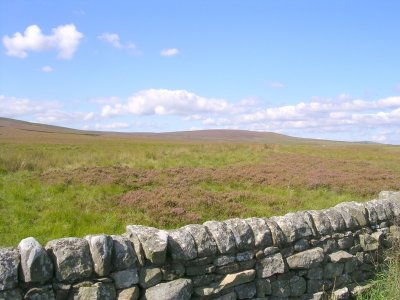 Above Left: We're on A68 heading North. We just biked out of the Tyne Valley (still in fog). The sun is out. Its warm and clear overhead. We will have shorts on in just a moment.

There is no such thing as a road shoulder. For the entire trip, all vehicle drivers ensured our safety first, often at the expense of their travel convenience. We have nothing but humble appreciation. In fact, the one and only time that we were honked at, we had made the mistake - the chase bike blindly followed the lead bike pulling onto the road. We have strong separation anxiety on the road!

Above Right: Moors of Heather. Miles and miles of Heather. Isn't that sky wonderful! We're actually going to get a light sunburn. We love it.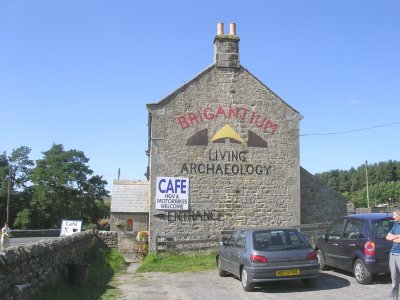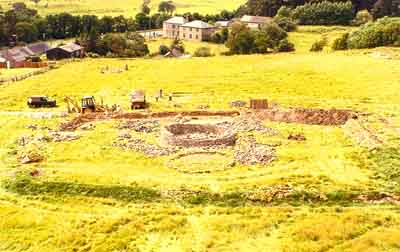 Above Left: We were about ready for lunch. We had been seeing a picnic table pull off about every mile or so, for a while. So we decided to eat lunch at the next pull off. Well, the pull off's did not appear anymore. Just like in the US, when the pull off's disappear that means a commercial establishment is coming. Sure enough, its the Brigantium Cafe. We ate our bag lunch in the parking lot (because we were going to run out of energy otherwise). Had we known, we would have visited the Cafe and Historic Site - Its an old Roman Outpost with what was once a very active village life.

Above Right: This picture is from the Brigantium Web Site. It is "an archaeological reconstruction centre situated in Redesdale, Northumberland, adjacent to the Roman fort of Bremenium (High Rochester). It tells the story of the Roman occupation of the north from the native point of view." OK, we missed one. There are a lot of unadvertized very interesting historical places and monuments in the UK.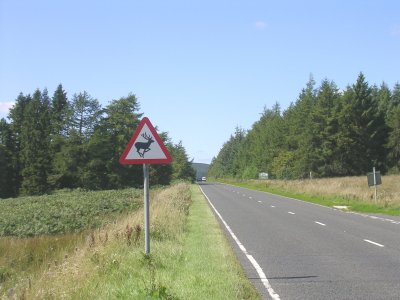 Above Left: We are biking in the "The Border Forest Park" or the "Northumberland National Park." Both are beautiful. We do not see any live deer for the entire trip.

Above Right: Foxfire before the Moors. In the distance, we're looking at the Cheviot Hiils, which physically separates Scotland and England. By the way, Foxfire is our name for the plant - We have yet to find the plant or the name of the plant listed in a Scotish Plant book.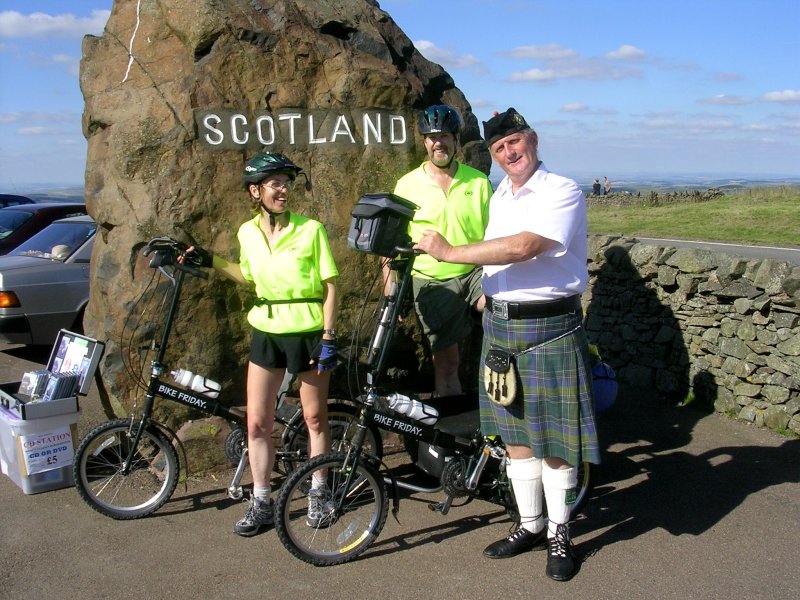 Above: We Made It!


Carter Bar, at the Border. Welcome to Scotland. This is Allan Smith, The world renowned "Border Piper." He loves the pipe and has a few CDs and DVDs published. Us mere mortals can secure his music or services through the Border Piper Web Site.

Meanwhile, Allan is acting like he just pedalled this bike all the way up from Hexham and he's getting about twenty pictures taken by various visitors. He has a wonderful sense of humor. He had Terry laughing for about twenty minutes straight. Our only wish is that we bought more of his music CDs than we did (because it costs more to order when one is away from Carter Bar). Its too bad that he's such an introvert!



- Six Months Later -


Surprise, Surprise, Surprise!
Another picture of this adventure, taken during this same thrilling moment,
was used in the 2007 Bike Friday Bicycles Sales Brochure (PDF file, GO TO PAGE 30 for our 5 Seconds of Fame!)
and that same picture is also listed on the Bike Friday web site
under their "What do you do on a Friday?" web pages.

Oh yeah, the day of the week? Friday, of course!

Cool, eh?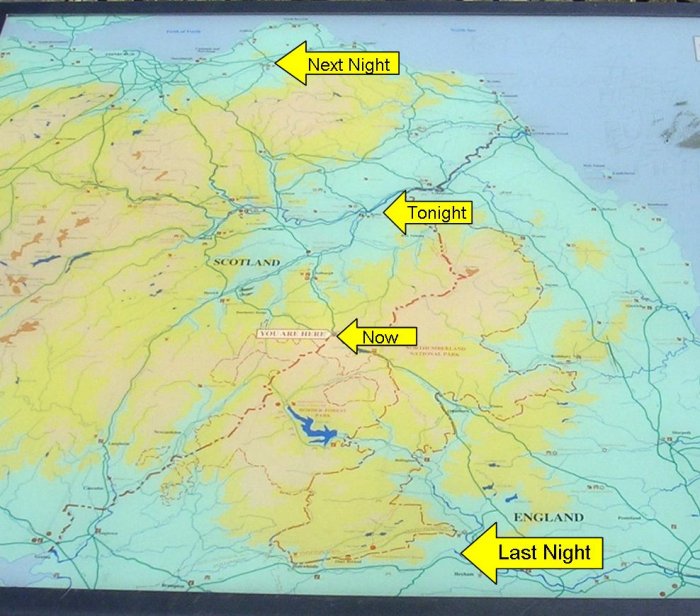 A map of our immediate world.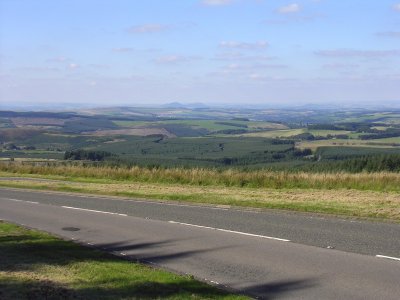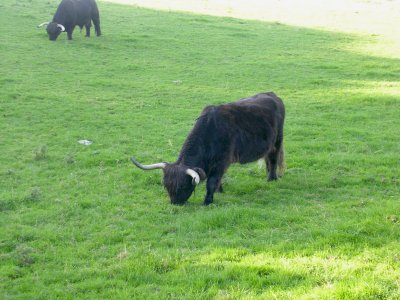 Above Left: The world to the North. Its hard to tell from the picture but much of the forests are groomed. The trees are planted an managed by the row, just like a farmer's corn crop. It will only take about fifteen minutes for us to ride downhill.

Above Right: We took the picture because the beef looked pretty rugged looking. Later, we would learn that this is [Scottish] Highland Cattle. Most of what we see will be Brown Stock. Enjoy a picture of the more uncommon Black variety.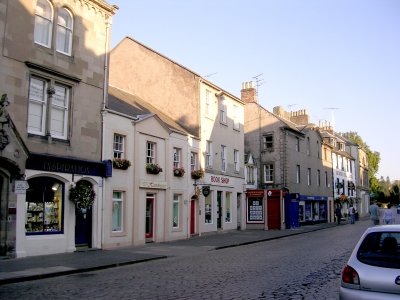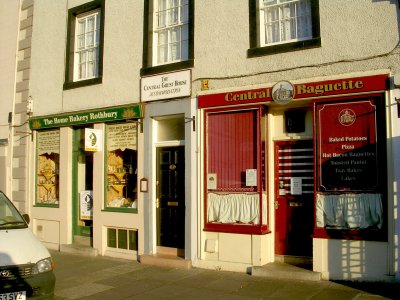 Above Left: We're in Kelso, Scotland. You can see that the shaddows are getting long again. We are staying at our first "Hostel." It will turn out to be a pretty good experience, but Dennis breaks a room key and the manager has to make a second trip into town to make things right. The place that we are staying in, is behind the camera in this photo - See the next photo.

Above Right: The skinny door between the two shops is our entrance. The manager is a Property Manager and he's got several things going on at the same time. He sees our bikes and asks if we'd like to lock them up in an empty office across the street. We say yes and Terry & Dennis Look at each other in the silent communication between familiars. This is the first lodging where a proprieter has demonstrated a concern about our well being. The manager trusts us with the office key and we are to leave it on our hostel bed tommorrow morning.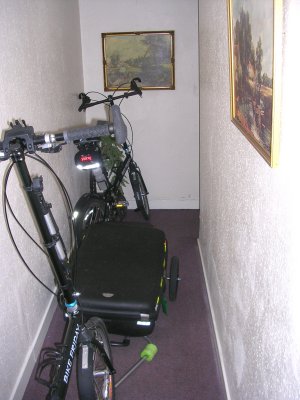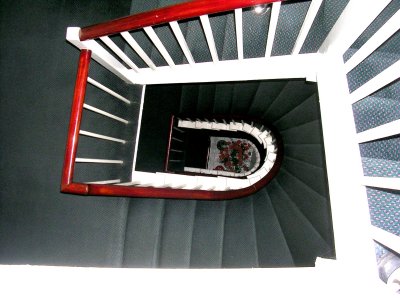 Above Left: Our bikes, secured for the night.

Above Right: I have good news and I have bad news. The good new is that we are giving you a room with terrific view! The bad news, well, it is good that you are in shape!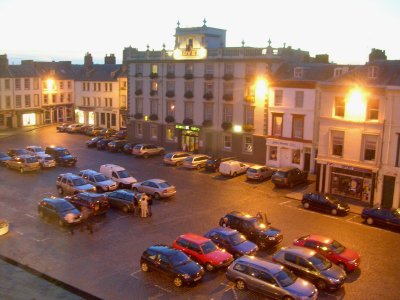 Above: Our View, the town square. We had a very pleasant night's sleep.



Previous Adventure
Top
Next Day