| << | 11 |

| 13 | 14 |

|

|

|

|

| >> |
1 | 2 | 3 | 4 | 5
Scotland Adventure, Page 5

Pictures and Stories About Bicycle Adventures

Scotland and England
By Bicycle, September, 2006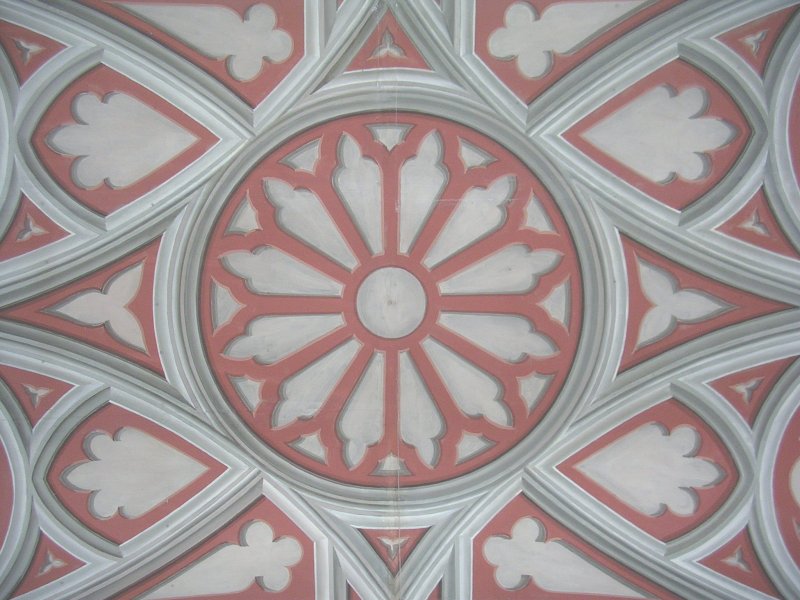 Above: Amazing isn't it? This is a hand painted imitation of an Italian (Roman Catholic) Church. What is really amazing is that this is the roof of a WWII Italian POW Quonset Hut from a POW Camp in the Orkney Islands. The colors are Battle Ship Gray, White Ship Primer, and Red Ship Primer, all from the Royal Navy. OK, more about the Italian Church later, this is just the tease.

Oh yeah, this image also forms the background for this web page. Check it out! Clever eh?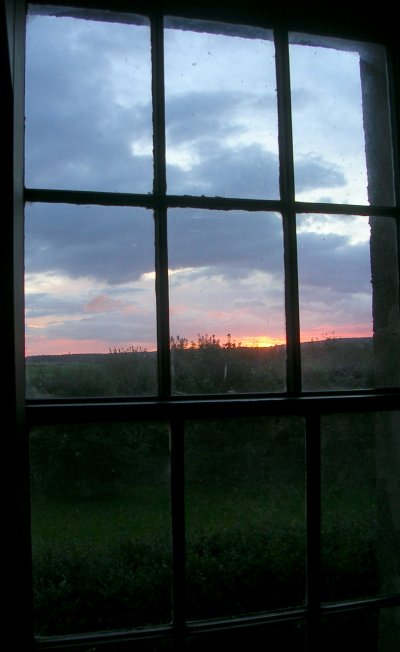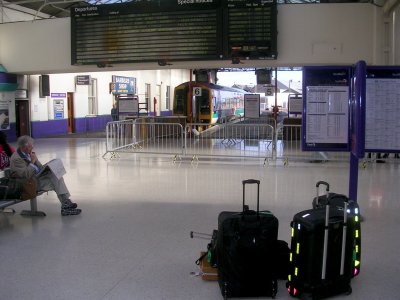 Day 14, Agenda: Turn in Hire Car at Inverness, Ride Train to Thurso, Ride Bus Scrabster, Ride Micro Bus to Pier, Ride Ferry to Stromness (North Atlantic Hurricane too), Bus to Kirkwall, Lug Suitcases to Hotel.

Above Left: A beautiful sunrise at Castle Stuart portends the old sailor's adage: "Red Sky at Morn, Sailor take Warn."

Above Right: Inverness Train Station. The traffic and parking lot is a zoo but hardly anyone is in the station? Kind of makes one wonder what everyone knows that you don't, but it turned out that we were doing everything correctly (due to Terry's good planning).

Well, the car is turned in. No one had told us that the Hire Car business location moved a mile away, so we had an interesting start. A Hire Car Service technician drove us to the Train Station and that seemed to release some potential logistical issues (taxi and crowds). We were cool, this is the kind of stuff that makes travel interesting.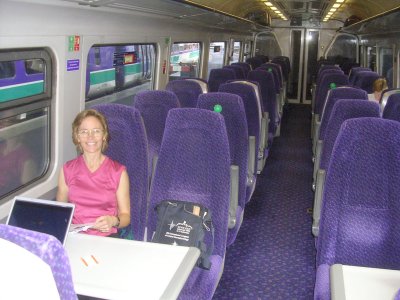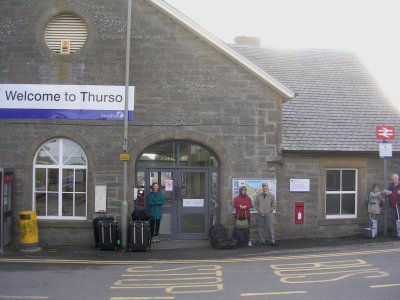 Above Left: On the train, Terry upgraded us to good table seats, no crowd. Six hour train ride, good company, good food, life is good. Traveling off season has some advantages.

Above Right: Eight hours later. We're at Thurso waiting for a bus. That's Terry next to the lamp post. The train ride wasn't that long, we have to wait for the 6 PM bus to pick us up, but by the way, the train station closes at 4:30 PM. Terry took the camera and went exploring for food, finds, and photographs. We ate well. The Bus came early and everyone is happy! By now, all of us travelers know each other and have been helping one another and have been watching luggage for each other. There is a major storm coming soon and we've seen just a few frontal wave clouds go through.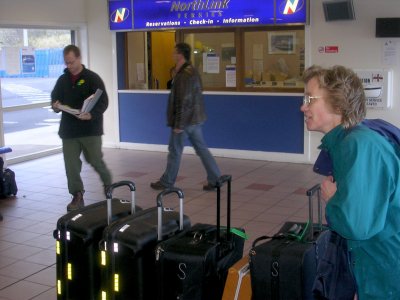 Above Left: Terry with luggage at bus transfer station. We are at dock but have to wait for bus to Ferry. No problems, no worries. Our bike suitcases sure do stand out. We were surprised at the few people who knew what the suitcases were and would stop to talk or remissness.

Above Right: At Ferry Pier. Hey, this is a supper professional operation and the Ferry interior is fashionably designed and looks like an exotic cruise ship on the inside. We have never before seen a Ferry so well equipped and oriented for passenger comfort.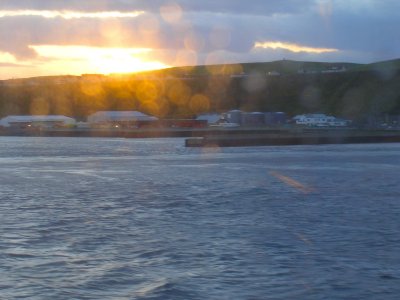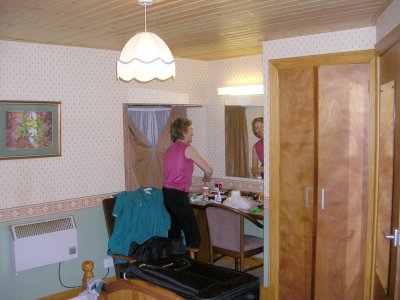 Above Left: Sun set and storm hits at same time. The ship's Captain announces that it will take longer to get to the Orkney's because he is going to ferry between islands and use islands to block waves [from a storm in the North Atlantic]. Dennis is the only one to applause - as he has seen waves go over ships, sideways, from a passenger's perspective. The Captain knows what he's doing (said the son of a US Navy Commander).

Above Right: Our room, we arrive without incident. At the Ferry Terminus, everyone else took cabs or a hirecar service. We were the only people on the bus except for two friends of the bus driver's son. The driver was rewarded for extra passenger care.

We are staying at the West End Hotel. Interestingly, we have seen our Germaninc/Prussian Family Name of Struck written many times as "Striuch." We conclude that we have Scottish brethren.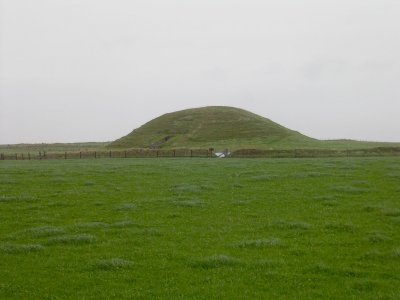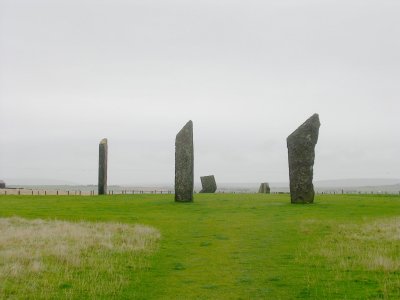 Above Left: Maes Howe: This is a burial tomb from about 2700 BC. No pictures are allowed. It has a tunnel entrance, a main room and three side chambers. It was opened in the 1861 but it had already been sacked. In fact there were some Viking graffiti runes that said that someone beat them to the treasure. One interesting feature is that the tunnel entrance lines up with the shortest day's setting sun and there is a standing stone about a mile away that also lines up. It has been suggested that the standing stone was set there in order to allow the construction of Maes Howe to line up with the shortest day's sunset while they worked on the tomb over a longer period of time - the standing stone probably served as a construction alignment marker.

Above Right: Stones of Stennes. Stone placement is estimated at between 2500 BC and 3000 BC and dates near the time of Maes Howe (no known connection). There were originally twelve stones and only four remain standing today. Like many things prehistorical, various land owners have moved or destroyed items on purpose or by mistake. The original stone ring had a trench around it but the trench eventually became filled from years of land cultivation. No inferences of use can be made with the remaining stones and their placement.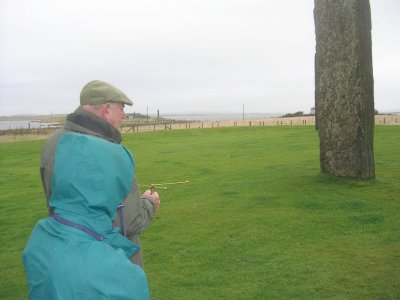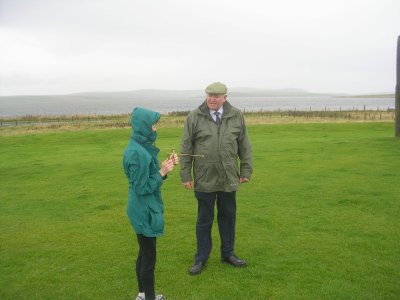 Above Left: Ring of Brogar. This is our Guide, John Greeves, and Terry. The guide is demonstrating something very similar to dousing which is an art for registering energy and other things unseen, like water. I've seen fakes and I've seen people who seem to be connected to universal forces that most of us don't believe or understand. I'm always skeptical but not close minded. As Albert Einstein said, and I'm paraphrasing, "Obviously its [dousing is] controlled by the human nervous system, but there are things that we don't know about the human nervous system." We, once, had two undoused 600 feet dry wells next to a lake, later we used a douser on a mountain ridge and hit water in 70 feet of solid granite - go figure.

John is demonstrating energy patterns to Terry. Where a divining fork points, brass rods intersect. There are waves of energy about every ten feet. Even my heart pumped heavy about ten feet from center. Nothing grows in the center. I don't mean that plant life is worn down, nothing grows there. Interestingly, all of the background noise stopped in the center, it was dead quiet. It seems that the flat sandstone rocks facing the center have something to do with sound cancellation, perhaps unseen energy can be focused in the same manner.

Above Right: Terry gives the brass rods a try. We learn that our guide is from Scotland but is presently conducting research in the Orkney Islands.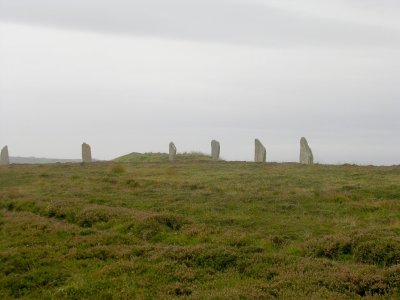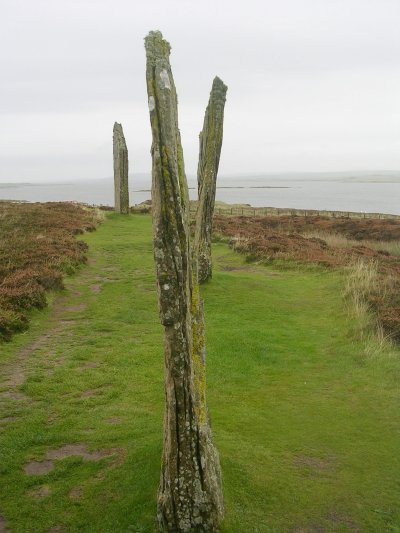 Above Left: Ring of Brogar. There is an obvious mound due west! Look beyond the stones. What is the mound? By the way, the plant is Heather.

We learn that our guide was in the French Foreign Legion as an Explosives Expert (Anti Terrorism) - Oh yeah, our guide speaks about six languages.

Above Right: Side view of the standing stones. We learn that we are in a round valley and that the island itself was rounder, centuries ago. The theme of circles abounds at this central spot, the Ring of Brogar.

We learn that our guide is studying the Economic Impact of Scottish Mercenaries in the Twelfth Century on the Danish (Denmark) Education System. He says that the information is there, it just takes someone who has the time and can read and understand several of the North Atlantic seaside country's languages as well as understand the driving economic forces at the time (Scots looking for work from a depressed economy and Northern European countries fighting for land and power, thus paying good money to mercenaries). Our guide has been in the archives, most recently at Aberdeen University, Stockholm, Copenhagen, and somewhere in the Orkneys (if we understand correctly).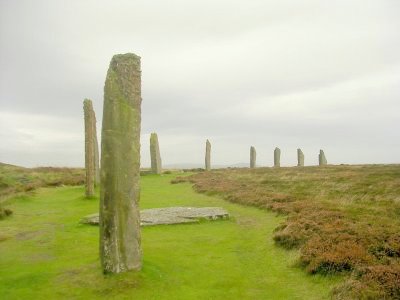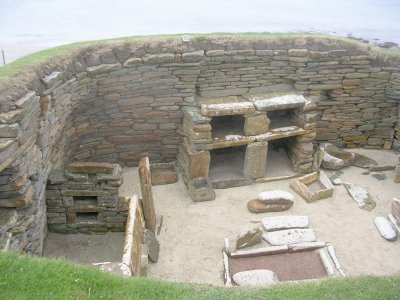 Above Left: Ring of Brogar: One stone down.

It wasn't the mercenary pay that made the Scottish Mercenaries successful. It was that they invested their earned income collectively into trade commerce and banded together to protect their assets. Some of them became extremely wealthy, and they in turn became benefactors to the Denmark Educational Systems [for opportunities that they never had], in fact maybe it is more correct to say that they created educational systems or scholarship systems.

Above Right: Skara Brae. Uncovered in a big storm in 1850, Skara Brae has been dated for existence between 2200 BC to 3200 BC. In its heyday, it would have been further from the sea, but today, the sea butts right up to the excavated Skara Brae area. It seems that each family had a rectangular shaped main room with a cooking area, fire area, and side sleeping area in the main room and one or two small chambers to the side perhaps for storage or for little ones, maybe both.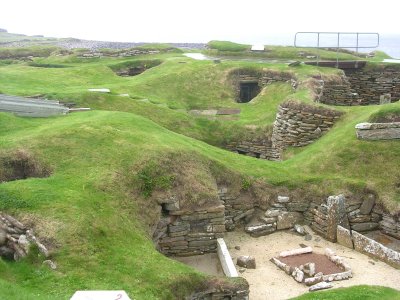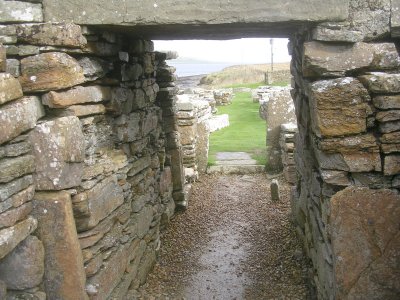 Above Left: Skara Brae Village and Rooms Layout. Notice that the fire pit is lined with sandstone and this is the actual original layout used by the villigers. Also, while there is a sea connection, they grew crops, milled grain, and managed cattle.

We discover that our Guide is All-But-Dissertation (ABD) in a Doctoral Program out of the University of Copenhagen (Denmark).

Above Right: The rooms are connected in a communal sense similar to American Pueblo Indians and there is distinct defensive trenching around the commune. All walls are rock lined from local sandstone slabs (of various sizes) and the ceiling may have been animal skins over local materials. Wood and whalebone pieces have been found, suggesting that either or both could have used for structure support.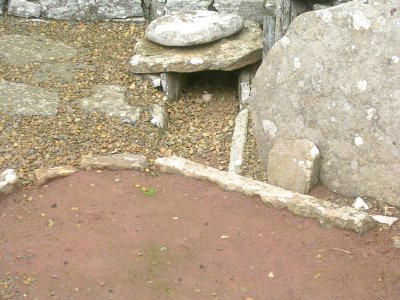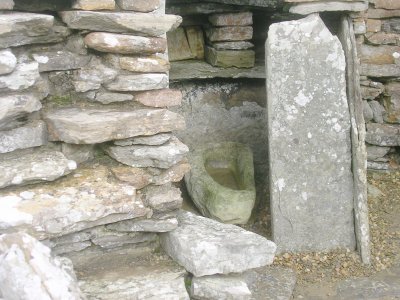 Above Left: Gurness or Broch of Gurness. Discovered by Orcadian Robert Rendall while painting, his easel leg slipped into a hole and Robert spent so time figuring out what happened by digging it out - he uncovered stairs. Eventually the area was excavated to learn more about what was there. It is possible that the site had previous occupants but it dates to about 100 BC to 200 BC. The entire settlement has three ramparts (defensive trench rings around it) and a covered well.

Pictured is a drainage system. In total Gurness seems to have supported about forty families and the connected stone lined rooms were segmented into separate living quarters. It seems that each room has a fire place, stone furniture, and water drainage.

There is some evidence that Norsemen and Picts may have used some parts of the settlement but it does not appear to have been fully occupied by either, nor for a very long time.

Above Right: A traditional grain grinding stone and what appears to be a nicely shelved kitchen pantry area.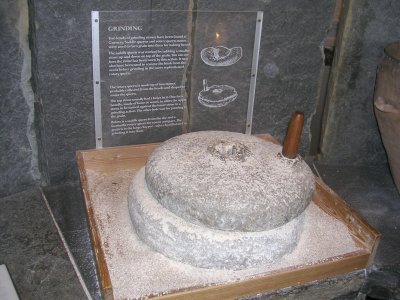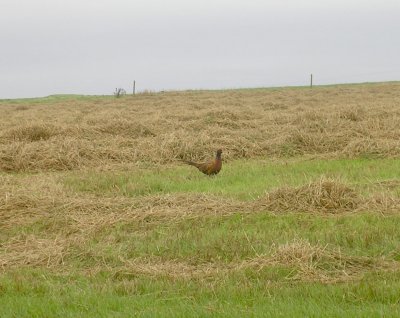 Above Left: This Rotary Grinding Stone was also found at this site. It seems inventive and advanced. This would have been here from before DaVinci, that's a big deal! The rotary stone has an off center handle to spin the grinding stone in circles and it has a hole dead center for drooping in the grain (which also acts as a lubricant) - Quite ingenious actually.

Above Right: Wild Ring Necked Pheasant. Actually Terry and I have been seeing Pheasant since we started biking almost two weeks ago, its just that they are fast and I am slow with the camera. In this case, I was getting ready to take a picture of some other birds when the Pheasant made itself available for a photo opportunity!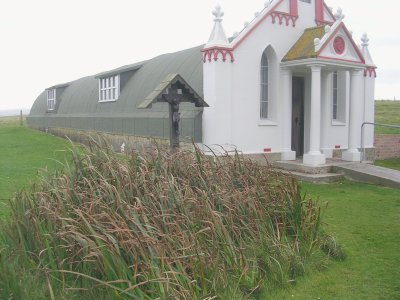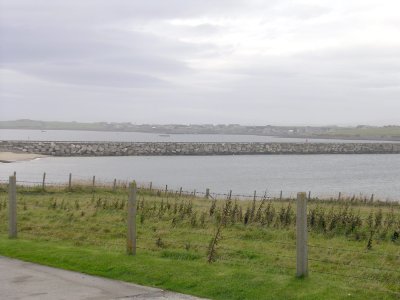 Above Left: The Italian Chapel. Notice that this is two Quonset Huts put together, back to back.

Now for the rest of the story. During WWII, the Royal Navy kept their ships in the waterways of the Orkney Islands because it was harder for the Germans to get to, especially by air. A German U-boat did get in and sank some ships, so the High Command decided to put up permanent barricades. They wanted a land fill and a land bridge. Previously they had sunk ships and used submarine nets, to no avail, to block unwanted submarine passage. So Churchill decided that the locals needed stable land bridges between the Islands which just happened to fit the strategic needs of the Royal Navy. So a local POW Camp with Italian Soldiers was recruited to supply the Labor. [See right side picture, they did there job well.]

As a condition of cooperation, the Italian men wanted to build a church. Specifically, they wanted to place two Quonset Huts together for a church. The POW Camp Commander must have been worried about giving the men tools, but the to Commanders came to an agreement. The land bridge got built and the Church got built.

Above Right: A land bridge that just happens to be a naval submarine blockade, built by Italian Prisoners of WWII.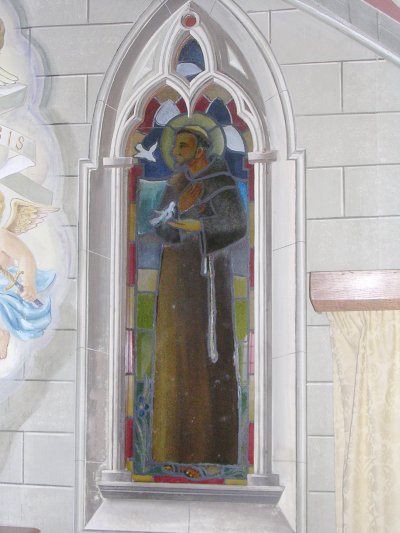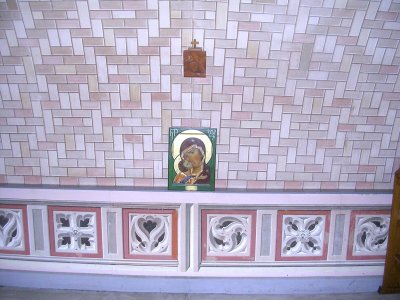 Above Left: A two dimensional painting inside the Quonset Hut/Church wall. It looks like stained glass set into a carved stone window.

Above Right: The tile and relief work here is all hand painted on the wall.

After the war, all of the POW Camp was torn down except the for the Church - which remains to this day (open to the public). Recently, when the church had shown signs of being weathered, the actual Italian artists were invited back to touch up the Church. We got to see their beneficial contribution (pictured here)! Cool huh?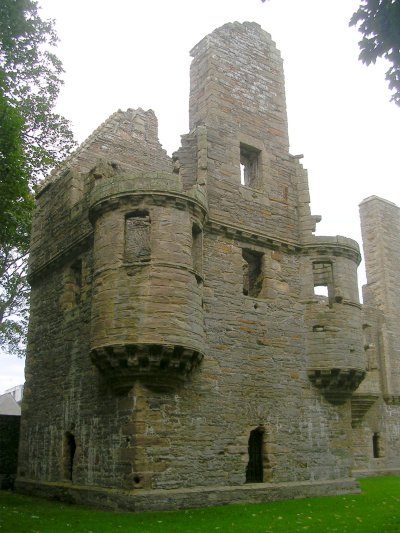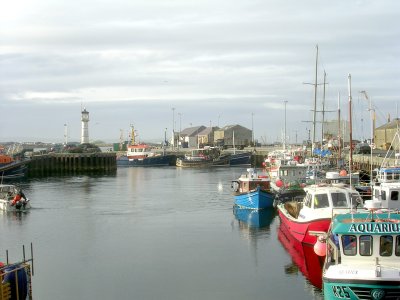 Above Left: Patrick Stewart, grandson of James V, built this Palace for himself in 1606. He went into debt building it and went to jail for his debt and was later executed for treasonous activity. Supposedly, he used indigenous peoples as slave like laborers and it is difficult to find anything good written about Patrick Stewart.

Above Right: Kirkwall Harbor.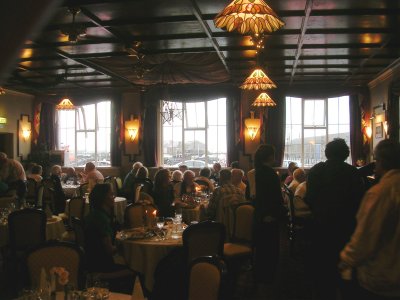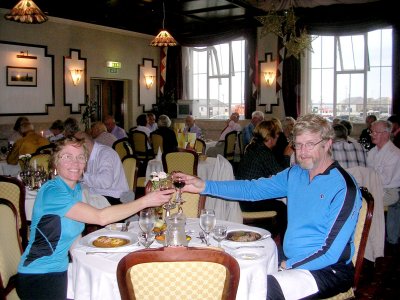 Above Left: Restaurant at Kirkwall Inn.

Above Right: Terry and Dennis toasting a fine journey, good friends, and fun times!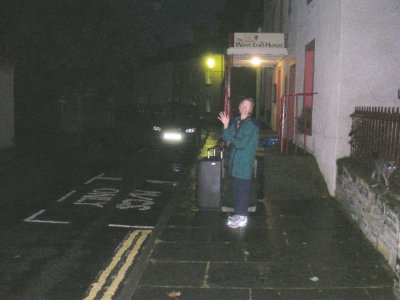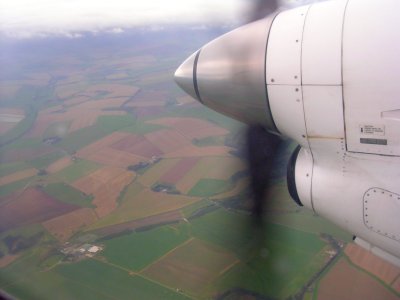 Day 15:

Above Left: Terry, saying Good Bye at the West End Hotel at Oh-Dark Thirty in the Morning.

Above Right: Flying Across Northern Scotland, heading for London, then Denver, then Colorado Springs.



Yet another successful journey, Cheers!



Previous Day
Top
Next Adventure