| << | 11 |

| 13 | 14 |

|

|

|

|

| >> |
1 | 2 | 3 | 4 | 5
Scotland Adventure, Page 2

Pictures and Stories About Bicycle Adventures

Scotland and England
By Bicycle, September, 2006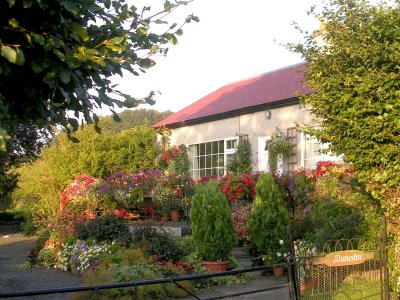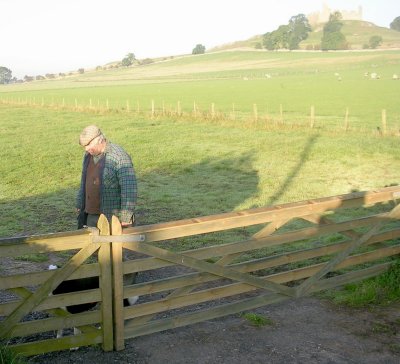 Day: 4 Greeting Mr Sun. Its early morning and life is grand. We are heading northeast for first half of the day and then northwest for the second half of the day. We're going to see Hume Castle and wrap up the bike tour in Haddington.

Above Right: We're almost at Hume Castle, in fact the castle is in the top right corner of this picture. We stop to take a picture, then realize that we're not alone. Dennis swung quickly to capture the picture. A Scotsman and his faithful Sheep Dog are wrapping up early morning choirs. We greeted each other and ended up talking for a few minutes. He was happy that we were enjoying Scotland and the good weather. The picture of his Highland Beef Stock did not turn out, but he appreciated that we knew about the Highlander's reputation and recognized what we saw.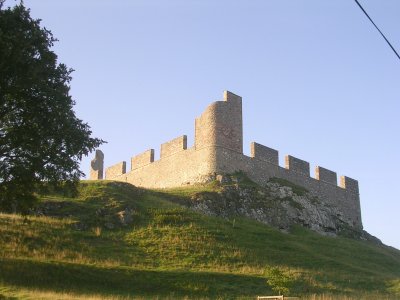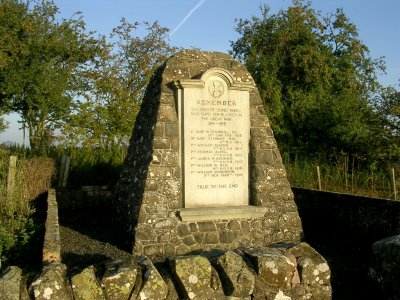 Above Left: Hume Castle. Its an empty rebuilt shell. Cromwell leveled it in 1651. Some time line history is listed in the next image below.

Above Right: A Local Remembrance Memorial located at a quiet Hume road intersection for the local volunteers that did not return from the Great War.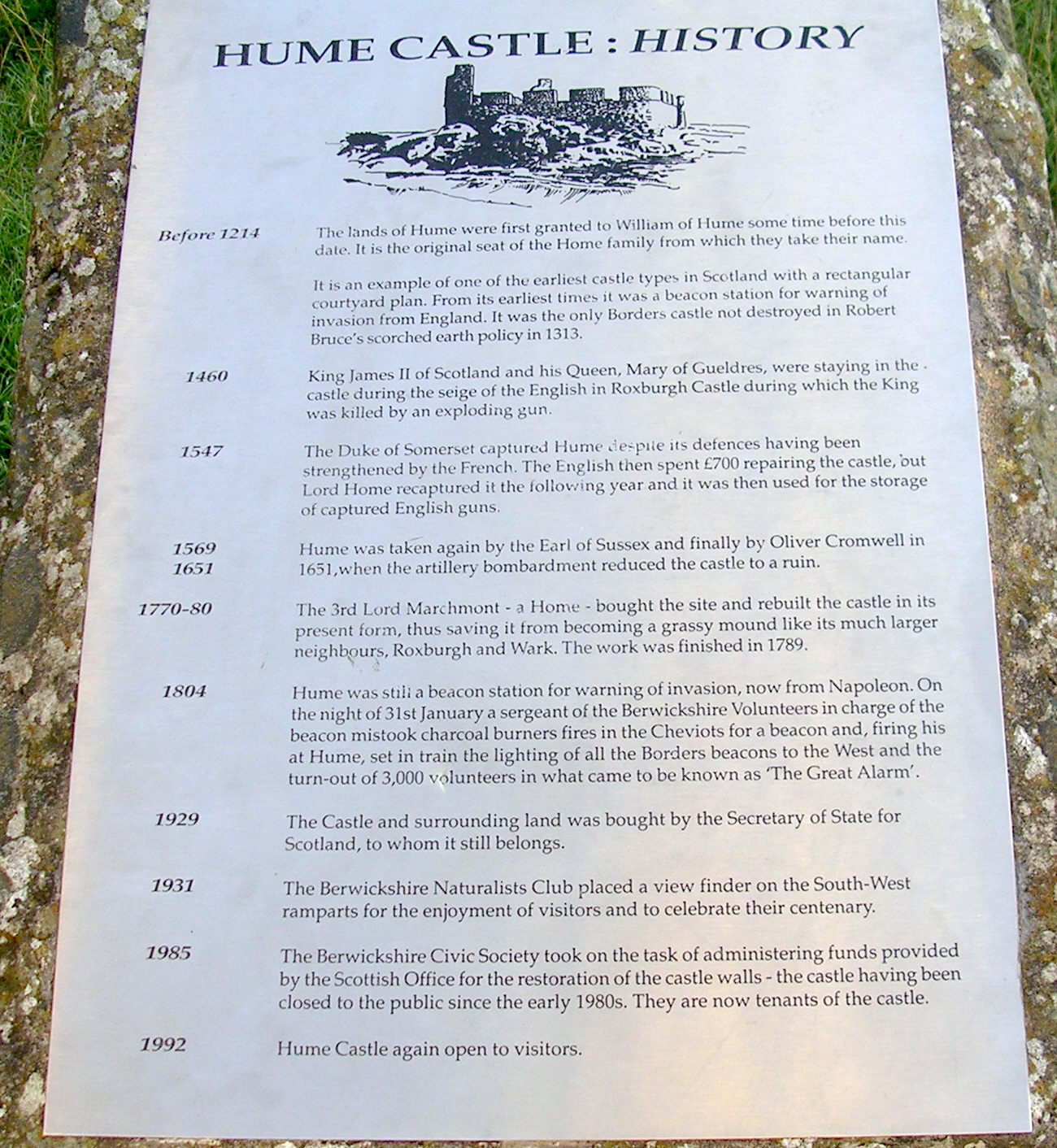 Above: Hume Castle history.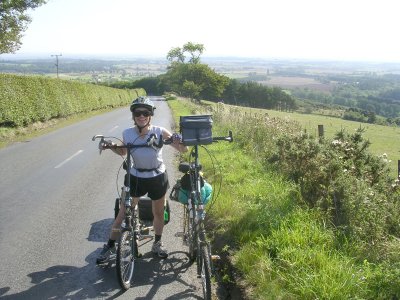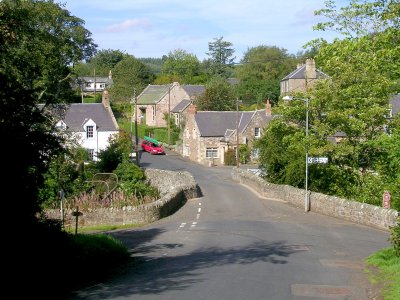 Above Left: We have found the first Lammermuir Hill. From here on they just get bigger and steeper. The views are great.

Above Right: This is the Village of Longformacus. We will eat lunch on the other side of the village.


Shortly after lunch, a lady coming from the opposite direction will stop in her car to ask for directions and distances. She explains that all road signs have been torn down for the next twenty, or so, miles. We figure, by the remaining hate signs, that the power commission wants to put up wind mill electrical generators and the locals, or at least one of them, don't want this to happen.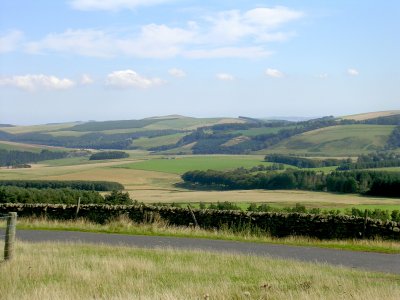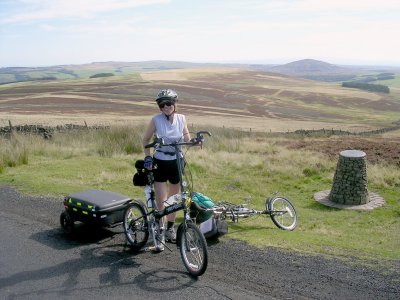 Above Left: The view across from where we ate lunch.

Above Right: This is the high point of the Lammermuir Hills. This picture view is looking to the Southeast. We take a well earned break. All that purplish brown stuff in the background is Heather.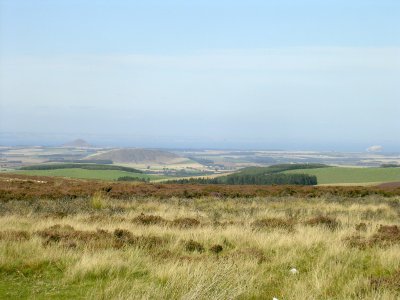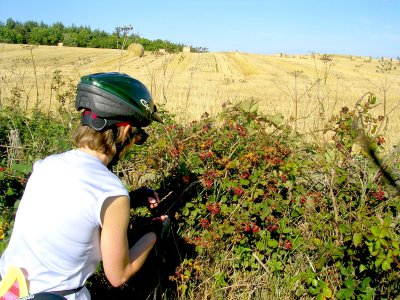 Above Left: We're still near the high point of the Lammermuir Hills, looking to the North-Northeast. The narrow strip of ocean water between us and Kirkaldy, Scotland, is the "Firth of Forth." Firth is Gaelic for Inlet, and Forth is the name of the main river whose outlet is in the city of Stirling, about fifty miles west of this view.

Above Right: We discover roadside Raspberries. Yum!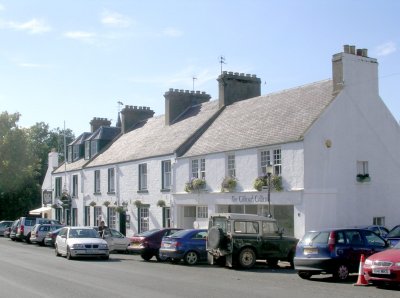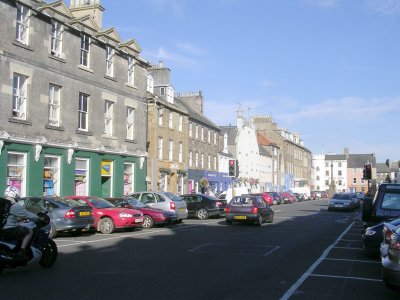 Above Left: This is the Town of Gifford. It has a nice cottage-homey feel. It is sort of an Artists community. We realize that today is Saturday. The town is busy.

We could not reconcile the actual road layout with our map (to continue onto Haddington). There are no signs that are helpful to us. We ask for help and directions. A man, with his young son, says "go that way" and he points. We did. We were five miles pedaling into blind faith before we got any kind of route/location confirmation. The man did us honest. For the record, for Dennis' entire life, no one has ever lied to him regarding travel directions.

Above Right: This is Main Street Haddington. See those long shadows creeping. We park and lockup the bikes to do the tourist thing. Life is good.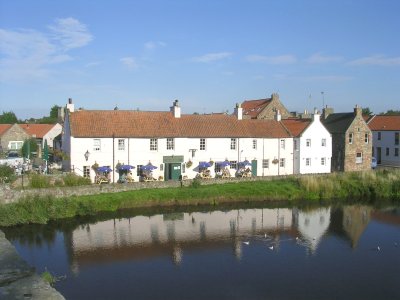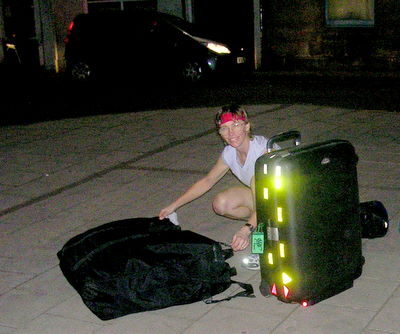 Above Left: We're ready for a nice dinner. We stop a lady that looks like she may be a local. Don't ask, I can't describe a local, its just a feeling.

This generous lady describes a few options. The best restaurant, in her opinion, will be the furthest walk for us, the Waterside Bistro Restaurant. She looks us over and says that it won't be a problem for us. She went on to explain that she isn't in town much since her husband passed away. Her husband was a War Prisoner during WWII, a captured Airman. After the war, her husband formed a Pro Peace organization to help people see the better side of humanity and to help each other - kind of like the original teachings of Buda or Jesus. He helped German and Russian families, she supported him and his deep convictions. We were honored to make her acquaintance.

We had a fantastic dinner.

Above Right: After dinner we packed up the bikes, Terry's to her suitcase, Dennis' to a carry bag (remember that we only brought one suitcase for this trip portion). We had to break down the bikes in a remote sidewalk area near an outdoor bar. When we had the bikes broken down but not packed yet, we had lots of supportive queries asking if we needed help or any tools.



We really had a good trip and met lots of very interesting and caring people.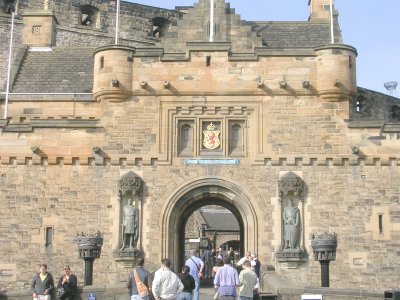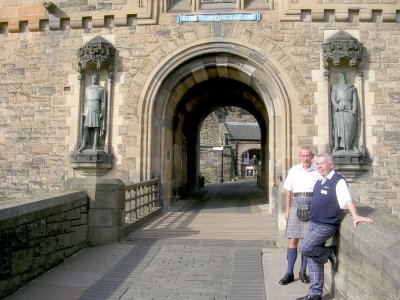 Day 5: Edinburgh Tour: Burgh is Gaelic, means Town, and is pronounced "burah" and is acceptable as "burro." At some point in time this place was Edin's Town. There are two main features. Edinburgh Castle at the top of the hill which is really an old volcano core, and Edinburgh Palace which is down hill in a river meadow, due East of the Castle, just over one mile. The road between is called the Golden Mile and has commerce, churches, and the new Scottish Parliament building.

Above Left: Edinburgh Castle, Entrance. This is the main entrance and of course everything is up hill from here. There is an actual ring of cannons around the castle wall and in some case more than one ring. This is just the Outer castle wall.

Above Right: There is an actual draw bridge and moat, but the moat is not water filled and the chain works are disconnected and hidden behind two knightly statues. What really attracts me in this picture is the two Scottish fellows, just standing around. I figure that one guy is a tourist helper and lets just say the other guy behind the tourist helper serves a completely different function - he's the guy you want around when the chips are down.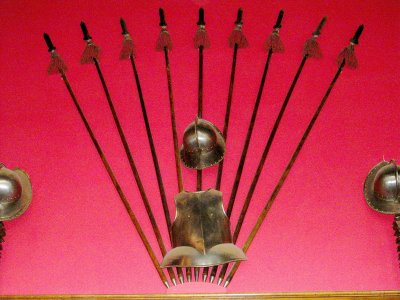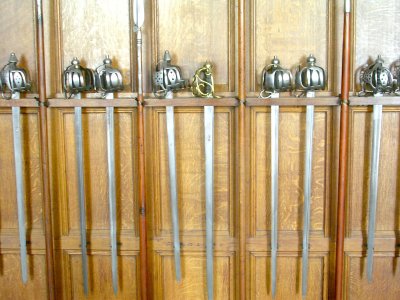 Above Left: Weapons displayed in the Great Hall.

Above Right: Weapons displayed in the Great Hall.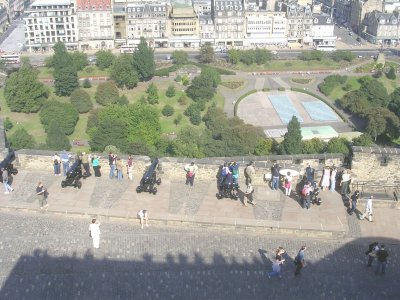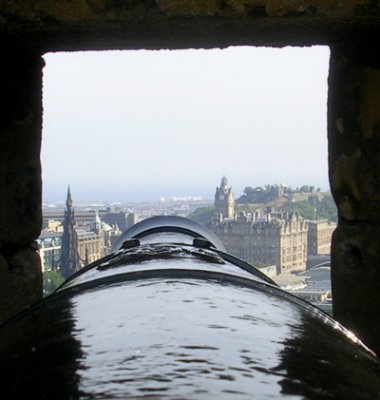 Above Left: A view from the inner ring of the outer defense ring. All the cannons are the real deal and most have seen action over the centuries

Above Right: A view of downtown Edinburgh (Northeast from the Castle).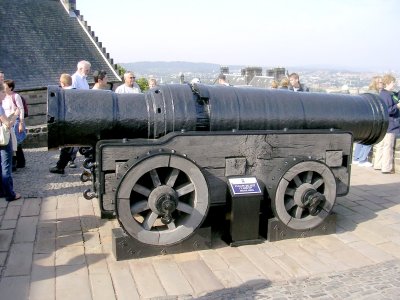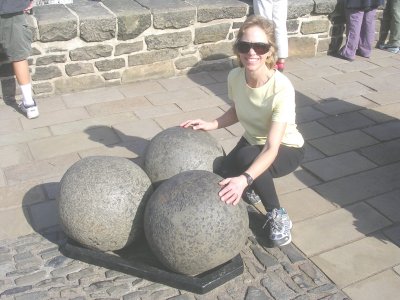 Above Left: "Mons Meg," Medieval siege gun presented to King James II in 1457 and used in war against the English. It was kept in the castle and used also for firing salutes. During one firing in 1558, the massive gunstone was found almost two miles away! It last fired in 1681 when the barrel burst." For scale, look at the visitor's heads in the picture and then look at the next image. Also note that a friend saw Mons Meg inside the castle at a different time of the year, here it is outdoors, so we gather that it gets moved around or perhaps it is out in the sunny months and covered in the precipitous months.

Above Right: Here's Terry, hugging a Mons Meg firing Stone. Almost to a person I could here people ask, "How do the stones get lifted into the barrel?" Well, that's a good question?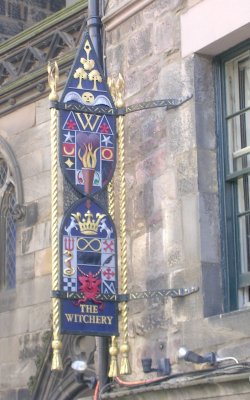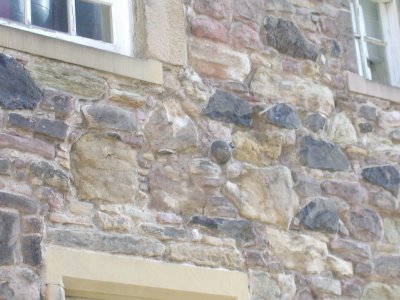 Above Left: The Witchery. Presently the sign for a very elegant restaurant. Formerly, the spot where hundreds, if not thousands, of mostly women were brutally tortured into confessing that they were witches.

Above Right: The Cannon Ball House. Its dead center. No one knows the story. There is also a fragment of a ball stuck in the side of the house just out of view but with the lighting of the hour it looks like another rough stone. This is the east side of the house that faces the Edinburgh Castle about four hundred yards away.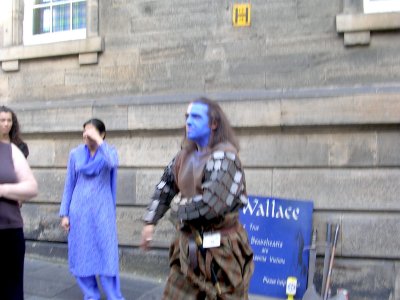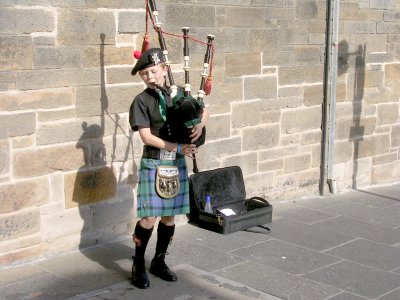 Above Left: Mel Gibson! He actually looked like Mel. The women went out of their way to line up for pictures (William Wallace, Braveheart, historically based).

Above Right: A Piping Kid. He was good and we contributed to his tips.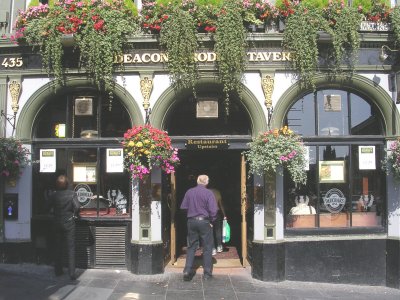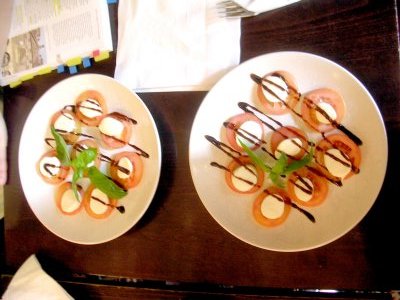 Above Left: Deacon Brodie Tavern. Its Lunch time.

Deacon Brodie came from a respected family and by day was a "pillar of the community" carpenter, but by night he lead a double life of drinking, gambling, and burglary. Deacon was his first name, not a title. He was eventually discovered and convicted to hang for his crimes but made a daring escape, perhaps through a bribed hangman. The double life lead by Deacon Brodie is thought to be the source of the character for the book Dr Jekyll and Mr Hyde, by Robert Louis Stevenson (another Edinburgh, Scotsman).

Above Right: Lunch.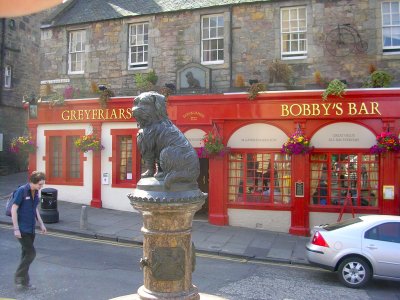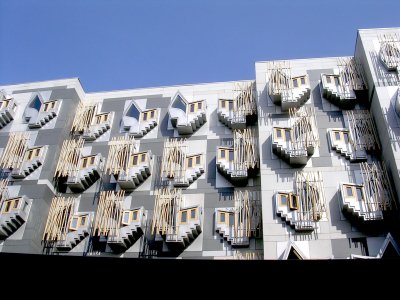 Above Left: I had heard about the Legend of Bobby when I was a kid living in Japan - military dependents have seen the world and share interesting tidbits with each other and the kids come from everywhere and overseas the kids are mixed with embassy and state department dependents - you would be surprised at how much they know about the world. Truth and Urban Legend spread like wildfire.

Bobby was the dog that sat on his dead master's grave every day for about fourteen years. His master was a policeman of the nightwatch who died of TB. He had brought Bobby along on his beat to keep him company (not to mention that Bobby could sense things before he). The Gentlemen Owner of the Greyfreyers Tavern (the same tavern seen in this picture) cared for and fed Bobby, but every day Bobby would sit on the Grave until about 1 PM. Bobby's story became so well known that people would go to the grave site just to see Bobby. A Baroness took the lead to have this statue made and erected in Bobby's lifetime (an actual likeness). Bobby died at the age of sixteen.

Above Right: This is the backside of the new Scottish Parliament Building. We did not know this at the time, we were just exploring. Its just cool looking. There are bay windows, built in seats, or steps, some used as plant holders - all very utilitous. Further, instead of having just security bars on the windows, they have been converted into ancient Rune writings. I would bet that they translate to mean something like Wisdom or Peace or such.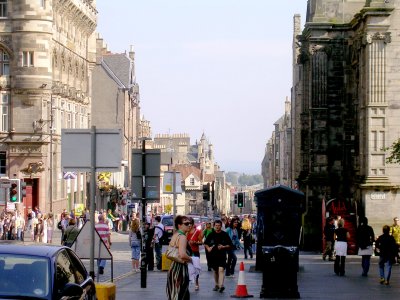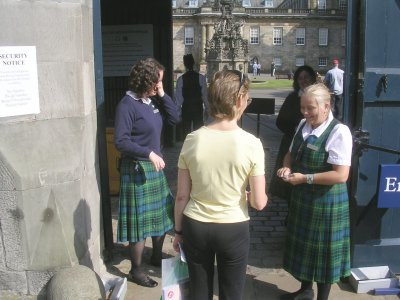 Above Left: Looking east and down hill along the Golden Mile. People everywhere.

Above Right: This is the visitor entrance to Edinburg Palace, known as Hollyrood. We were carrying a bottle of water and they would not allow it to be taken in. This was in the time of the first terrorism scare where no liquids of any kind was being allowed to be taken into any public place, especially on board commercial aircraft - the rule has already been relaxed a little, since.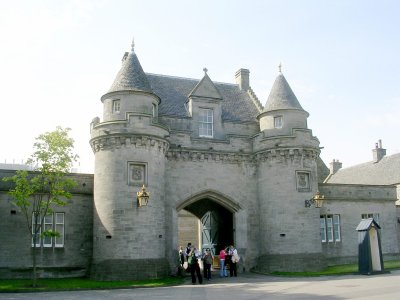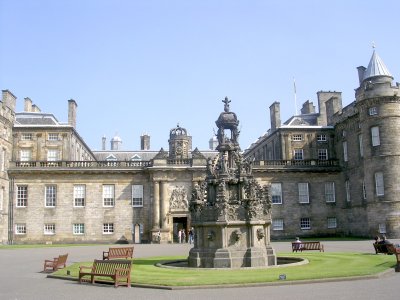 Above Left: Hollyrood's, outer wall entrance as viewed from the inside.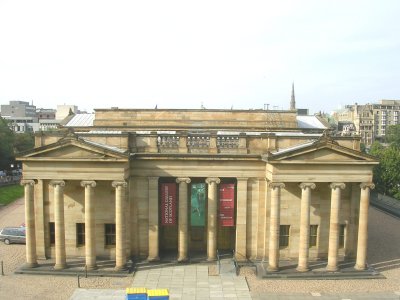 Above Right: Hollyrood. This is the Palace front. The palace is too big for the camera as Dennis is backed all the way up to the outer wall. The North Wing (our left side and pretty much out of view) is the original palace. The stone work of the original palace is laid in that pre Victorian unordered stone laying method. The South Wing (our right side) matches the North Wing in layout and dimension, but all the stone is laid in the style of Victorian ordered masonry that we are more familiar with today. The palace front, pretty much what we see in this picture is also laid in the Victorian Masonry method.

Right: This is the backside of the National Museum of Scotland. We are looking at it from a Monument to the Black Watch (next image). Edinburgh Castle is more or less to our back left shoulder.

Below Left: A monument to the Scottish Black Watch (South African Campaign, 1899-1902).

Below Right: A Celtic cross on a grave stone located inside the Royal Museum of Scotland. We don't know it yet, but we will have a Medical Conference Dinner here in just a few more nights.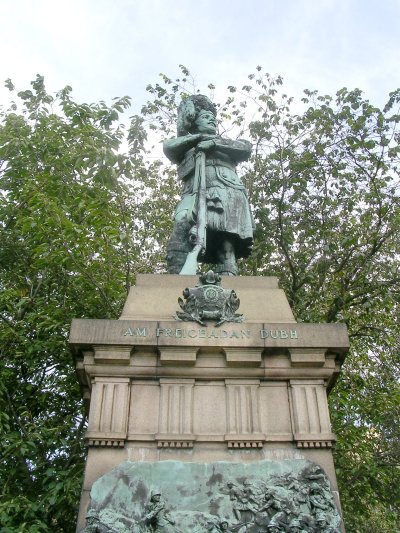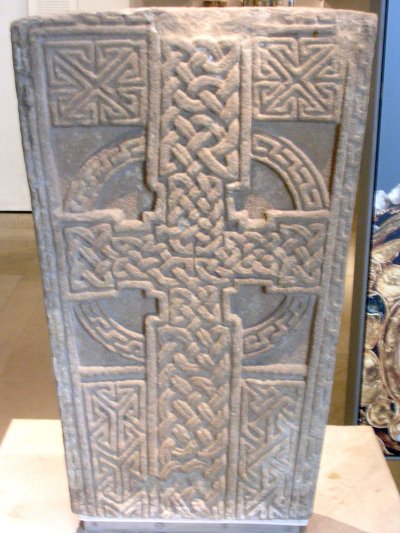 Previous Day
Top
Next Day