| << | 30 | 31 |

| 33 | 34 | 35 | 36 | 37 | 38 |

| >> |

Be sure to hover the mouse over the images.
Bicycle Tour Adventure #36
Day: 1, 2
Pictures and Stories About Bicycle Tour Adventures
Great Divide Mountain Bike Route (GDMBR - Segment):
Ute Pass (9,583'/2920m), Silverthorne, Dillon, Frisco,
Breckenridge to Boreas Pass (11,482'/3499m), Colorado;
By Bicycle Tour; August, 2011


Day 2, Loop Ride (estimating 45 Miles Total)
From Frisco to Boreas Pass and Back
(Some pictures are out of order)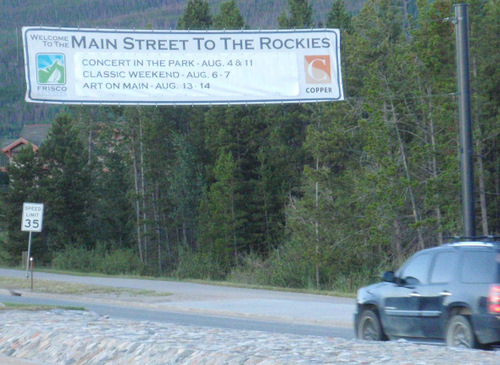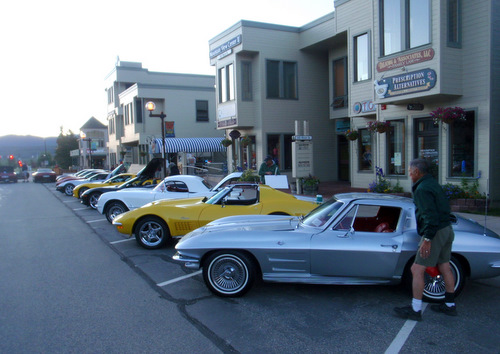 Above Left: Today is August 7, 2011: We drove to Frisco, Colorado. We need to perform a one mile gap closure. We are parked near 5th and Main but we have to back track to the A&W on Hwy 9 to connect to the point where we were last on the GDMBR trail. In doing so, we get to see the sign announcing a parade of Classic Cars. Soon, we will see more Corvettes and Stingrays than I have ever seen in my life. All of a sudden, one of every three automobiles on the road is a Corvette (1962 or Older) or Corvette Stingray (1963 or Newer). It is totally awesome!

Above Right: Corvettes, Corvettes, Corvettes! A Silver '63', I believe.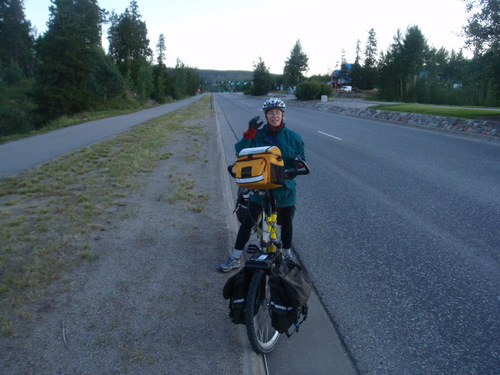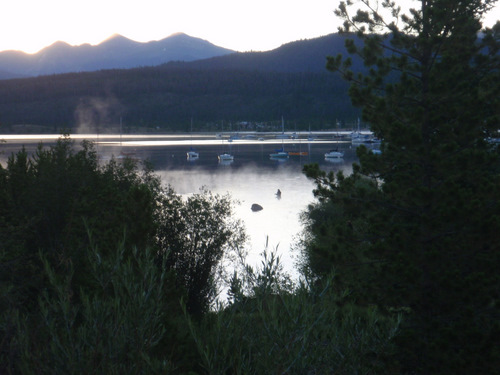 Above Left: It's Oh'Dark Forty-Five (that's 15 minutes after Oh'Dark Thirty).
Terry is dressed for cold temperatures (Dennis is in shorts).

Above Right: Passing by a Fly Fisherman on Lake Dillon at a stream's outlet. The beginning of Sunrise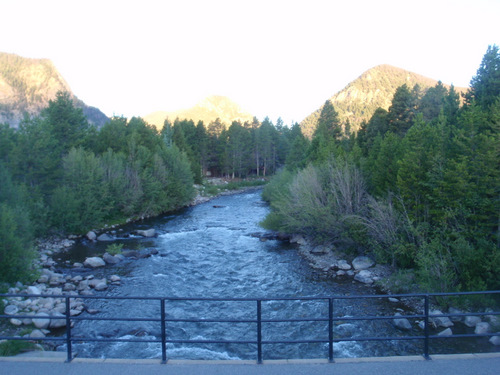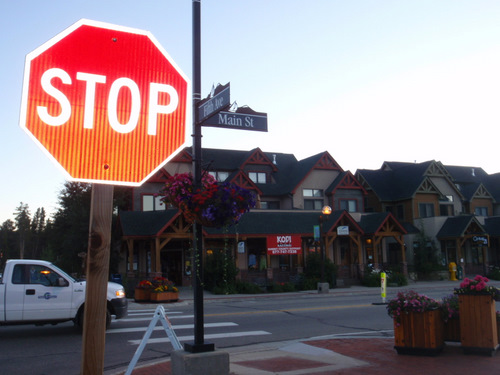 Above Left: Same stream on the opposite side.

Above Right: 5th and Main, Frisco, Colorado; setting up parade barricades - they let us bike right down the center of main street amongst all of the Corvettes.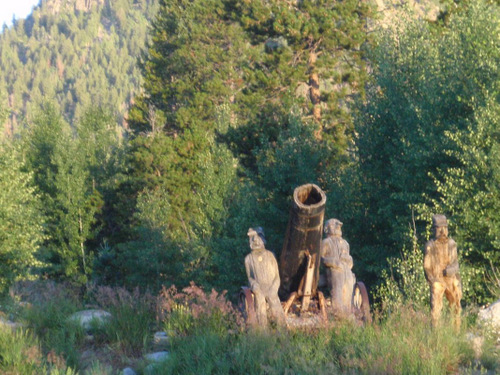 Above Left: Biking through town, a plethora of Purple Fireweed.

Above Right: Wood carvings that look like Civil War Artillery Soldiers.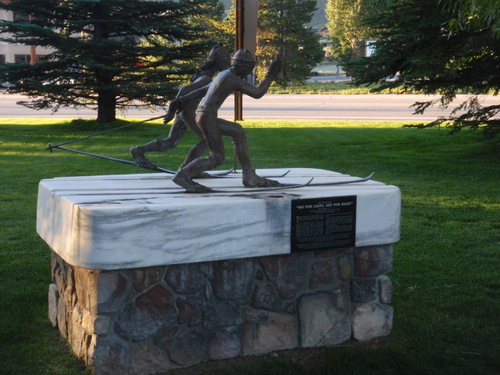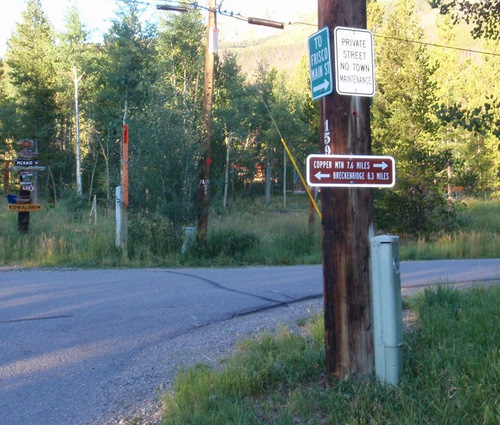 Above Left: A Cross-Country Ski Monument.

Above Right: The beginning of the bike trail at the south end of Frisco, located at the end of 7th Ave; Left for Breckenridge, Right for Copper Mountain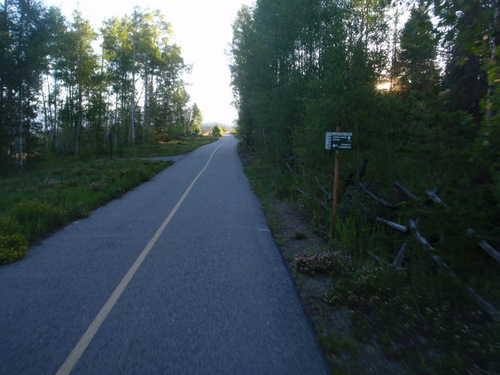 Above Left: We're on the bike path, it's paved - this is a motion shot. We are up early so as to avoid congestion.

Above Right: We pass by the Frisco Hospital on the south hill side and Dennis never misses an opportunity to take a picture of a helicopter (Flight for Life, at the far end of the automobiles).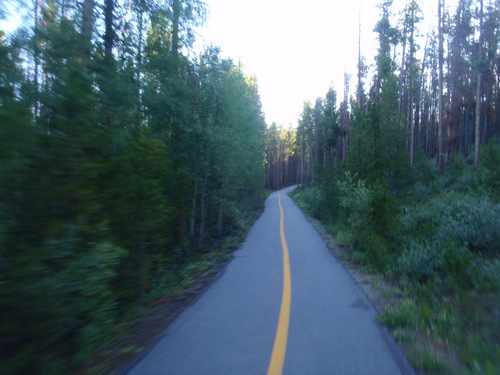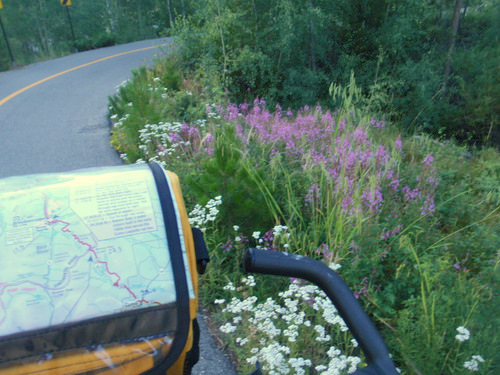 Above Left: This is sheer joy.

Above Right: More of the same.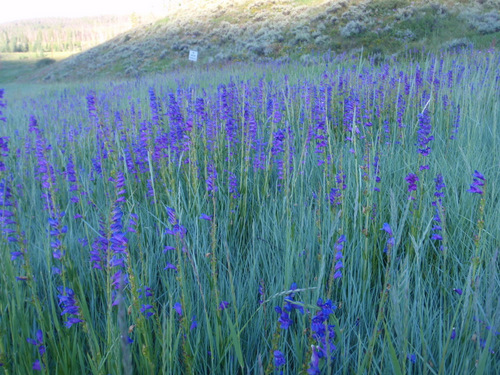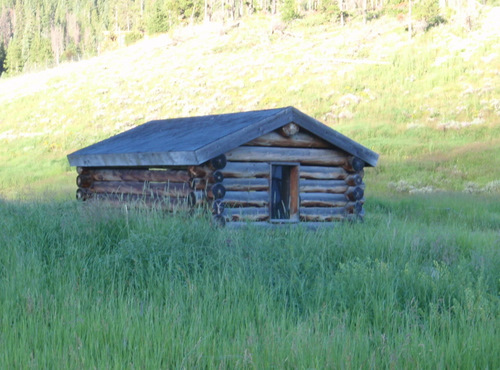 Above Left: A field of Penstemon.

Above Right: Old log structure, remote out-building for an old ranch.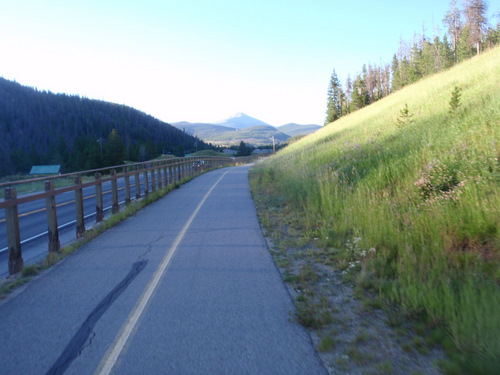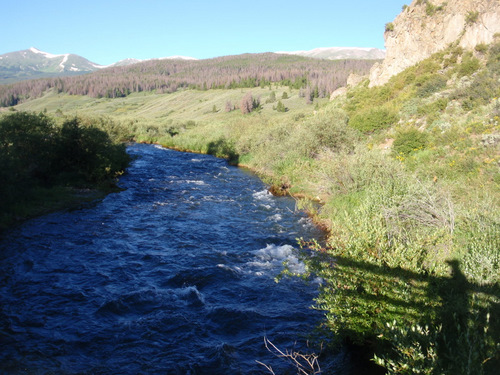 Above Left: We are travelling parallel to State Highway 9; here we are very close for a short distance (passing by a big hill).

Above Right: Blue River, once again.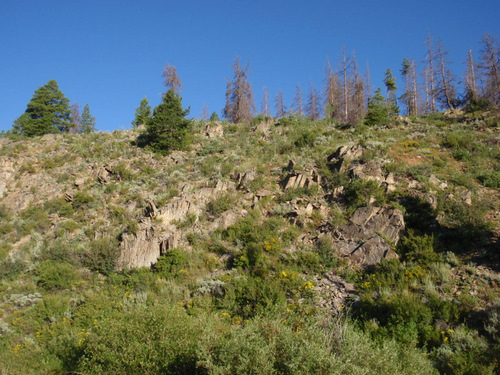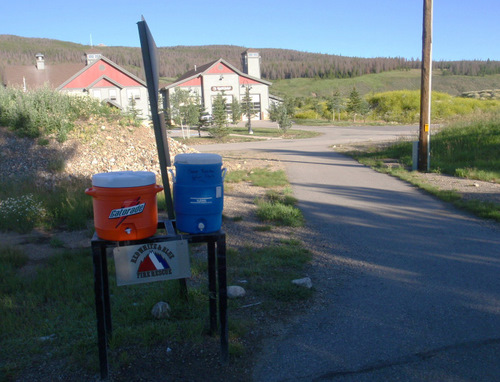 Above Left: Cycling by another hill, the sun is still rising, not on us yet.

Above Right: The Breckenridge Fire Department offers water to passers-by. The Fire Department is in the background, we are at the north end of Breckenridge heading south. The sign states to turn a water jug over when it is out of water - It is a good thing that they do.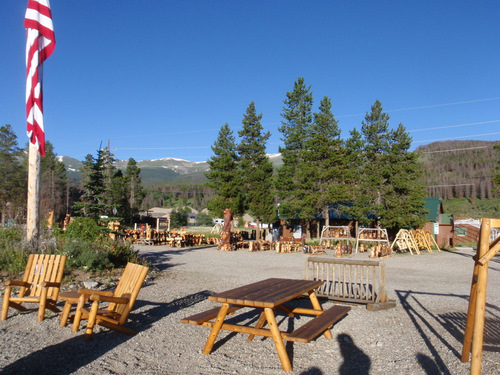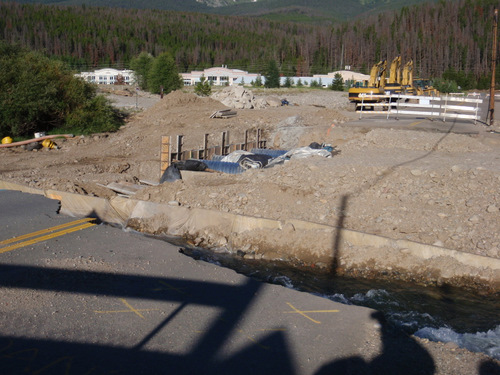 Above Left: Outdoor Furniture, No, it's Aspen and Pine Woodcraft/Country Furniture (for all of those resort homes). Supposedly, an out of work lumberjack with a chainsaw became a local hero and millionaire - It is a good story anyway.

Above Right: The road ends here (the result of a flash flood), construction in progress.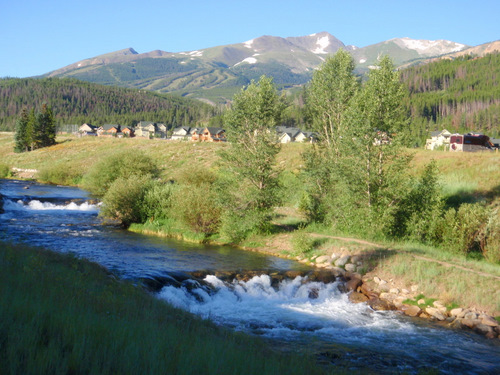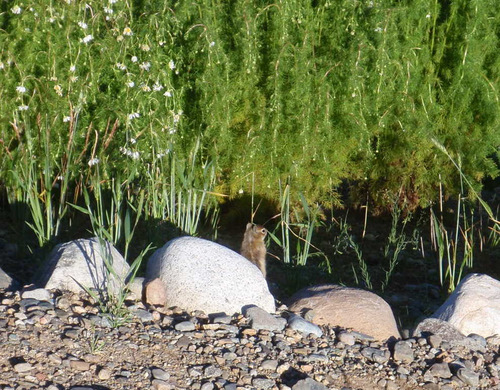 Above Left: The Blue River in the foreground, resort homes in the middle, and some of the Breckenridge Ski Slopes are in the background.

Above Right: We're taking a water break on the trail side and this little sun worshiper pops up - yes sir, the sun feels good. Terry takes off one of her protective layers.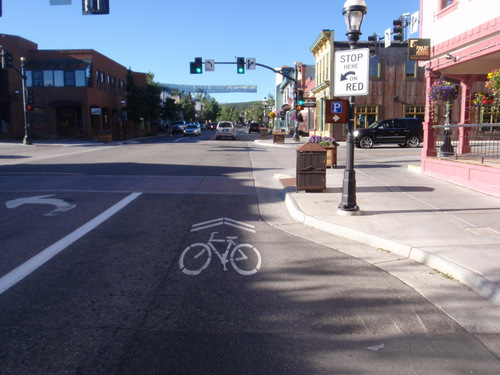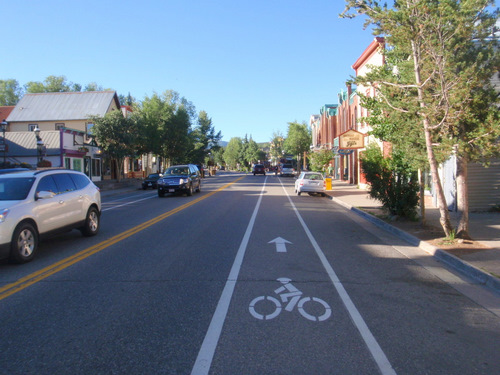 Above Left: It is a 'Sharrow' (acronym for Shared Lane Arrow). We're off the trail (at Watson Street) and now on Hwy 9, going straight uphill through Downtown Breckenridge; we are a little ahead of the summer tourists at this time of the day, it is probably about 8 AM on a Sunday morning. We are looking for Boreas Pass Lane/Road, at the other end of town, to turn left and climb, climb, climb.



It's also Five after One and Fifty-Two after Eight, Wink!
See the clock pattern in the wheels?


Above Right: We're Special; we have our own [bicycle] lane, yay! It's a big deal coming back, because the auto traffic will be bumper to bumper, everyone will be looking for a place to park for Linner (Lunch and Dinner, sounds better than Lupper).



I do have to say that all vehicles yielded space in the bike lane;
It was very pleasurable traveling in either direction.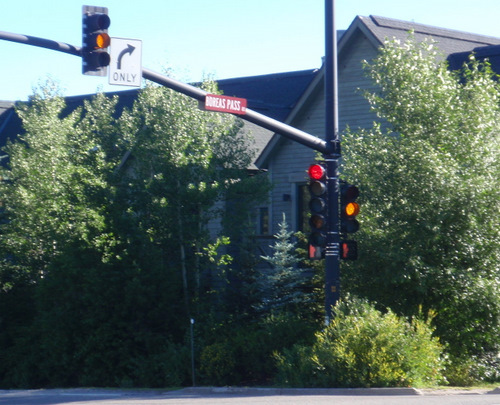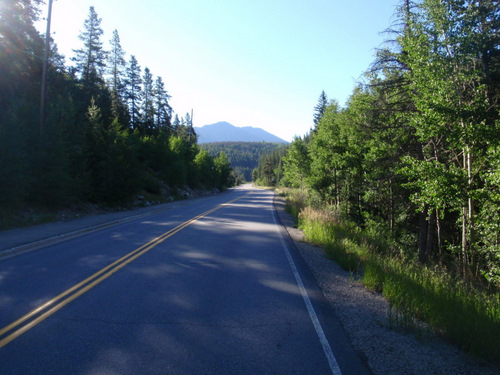 Above Left: We missed our turn for Boreas Pass because it is one of those roads that has a different name in the other direction and the road sign only faces the south (we came in from the north). No worry, a local lady on a bike takes time to explain it to us. The street sign is easy to read from the other direction, we turn here.

Above Right: We don't know it yet, but we're biking up an old railroad bed, the grade is as smooth as it can possibly be. Oh this is such a joy, we only have about 3,000 feet (1,000m) to climb (and the road is paved for about half the distance).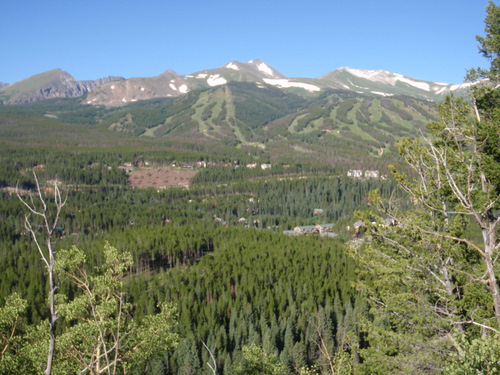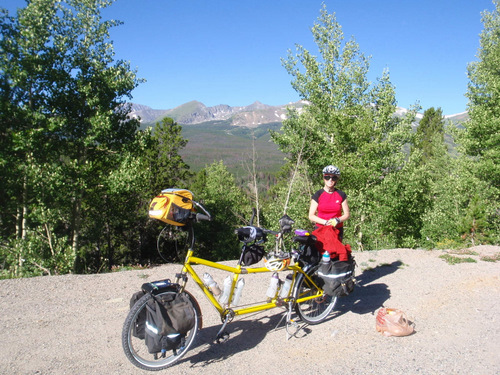 Above Left: About an hour later this is our back view of Breckenridge, Colorado (town and ski slopes, we're looking southwest). For the record, we have previously skied every run that existed before the year of 2005. When we were in the military or subsequent college years, we could not afford to eat or sleep here; we'd spend hours driving each way from Colorado Springs or Denver just to ski.

Above Right: We stop for a snack and Terry removes another layer of clothing - Man is she hot!.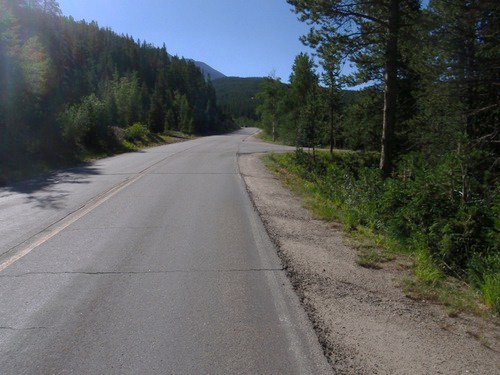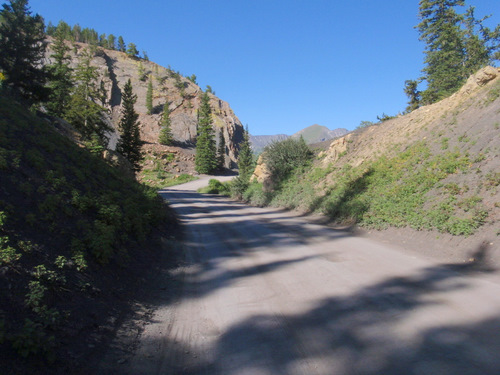 Above Left: Near the end of the hard road. There is a trail head located exactly where the pavement ends.

Above Right: Near the beginning of the dirt road.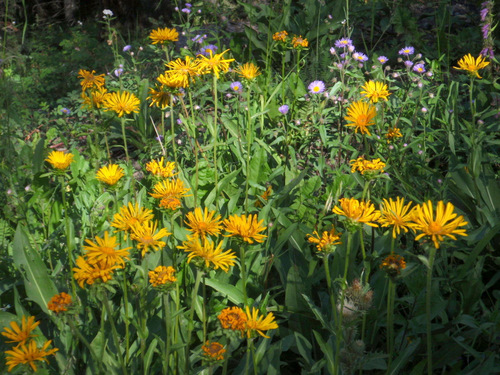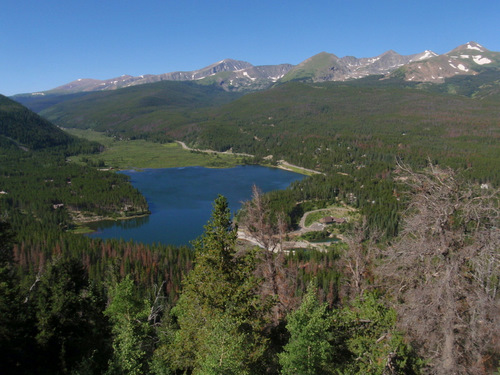 Above Left: Narrow Petal Yellow Center Sun Flowers (also called Alpine Sun Flowers - soon we will see these in the millions).

Above Right: Another high altitude view of the Blue River valley.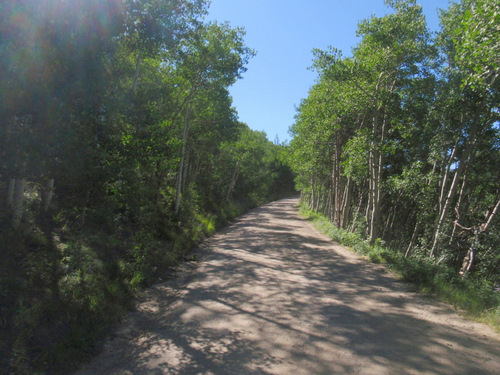 Above Left: Miles of Aspen trees.

Above Right: Aspen tree's view - We took a little break.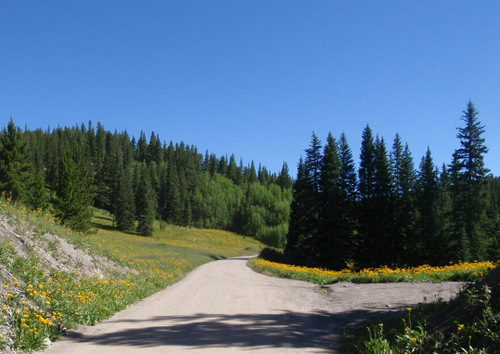 Above Left: We bike around a corner, and the Yellow Flowers say Hi.

Above Right: Yellow Sun Flowers everywhere.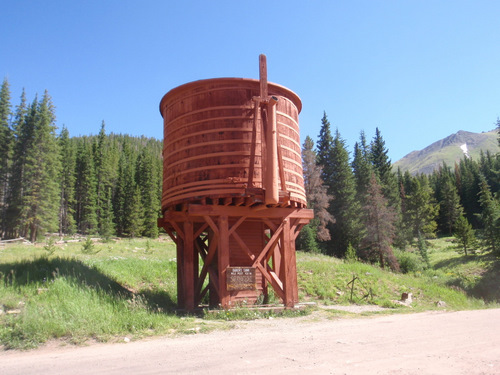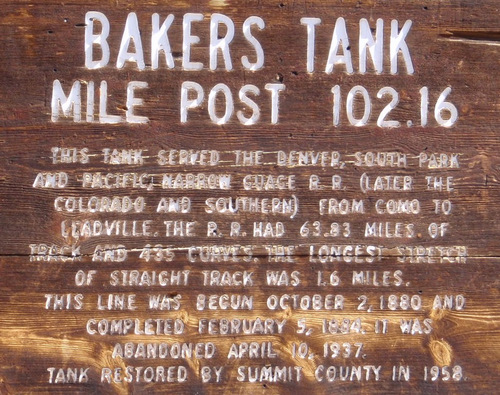 Above Left: Rail Engine's Water Tank. We're at about 10,500'/3,200m. It would have been very difficult to keep any water from freezing during the winter - maybe keeping an engine cool during the winter is not an issue, we don't know. We do know that this line had a super snow thrower engine, maybe the best in the USA, and the rail was used year round. We do not know the rest of the story, there is some online info, but nothing seems to stand out.

Above Right: Water Tank and Railroad explanation.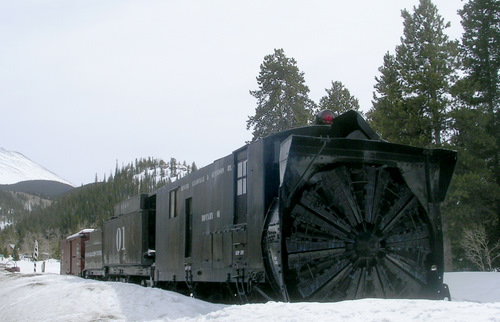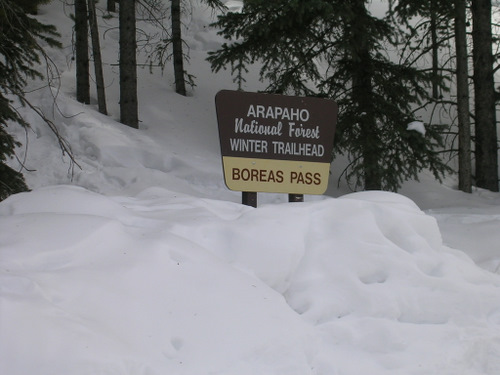 Above Left: This is a winter time picture of the Colorado and Southern Snow Thrower. This Engine's location is in Breckenridge and the picture was taken at a different time during the winter (March, 2006, by Terry and Dennis Struck during a snow shoe adventure).

Above Right: The sign is on 5'/1.5m wooden legs.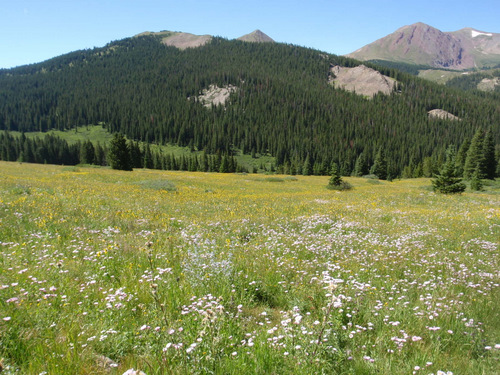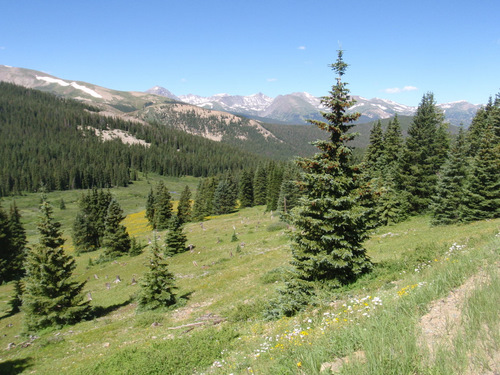 Above: We're at about 11,000'/3,300m; there are more White Daisies than Yellow Sun Flowers;
Trees are thinning out.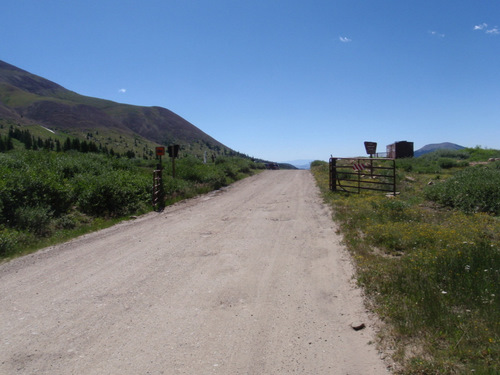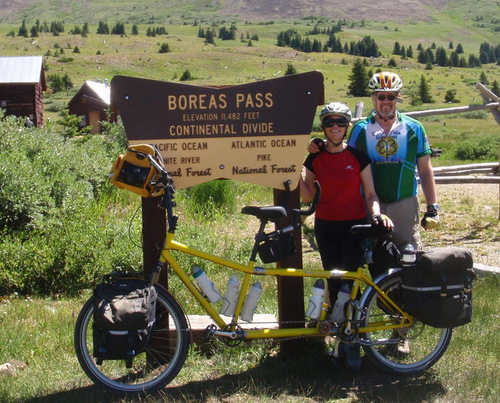 Above Left: Boreas Pass is there on the ridge line.

Above Right: Dennis and Terry Struck at Boreas Pass (11,482'/3499m) on the Continental Divide on a bicycle tour - Great Divide Mountain Bike Route.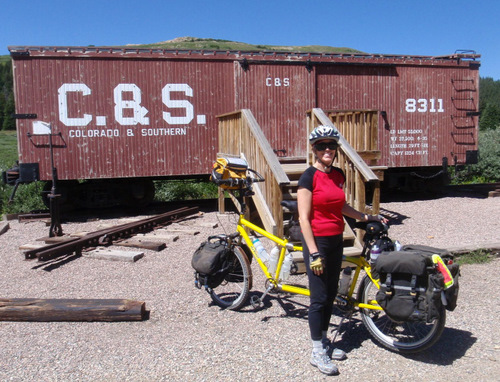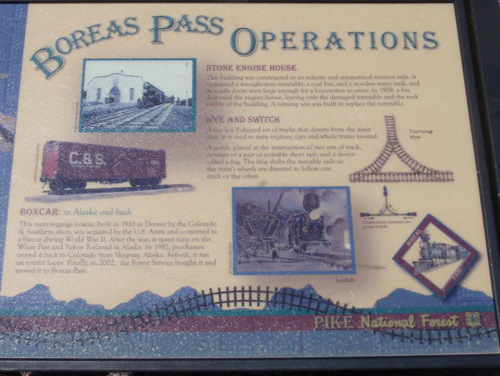 Above Left: Terry and the Bee at Boreas Pass, Colorado. This Colorado and Southern Box Car is on the opposite side of the road from the National Park Sign. There are some railroad reminders about and a Depot/Guest House/Lodge and a Maintenance Tool Barn.

Above Right: Explanation of Boreas Pass Operations.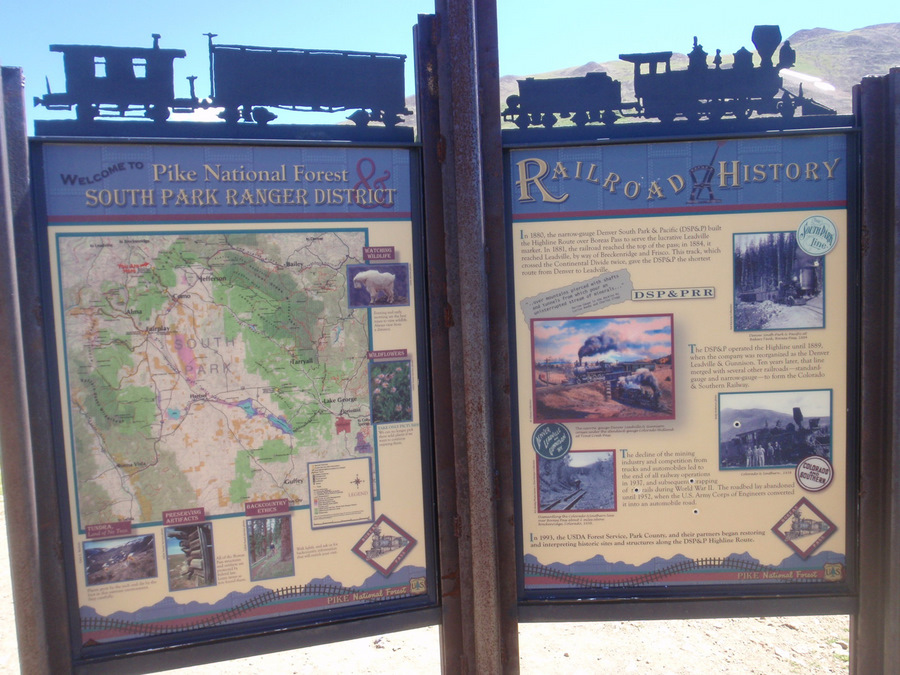 Above: C&S RR History.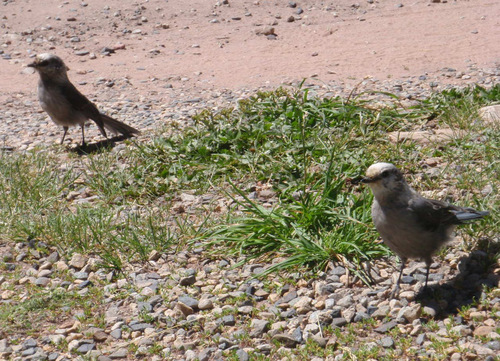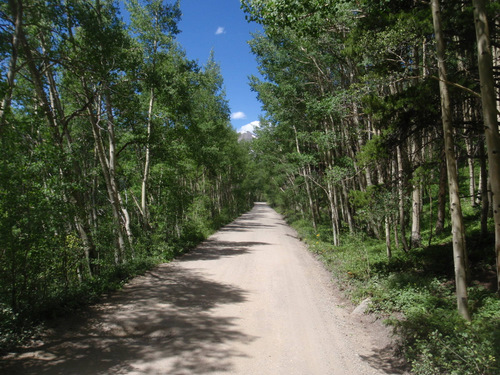 Above Left: Gray Jay (Whiskey Jack, Clark Nut Cracker), visiting us during a downhill snack. These birds are genetically very friendly to humans, they will always come within an arm's reach and if a person has the stamina, they will eat from your hand or steel food off your plate, their behavior has nothing to do with human-bird contact. One of these birds tried to steal a bagel from Terry's hand (near her mouth).

Above Right: It is a virtual coast all the way to Frisco; the Bee is passing through an Aspen Grove on the way home.



Thus ends another great bicycle adventure!


Previous Day Top Next Adventure