Hungary Adventure, Page 3

- Hover Mouse Over Images -


Pictures and Stories About Bicycle Adventures

Erdotarsca-Szentendre-Esztergom, Hungary
By Bicycle, September, 2005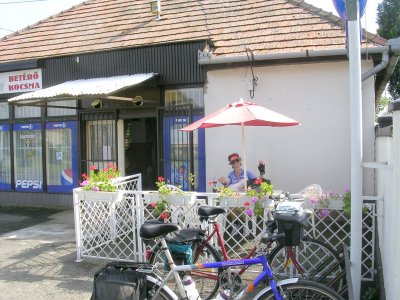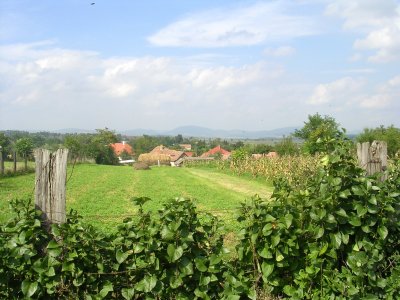 Above Left: Its mid day and we are on the road between Matrahaza and Erdotarsca, about a 70 kilometer ride (our longest day). We stop at a roadside shop for ice cream. We've been riding for about four hours, we're due for a break and the ice cream is good. Our rented bikes are in the foreground. Terry is waving from the shade.

We are entertained by two mature French ladies hitch hiking across Hungary - Even as we arrived, they jokingly held out their thumbs for a ride. They were very funny and we suspect that they probably had a drink of wine at each stop. They have a homemade sign, listing Nice as their destination - that is a long ways from here. They are flashing their legs at truck drivers. An old farm truck picks them up - the third vehicle in fifteen minutes. Meanwhile, the ice cream break is very refreshing.

Above Right: The picturesque and pastoral view across the street from our ice cream break!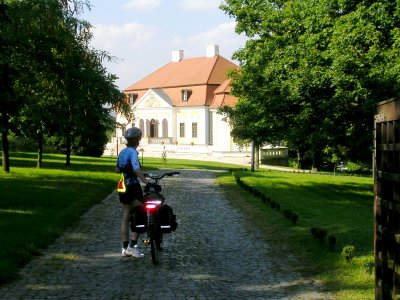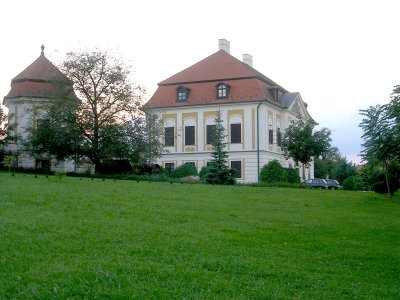 Above Left: We finally arrive in Erdotarsca. We are in town but have a difficult time discerning where we are to go. Its one of those common European occurrences where everyone knows where the palace/fort/castle is (except for a foreign visitor who can read a map). Their is no address or street, because its the center of everything. Well, a Hungarian gentleman with two kids in his car stopped to help us. He gave us directions in German and between Terry and I we actually understood. Basically, we were right next to the property but we had to ride the long way around the property (about a mile) to find the entrance. The destination was just a little Chateau built in the French fashion for a long ago Government Cabinet Minister. Presently, the Chateau was owned by a Hungarian University College and controlled by one of the college departments. Its a Baroque style Chateau (built between 1750 and 1770).

We are honored to be invited to stay in such a place. We started speaking Hungarian to the Proprietress, which she appreciated, but she interrupted us to say that she spoke English (Russian, French, German, and Italian - she sort of had the bases covered). Frankly, we were overwhelmed and afraid to touch anything. Our bags were already in the room. We were more or less expected to dinner at 7 PM and all we had to do was select the wine. We had a Hungarian Pinot Noir made locally and it was good. Dennis was dead tired and rested, meanwhile Terry went out and met some nice kids in a park who wanted their pictures taken by a pretty American. It turned out that Dennis was coming down with an infection of some sort.

Above Right: Its difficult to tell in this picture but the nearest widow on the front side is open because its about 80°Fahrenheit in our sweltering room. Its kind of a rookie mistake. Chateau owners don't go to their rooms until late and they have a glass of sherry or wine before hand. Its easier to sleep warm than to sleep cool with mosquitos. Period authenticity and perhaps good taste as well prevent the use of screens. In fact I have yet to see a house with screens in Europe. Anyway, the next time that we sleep in a Chateau, we will know better. Other than that little experience, we find ourselves enjoying ourselves and taking hundreds of pictures. The proprietress is probably amused by our enthusiasm but kept pointing out one artifact after another. One of the underlying things to appreciate is that so much history and historical artifacts just disappeared during the communist days. Meanwhile we are savoring our guest experience -- tomorrow we ride to a popular Hungarian vacation destination, famous for Food and Herand Porcelain.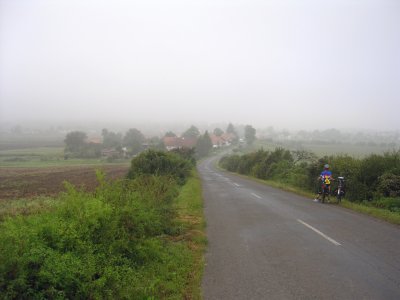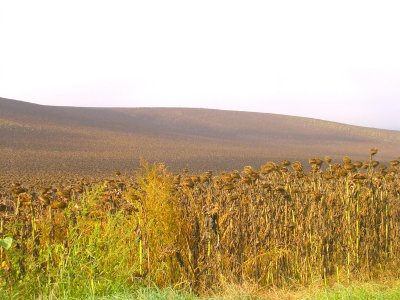 Above Left: It rained during the night (which is the best time for rain, when biking). There is an early morning mist and we get an early morning start for Szentendre. There is no traffic and for a while, we have all of Hungary to ourselves.

Above Right: Sun Flowers for miles. Earlier in the week, Dennis has met a gentleman from Fort Morgan, Colorado, who imports Sun Flower Seeds from Hungary to the US. Its a small world after all.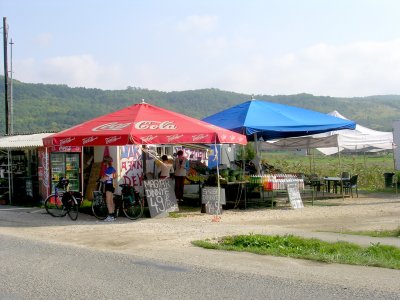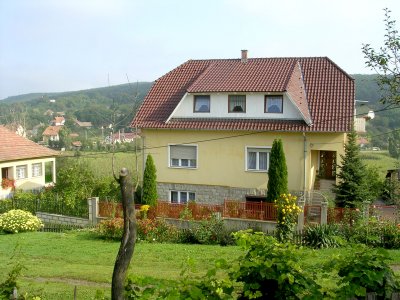 Above Left: We are at another road side farmers market. Terry is on a quest for the best peach - she finds two. Yum!

Above Right: Another pretty village and home in Hungary.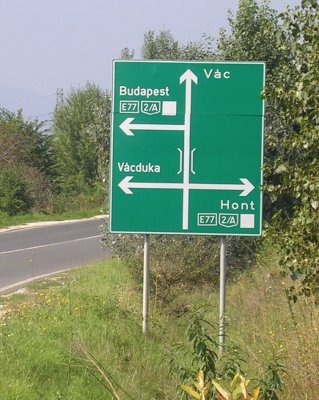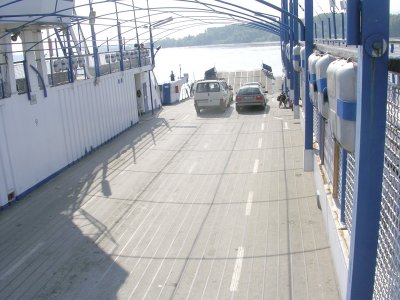 Above Left: We need to cross the Danube, through Vac, to get to Szentendre. More or less, from here on, we are no longer in country road traffic. The closer that we get to Szentendre, the more traffic that their will be.

Above Right: At first we rode by the ferry because we did not recognize the simple dock on our side of the Danube River. We discover that we don't know the word for Ferry and no one seems able to help us find it. Finally, we see the ferry coming from the other side of the river. Dennis just points and everyone else says the Hungarian Expression, for "Oh, Ferry." We all wave at each other and Terry and I ride for the Ferry. We have no ticketing problems and our bikes are in the picture on the now starboard bow (right front). In another 15 minutes, the ferry will be full of vehicles. Unlike us, everyone else just shows up at the last minute.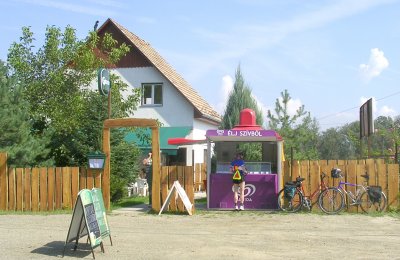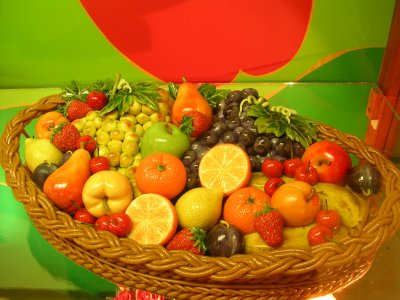 Above Left: Ice Cream Stand between Vac and Szentendre along the Danube. It was a refreshing break but we can kind of sense an emerging artistic-resort community presence.

Above Right: After checking in and cleaning up we visit Hungary's only and perhaps the world's only Marzipan Muzeum. It is all about sweets, artistic skills, and presentation. The fruit basket and everything in it is 100% Marzipan Sugar. We discover that this same institution provides the bulk of Disney Character Candy to the Disney theme park system.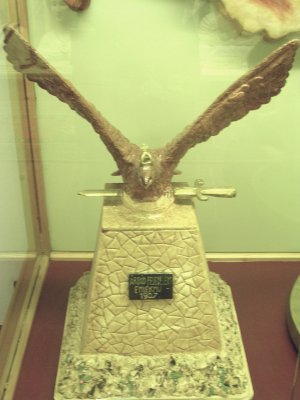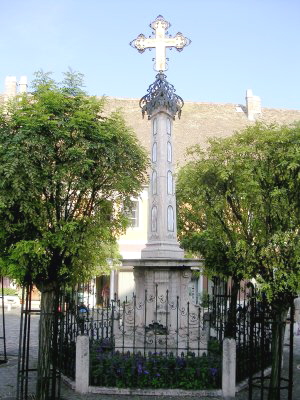 Above Left: A Hungarian Mythical Eagle, made of marzipan sugar and presented at the Szentendre Marzipan Muzeum.

Above Right: Szentendre is a city made from members of many different traveling armies or refugees passing through the lands. The latest settlers were Serbian refugees from the 1700's and they had given the town its latest flavor. Szentendre was one of the few towns to escape the Black Plague that ravaged Europe. Through their orthodox church, they erected a monument of thanks to God for preventing the Plague from entering their town.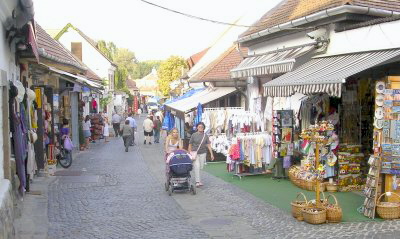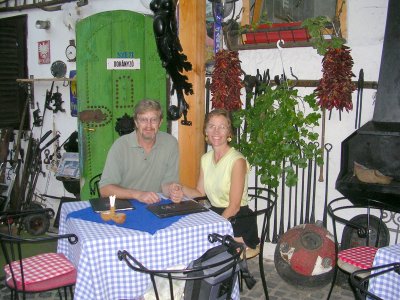 Above Left: Szentendre is known as an artists haven and it has a summer holiday like atmosphere. Its is a popular tourist destination. Szentendre is also a popular Danube tourist boat destination or stopover. Pictured are some shoppers strolling down one of the main cobble stone walkways. This picture just happens to be right across the street from Herands.

Above Right: A handsome couple, us, in the Rab Rabby restaurant. It is just off the main drag and worth the search. Good Food! Yum!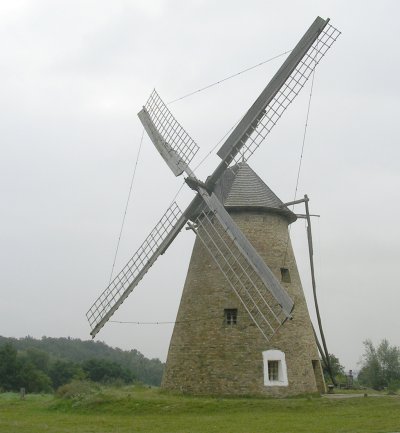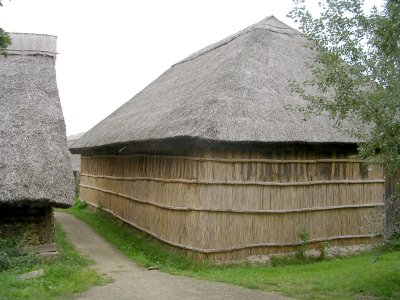 Above Left: Just two or three miles north of Szentendre is the Hungarian Heritage Center. It is a collection of culture and architecture from the main topographical regions of Hungary (mountain, hills, lake, up river, down river, plains, northern, southern, eastern), where each region, depending on its own local climate, has evolved its own sub culture and architecture. Displayed are mostly actual artifacts removed from their original location and preserved at the Hungarian Heritage Center. Nearly every European and Asian invading army of history marched to its destination through Hungary. Even the current Magyar heritage comes from the Carpathian Steps near the Ural Mountains.

Pictured is a stone grinding wind driven mill. In the medieval times, whoever controlled the mills, controlled commerce.

Above Right: Back side of barn like farm building from the woodlands.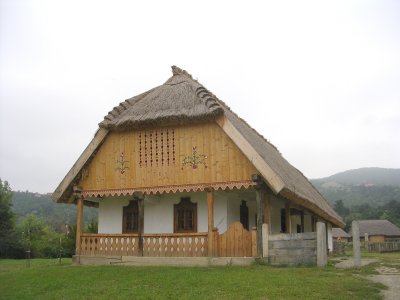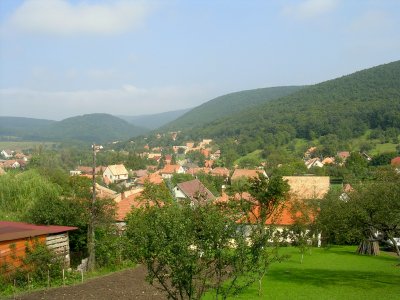 Above Left: This is a home structure of the western mountain Hungarians, next to Austria. The architecture is very much like their Bavarian brothers. Its designed to keep snow and moister off the roof and maintain a high degree of insulation. In the summer, windows control cooling.

Above Right: This picture is an overview of a mountain community, about thirty miles north of Szentendre.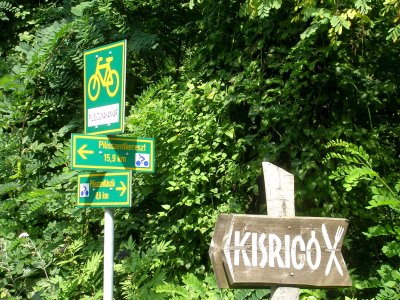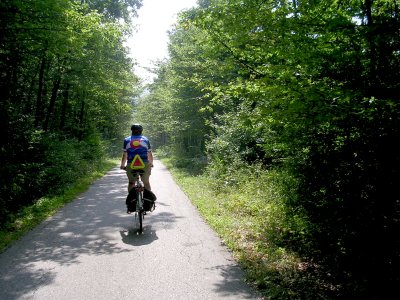 Above Left and Right: Pilis-Dunakanyar Bike Trail. Its probably an old rail line trail that has been converted into a bike trail. The grade is too even to have been created for anything else. Its a bike trail between Pilisszentkereszt and Pilisszentlaszlo (keeping in mind that we cannot type all of the A, I, and O acute alphabet letters). Here, all of the village names and the main mountain start with the word "Pilis".

This is the only place that we went off of the itinerary. Basically we are supposed to ride our bikes more or less due north on the main road between Szentendre and Esztergom, however the main road looked to be very busy and we were already going a little off the beaten track in order to go to the Hungarian Heritage Center. So we rode our bikes north from the heritage center, on our own, instinctively or intuitively knowing that we would be able to wing it back to the main road to Esztergom. It turns out that that we could execute a crossover by mountain village road or by the newly discovered bike trail. We selected the bike trail. We had a great time. We also saw, twice, the black side silhouettes of very large eagle profiled birds of prey departing from overhead limbs and flying above us and over the trail only long enough to climb above the tree tops and disappear. We suspected (or wished) that these birds were actually Hungarian Eagles, but we do not really know. Along the trail there were more berries than could be eaten by all of the wildlife and other travelers. We never saw another person until climbing Dobogoko Mountain

We were the only people ever on the bike trail.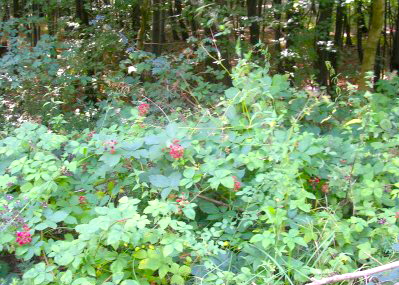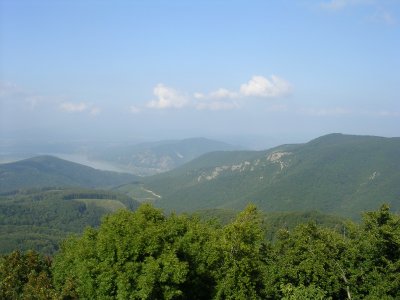 Above Left: Pilis-Dunakanyar Bike Trail, between Pilisszentkereszt and Pilisszentlaszlo - There were more berries than could be eaten by all wildlife, including us.

Above Right: We biked up the Dobogoko Mountain Summit. This is a view of the Danube River to the north. Esztergom is there, but out of view. Dobogoko is said to be the heart of Hungary. Its a place where, if you put your ear to the ground, you can here the heart thump of Hungary.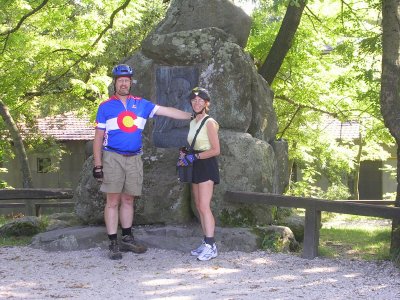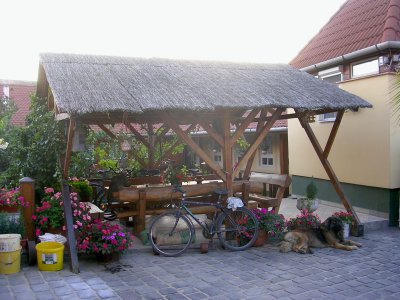 Above Left: We rode our bikes up to the Dobogoko Mountain Summit. There was no one to take our picture so we used the timer and Dennis jumped into the frame at the last second, thus looking stiff as a board - Well, his intentions were good.

Above Right: At the Alabardos Panzio (Hotel) in Esztergom. We are actually about four blocks from the famous Esztergom Church on the Danube. It ends our last day of biking. Tomorrow we ride the train back to Budapest. Gigolo guards the gated entrance - he is a big lovable dog in the bottom right of the frame. He really does perform guard duty at night.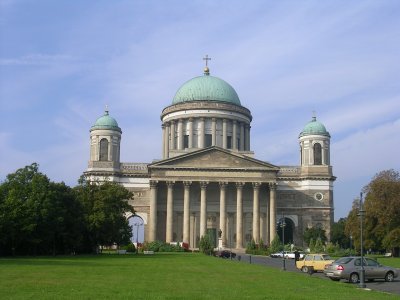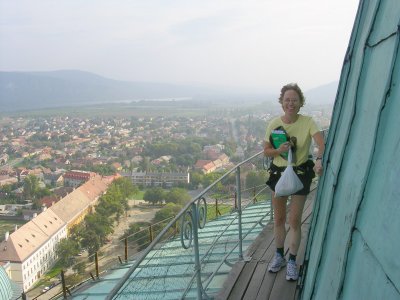 Above Left: Esztergom is dominated by its Catholic Basilica (Church). The dome is visible for miles. We saw it on the Danube about five miles away as we rode up down river from Austria in the hydrofoil. We will see it again as we depart on rail, about eight miles out of town. We read or heard somewhere that the church in Eger, where we started our bike tour, is a smaller scale copy of this same church design.

King Stephen of Hungary, later declared a Saint, converted his subjects to Catholicism in 1000 AD. The church was also a major gathering place of the people when Communism fell. The church has served as a royal temporary seat of power, off and on, starting with some of the Turkish and Ottoman Empire Invasions into Hungary.

Above Right: The Esztergom Catholic Basilica is impressive inside and out. We got to walk up several very narrow, worn, and steep spiral stairs through spires and eventually we were allowed to walk on the outside of the copper plated rotunda. This is one of those unique experiences that are no longer allowed in the US because of safety or legal litigation issues. It was windy and we both walked very close to the rotunda. It was fun doing something that we know will be terminated sometime in the near future. The view is looking to the east-southeast and part of the down stream Danube is visible.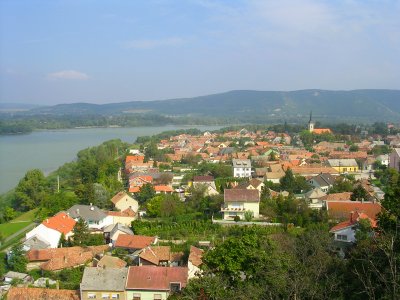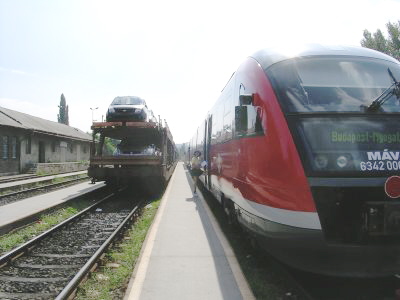 Above Left: A view of the Danube River, looking almost due west, from outside the Esztergom Church Rotunda.

Above Right: Terry is boarding the fast train back to Budapest. On the ride, we strategize as to whether to walk or take a cab when we arrive in Budapest - we are healthy at the moment, so we decide to walk with luggage. We are not worried in the least about any safety issues. Our most dangerous task will be crossing a busy road to board our boat for the night.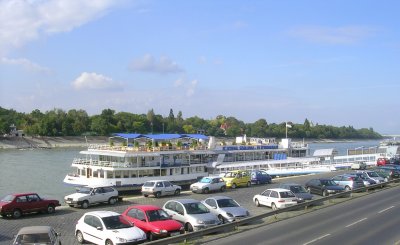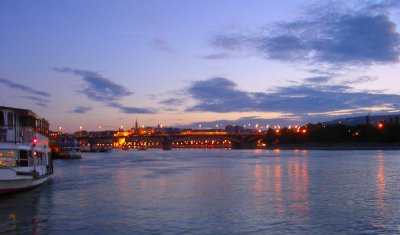 Above Left and Right: We arrive at the ship, Fortuna. We have a wonderfaul evening meal and watch the sun set and the Budapest city water reflections.



It is yet another bicycle trip done well!
We also have some new friends


Previous Page Top Next Adventure