France Adventure, Page 3

Pictures and Stories About Bicycle Adventures

Bourgogne Region, France,
By Bicycle, Sep 28 - Oct 9, 2003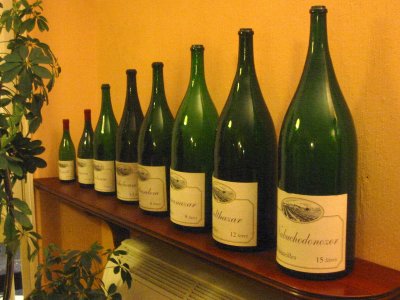 Above Left: Day 6: We, the bicycling group, are gathering around the lobby of the La Closerie hotel to wait for transport to Cluny. The lobby had this interesting display of different sized wine bottles.

Above Right: We did visit the site of the Abbey at Cluny followed by visit to the National Stud Farm (haras French for Stud Farm). The stables are called Saint Hugh's Stables and we guess that is where the H in the picture comes. Also, we guess that St Hugh's was related to the Abbey at Cluny. The stud farm (one of about thirty distributed around France) was founded in 1806 by Napoléon for the express purpose of generating quality war horses. The French National Stud Farms was probably an early leader in the science of genetic tracking and engineered horse breeding. Today, the Stud Farm still addresses commercial breeding needs for all equines, from Arabians (Napoléon's favorite) to Drought Horses (for work).

This picture demonstrates Dennis' luck or skill in actually being able to take a picture with a digital camera that has a slow shutter speed such that he could catch the image of a horse jumping in mid air -- granted that this was the fourth or fifth attempt. We got to visit all of the grounds and the stables too. Feeding and care of the horses is regimented with individual care and feeding schedules posted in each stall for all the world to validate.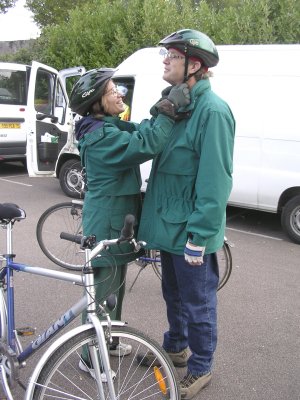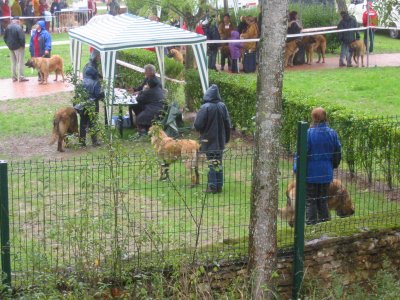 Above Left: Terry helping Dennis prepare for a cool and maybe wet bike ride.

Above Right: Before we actually ride out of the Cluny city limits, we get to view this Leonberg Dog Show from our riding path. There are probably about 75 to 100 Leonberg dogs here. At the end of WWII there were maybe 300 in Germany. The breed is only 150 years old, out of Leonberg Germany.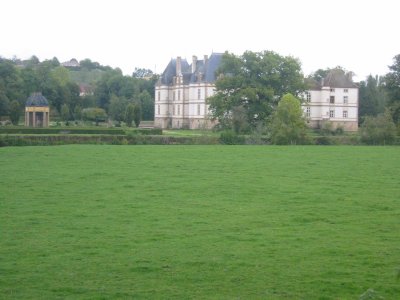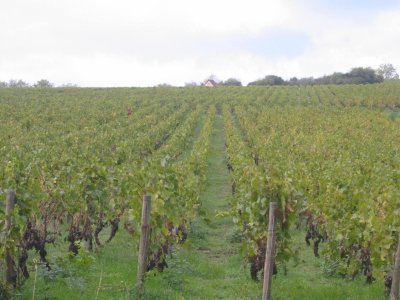 Above Left: Another countryside chateaux.

Above Right: Mâcon Grapes!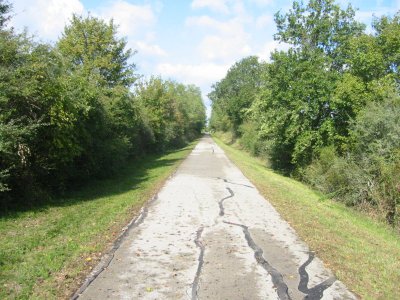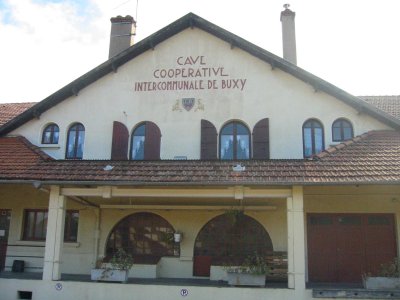 Above Left: Our railroad bed bike trail. Again, we have the world to ourselves! We eat another fabulous Philippe provided lunch with more regional cuisine and wines.

Above Right: Its the International Cave Cooperative of Buxy and this is the end of this day's bike ride. See the wall mural in next image.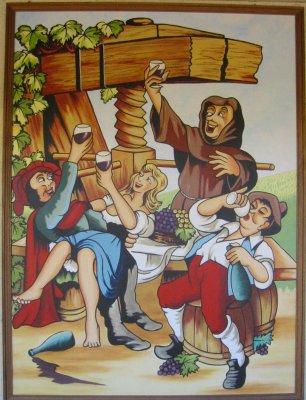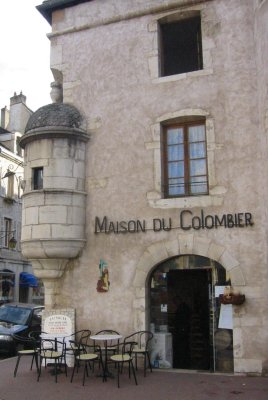 Above Left: Pictured is one of many Buxy Cave wall murals.

We transport back to Beaune and we have our first real free afternoon. We decide to explore Beaune, but two important things are on the late evening agenda. Our small group will visit the private home of our glorious guide, Marie-Florence Grimm, and her nice husband, Benoit. Also our group is having a late dinner in the basement of an old, converted, monastery. It turns out that Benoit and Marie's home is also part the old monastery.

Above Right: The Maison du Colombier, on a side street in Beaune.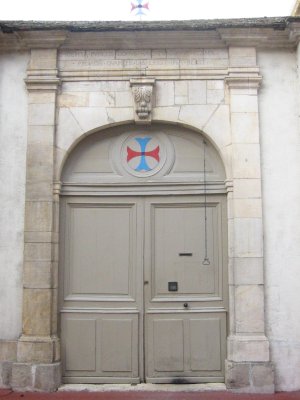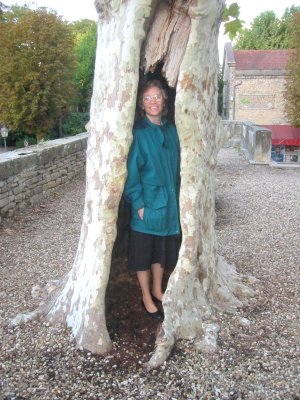 Above Left: Interesting door symbol.

Above Right: Beaune has an old fortress wall that still exists in many parts of the town. Here, the fortress wall is supportng one of many sycamore like trees. We are only two blocks from Marie's home. This tree is so old that the interior has rotted out but the exterior is quite alive. The interior is big enough for an adult to stand -- Here's Terry.





Left: Benoit and Marie-Florence Grimm's home. We are given a generous tour. Pictured is Barb and Ron Hennings in the kitchen. The photo was take from near the front entrance door. The structure is centuries old and beautifully maintained and cared.

Above Right: Classic Romanesque/Gothic architecture. We are in restaurant located in the basement of an old monastery.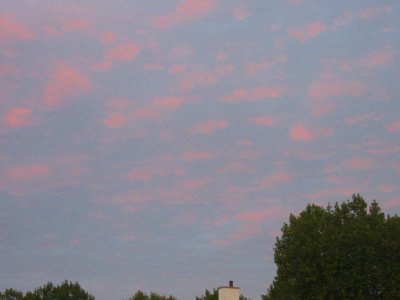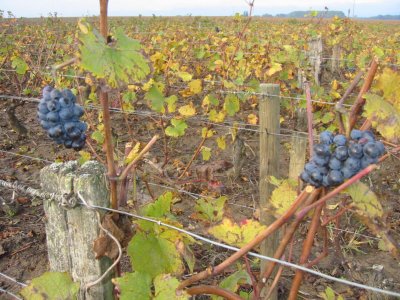 Above Left: Day 7: Its a glorious sun rise that we witness from La Closerie's parking area, where we are mounting our bikes. We are going to ride to and through Meursault for a hill side picnic that views the Côte de Beaune and the village of Meursault. We will ride through or near Pommard, Volnay, and Monthelie.

Above Right: Pinot Noir grapes (French for Dark Pinecone - a description of how tight the grape cluster is and the grape colour).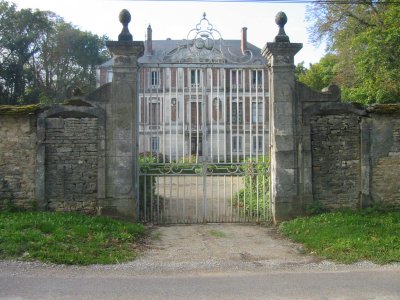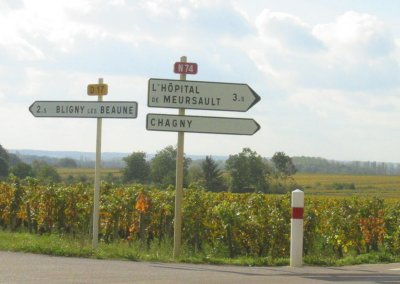 Above Left: Its a classic châteaux for sale. Later, only by coincidence, I will see the listing for this real estate. It is selling for just €1.300.000.

Above Right: Road signs, fields of Pinot Noir, and famous wines named for their town of origin.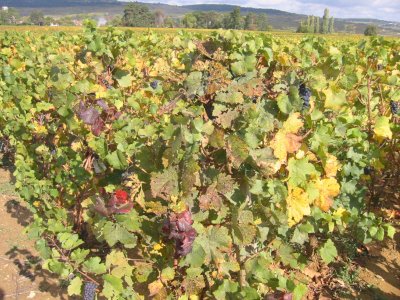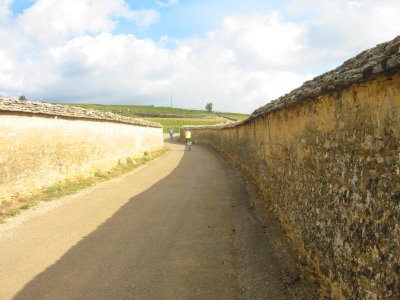 Above Left: Pommard Pinot Noir Grapes, already harvested. The French grape harvesting style is to always leave a few grape bunches for nature. Fall colors are edging. The date is October 4.

Above Right: The walls of Pommard, France (Clos Pommard).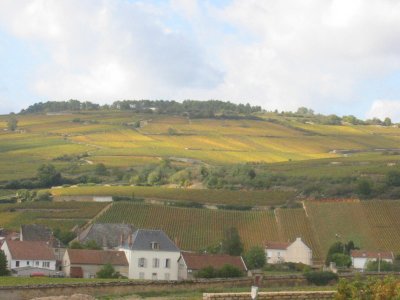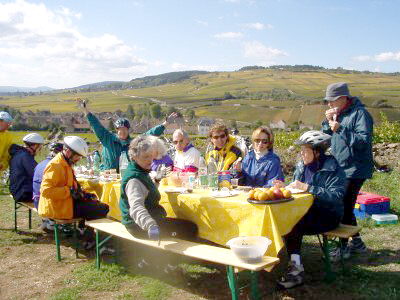 Above Left: A view of east facing Pommard vineyards and part of the Pommard village.

Above Right: Philippe supplied lunch. It is a royal picnic. We drink Pommard wines. Picture taken by Jack Schairer. Philippe is the guy in yellow on the far side of the table and the character with arms stretched out is moi (Denis, the introvert). This picnic ends our last bike ride. Tonight we feast.





Above Right: Hell Street (Inferno).

Above Left: Cool BMW motorcycle.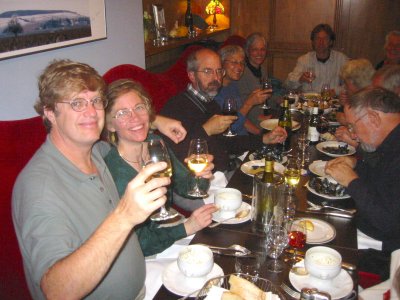 Above: Our Last Supper, while biking.
Terry and Denis in the foreground.
Now we go to Paris to have a few days of fun and romance.
-- Paris in the Fall! --


Previous
Top
Next