France Adventure, Page 4

Pictures and Stories About Bicycle Adventures

Bourgogne Region, France,
By Bicycle, Sep 28 - Oct 9, 2003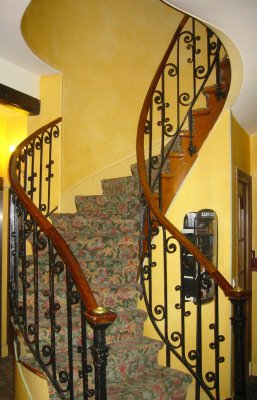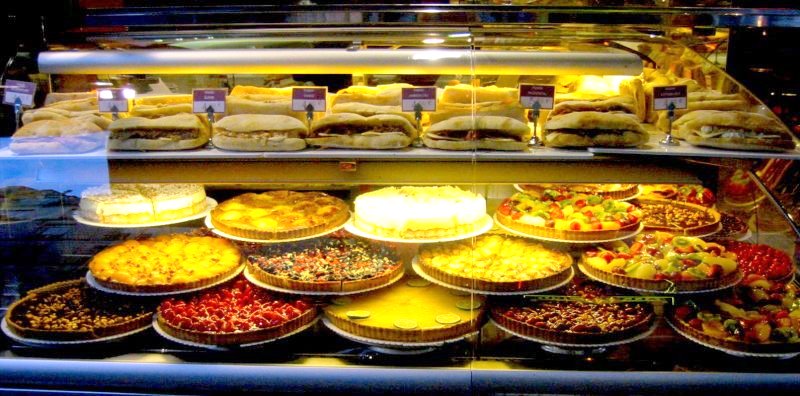 Above Left: We stayed at the Gotti Hotel in Paris. The hotel is in the middle of a one-way street, that can only be accessed from a one-way street which can only be accessed from a one-way street. If a person makes one mistake driving the correct route, the vehicle has to drive all the way around several blocks to restart the approach and the traffic is always jammed up in this little streets. We were trying to help with navigation. Philippe is driving all of us in mini bus. Poor Philippe!

Using the hotel was easy if you were walking, which is what we all did after we checked in. The location was very convenient for sight seeing Paris. We were within two blocks of a bus and subway service -- we used both. We probably walked ten miles a day, which helped us work off all that good food (pictured to the right)! We really did not use the rooms except to change or sleep.

On this night, we went to the Opera National de Paris to see George Balanchine's Palais Garnier, a ballet. I apologize, I forgot the camera. Terry looked positively radiant in her black evening dress and the ballet was wonderful!

Above Right: This is what Paris is known for, the very best in pastries. We ate well!





Above Right: Arc de Triomphe as viewed down the Champs Elysées (Elysian fields).

Left: Thomas Jefferson's residence in Paris. We were just walking along enjoying everything and we just happened to stop and talk and both of us saw, read, and realized what we had come across, at the same time.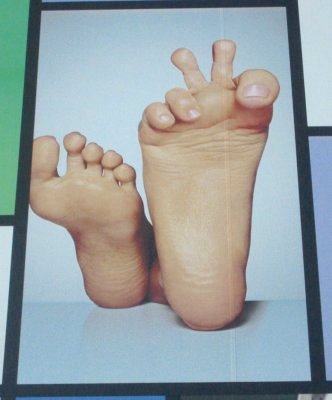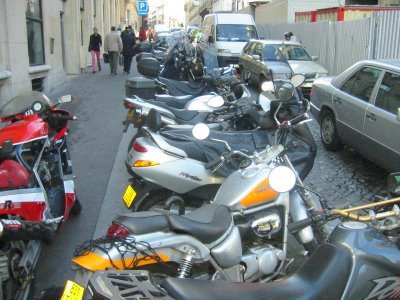 Above Left: An interesting billboard advertisement in Paris.

Above Right: Motorcycle parking on side street in Paris. The space between cars traveling on city streets in Paris is for motorcycles (legal or not). There is no such thing as a slow motorcycle on the streets of Paris.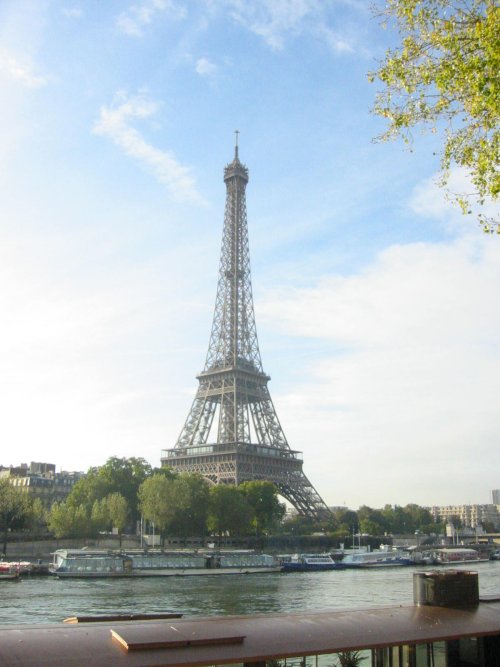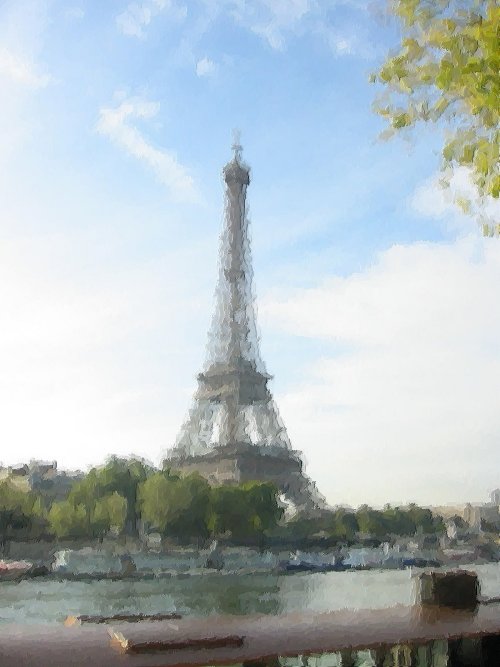 Above Left: The Eiffel Tower, as seen from the right bank on a beautiful Fall morning.

Above Right: The Eiffel Tower as seen by Monet? This is the same image as seen on the left, with the Brush Strokes feature of Paint Shop Pro v7 applied.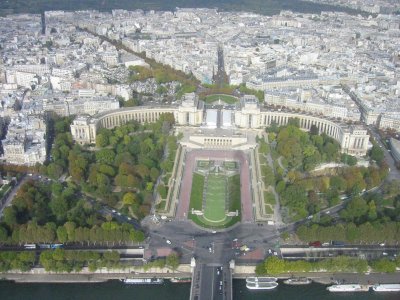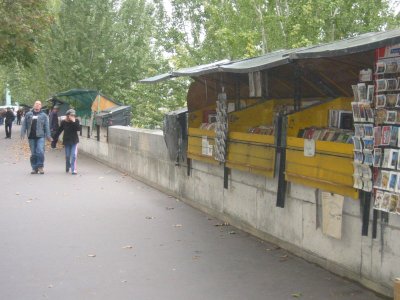 Above Left: We are inside the Eiffel Tower viewing almost due south, at noon, towards the Trocadero gardens and the Palais de Chaillot.

Above Right: Seine River, Left Bank, classic view, romance in the air, Paris in the Fall, literary items for sale from post cards to original oil paintings, original manuscripts, first edition books, and rare books.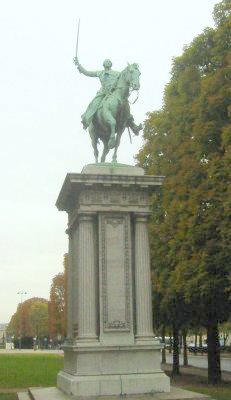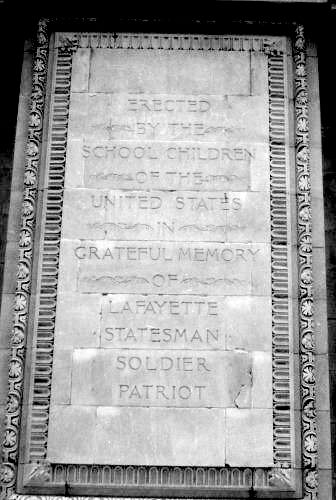 Above, Both Images: Statue of Major General Lafayette (The Marquis de Lafayette, 1757-1834), erected by American school children, to say Thank You France!
"Gilbert du Montier was born on September 6, 1757 in Auvergne, France. His full given name was Marie Joseph Paul Yves Roch Gilbert du Montier. His father died when he was 2 years old, and when his mother and grandfather died 11 year later, he inherited a large fortune. Lafayette, who came from a long line of solders, studied at the Military Academy in Versailles and became a captain in the French cavalry at age 16."

"In 1777, Lafayette purchased a ship, and with a crew of adventurers set sail for America to fight in the revolution against the British. Lafayette joined the ranks as a major general and was assigned to the staff of George Washington. He served with distinction, leading America forces to several victories. On a return visit to France in 1779 Lafayette persuaded the French government to send aid to the Americans. After the British surrender at Yorktown, Lafayette returned home to Paris. He had become a hero to the new nation. At home he cooperated closely with Ambassadors Benjamin Franklin, and then Thomas Jefferson in behalf of American interests."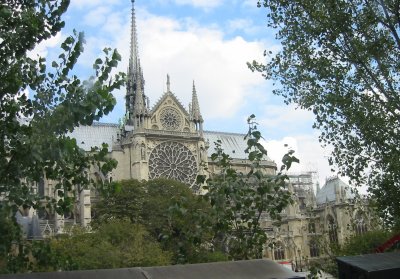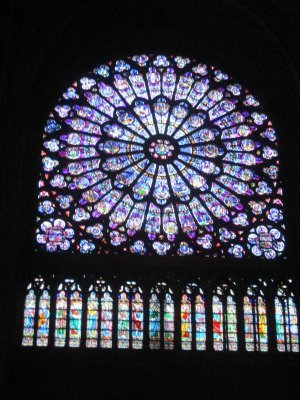 Above Left: Notre Dame (French for "Our Lady," Mary, mother of Jesus). The church is as beautiful on the inside as from outside. This picture was taken from across the Seine River on the Left Bank, the church is on the Right Bank. The church is so big that a person has to be a block away in order to get the entire image in one picture frame.

Above Right: Same window, viewed from the inside. The lighting for the stained glass shows it off perfectly.




Above: Dennis really likes this pictured moment. Terry is standing in front of the famous glass pyramids of the Louvre. We are both very excited to be here. Terry's happiness is clearly visible!



Above/Far Right: One of the many long hallways of art inside the Louvre. We recognize quite a few paintings from art books or the subjects of history. We actually have about 100 photographs and only space to show one, here.
Near Right Center: DaVinci's MONA LISA. There is a protective nearly clear non reflective cover stationed in front of the painting that allows people to take flash images. Had I known the effect (blurred image), I would have taken a long exposure photograph (like everyone else was lining up to do). Meanwhile, there was a huge unmoving crowd lining up to take tripod mounted images. Luckily, everyone was short. I held my camera overhead and snapped of ten shots from across the room. Only three shots were worth keeping and this is the best. This room was the only room full of unmoving people, as everyone came to spend time with Mona, we understand.
For almost every image that is visible here in this web site, there are probably ten more pictures. Dennis averaged 300 pictures a day, kept maybe 150 per day after evening triage -- digital cameras are so convenient. All pictures are taken from a camera that fits into a shirt pocket. In that manner, we can walk around and not always look like a tourist. For the record: the pictures displayed for this web site are copies of the originals that have been significantly reduced in their byte size so as facilitate faster web page loading.

We did not have any bad experiences in Paris, contrary to the international image of rude Parisians and horror stories that we've heard from other people. Every time that we needed help, after greeting the person in French, they would help us or find someone to help us. In fact the one and only rude person that we ever ran into for the entire journey was also rude to other Frenchmen, he was an equal opportunity rude person, so we don't feel personally slighted. What a tremendous experience and tour we had in France -- We'd love to see more. Ahh, someday ...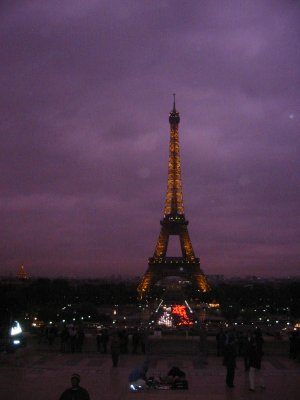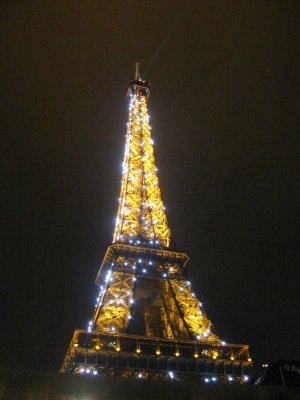 Above Left: Evening photograph of the Eiffel Tower. The Purplish Cloud Glow is how it actually looked with the Parisian City lights reflecting, thus backlighting the tower and evening sky. The photograph is not touched up.

Above Right: Nighttime photograph of the Eiffel Tower. Every fifteen minutes, the Eiffel Tower runs sparkling strobe lights for about a minute. This picture is from one of those moments.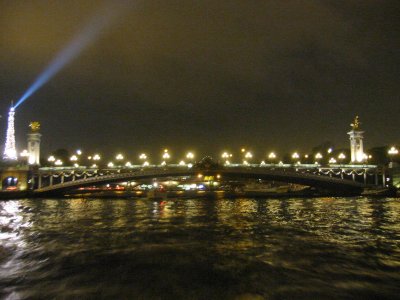 Above: Our group took a romantic evening boat ride on the River Seine.
This image demonstrates the evening lights of Paris very well.
It was a pleasant boat ride and a very pleasant journey.
We had the time of our life!



Previous
Top
Next Bicycle Adventure