| << | 11 |

| 13 | 14 |

|

|

|

|

| >> |
1 | 2 | 3
Mexico Adventure, Page 2

Pictures and Stories About Bicycle Adventures
Puerto Vallarta, Mexico, Round Trip
Through Punta De Meta Via Bucerias,
By Bicycle, February, 2007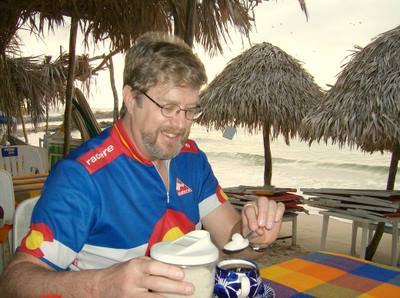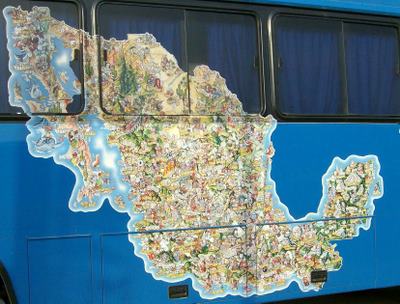 DAY 3, Agenda: Casual Ride back to Puerto Vallarta

Above Left: Early morning breakfast. Heuavos Rancheros and Café. Just a little glob too much azúcar. Notice the high tide waves in the back ground. Tidal differences here were 3 to 4 feet.

Above Right: Lost? Just pull up next to this bus for a locator map.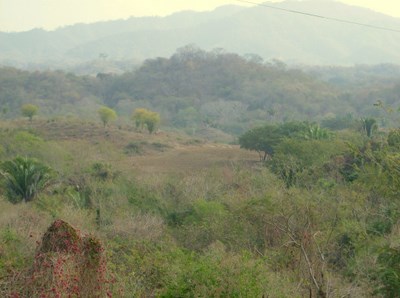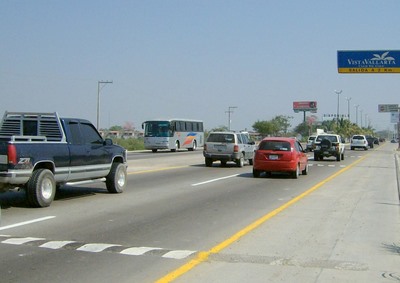 Above Left: The mountain scenery between Punta de Mita and Bucerias. The ocean is to our back.

Above Right: We learned that these sporadic bumps in the road are called "Sleeping Policemen." They are usually in sets of three and every little town has them where children and elderly may use crosswalks. Sleeping Policemen are not as bothersome on bikes as they are in cars - in fact, we quit slowing down for them but that probably really only indcates how slow we bike with trailers connected.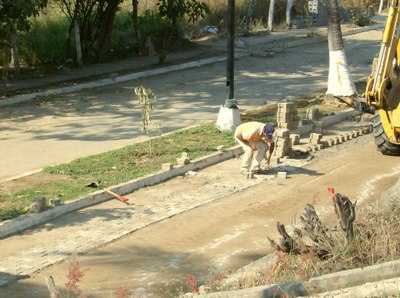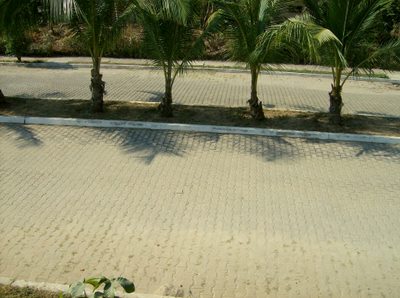 Above Left: Before.

Above Right: After.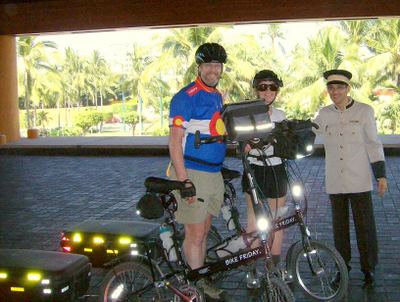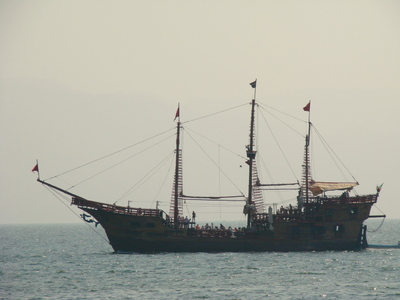 Above Left: We made it back to our hotel by about 1 PM and could not check in until 3 PM (a very common Mexican practice).

This is Pedro. He adopted us (especially Terry, who gave him some hand loation). He was the Doorman Plus. Pedro loved it that we stayed at his hotel and that we went out into Mexico on our own. In fact, when we are on the bikes, that is a very common reaction. So far, it has been our experience that people, world over, respect all bicyclists regardless of nationality.

Above Right: This Spanish Gallion (party boat) floated by every evening.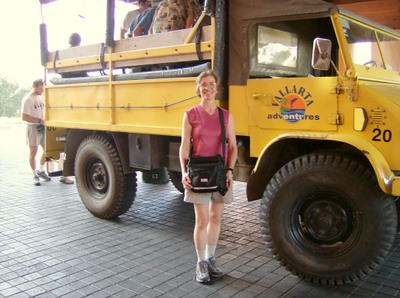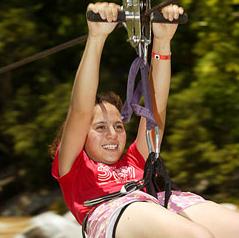 DAY 5, Agenda: Go Zip Riding in the Mountain Canopy (ride cable rollers from tree to tree and do some rope repelling).

Above Left: One man down. Dennis got very sick. We were scheduled to go Zip Riding in the Mountain Canopy. Terry made it. The truck is a retired German Mercedes 2.5 Ton Army Truck.

Above Right: Zip Riders are not allowed to carry or possess camera's (a supposed safety hazard). So this image was taken off of their web site. Terry said that it was lots of fun.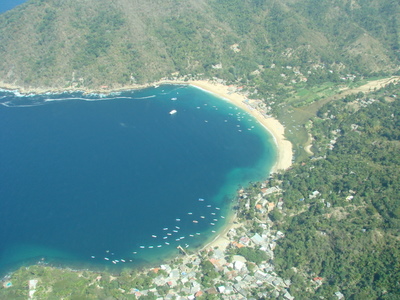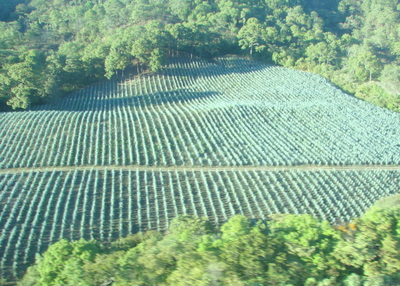 DAYS 6 & 7, Agenda: See two Tequila Distilleries and fly to visit the old Spanish Mining town of San Sabastian del Oeste. San Sabastian was a western town much like Cripple Creek in Colorado, USA. As recently as thirty years ago, people still wore guns. Until two years ago, the only way there was by plane, horse, or mule. Now there is a new road from Puerto Vallarta.

Above Left: The town of Boca de Tomatán (Mouth of Tomatán River). We're looking north. On the north side of the town the only highway turns inland into the mountains from Puerto Vallarta. Also, at the northern edge of this picture, the principal parts of the movie Night of the Iguana were filmed - In fact that movie put Puerto Vallarta on the map.

Above Right: This is a Blue Agave farm. The Blue Agave plant is the only one of 136 other Agave Plant types that is allowed in the making of Tequila. More about the Agave. Picture taken while on short approach to the San Sabastian air strip.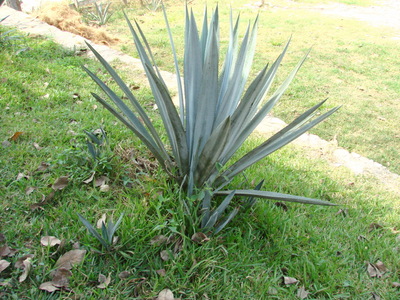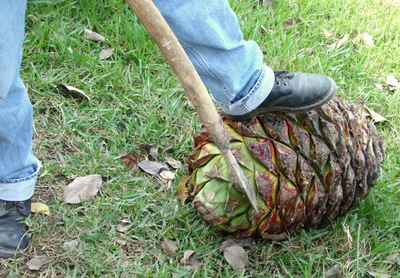 Above Left: This is a Blue Agave plant. It is related to Yucca plants but is NOT related to the Cactus. Surprisingly, its family is the Lily and Amaryllis.

This particular plant is about five years old. It won't be harvested until it is seven or eight years old. But it won't mature if a baby plant is growing next to it. Notice a baby in the tall grass in the bottom left hand corner of the image. The female plant drops one or two babies a year. The babies must be killed or transplanted in order for the parent plant to mature to its fullest harvest potential.

Above Right: The entire plant grows on top of a pineapple like bulb. At harvest time, the entire plant is dug up and the leaves are cut off with a hatchet bladed spear (as demonstrated in this picture). The leaves are used for other purposes, one of which is to create sewing string from the leaf strands (commonly seen as white strands in local belts). The harvested bulb will typically weigh 70 to 80 pounds.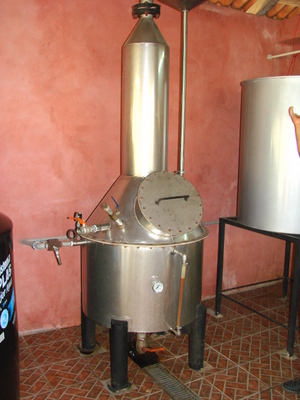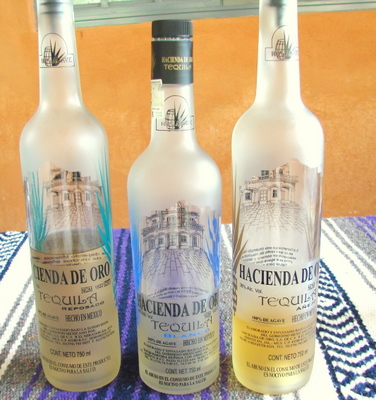 Above Left: The bulb pulp tastes like Yam or Sweet Potato. It has a natural sugar and it is the sugar that yeast converts to alcohol. The bulb is shredded by machine or, traditionally, hammered into a pulpy Most (Spanish for Must). The Most is fermented in a tank. There are some secret methods for expediting the process. When the Most is through fermenting it is distilled. Pictured is a more fancy still. Pictured below is a more common still, which is most reminiscent of making moonshine in a back yard still. Secrets are passed from generation to generation.

Above Right: Some Products of the Hacienda de Oro (House of Gold). Blanco is distilled only once (therefore it has less alcohol, 30-40%, and more sweet flavor). Reposisado is distilled twice and has 70-80% alcohol. Añejo is aged, in this case, in an oak barrel for 18 months, but technically I think that only one year is required for aging. Properly aged Tequila has a brown tint (which, unfortunately, can be counterfeited). By law, Tequila must be sold in a clear container and only if the contents are made from 100% pure Blue Agave, can the "100% Agave" label be put on the bottle. Hint Hint (check it out the next time that you are in a liquor store).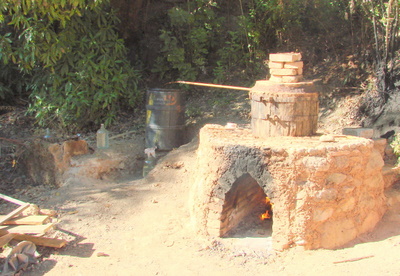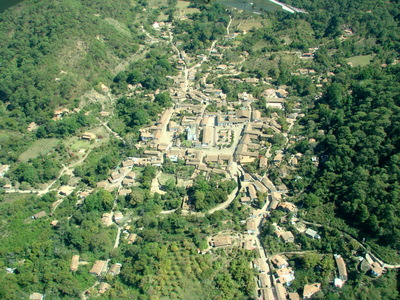 Above Left: Simple family still.

Above Right: San Sabastian del Oeste as viewed from the air. We're looking to the east. It is not difficult to find the town Church and the Plaza.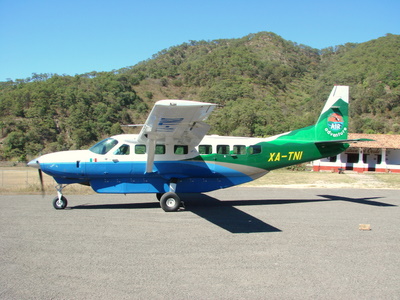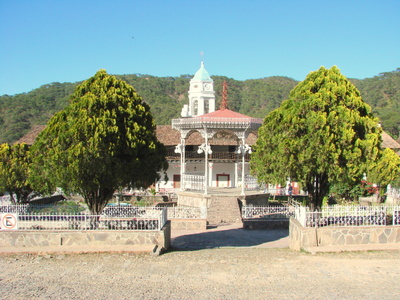 Above Left: The plane the we rode in on and the San Sabastian terminal building in the background. We never saw that the terminal building got used.

Above Right: San Sabastian town square and church in the background. We're looking to the north. In its hey day, millions of tons of mostly silver were taken out of the mountains (by mule train). It was founded in 1605 but its peak mining was 1785.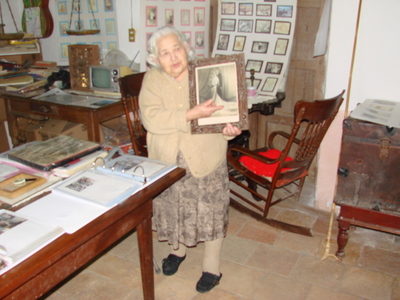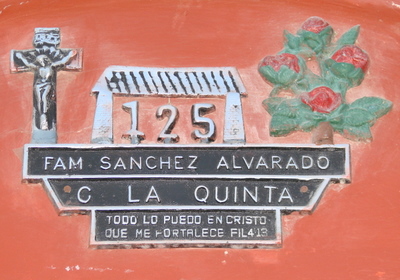 Above Left: Señora Abuela is the last person alive in Mexico, born in Mexico with 100% pure Spanish Blood. She comes from one of the Three original Spanish Families (from this area) and is related to all three families. Señora Abuela is holding her wedding picture and is quite striking, then and now. She kind of looks like everyone's Great Grand Mother. Señora Abuela said that after the Revolution of 1910, the meaningfulness of being of Spanish decent went away. We are in a family memorabilia room which now looks like an elaborate museum. Her residence is on the town square and that says something. Señora Abuela spoke to Dennis in English after all other parties left the room.

Above Right: "Quinta" means 1/5 or 20%. A "C La Quinta" share or license means that the family's business agent gets 20% of the profit and 80% of the profit is given to the licensing (property owning) family. This is how the wealthy land owning families obtained skilled business people to manage various assets. In this case, the license gives the Family Sanchez Alvarado the rights to manage the Coffee Farm. This Quinta License is no longer valid, of course, but it demonstrates how long this family business and relationship has been in effect.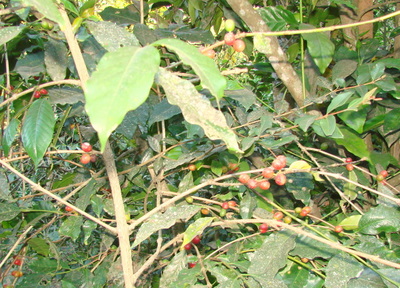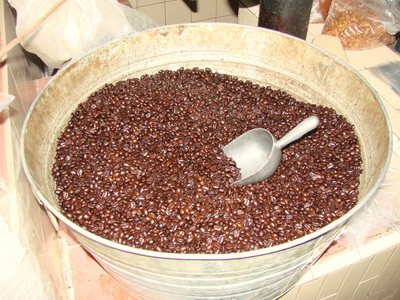 Above Left: Nearly ripe coffee beans on a tree. If the stem is removed then a new been cannot be regrown. It takes skill to pick coffee beans and not damage the stem.

Above Right: Final Product before grinding.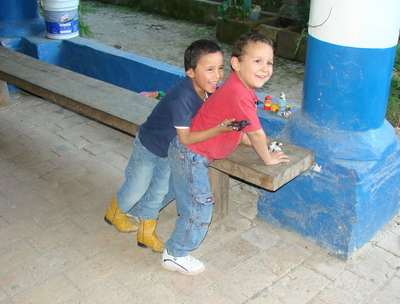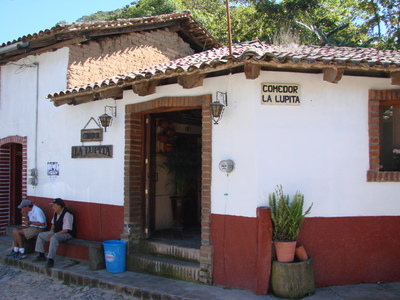 Above Left: Two boys, laughing and giggling. We were lucky to catch an image of them playing.

Above Right: This is the "Comedor La Lupita" (Dining Room of Lupita) where we ate a wonderful lunch (supper). The basic building is probably over a hundred years old. The interior is very festive and comfortable. It is much bigger than it appears.



Previous Day Top Next Day