| << |20 | 21 |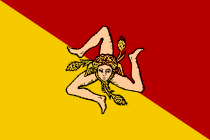 | 23 | 24 | 25 |

| 27 | 28 | 29 | >> |

1 | 2 | 3 | 4 | 5 | 6
Portugal, Adventure #26, Page 4

The Bicycle Tour:
To and Through the Douro River Valley
Day 1: From Porto, Take Train to Pinhão,
Then pedal a loop through Sabrosa and back (to Pinhão).
We stayed in Porto for the night, turned in our rental car, uncased the bikes and put them together for an early morning departure - no time to be tourists in Porto.


We got here with bicycles packed per the Bicycle Packing-Shipping Checklist (Tandem in this case, Solo bicycle checklists also exist). We packed gear and clothing using a combination of the Bicycle Touring Checklist and the Travel Planning Checklist. We are on a Self Guided Tour (lodging is pre-arranged, but no food pre-arrangement), we're carrying our own gear and clothing (but no cooking - we're living off the land, so to speak [markets, cafés, and modest restaurants]).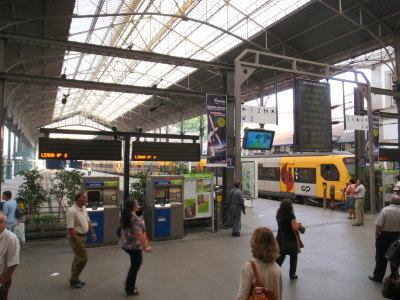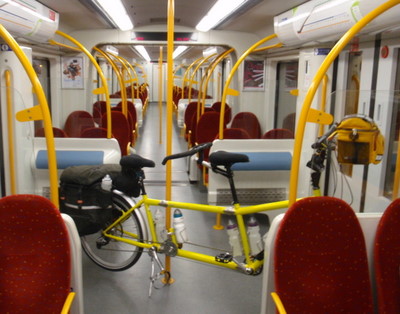 Above Left: Porto Train Station. Just "one stop" to Pinhão.

Above Right: We've gone through three stops already.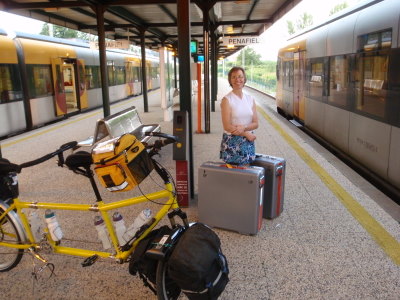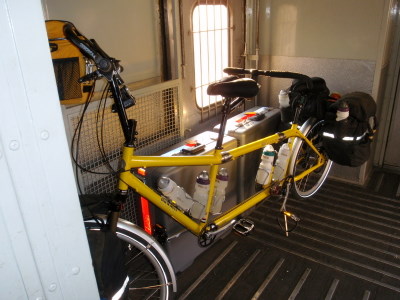 Above Left: Ahh, just one stop before we were supposed to change trains.

Above Right: Now we're on the correct train and it has a cargo hold / bicycle bay.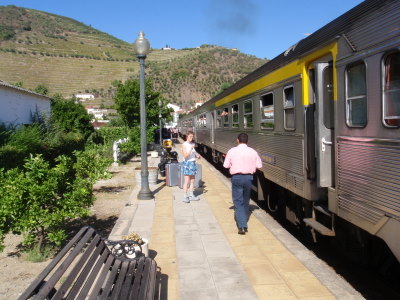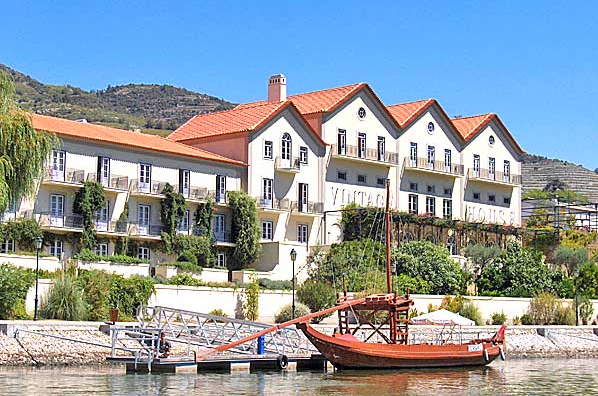 Above Left: Welcome to Pinhão.

Above Right: Our Hotel, Vintage House.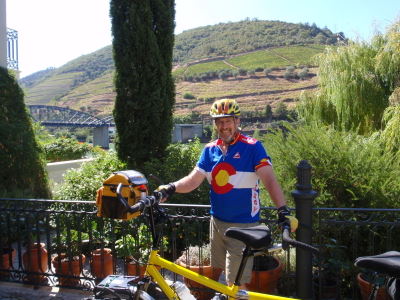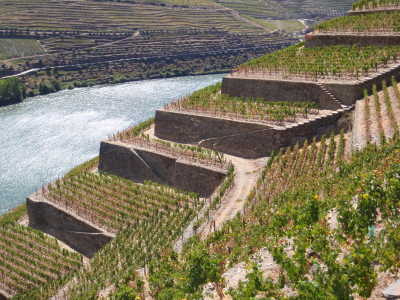 Above Left: Checked in and ready to pedal. Bummer of a view (Rio Douro).
Just as we started biking, a Lady from a group of walkers yells, 'Are you from Colorado?' (because of my State Flag Jersey). Yes, I yell back. She says we're from Denver (Colorado). Cool! This is the second time that has happened. We met a couple from Pueblo (Colorado) at Hadrian's Wall, England - The only other people there.
Above Right: Just out of town and pedaling up hill. This operation has a large investment in terracing (Rio Douro). The grapes have already been picked.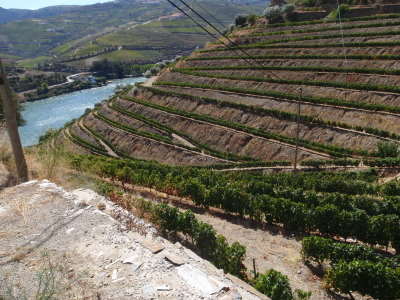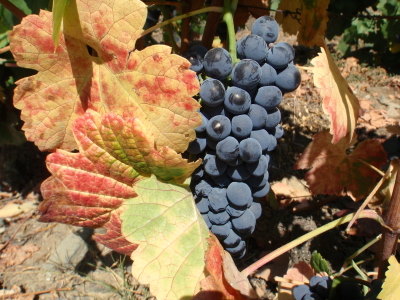 Above Left: We quickly learn that double rows of grapes, like pictured here, use machines for picking grapes (Rio Douro). This vineyard has been picked.

Above Right: Now we're seeing grapes on vines. Terry see's a perfect vision for a photograph and she has Dennis stop and hold the bike. Terry goes back about 30 meters and takes this picture. What an eye!.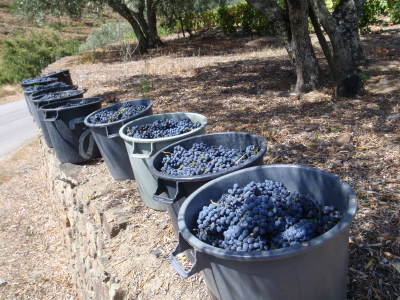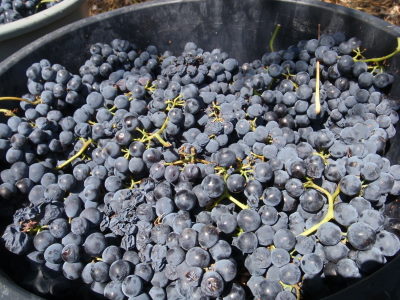 Above Left: We're still pedaling uphill.

We soon discover that the grapes are first ready at the river level and the grapes begin to ripen at the river first and then slowly towards the top of the hill. The grapes do not all ripen all at one on one hillside. This gives the owners a way to methodically spread the grape picking effort over a longer period of time. By the way, when it's time to pick grapes, everyone helps, especially families of owners. Sometimes kids run shops while the parents are working on the hill side(s).

Above Right: A close up of a bucket of picked grapes. If anymore are stacked, then the bottom grapes begin to split open. The smell of grape juice is everywhere and it is pleasant.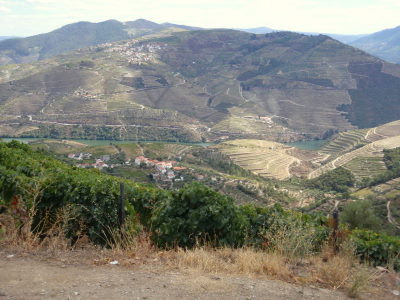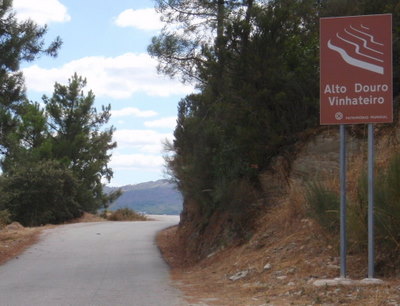 Above Left: We are pedaling uphill and gaining altitude. We no longer see the Douro. This is a cross valley picture. The hills are covered with grape fields.

Above Right: We are about to cross our first hill crest. We discover that the Domain of Control changes from the Douro Demarcation to the Alto Douro Demarcation. We learn later that there is some similarity between The French 'Haut' Zones and the Portuguese 'Alto' Zones. It is a lot cooler up here. We've been cycling uphill with our backs to the sun. The shade of the trees feels refreshing.

What is the temperature you ask? About 35&degC or 95°F. Yeah, it's a little warm but humidity is not high. The famous Douro Terio (French Terroir) exists because of the hot dry climate.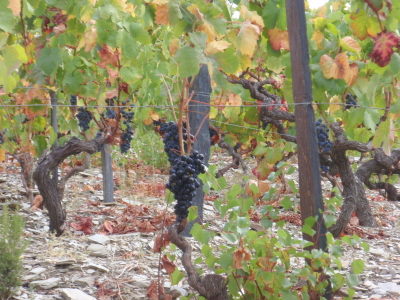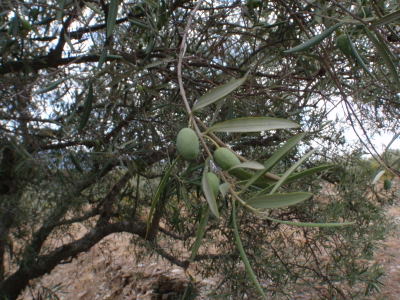 Above Left: Alto Douro Grapes sit on the vine longer and get sweeter (higher sugar to 'must' ratio produces more alcohol - better quality). It is mid September and there is some fall coloring.

Above Right: Olives. Now we're seeing grape fields bordered by olive trees.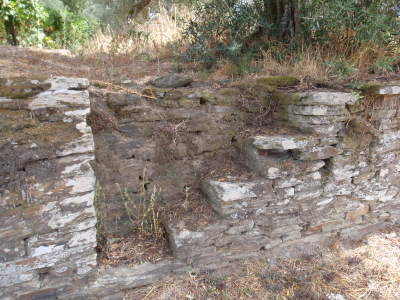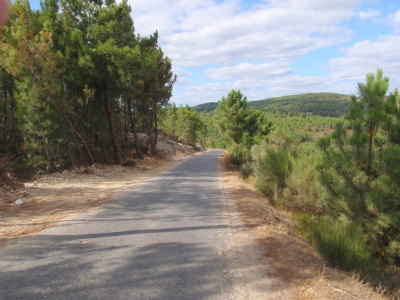 Above Left: Stone steps created in old stone terrace walls.

Above Right: Hills of Portugal, what joy, we're having fun and staying cool!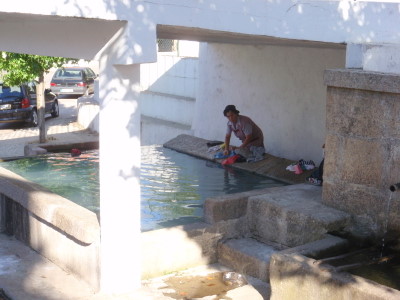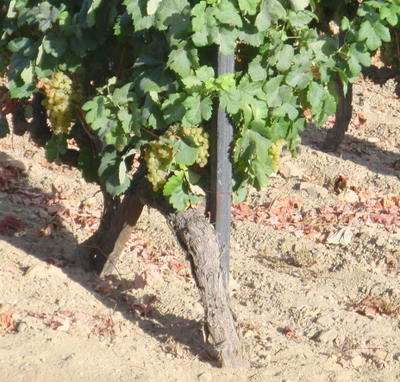 Above Left: A small village's community Wash House is being used.

Above Right: We are finally seeing Branco (White) Grapes. Until now, all grapes were Rosa (Red).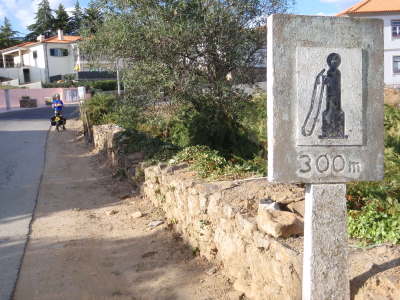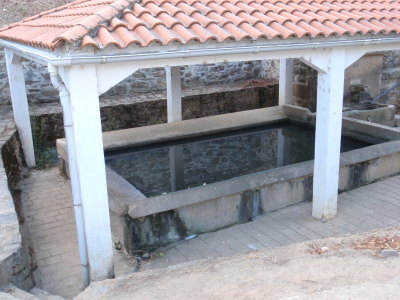 Above Left: Ancient Roman stone carved gas pump sign (wink).

Above Right: Another village's Wash House. Clean Spring Water comes out a spigot (at the far right back), then there is a little tub for more clean water (for horses or such), then that water runs into the big pool (used for washing). This concept dates back to Roman Empire times.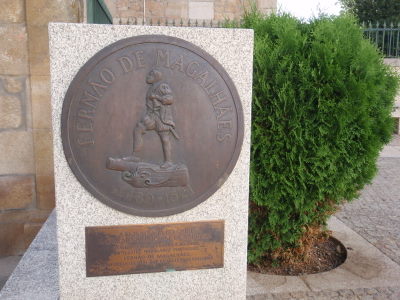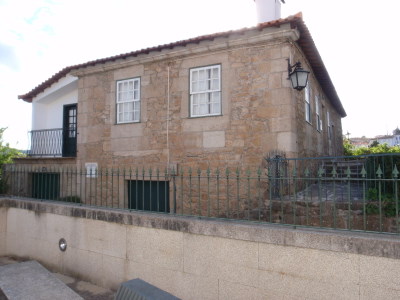 Above Left: We're in the town of Sabrosa. We're getting all kinds of strange looks and some cheers for being travelers on a tandem bicycle. This is a placard commemorating the childhood home of Ferdinand Magellan. It is across the street from the town square and church. It is an occupied residence.

Above Right: Actual childhood home of Ferdinand Magellan. Cool Huh? Ferdinand's ship was the first ship ever to circumnavigate the world. Ain't that awesome? Before this time, ships would fall off the end of the world. Arh arh. Magellan did not make it with the crew; he was killed in the Philippines.

Not to be outdone, England's Captain Cook was killed by Hawaiians. What is it about these Pacific Islanders? [We have Portuguese, Hawaiians, and Filipinos in our families - We're yanking their chain! They're fun people.]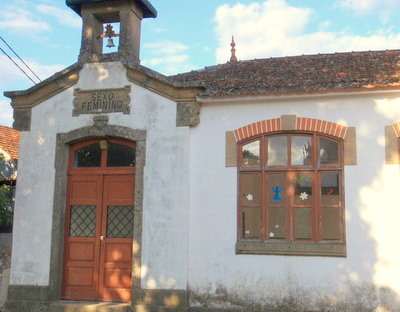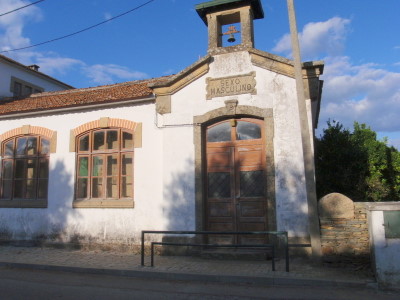 Above: This is an operating Catholic School. The school clearly separates the Boys from the Girls.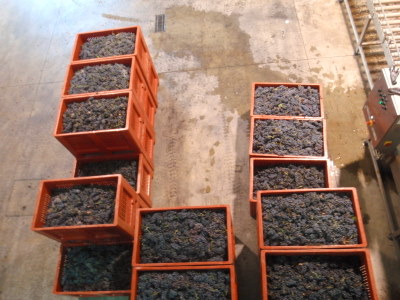 Above Left: We're at Quinta do Portal. It is almost closing time; we get a tour and buy some Tawny Port!

Above Right: Red grapes, unloaded at the dock, waiting for step one, de-stemming.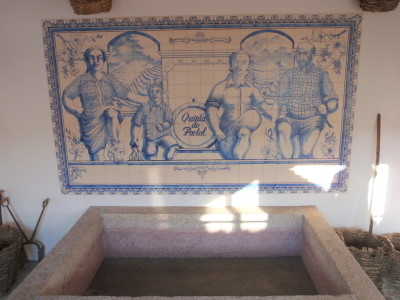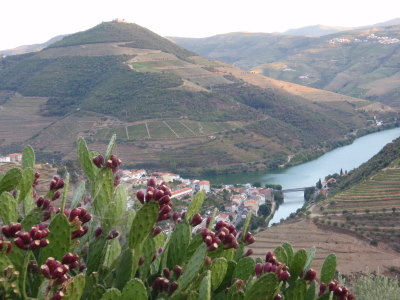 Above Left: The original foot stomping grape vat (relocated for show room display). If we understand correctly, they still ceremoniously stomp one vat of grapes for special production. The special production product never makes it to the market - too much private demand for old fashioned reserve wine/port.

Above Right: The town of Pinhão and the Rio Douro. Due to good planning by the person who set up this Self Guided Tour for us, Catherine Deffense [of Cycling through the Centuries], Home is a downhill run! Good planning for after tossing back a few glasses of Port!


Oh, in case the reader missed it, this is our first ever recommendation for a bicycle travel tour - It does not have to be our Douro Valley tour, it can be any tour by this company, Self Guided or Guided.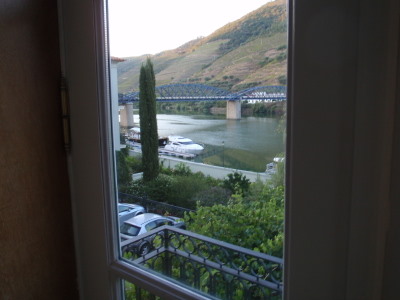 Above Left: Back to our Hotel, Vintage House. Notice the DaVinci Bicycle parked in the 'Place of Honor' - Arh arh, Dennis parked it there so they could put it in the protected service area.

Above Right: The view from our room's window. Tomorrow we cross that bridge and climb up to Pesqueira.


Day 2, Pinhão to São João da Pesquiera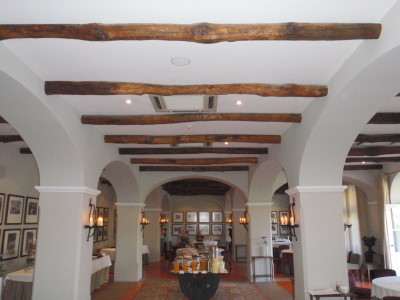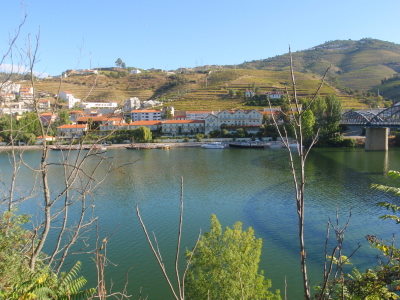 Above Left: Breakfast at the Vintage House.

Above Right: Back view of hotel and Pinhão, as we depart.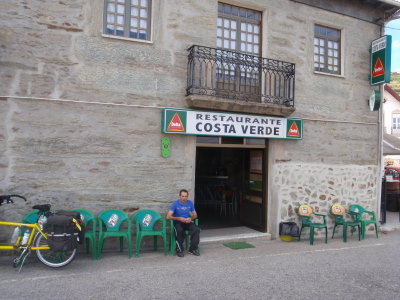 Above Left: The view while climbing. Pinhão is in the far distance and the last view of the Rio Douro.

Above Right: We take break in a small village.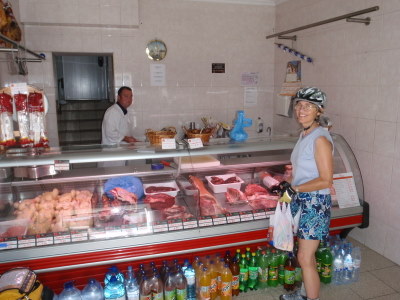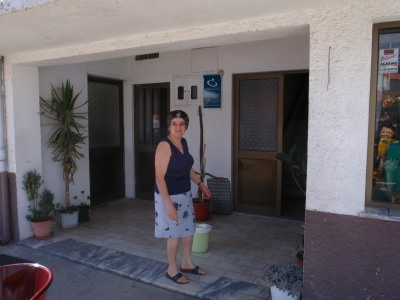 Above Left: Purchasing some pre-cooked sausage at a market.

Above Right: We tried to buy 2 or 3 peaches at this lady's store (market). The peaches were a little past prime and a little small. These were the leftovers from a basket of peaches. That's all we needed except for some pão (pow-n - a variant of Latin's 'pan' - Bread). She refused to charge us for the Peaches and she only had sliced bread so she took us outside and pointed us further down the street to find the local bakery (with whom she obviously would not compete head to head). We were grateful for the generosity and asked to take her picture. For the Record: The Peaches tasted great!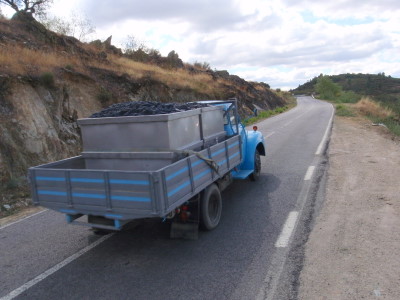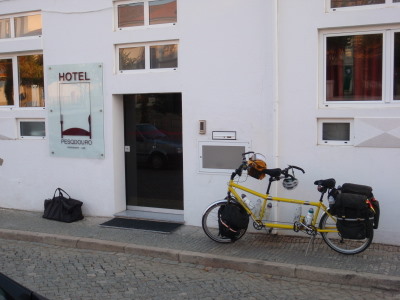 Above Left: These grape laden trucks have been passing us all day. Other than these trucks, traffic is very light and we are a novelty to almost everyone. Finally, we get the idea and take a picture of one of these Grape trucks as it passes.

Above Right: Mid-Afternoon: we arrive at our next destination, Hotel Pesquiera, for the night. We have the first spare time together since arriving almost ten nights ago. Dennis decides to get a bicycle 'Thump' noise checked out at a local bike shop. Terry checks the local markets for gifts and post cards.

Funny Story (on Dennis): First of all, it is nice that a Bicycle Shop is indicated in this town by our Self Guided Tour Map of the city. Dennis is going to rat himself out.

We assembled the bikes two nights ago, very late and we were exhausted. So Dennis goes to a Bicycle/Motorcycle Shop, the only one in town. They don't speak a word of English, Dennis knows fifty words of Portuguese. Dennis offers the Olá greeting and they look at Dennis like with expressions that indicate that 'This is going to be interesting'. These guys have never seen a tandem bicycle before, but it won't matter. Dennis makes a pedal motion with his hands. They get it. Dennis utters the word Thump, at the top of each right hand's cycle. They get it. The bike tech wanders to the bike and looks at the front crank. He makes one rotation and points to the Pump (mounted on the frame). He points in and out at the pump. Dennis has a look of, you've got to be kidding on his face. Dennis removes the pump and takes the bike on a short test ride. No Noise. Dennis comes back with a sheepish face and says the word 'Euro' and makes the international finger rub motion that indicates Money Bills. The Shop Tech gives the international wave-off sign for 'Forget-About-It'. Dennis puts his hands together in Buddhist Prayer fashion, bows, and says Obrigato (Thank You). They respond Da Nada.
Meanwhile, Terry has to go to the Meat Market in order to buy Post Cards. Go Figure.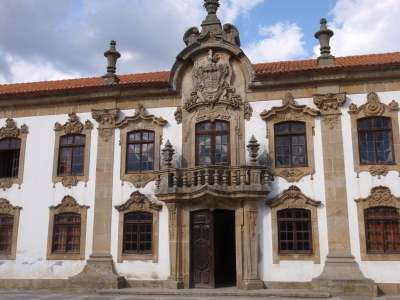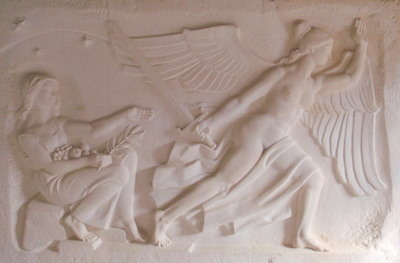 Above Left: Old Government Building.

Above Right: Art inside the Government Building.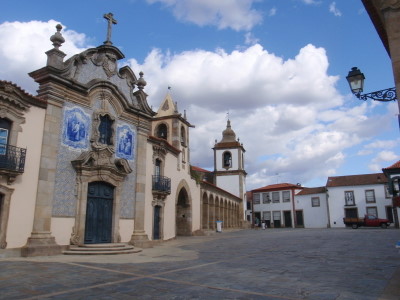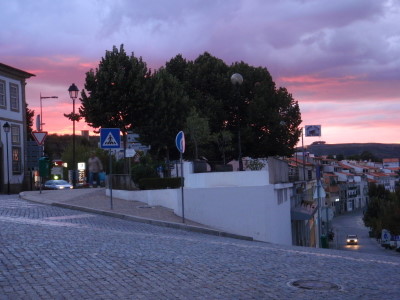 Above Left: Local Church and Rossio.

Above Right: Sunset for our Dinner. Early to bed for both of us for a well earned extra long sleep. Breakfast is not served until 0800.

Experience: In places where breakfast is typically served at 0800 or even 0900, we have learned to ask, the evening before, for a breakfast bag to go. Usually we get a sandwich or the materials to make a sandwich and some fruit.

Experience: Getting up early and bicycling in the cooler time of the day is smart cycling. This is especially true in Hot countries (like Portugal, Spain, or Italy - Countries that have Siestas do so for a reason, it's too Hot at the high sun hours to be working in the sun light).
Previous Day
Top
Next Day