| << | 30 | 31 |

| 33 | 34 | 35 | 36 | 37 | 38 |

| >> |

Guangzhou: 0 | 1 | 2 | 3 | 4 | 5 | 6 | 7 | 8 | 9 | 10 | 11 | Xian: 12 | 13 | Beijing: 14 | 15 | 16 | 17 | 18 | 19 | Other's Pics
Bicycle Tour Adventure #32: China Page 3



Day 3: Touring China by Bicycle,
Today we Pedal from Zhaoqing to Qing Yuan
Through Rural China Villages.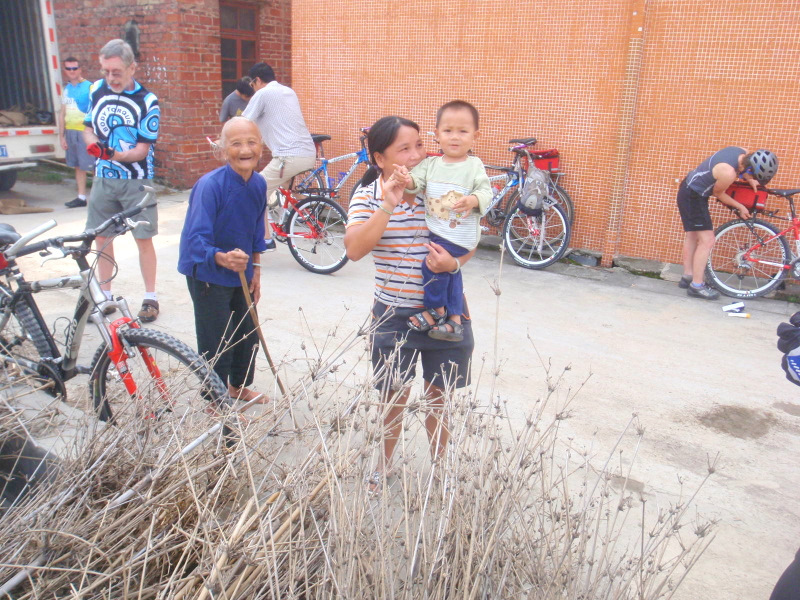 Three Generations Visit our Bike Departure this Morning.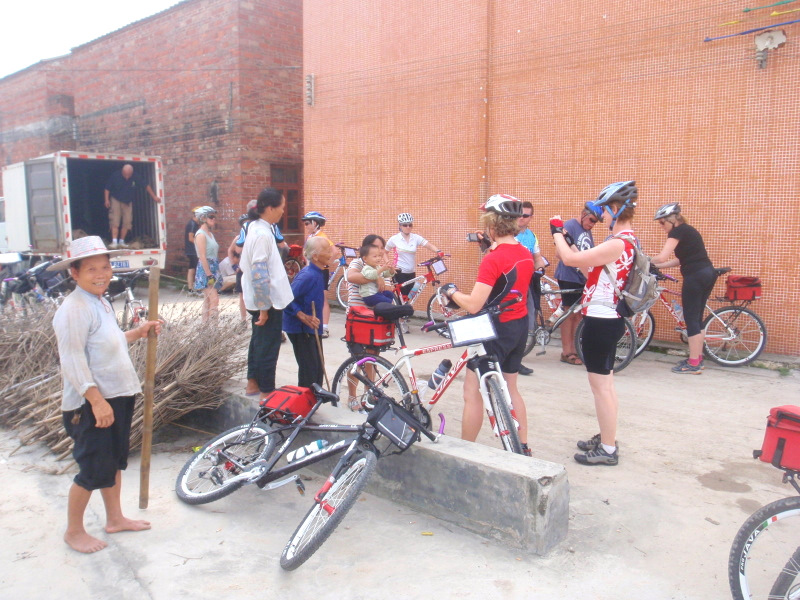 We learn that Great Grand Mother is 83 Years Old.
Ladies of the group pay homage to Great Grand Mother.



Day 3 Begins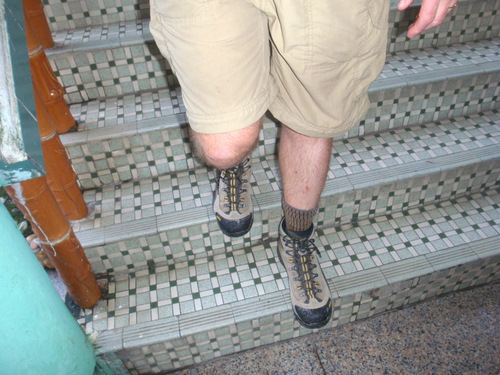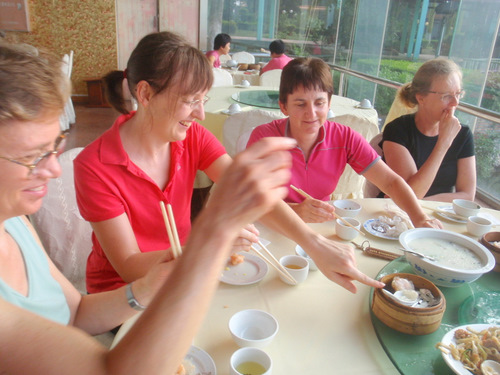 Above Left: At first this seems an innocuous picture, but it demonstrates how short the steps are and how careful one must walk down steps - Dennis has to walk on his heels because any front foot pressure will end up in a fall.

Above Right: Breakfast. L-R: Terry, Sharon, Siobhán, and Regina.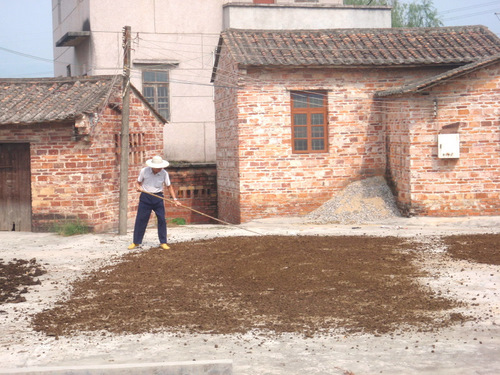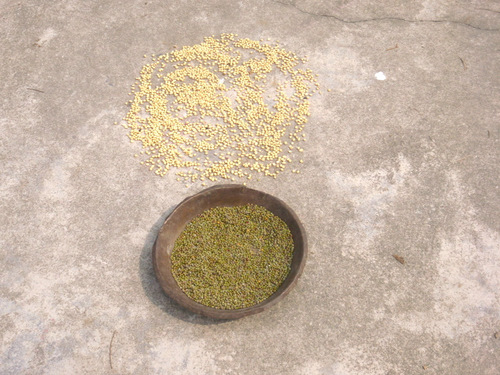 Above Left: Grandfather is drying loom/fertilizer.

Above Right: Drying seeds.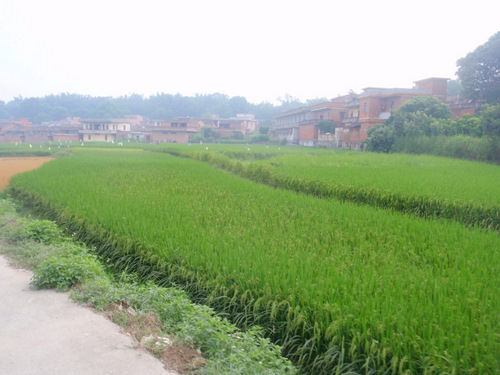 Above Left: Rice Paddies.

Above Right: Heavy duty baskets (panniers), biking to work.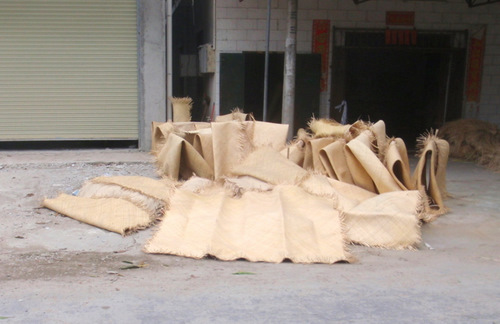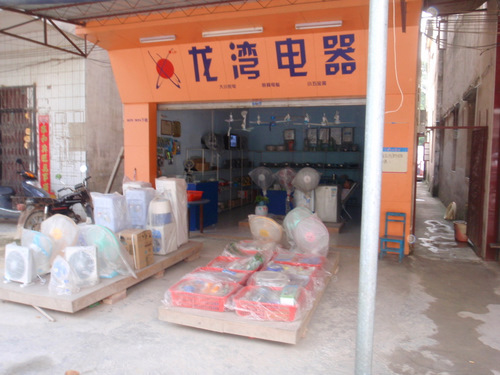 Above Left: Mat making shop/outlet.

Above Right: Small electric-fan/appliance shop.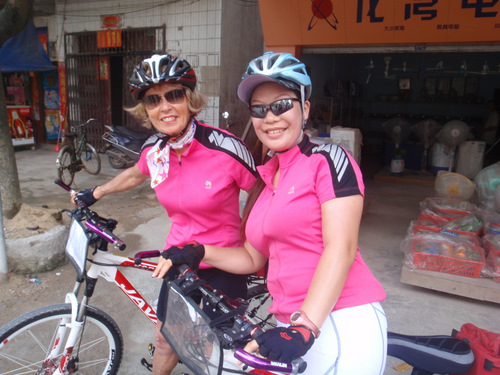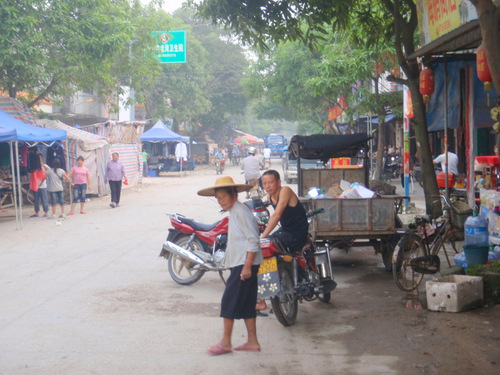 Above Left: Long Lost Sisters, separated at birth, Chrissy and Iris (L-R).

Above Right: A look up a village road. This is a rather typical view, lots of commerce.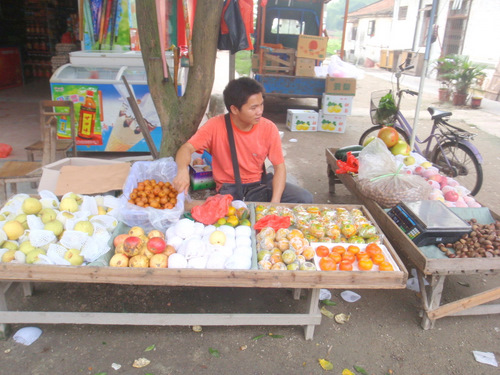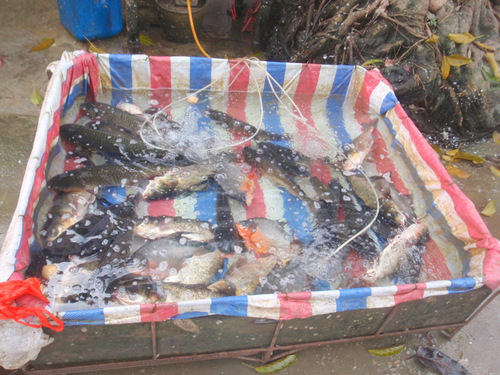 Above Left: Fruit and Vegetables for sale.

Above Right: Fresh Fish for sale.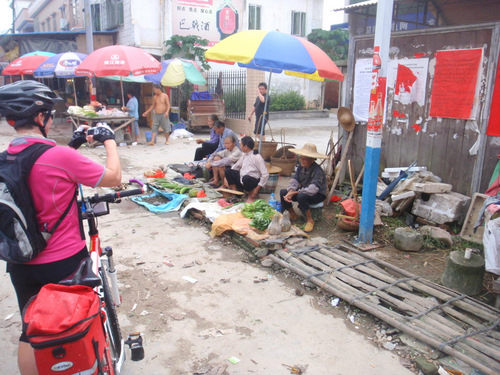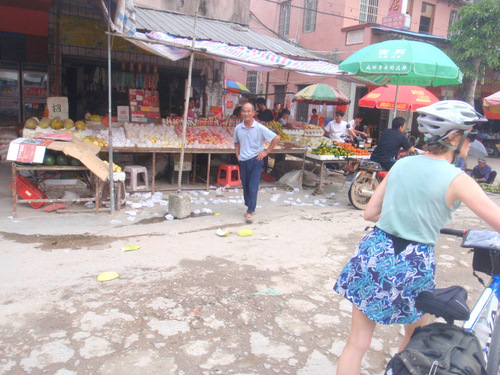 Above Left: Siobhán photographs a Farmers Market.

Above Right: Terry walks her bike through another Village Market.


Dennis has the First Bike Crash



After this picture is taken, Dennis has his camera in one hand, while pedaling, and he notices paper documents flying off another rider's Bike; Dennis, wanting to recover the documents, exuberantly hits the brake with his one free hand and it is the front brake, which locks the disk brake. Dennis' front tire locks up and he is about to do a header, the inertia is in motion and can't be sopped; Dennis manages to release the brake and come off the bike while he is upright but the bike flips and Dennis does a Judo Roll for a landing. Dennis is OK except that he has bruised his right hand's palm flat and heel, such that he will not be able to ride a bike tomorrow (due to inflammation in the exact spot where he rests his hand on the handlebar grip).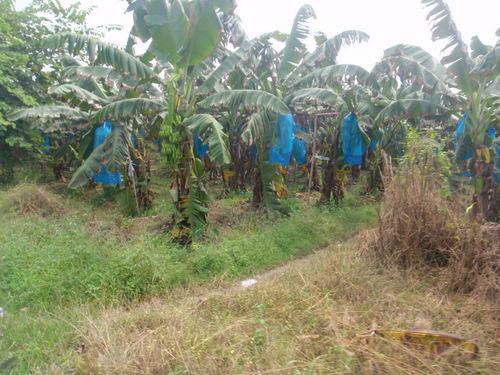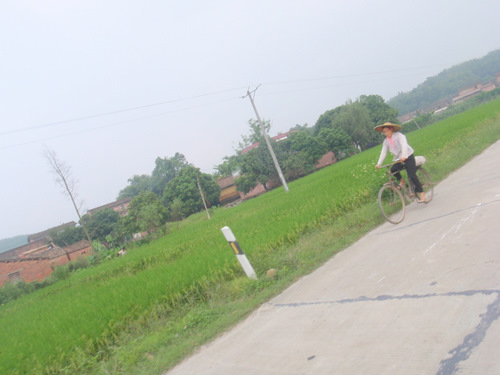 Above Left: Banana Grove: Ripening Bananas, protected from birds, insects, and animals.

Above Right: Field hand on a bicycle.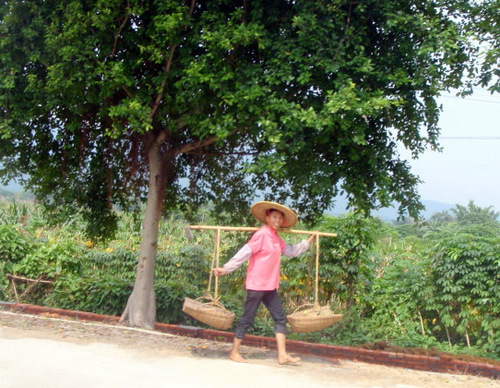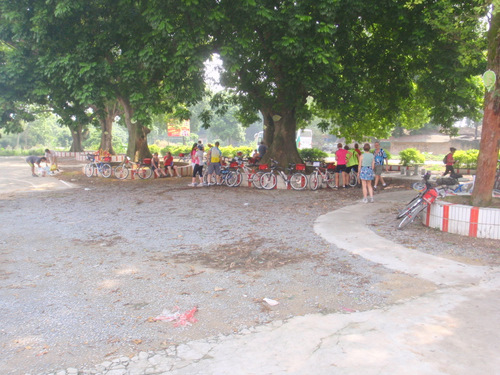 Above Left: Plants for Market or Home. The smile comes from saying Hello in Chinese, it positively made her day!

Above Right: This is road-side park where we stop for lunch and become the focus of many curious eyes; kids come out of nowhere.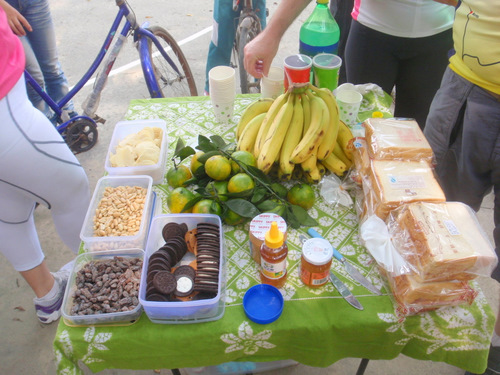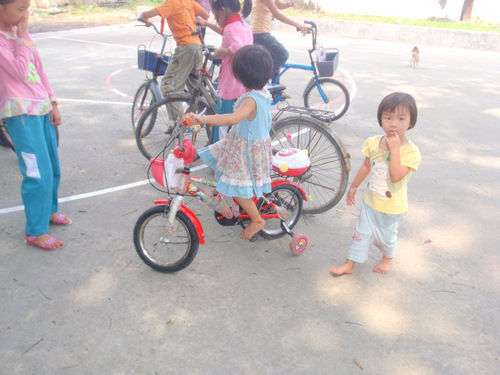 Above Left: This is lunch.

Above Right: These are curiosity seekers. People with bikes are always friends; eventually we will share fresh watermelon.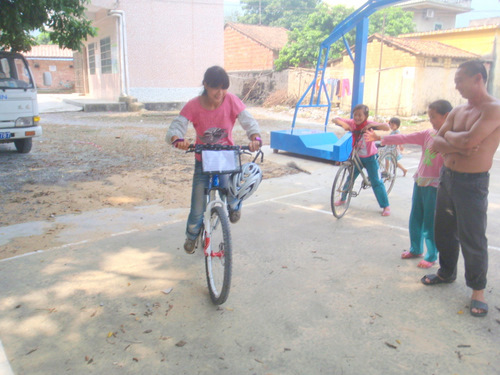 Above Left: A brave village girl decides to check out one of our tour bikes.

Above Right: Fair is Fair; Sam checks out the brave girls bike, he discovers that it has no brakes. We come to realize that this is why half the bike riders in China ride so slow, they have no brakes and they depend on their feet or shoes for stopping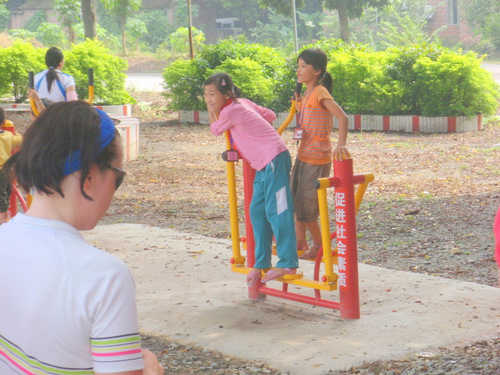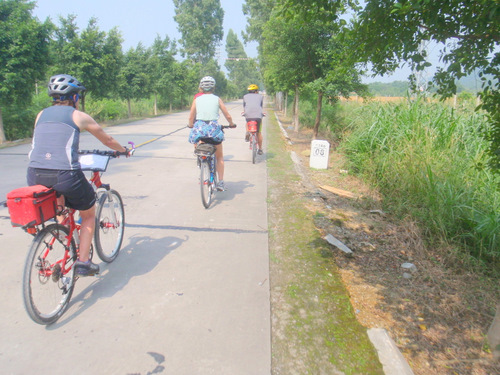 Above Left: Two girls playing at the playground where we stopped for lunch - Inga in foreground.

Above Right: We're on the road again; note the Kilometer Marker, some Markers indicate which Road Number one is traveling.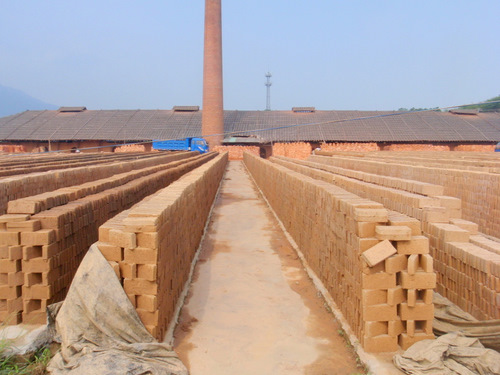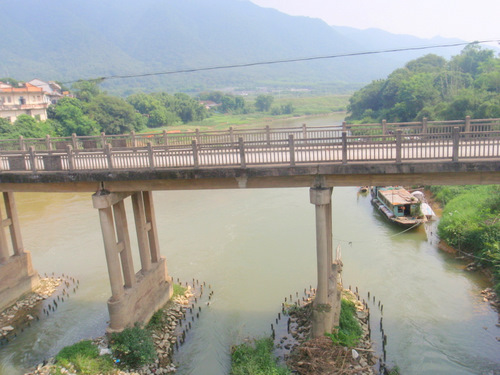 Above Left: Brick Factory.

Above Right: Bridge, River, and Sampan.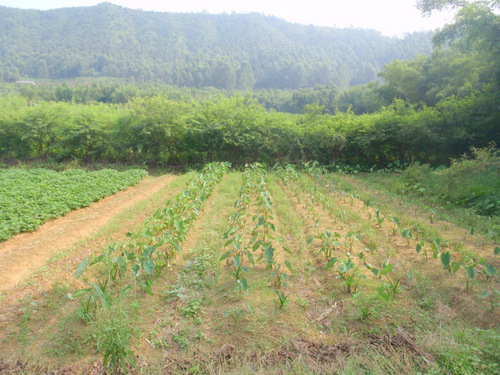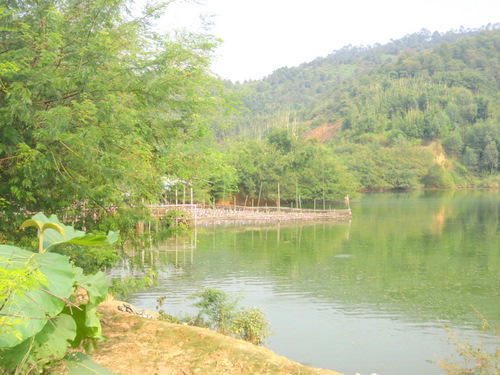 Above Left: One of the first fields that has something other than rice (just an observation). South China has lots of Rice. Central China has lots of Corn, Wheat, and Potatoes. We are slowly riding toward Central China.

Above Right: A beautiful looking Duck Farm. We are passing through a little hill pass toward another fertile valley.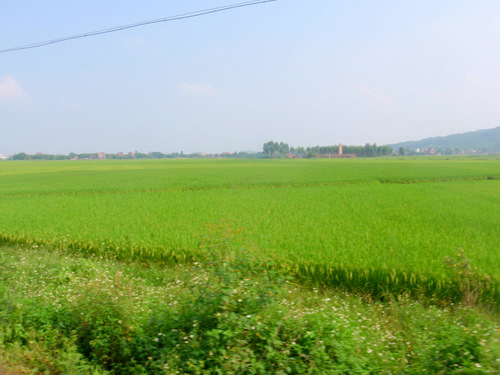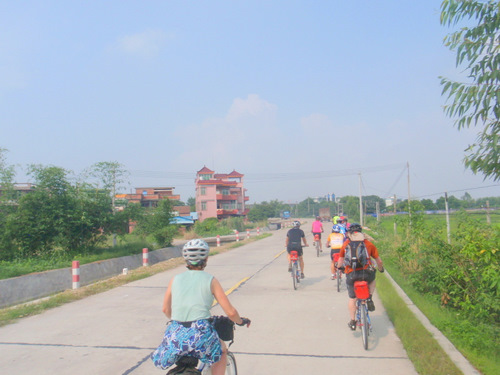 Above Left: Huge rice fields in a big flat valley. Some of the fields are larger than football stadium areas.

Above Right: Bicycling/Pedaling along. Not all Chinese are poor, check out the house at 11 O'clock.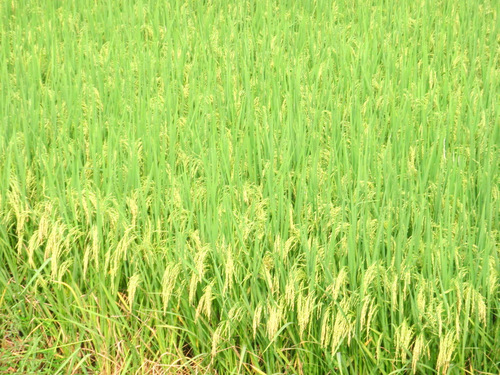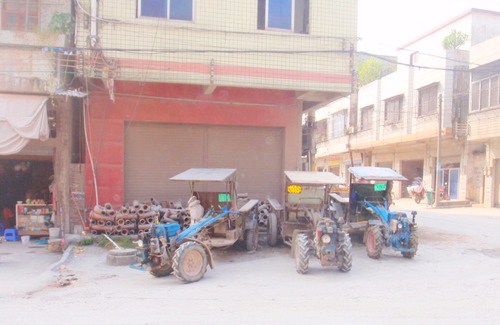 Above Left: Ripe Rice, field is being drained for harvest.

Above Right: Rice Paddy Tractors for sale (used market).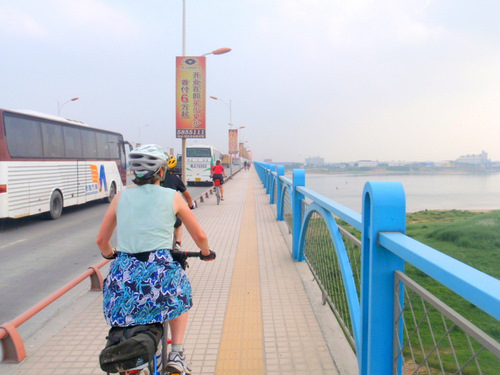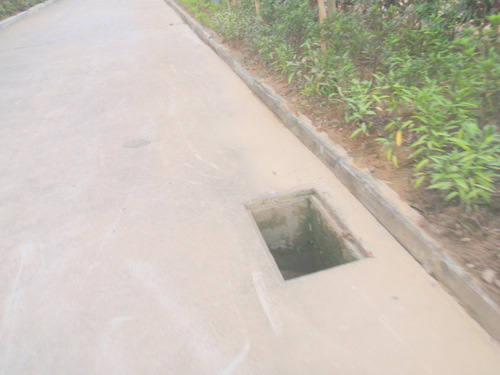 Above Left: Bridge Crossing.
A Second accident happens:


There is a ramp and an uneven connection between the far side of the pictured bridge and the adjacent sidewalk, a cyclist takes a spill. Gordon sprays the wound with antiseptic and the cyclist is up and pedaling.

Above Right: Roadside Hazards: One must always be paying attention.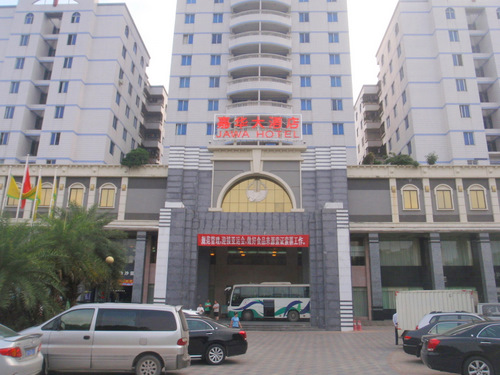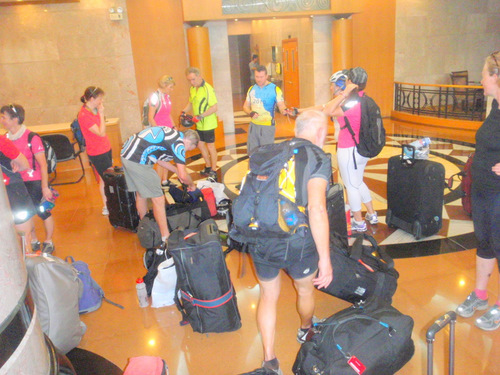 Above Left: Home for the night.

Above Right: Check-In: A nice day with a few minor bumps in the road. We are all having a grand time.




Previous Top Next