| << | 30 | 31 |

| 33 | 34 | 35 | 36 | 37 | 38 |

| >> |

Guangzhou: 0 | 1 | 2 | 3 | 4 | 5 | 6 | 7 | 8 | 9 | 10 | 11 | Xian: 12 | 13 | Beijing: 14 | 15 | 16 | 17 | 18 | 19 | Other's Pics
Bicycle Tour Adventure #32: China Page 13



Day 13: We Bicycle Completely Around
The Top of Xian's Walled Fortress,
Visit a Buddhist Temple and Museum,
And Ride the Night Train to Beijing.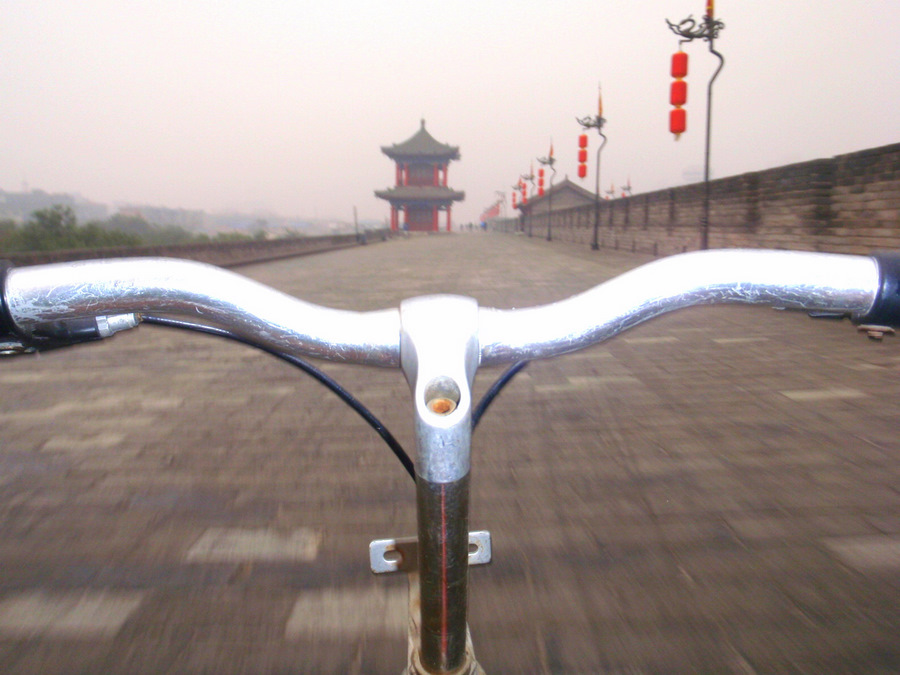 Riding Xian's Walled City Fortress all the way around (13.7 Kilometers).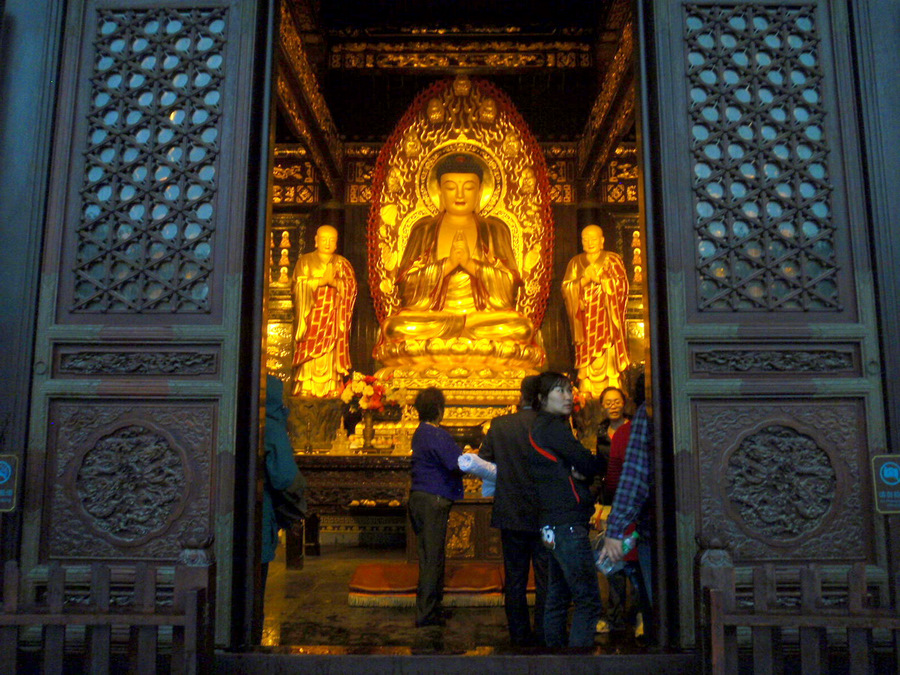 The Golden Buddha of the Xian Temple.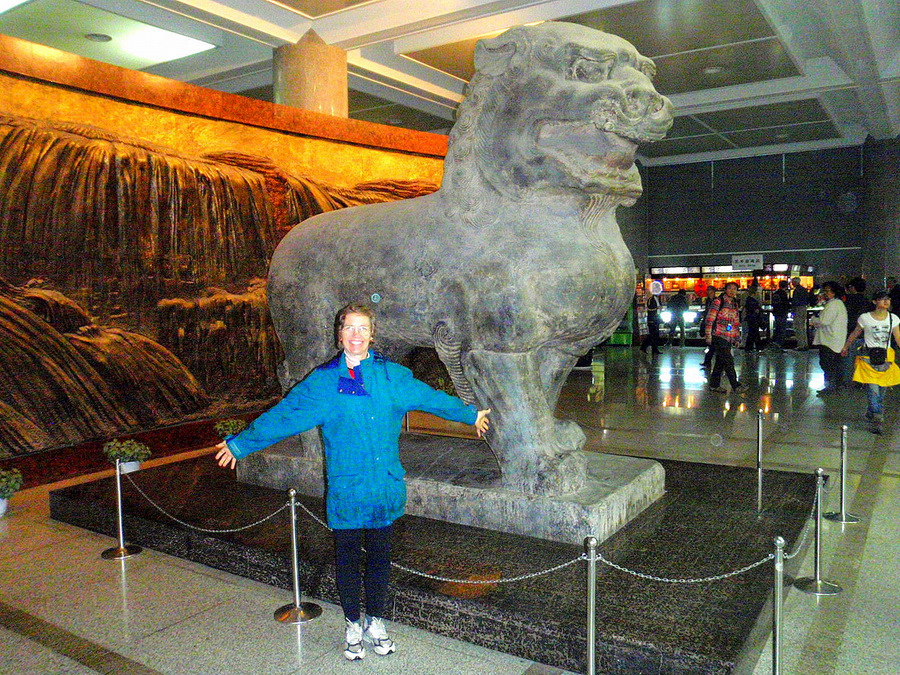 The Royal Guard to an ancient Xian Gate on the Silk Road.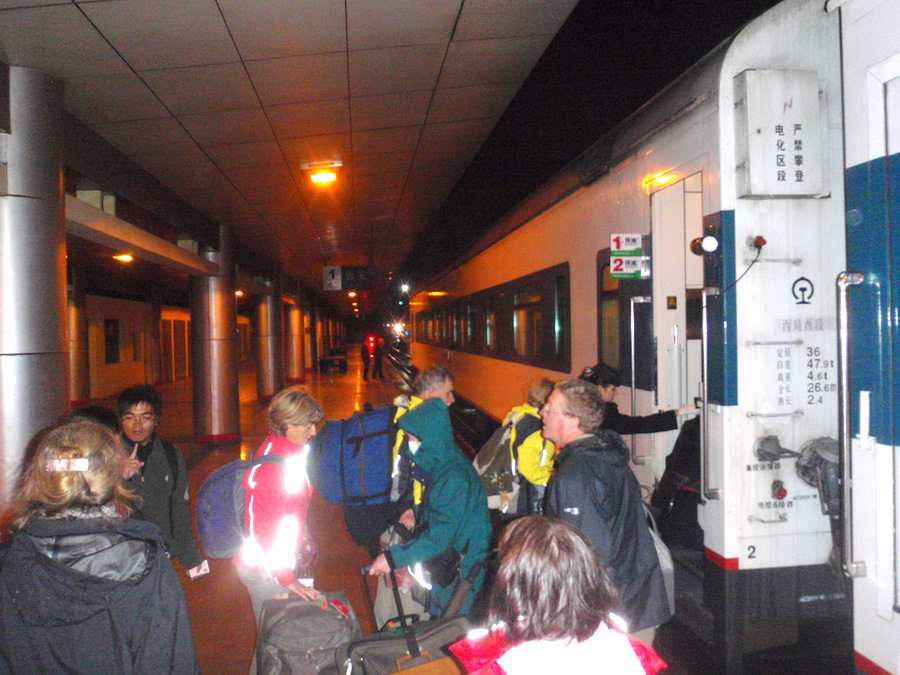 We are Boarding the Night Train to Beijing with at least five minutes to spare.




Day 13 Begins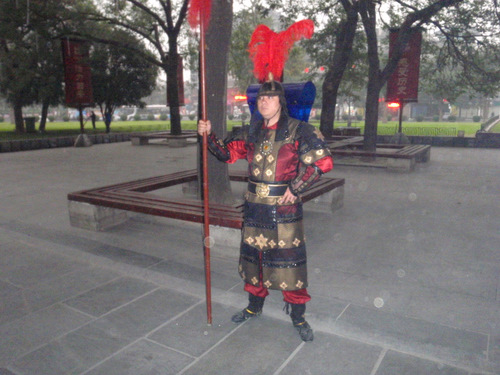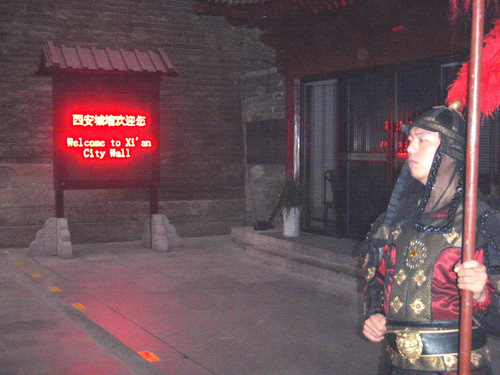 Above Left: Ming Dynasty Imperial Guard - Early in the morning.

Above Right: Another Ming Dynasty Imperial Guard and Ancient Electronic Welcome Sign (in English) - All good signs for a fortuitous day.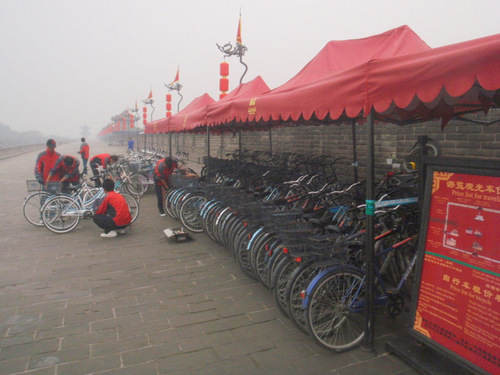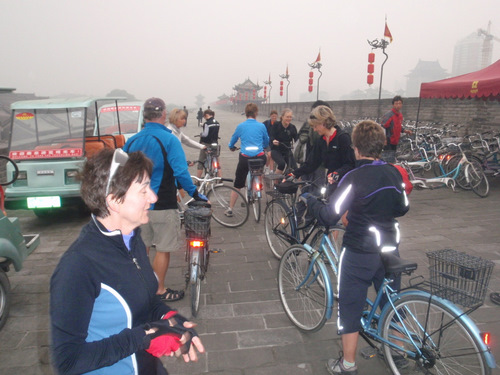 Above Left: Our bicycle supplier for the day; we're already on top of the Xian Walled Fortress.

Above Right: Selecting bikes; in some cases a rider would have to try a few bikes to find one that met minimal requirements for stopping. All bikes are 'Fixies' (fixed gear, aka single speed).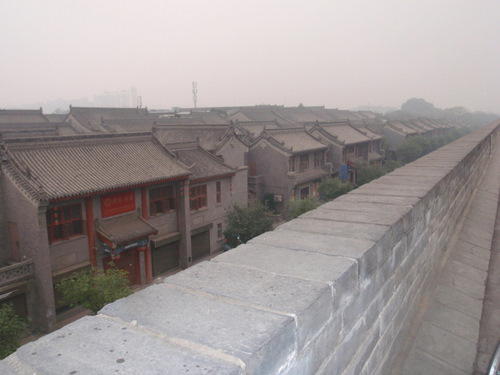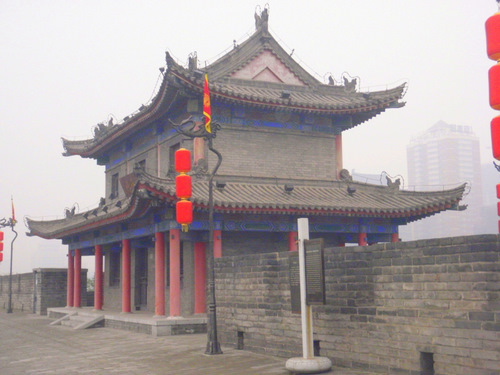 Above Left: A view to the interior. Living in the city of Xian is a Chinese Status Symbol. Some of the interior city dwellings are over a few centuries old.

Above Right: A Sergeant of the Guards Station (there are a few).



History: The first Emperor of the Ming Dynasty, Zhu Yuanzhang (1368-1644), ordered the wall built after being chastised by a famous hermit. The hermit advised building the defense and stocking with food and water supplies.

The wall now is 12 meters (40 feet) tall, 12-14 meters (40-46 feet) wide at the top and 15-18 meters (50-60 feet) thick at the bottom. It covers 13.7 kilometers (8.5 miles) in length and once had a deep moat surrounding it.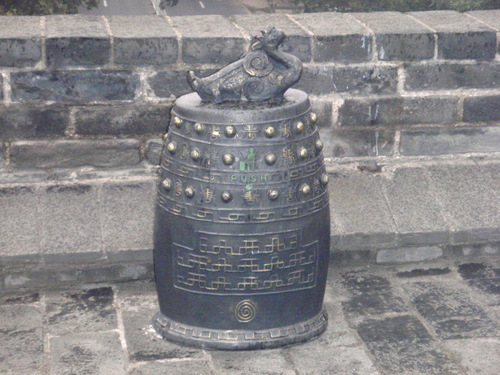 Above Left: Shield.

Above Right: Well disguised trash can.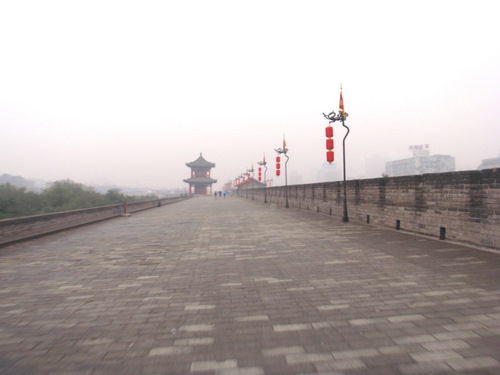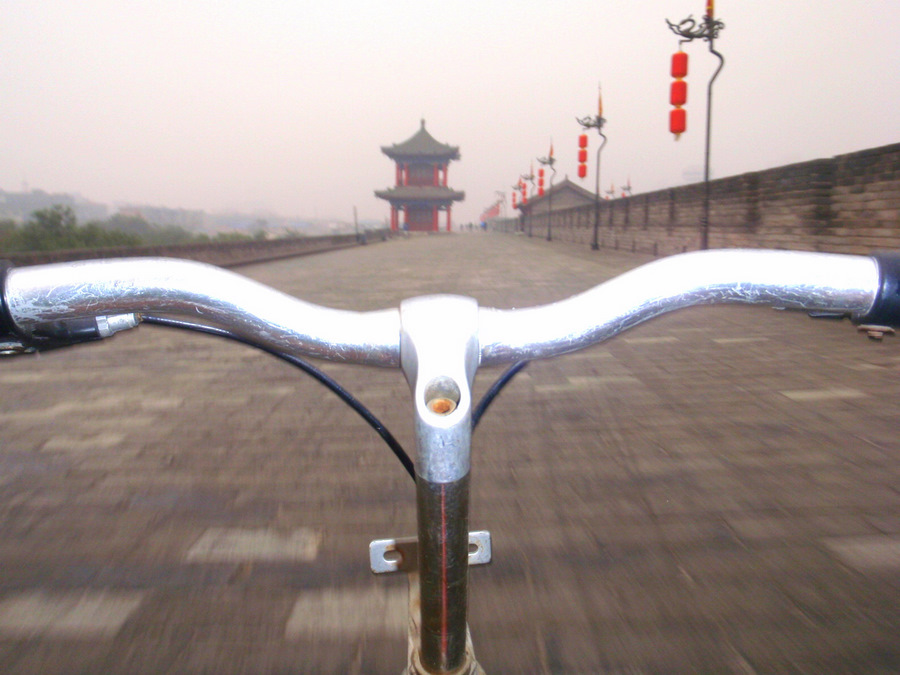 Above Left: Walking view (heavy smog).

Above Right: Bicycle's view (lots of cobbles).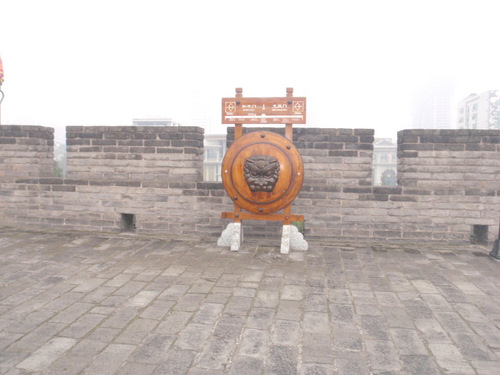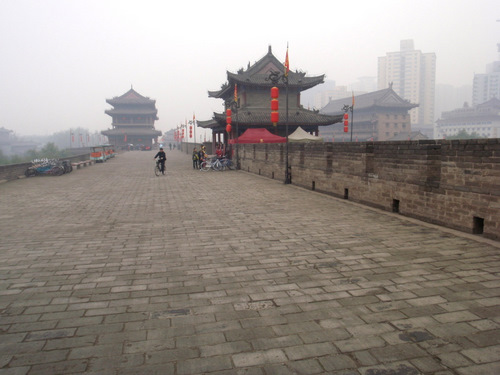 Above Left: Another Shield.

Above Right: Another Sergeant's Station plus the Company Barracks. Each of Xian's four fortress sides had one Company Barracks and these living quarters sat on top of the city's entrance gate. Each gate had an additional fortress wall which yielded a court yard and an interior gate and an exterior gate.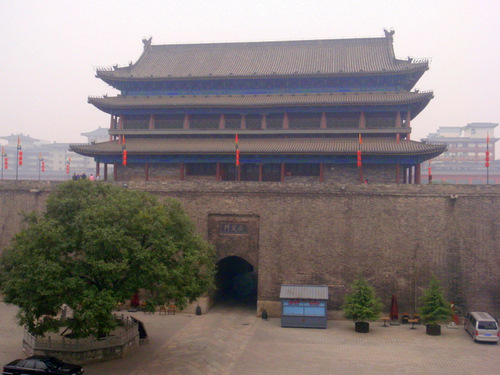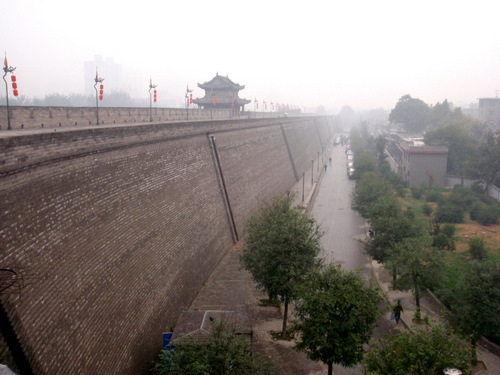 Above Left: View of a barracks from the exterior gate; the barracks sits on top of the interior gate.

Above Right: Interior view of the fortress wall from a corner.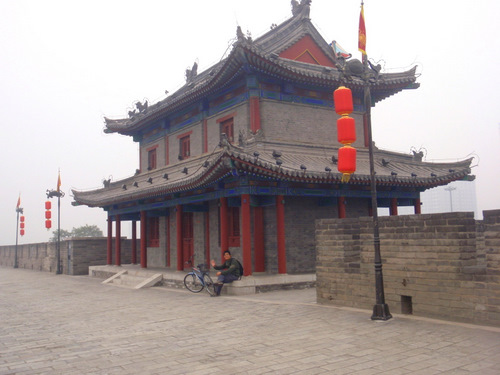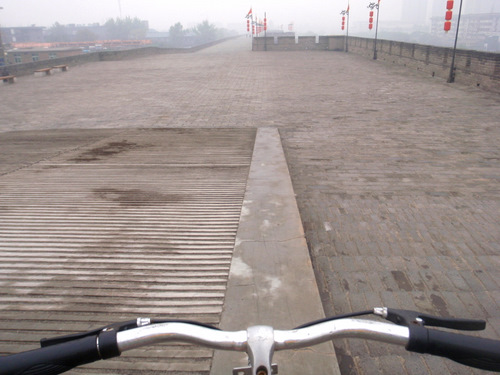 Above Left: A Guard Station with our guide Vincent.

Above Right: A bike rider chooses to not go down the stairs.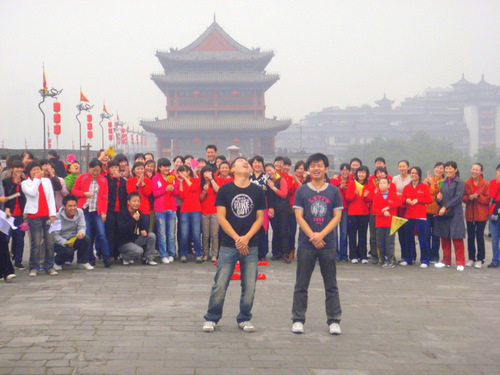 Above Left: Dennis Struck and his faithful steed on top of the fortress wall of Xian, China.

Above Right: We meet up with a High School class visiting Xian. These two boys were egged on by their peers to perform the steps of a dance that they had been mocking. It turns out to be a sort of line dance and the boys were actually good at the dance moves. By the time the boys finished their moves, our group of westerners had joined the student audience and we all applauded the boys, who naturally turned red. It was a good show.



We Visit a Buddhist Temple in Xian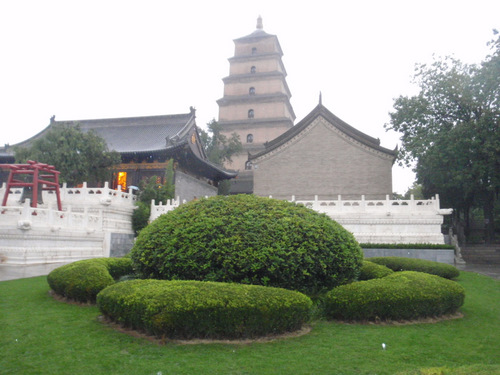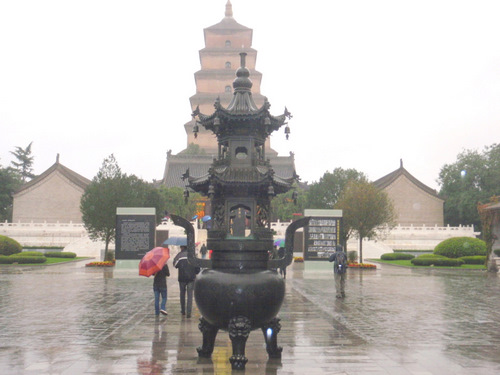 Thank You God! We've been able to bike our entire tour so far without rain on us while we were biking. It is raining now and it is fine with everyone, we all give thanks of appreciation to the spirits in the sky!

Above: Different views of the Xian Buddhist Temple Tower.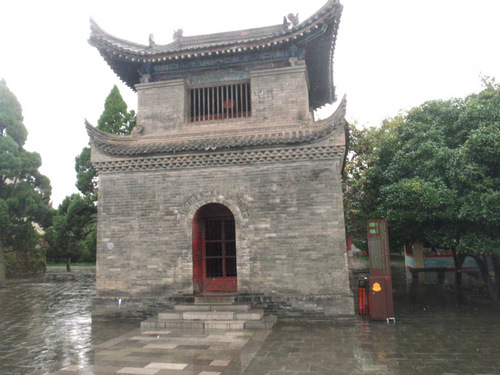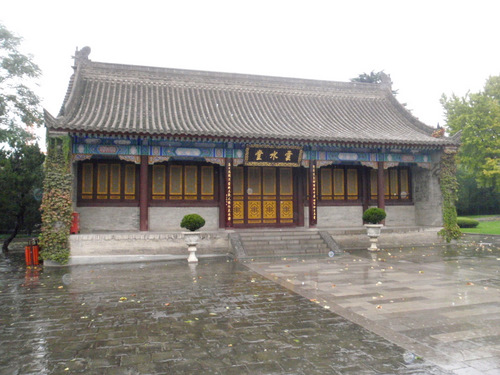 Above: Different Xian Buddhist Temple Structures.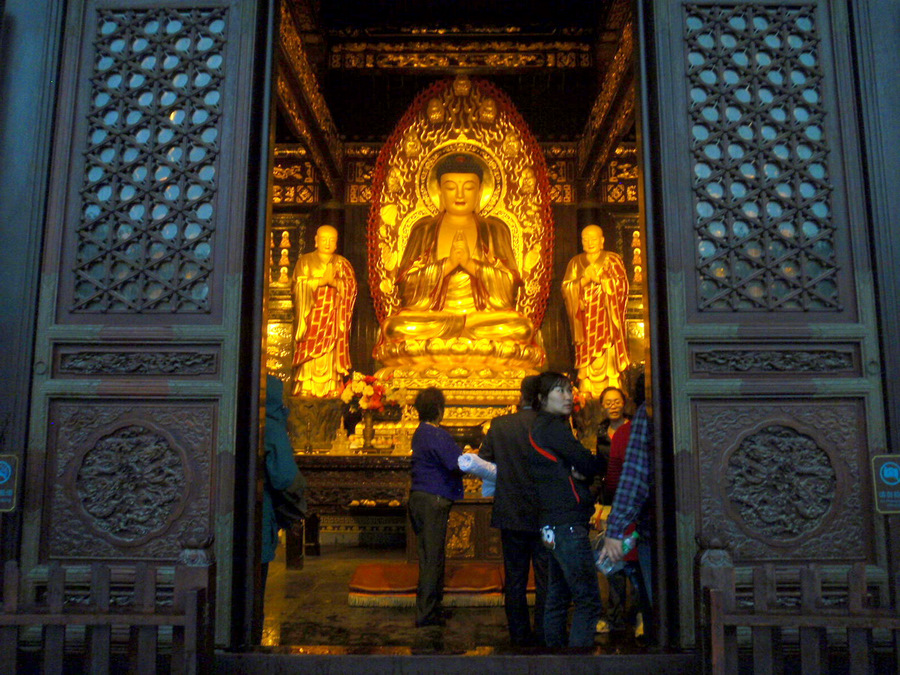 Above: Different views of the Xian Buddha.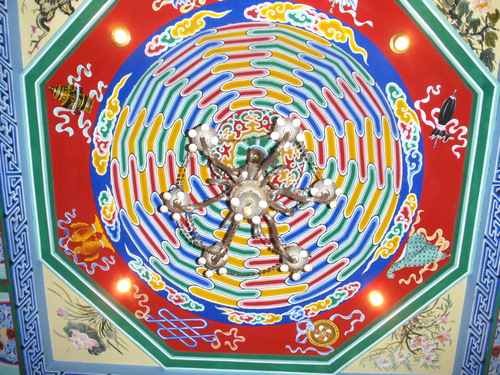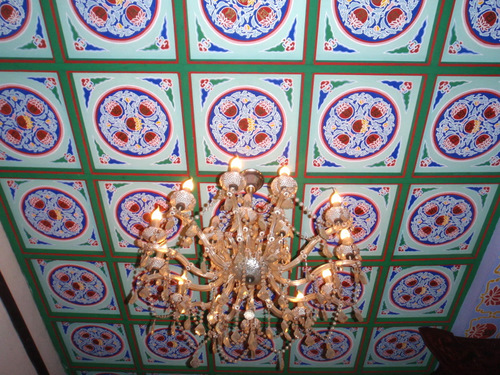 Above: Xian Buddhist Temple roof color and art.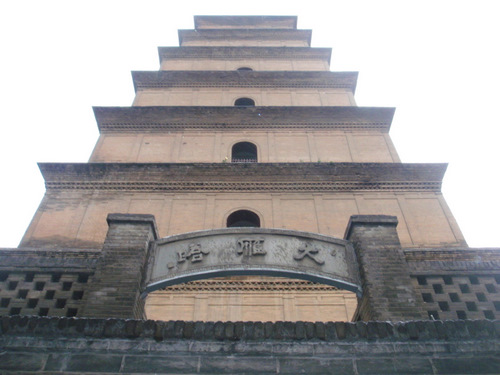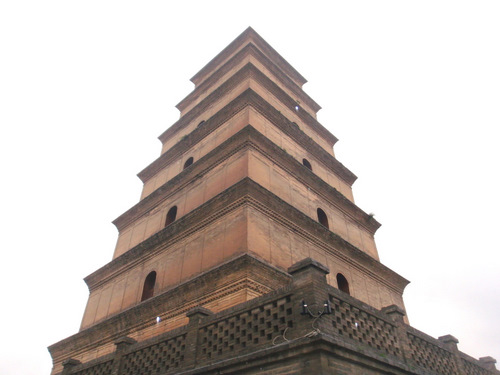 Above: Different Buddhist Temple Tower Views.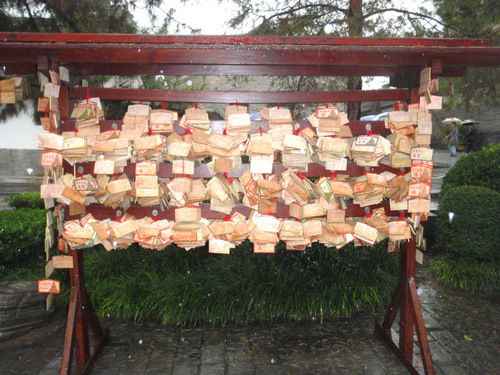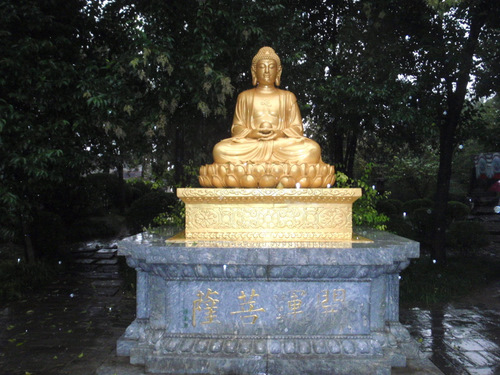 Above: Written Prayer Offerings and Courtyard Buddha Statue.



We visit a Museum about the Chinese Silk Road History, Han to Yuan Dynasties,
Beginning around 200 BC, at its Height in 750 AD and ending during the 1300's AD.

Why did the Silk Road end?
Because the Portuguese circumnavigated the Mediterranean.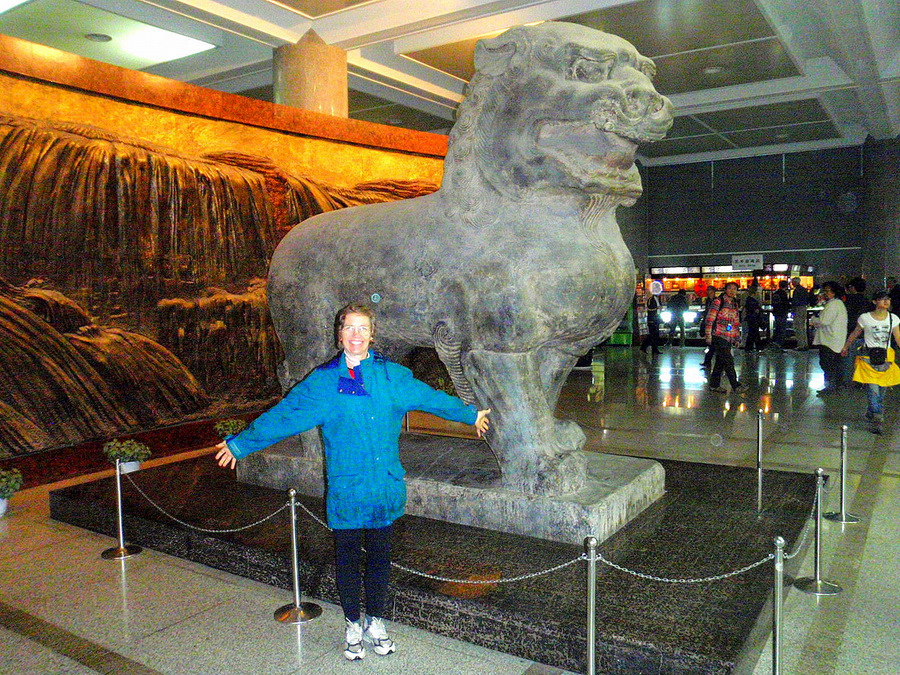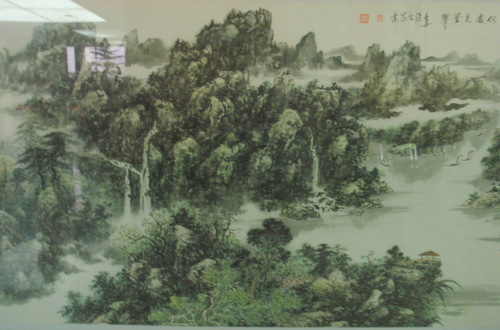 Above Left: A Royal Gate Guardian and a royally happy lady!

Above Right: Now, we know that the mountains in these famous paintings are real! This painting is over 1,000 years old.


Cool Story: A very cute and very brave ten or eleven year old Chinese girl walked up to Dennis and said "Hello, how do you do?" Dennis says "Hello, I an fine. You speak very good English". She says Thank You and turned to briskly walk back to her Mother, about five meters away. Dennis looked at the Mother, wearing a big smile; Dennis matched the smile and gave a polite head bow to the Mother. The Mother, with all of her pride, did likewise and she mouthed She-a She-a (Thank You).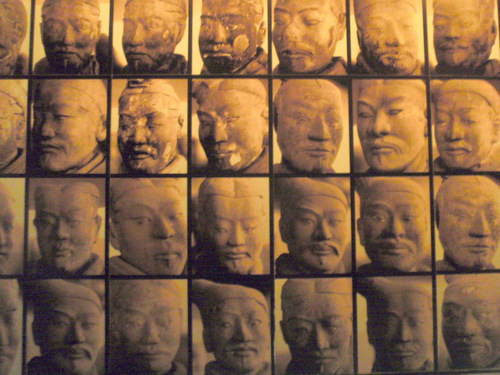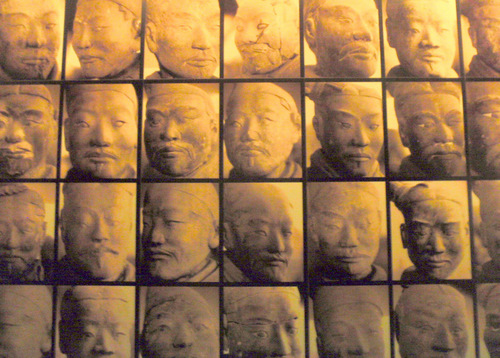 Above: Terracotta Soldiers; each face is unique!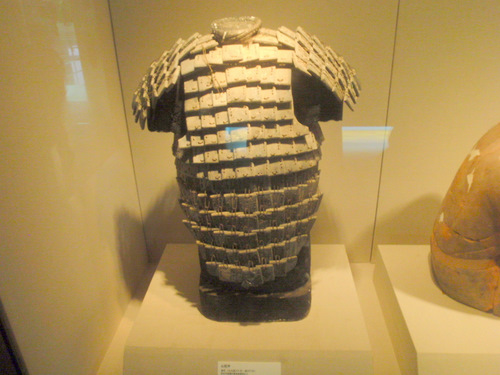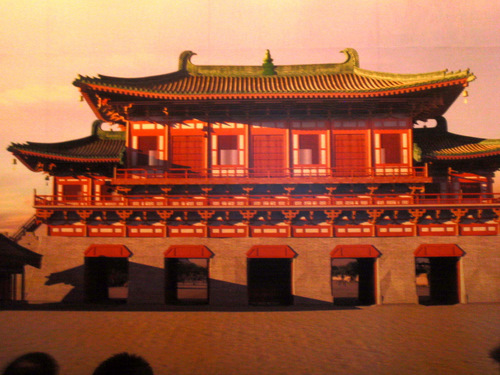 Above Left: Stone Armor.

Above Right: Picture of ancient city gateway that portrays the Rising Phoenix in the roof line and roof design.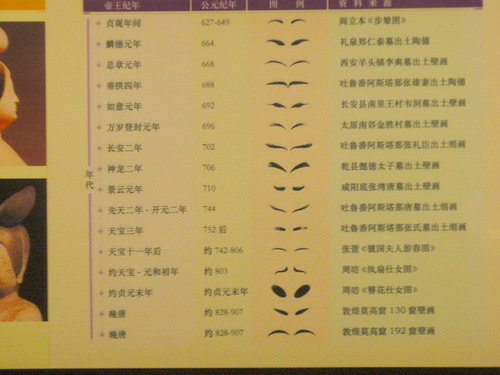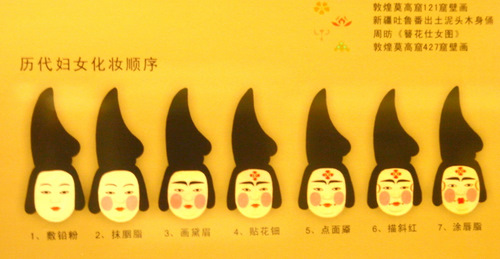 Above: Porcelain Doll Eye Brows and Facial Painting, over time during the Silk road Trading time frame.



Catching the Night Train to Beijing or Catching 'The Midnight Express'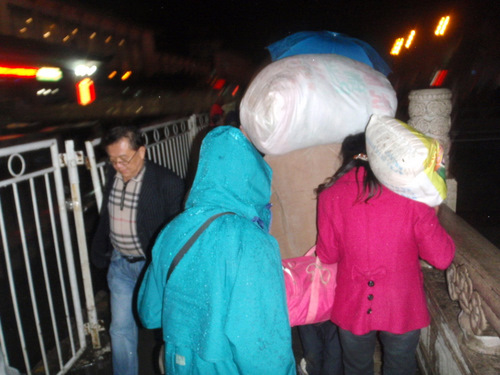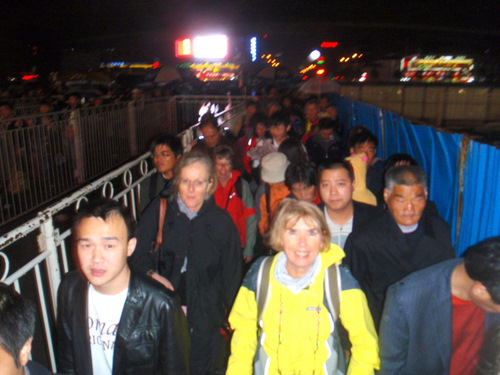 It is Raining Hard, its Dark, the Place is Under Construction, there are construction Obstacles in the very narrow Walkway, sometimes one can tow luggage on wheels, sometimes luggage has to be carried, there is no help, we're getting separated from one another, other people are pushing and shoving, other people are blocking our way; no one is panicked but the feeling is Hurried Urgency.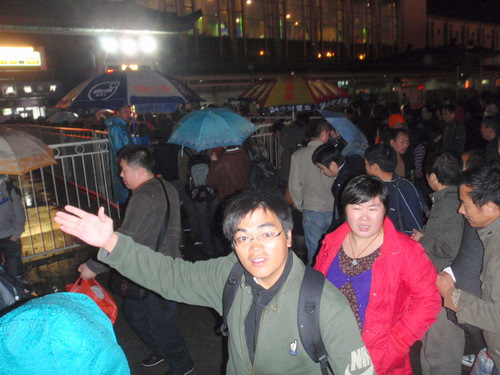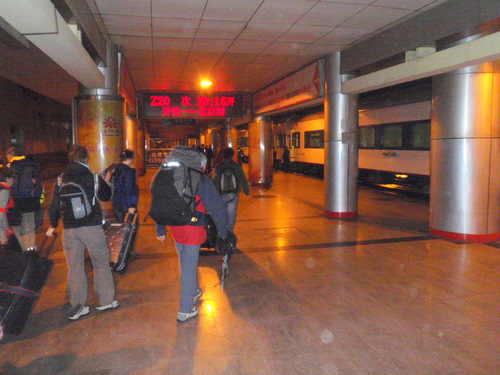 Above Left: Fearless Leader, Vincent (he helps Terry carry her big Luggage).

Above Right: We finally make it the train station ramp.


Because of Terry's Broken Rib and the humidity, cold, and hard exercise burst, Terry is wheezing and in pain. It did not help that we were separated for a couple of minutes.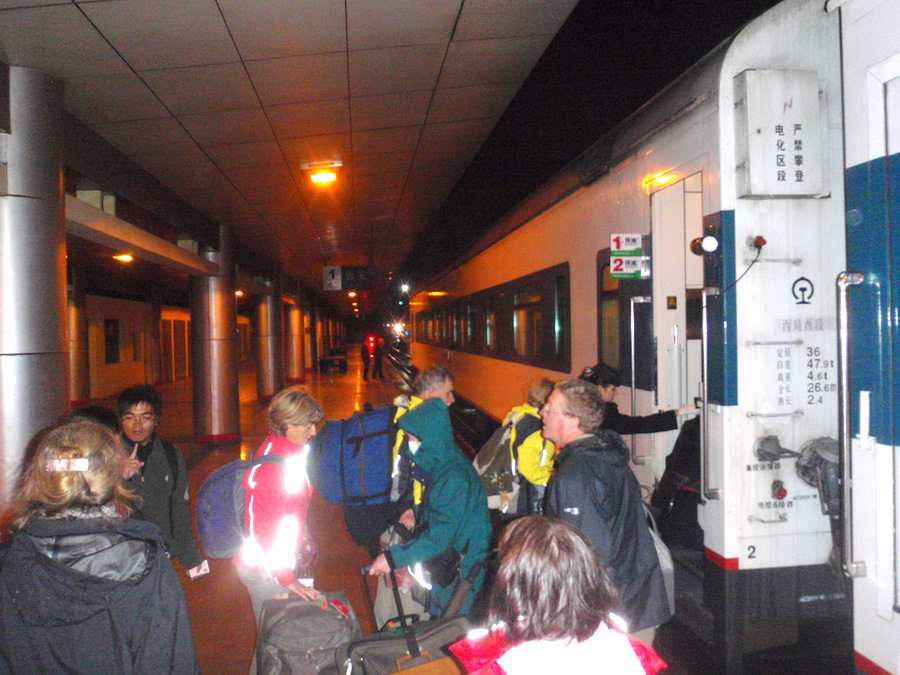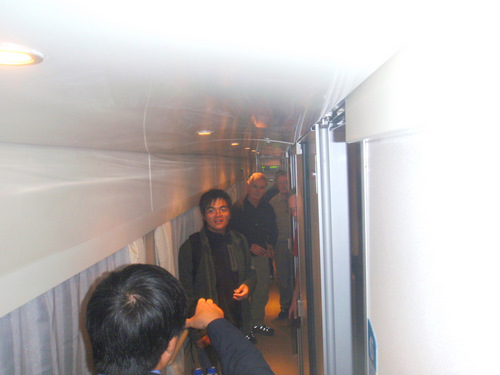 Above Left: We're boarding the train; it will leave within five minutes, we're lucky!

Above Right: We're on the train.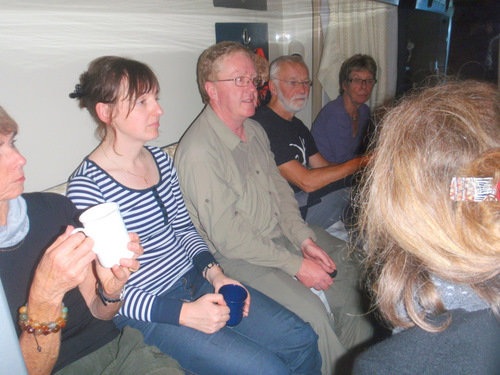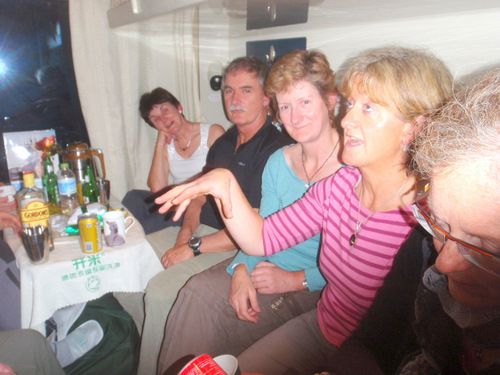 Above: Party next door.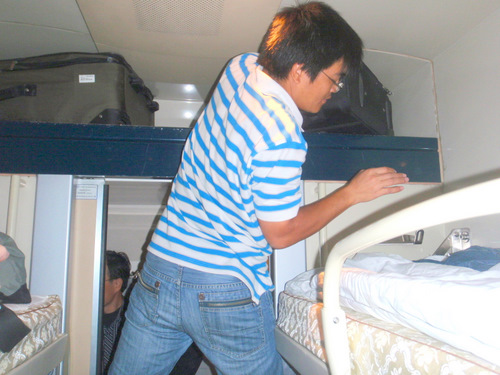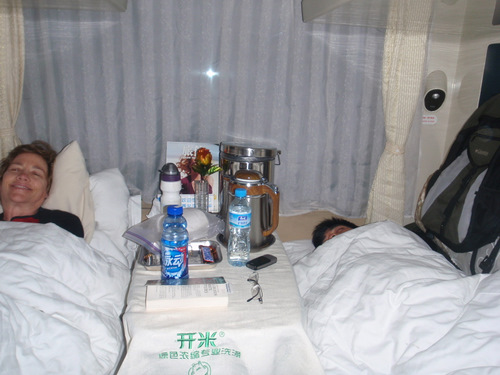 Above Left: Vincent stores the luggage overhead in the train's passenger car room (for four). All luggage is wet and muddy (dripping on floors and beds).

Above Right: Retired for the night; there are two upper bunks also; the ride is extremely smooth.




Previous Top Next